One could be forgiven for assuming that because Volkswagen's hatchbacks and compact SUVs are so wildly popular, the Wolfsburg-based manufacturer would see little point in producing a fastback business class sedan. But no, with its new Arteon, Volkswagen hopes to capture some market share from its fellow Teutons. Does the new stylish Volkswagen Arteon have enough going for it?
We like: Exterior styling, performance, fit and finish, excellent space, huge boot
We don't like: Derivative cabin fails to match the glamorous exterior
Alternatives
BMW 430i Gran Coupe - The BMW plays in an upmarket place in comparison to the Arteon. Its engine is sadly no longer a majestic straight 6, but rather a force-fed 4 pot. It's also a Gran Coupe meaning it too boasts a spacious boot.
Audi A5 Sportback 2.0 TFSI - The Arteon's closest competition comes from within its own ranks. The Audi A5 Sportback is beautiful, both inside and out. It has similar performance, but it doesn't offer as much spec as the Volkswagen.
Compare the specs of these rivals
What is it?
The Passat remains a car that baffles us. Not only does it offer excellent refinement and comfort, it's specced well and offers great value for money in the business class sedan segment. However, since the reintroduction of the Passat model to our market more than 15 years ago, none of its iterations has made a significant impact on new vehicle sales figures. Why is that? There are a number of plausible answers to that question, but the two we'll look at is the fact that the badge on the nose wasn't premium enough for customers, who'd rather fork out a little more for an equivalent BMW 3 Series, Mercedes-Benz C-Class or Audi A4. The second answer is a subjective one. The design of the Passat is more function over form, and definitively conservative.
In 2018, we find ourselves with the Volkswagen Arteon, the successor to the svelte Passat-based CC. It looks like no other Volkswagen and is, in essence, a fashion-forward reimagining of the Passat. The R-Line kit for the Arteon does a sterling job of making this one of the most striking vehicles on the road; it drew numerous admiring glances during its week-long tenure in our fleet. Beauty is only skin deep, and it would take a thorough assessment over a few hundred kilometres for us to truly understand what the Arteon, in flagship 2.0 TSI 4Motion R-Line guise, is all about.
How does it fare in terms of…
Performance?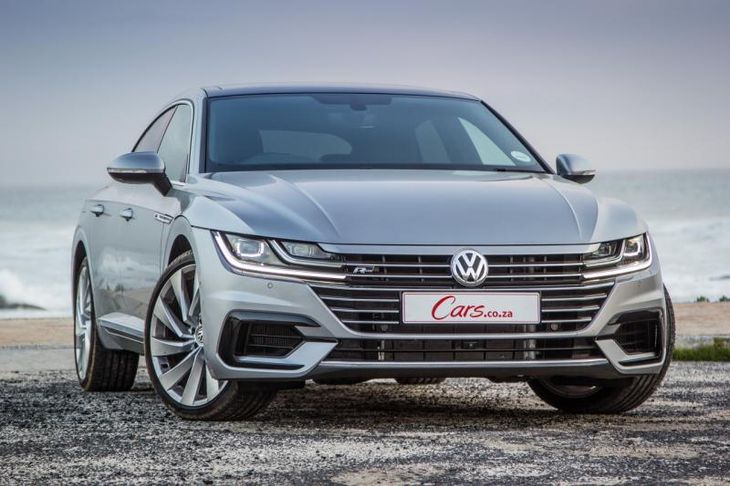 With looks this good, you'd hope for performance to match... and the Arteon duly delivers.
Let's get straight to the numbers. Powering this derivative of Arteon is Volkswagen's 2.0-litre turbocharged EA888 motor. Peak outputs of 206 kW and 350 Nm are on tap, which sound promising, but in reality, things are a little different. This engine does duty in the Golf R, and we incorrectly assumed the power delivery and performance would be similar, but the Arteon is no Golf R fastback – despite VW's 0-100 kph claim of mid-5 seconds, it doesn't feel as... lively. It does still have launch control and it's amusing to prove that the Arteon has considerable go to match its show.
Another reason for a perceived lack of fireworks is that Volkswagen has upped the refinement considerably: there's no DSG-induced exhaust pop between gearshifts and there is no sharp induction bark upon hard acceleration. Make no mistake, it's still a brisk car and gets to the national speed limit with aplomb. Overtaking? Effortless. You can either drop gears yourself using the steering-wheel shift paddles or (our preferred option) leaving the quick-acting dual-clutch 'box to its own devices. Either way, the transmission responds swiftly and puts the engine right into the sweet spot and all 350 Nm are unleashed upon all four wheels. Yes, you read correctly. This is no front-wheel-drive faux performance fastback, 4Motion merrily aids acceleration and traction.
Ride and handling?
Even though we have a mild climate with little snowfall, 4Motion still has its benefits and the new Volkswagen Arteon offers grip in abundance. If you do feel like tackling a beautiful section of tarmac, then the setup is conducive to a confidence-inspiring drive. It's going to take a lot of manhandling to unsettle the Arteon and, to be blunt, driving the vehicle in such a manner is tacky.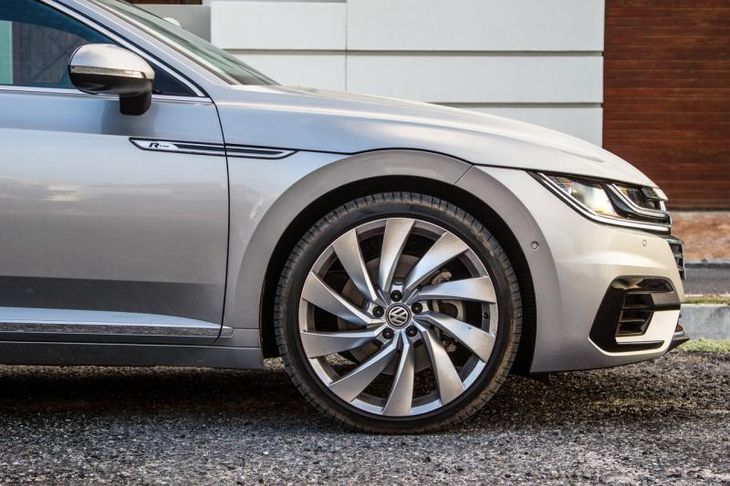 The optional 20-inch alloys give the Arteon a decidedly hunkered-down stance.
Our test unit was fitted with sports suspension as part of the R-Line package. The ride quality is generally good. However, if you engage Sport mode, the car tends to jiggle a bit, perhaps this is exacerbated by the optional 20-inch alloy wheels and low-profile rubber. They're striking and add presence to the car, but given how poor some of our roads are, it might be a safer bet to opt for smaller alloys. In terms of steering feel, the wheel is light in your hands and quick in action. There could be a touch more weighting applied, which would be more in keeping with that big-car feel.
Overall refinement is decent too, with very little noise making its way into the cabin. That is a very impressive characteristic if you consider that the doors are frameless and it demonstrates how much effort Volkswagen puts into achieving lofty build quality. The Arteon's forte is on faster roads such as the highway, and we found the cabin to be a refined and comfortable place to be.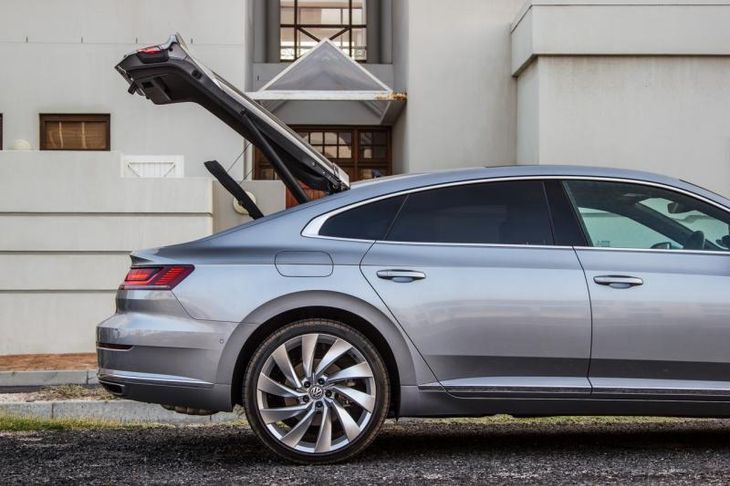 The fastback design lends itself to excellent luggage capacity. The bay's aperture is huge, making it easier to load bulky items.
Blending luxury and practicality?
The new Volkswagen Arteon is a radical design compared to other vehicles in the Volkswagen portfolio. However, under the skin, there's a lot of shared technology, such as the lauded MQB platform that underpins the newcomer. This modular architecture forms the basis of the Golf, Tiguan and some Audi products, and is renowned for its practicality and compliant ride quality. Admittedly in Arteon application, the MQB platform has been stretched out and has a wheelbase length of 2 841 mm, but the benefit here is generous cabin space.
Rear passengers are availed excellent legroom and, thanks to the fastback design, the luggage bay is practically shaped and exceptionally cavernous, making it an accomplished vehicle for families. Volkswagen quotes 563 litres of luggage space and, to put that in perspective, the Tiguan family SUV can only muster 442 litres with its rear seatback in situ.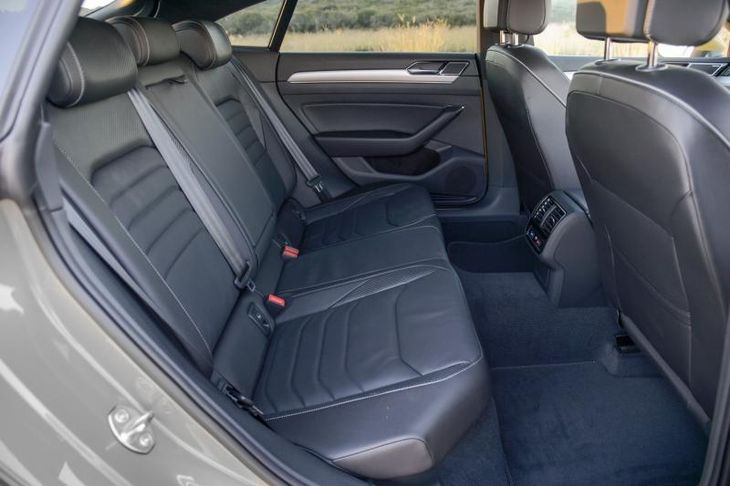 Rear legroom in the Volkswagen Arteon is one of the best we've ever experienced in its segment.
In terms of cabin design, the Arteon loses some ground. While there's nothing fundamentally wrong with its classy, buttoned-up execution (everything works well and is well assembled), we feel that it lacks the glamour to match the car's fantastic exterior style. The ambience is akin to a Passat or even a well-specced Golf. To reiterate, the cabin boasts a slick user experience, but we feel it just needed some pizzazz to really set it apart. Surely this would be the time where Volkswagen would pinch some interior kit from sister brand Audi to liven up the Arteon's cabin?
There are no complaints about the quality of the interior materials, even if we think the cabin looks a touch too ordinary. The R-Line package includes sporty leather seats that include a heating function, are electrically adjustable and, of course, wrapped in sumptuous leather. The leather-wrapped steering wheel is a personal favourite of ours too.
Features?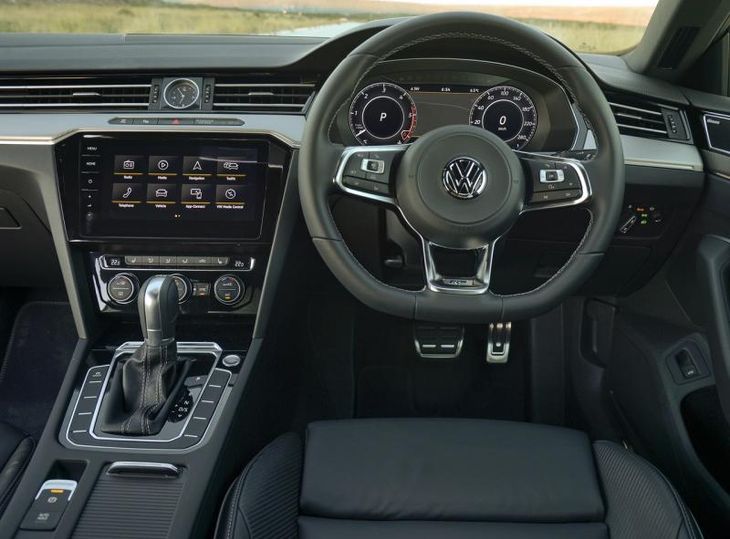 The Arteon's cabin is well appointed, but we feel it's a touch too predictable. It needed a little something extra...
The Volkswagen Arteon truly shines in the standard features and technology departments. There are two trim levels available, but we anticipate that most buyers will want to spec the R-Line for maximum effect. The R-Line steering wheel features audio and cruise control functionality, as well as controlling the views of the standard digital instrument panel, known as Active Info Display. While it doesn't have the fanciest of graphics, unlike say, the Peugeot 3008, it's a slick and intuitive interface.
Climate control is standard too, but in the Arteon, this is extended to the rear passengers. The standout feature is the 9.2-inch Navigation Pro infotainment system that boasts both Android Auto and Apple Carplay functionality, as well as gesture control. The graphics, colour and resolution are of high quality and visually, it's a beaut of a system. Best of all, it's stock standard.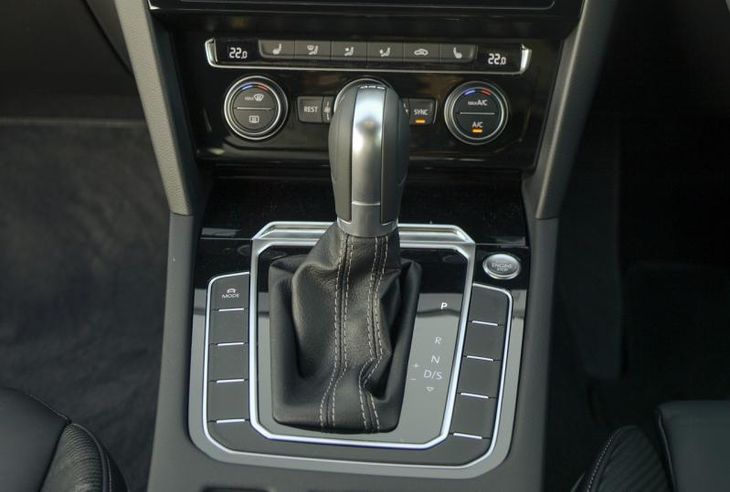 Heated seats, dual-clutch transmission, driving modes, climate control... the Arteon lacks very little, spec-wise.
Modern-day semi-autonomous safety technology has also made its way into the Arteon and our test unit featured city emergency braking and front assist, which forms part of the adaptive cruise control package. This is an extra-cost option, however, but well worth looking into. Also built-in is a 360-degree camera that gives you excellent all-round vision when you need to park your car.
As far as options go, our Volkswagen Arteon came with metallic paint (R 8 322), electronically detachable towbar (R 2 219), a DynAudio Confidence Sound System (R 14 627), Adaptive Cruise Control with Front Assist (R 10 996) and the striking Rosario 20-inch alloy wheels (R 9 987).
Verdict

With the R-Line kit, the Volkswagen Arteon is a looker and with that much cabin space, makes a strong case for itself.
This car certainly does not fall into the mutton-dressed-as-lamb category. It's so much more than just a new body style slapped onto an existing product, which we wholly applaud. There's substance to this Arteon: it's an accomplished tourer that is spacious enough to seat 4 adults in luxurious comfort, with more than enough capacity to accommodate their luggage as well.
As we said at the Arteon launch, "those who've driven the Passat will attest to the fact that it's a superb package, yet (its) poor sales figures suggest consumers are not attracted to its nameplate, at least not in significant numbers." Unfortunately, even though the Arteon is lightyears more fashionable than a Passat and offers more youthful appeal, we don't think it will be a sales success either. Granted, even Volkswagen does not expect its newcomer to achieve volume sales, but how is the Arteon going to build momentum as a fledgeling product in a cutthroat, shrinking segment if it won't be widely seen and appreciated? Realistically, what are its chances of gaining a foothold in the market when it's up against not only its vaunted countrymen, but a glut of SUVs too?
Well, at least the Arteon gives Volkswagen loyalists something to aspire to. Imagine when the time comes for a Volkswagen owner to get a bigger car and a Golf GTI just won't cut it, a Tiguan's not for them and the Jetta is no longer available? Those who buy an Arteon will be impressed by its levels of comfort and technology and, if they opt for this engine, notable performance. However, we'll have to watch the sales charts to see if buyers are willing to tear themselves away from their coveted German (premium) brands and opt for something refreshingly different.
Related content:
Volkswagen Arteon Revealed [with Video]
Update: Volkswagen Arteon Teased Ahead of Geneva
Volkswagen Arteon (2018) Launch Review