Volkswagen has launched a new flagship sedan in South Africa. The Arteon is a sharply-styled business class fastback and we drove the newcomer in Johannesburg this week. Should you consider the newcomer over its acclaimed rivals?
The new Volkswagen Arteon joins a throng of business class sedans that are vying for attention in a segment seemingly in decline as a result of the growing popularity of SUVs. The Arteon faces off against well-entrenched competition in the shapes of the BMW 3 Series/4 Series Gran Coupe, the latter of which is a category winner in the 2017/18 Cars.co.za Consumer Awards – powered by WesBank, the Mercedes-Benz C-Class, Audi A4/A5, Alfa Romeo Giulia and Jaguar XE.
With the (Passat) CC now confined to the history books, the Arteon slots in above the Passat and assumes the throne as Volkswagen's new flagship sedan. Is it worthy of your attention? Click here to view specification and pricing details for the new Volkswagen Arteon
Looking Good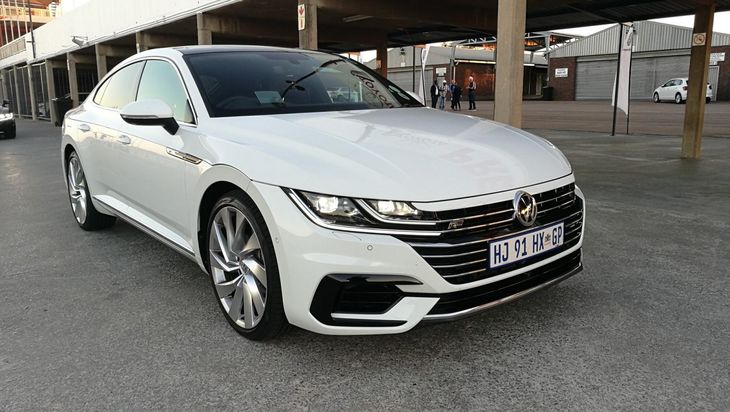 The Arteon is long and wide, offering a spacious cabin and high levels of occupant comfort and loading practicality.
The Arteon is undeniably a stylish-looking sedan. Its fastback styling, coupled with a long bonnet that culminates in a distinctive front visage with a plethora of chrome grille slats and full LED lighting treatment, make the Volkswagen particularly attractive at first glance. Many offerings in this segment suffer from "cookie-cutter syndrome" with generally bland, unexciting, run-of-the-mill designs and the Arteon is fortunate to differentiate itself in that regard. There's much more to like about this Arteon...
It's built on Volkswagen's MQB platform and thanks to a wheelbase measuring 2 841 mm, the Arteon's interior space, particularly for rear passengers is truly generous. You can literally stretch out back there! By virtue of the liftback design, similar to that of the Audi A7, BMW 3 Series GT/4 Series Gran Coupe and Porsche Panamera (to name but a few examples), the newcomer's load bay is long, reasonably deep and easily accessible; the quoted 563-litre capacity is significantly more than its rivals.
Familiar interior

The Arteon's interior will be familiar to Golf drivers and it's well-equipped with an Active Info Display and large infotainment system.
The Arteon's interior design will be familiar to those who've ensconced themselves in a well-specced Golf 7.5, with a clean and functional layout that has proved popular with the automotive media and general consumers alike. As you would expect, interior build quality is excellent with a suitably premium cabin ambience.
Although the Arteon can be had in Elegance or R-Line trim, all of the vehicles at the launch were kitted out in R-Line trim, which adds a multifunction R-Line leather steering wheel and Nappa leather carbon-style seats with full electric functionality for both the driver and front passenger. There's climate control air conditioning for front as well as rear passengers and comfort levels are high with the aforementioned legroom for rear passengers being a boon in this segment.
Perhaps the biggest highlight inside the Arteon R-Line is the standard digital Active Info Display and 9.2-inch Navigation Pro infotainment system, which lifts the interior's premium appeal to new heights. Other features include adaptive cruise control with front assist and city emergency braking, head-up display and a 360-degree camera.
How does it drive?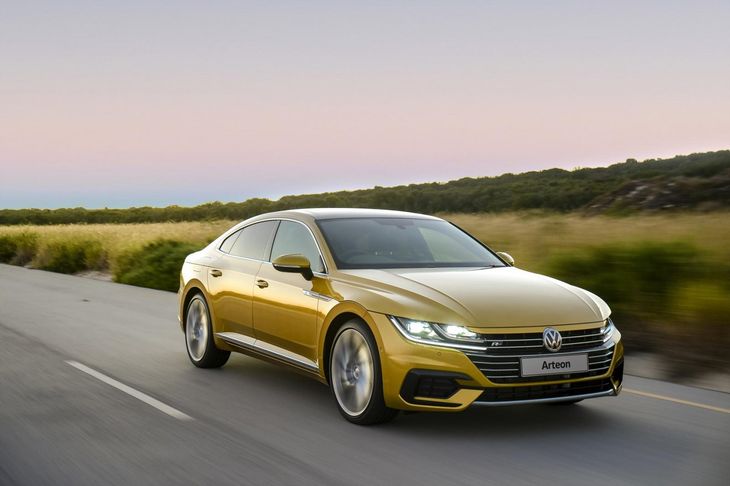 While the 206 kW petrol boasts the most power, we think the 130 kW diesel strikes a better balance between performance and efficiency.
There are 2 engines on offer in the Arteon including the range-topping 206 kW/350 Nm 2.0-litre turbocharged petrol engine and a 130 kW/350 Nm 2.0-litre turbodiesel engine.
Our launch drive started behind the 'wheel of the 206 kW 4Motion R-Line. The Arteon is a comprehensive grand tourer and it displayed excellent ride quality during the drive; buyers can be assured of high levels of driving comfort, even in the sportiest derivative. The engine is paired with a slick 7-speed dual-clutch transmission and shift paddles allow the driver to extract the most from the motor, while the car's on-road characteristics can be toggled via the Comfort, Eco and Sport driving modes.
The R-Line 4Motion responds positively to throttle inputs, but its comfort belies its speed, which is to say it's speedier than it feels and this particular derivative is capable of accelerating from 0 to 100 kph in 5.6 sec, which is respectable. The steering feel is light and relatively communicative and this range-topping derivative also features all-wheel drive (hence the 4Motion), which enhances handling and stability. With a kerb weight of 1 601 kg, the Arteon feels more like a sportier Passat rather than an enlarged Golf GTI. Volkswagen claims a fuel consumption figure of 7.3 L/100 km, but we expect figures of closer to 10.0 L/100 km in real-world driving situations.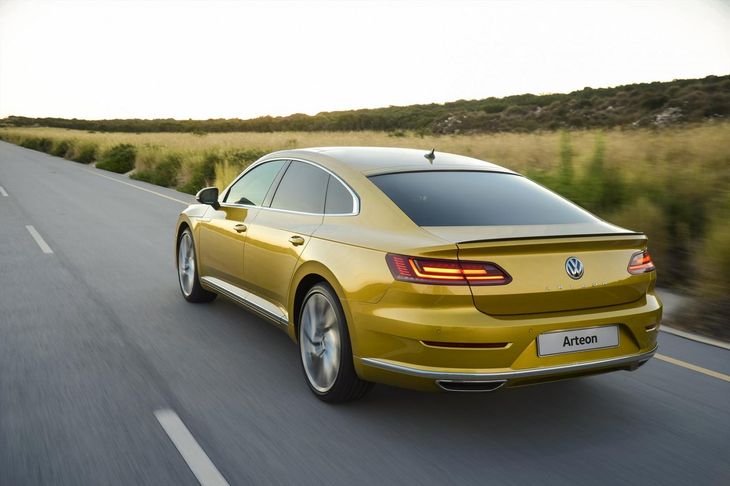 The Arteon delivers excellent ride comfort, which makes it perfect for long-distance touring.
If you want to maximise efficiency, then the 130 kW turbodiesel-engined derivatives make more sense. Although the diesel R-Line DSG lacks the outright punch of its petrol-powered sibling, its engine still manages to deliver acceptable performance. The powerplant is pleasingly quiet and refined in operation and power is delivered to the front wheels via a 6-speed DSG transmission. Fuel efficiency is claimed at 5.6 L/100km.
This derivative displayed admirable cruising ability out on the highway, but lacks immediacy lower in the rev range. However, we feel that this turbodiesel engine strikes a good balance between efficiency and performance and if you cannot be bothered with dicing hot hatches then this is probably the Arteon to go for.
Final thoughts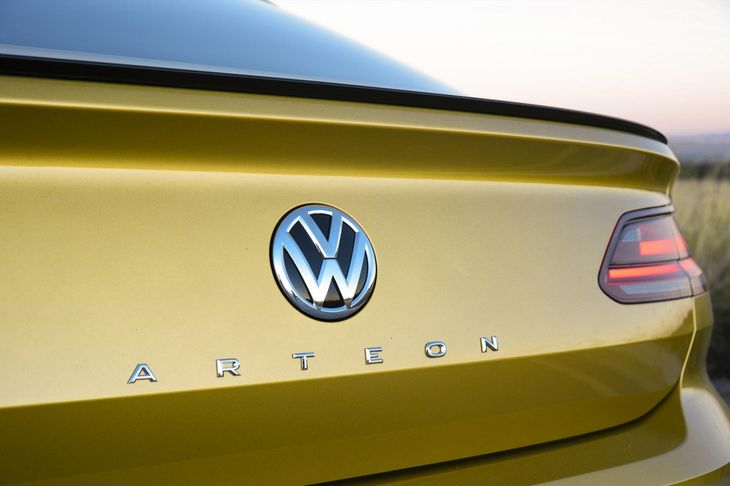 Finding favour with brand-conscious buyers will be the Arteon's biggest challenge on local soil.
We came away impressed with what the Arteon brings to the table. It's a rather unique and stylish offering that looks better than most in this segment and it's spacious and elegantly designed interior should grab many buyers' attention. Although its performance can't be described as earth-shattering, the Arteon has sufficient grunt to fulfil its duty as a comfortable, long-distance grand tourer. Furthermore, standard specification is good, which makes the package even more attractive.
The Arteon is a difficult car to fault and even though direct comparisons may reveal that it is better than its rivals in crucial areas, brand perception in this segment may very well prevent the Volkswagen from realising its sales potential on local soil (after all, those who've driven the latest Passat will attest to the fact that it's a superb all-round package, yet the latter's poor sales figures suggest that consumers are not attracted to its nameplate, at least not in significant numbers). Brand power in this segment counts for a lot and consumers are more likely to stick to brands that have established reputations and snob appeal in this segment. If that is indeed the case, it's a pity, because we think that if you are in the market for a business class sedan, the Arteon should be right up there near the top of your shopping list...
We will have the new Volkswagen Arteon on test soon, so look out for a thorough evaluation coming your way in the near future.
Volkswagen Arteon – price in SA (May 2018)
2.0 TDI 130 kW Elegance DSG R599 900
2.0 TDI 130 kW R-Line DSG R649 900
2.0 TSI 206 kW R-Line 4Motion DSG R699 900
The Arteon comes standard with a 5-year/90 000 km maintenance plan, 3-year/120 000 km warranty, 12-year anti-corrosion warranty and a space saver spare wheel.
Related content:
Volkswagen Arteon Revealed [with Video]
Update: Volkswagen Arteon Teased Ahead of Geneva