The cabin of the Mercedes-Benz V-Class could hardly be described as mundane, but Schawe Car Design has given the interior a high-end luxury makeover.
The Mercedes-Benz V-Class is highly regarded as one of the more luxurious people movers, with many hotels and airport shuttles opting for this vehicle. The cabin is focused primarily on comfort for passengers, but for those who think this vehicle doesn't offer enough, there are many design houses who are happy to upgrade the interior.
The latest is Schawe Car Design, who has given the Mercedes-Benz V-Class a proper luxury makeover. The standard trim and panels have been replaced by high-end Nappa, black Mercedes-Benz leather as well as Bentley leather. There are also heated seats for everyone and all the plastic trim has been replaced by premium materials. A privacy screen as been fitted to separate the driver from the passengers, making it ideal for those seeking private meetings. Also, how cool is the lighting, which can change colour depending on mood?
There are also some classy touches such as electronically-controlled tables and 2 crystal carafes complete with a mini liquor cabinet. Who said road trips had to be boring? Outside, there's precious little to distinguish the standard Mercedes-Benz V-Class from this Schawe Car Design model other than some 19-inch 7-double-spoke rims.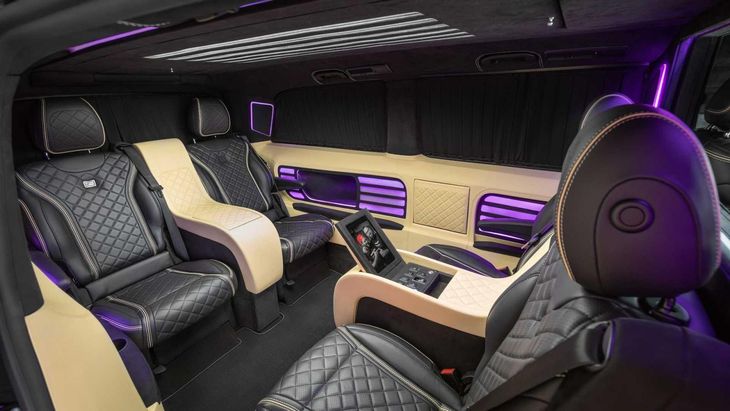 The rear cabin of the Schawe-upgraded V-Class is one magical place to be. How epic are these seats?
Further Reading
Meet The Ultimate Mercedes-Benz V-Class
Mercedes-Benz Marco Polo Updated for 2020
All-New Mercedes-Benz V250 Gets Brabus Treatment
Mercedes-Benz V-Class (2015) First Drive