The all-new Mercedes-Benz V-Class has only just arrived in South Africa, but Brabus has been hard at work working on making the MPV even more luxurious.
Mercedes-Benz tuner Brabus has announced the Business Plus package for the Mercedes-Benz V250d. Comprising a cabin overhaul as well as some performance upgrades, the Brabus van becomes a next-level offering. So, what do you get for your 300 000 Euros? Yes, that is the price! Yikes.
First up are the engine upgrades. The 4-cylinder diesel engine now produces 173 kW (up from the standard 140 kW) and Brabus claims a 0-100 kph run in just 8.8 seconds with a top speed of 210 kph. It's the cabin that has us the most interested. It looks like a luxury business jet on the inside and Brabus has worked some serious magic here, making it a seriously premium place to hang out.
There are gorgeous leather seats which are heated, ventilated and offer massage and memory functionality. Also of interest are heated and cooled cupholders throughout the cabin, as well as privacy curtains. There are plenty of USB ports for customers to charge their devices as well as a roof lining that resembles a starry night. Thrown into the mix is a 21-inch TV, LTE internet router, Apple TV as well as a Playstation 4 Slim. Other changes range from a subtle bodykit, badging and 19-inch alloy wheels.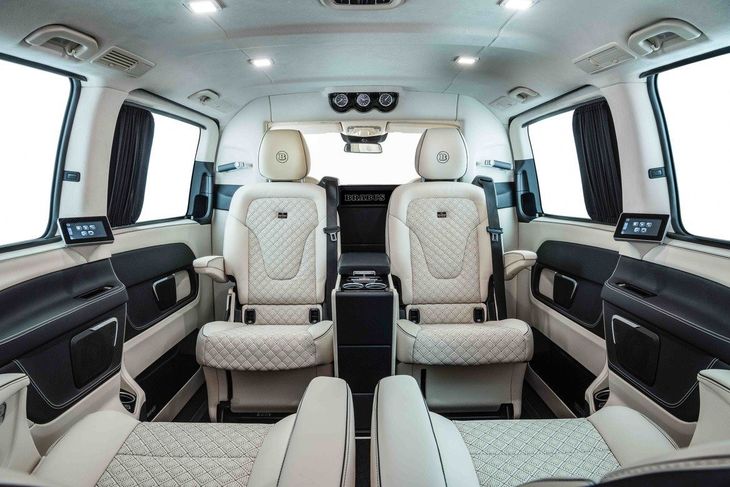 Further Reading
Mercedes-Benz V-Class (2019) International Launch Review
Mercedes-Benz V-Class (2019) Specs & Price