We got a chance to get behind the wheel of the new Toyota Fortuner, one of South Africa's most popular lifestyle vehicles. This new model represents a major leap forward from its predecessor and promises much in terms of refinement and go-anywhere ability
The Toyota Fortuner has been the best-selling vehicle in its class since it was launched back in 2006. Despite the launch of rivals such as the Chevrolet Trailblazer and two generations of the Ford Everest, the Fortuner's continued to dominate the sales sharts. The Toyota market share in its segment has been over 40% and has been as high as 60%. To date, nearly 100 000 Toyota Fortuners have found homes in South African – it's a fantastic achievement by any standards.
This new version of Toyota Fortuner is vastly improved in the looks department. Stylistically, the outgoing model made little attempt to hide the fact that it was derived from the Hilux, but this new version looks more like a premium SUV that would easily bear a Lexus badge. From front on, there are elements of the Toyota Prado, while the rear is not too dissimilar to that of the new-look RAV4. It really is a remarkable step up in terms of visual appeal. Even the key's been upgraded; it really looks upmarket in your hand.
The new imposing looks are not just for show either, because the Fortuner's interior space has been increased significantly. Many seven-seat vehicles suffer from a lack of legroom for the third row of passengers, making the seats only suitable for small children. However, the new Toyota Fortuner benefits from increased legroom for the occupants of the 2nd and 3rd rows, and the rearmost seats are now able to fold away with just one action.

Have a walk around the new Toyota Fortuner by clicking the Play button

The new engines are excellent
The new engines and gearboxes from the Toyota Hilux have been carried over and on the launch, we spent most of our time in the 2.8 GD6 and 2.4 GD6 turbodiesels, with a highway drive in the range-topping petrol 4.0-litre V6. While there has been much fanfare about the 2.8-litre – and, rightfully so, as it's a great engine – the 2.4-litre motor proved a pleasant surprise. It produces 110kW and 400 Nm, which is more than adequate to lug the Fortuner around. The 2.8 has 130 kW and, depending on whether you want a manual or an automatic, 420 Nm and 450 Nm respectively. If you'd like a more frugal petrol motor than the V6, a 2.7-litre VVTi makes its debut.
How does it drive?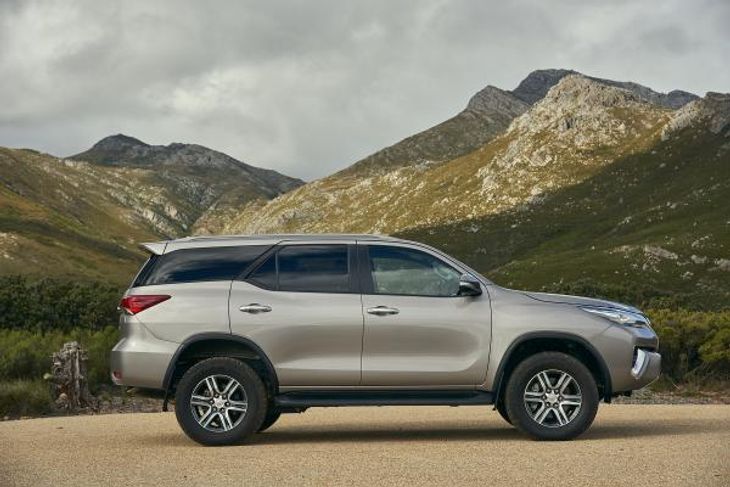 Our launch route took us through the Western Cape Overberg area and we had the chance to drive the Fortuner on tarred surfaces, back roads and at the offroading academy at Klipbokkop near Worcester. The Fortuner is certainly not lacking in grunt whatsoever and there's no hesitation when overtaking acceleration is required.
Refinement is one of the key things that Toyota has focused on with the new Fortuner. The old Fortuner was not the quietest, nor softly-sprung, vehicle and in certain scenarios it felt agricultural, even primitive. There's was no doubt about its abilities, but comfort levels were middling. This new model has fixed those aspects and the vehicle feels more mature and premium. Road noise and engine vibration has been ironed out, and we now have a vehicle that delivers that premium ride and feel.
The 2.4-litre in 4x2 application was a particular revelation. While it lacks the outright offroad ability of its all-wheel driven siblings, it does everything else so well and handled gravel/dirt roads with ease. The engine is not short of grunt whatsoever and the manual gearbox is slick in operation. While its specification is entry-level, it's not spartan by any means. We feel that this model is certainly the one to consider first if you're not planning on doing some serious offroad driving. It would be great to see Toyota offer a 4x4 version of the 2.4, which would prove to be ultra-competitive both in terms of ability and value for money.
The 4x4 models are exceptionally capable thanks to a combination of great ground clearance (279 mm) as well as a plethora of electronic aids. The traditional Toyota 2nd gear lever (to activate low range) has been replaced with a rotary dial. You can shift from two-wheel drive to four-wheel drive mode while you're driving, but low-range will require you to come to a complete stop. Give it a few seconds, the low-range light comes on the dashboard, then you're ready to tackle an off-road route.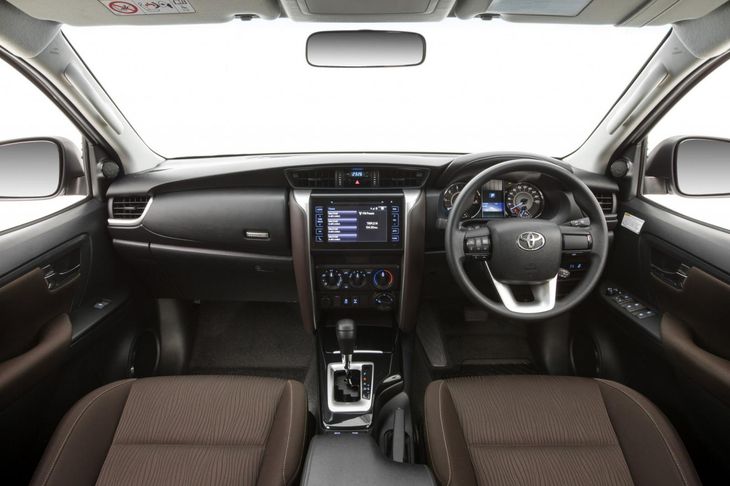 The offroad route at Klipbokkop Academy took us through thick sand as well as crossing over some dunes. While it would have been an ample test for basic all-wheel drive vehicles, the Fortuner breezed through effortlessly and it'll take some serious terrain to really challenge it. You also get the feeling that, within reason, the only limitation to the Fortuner's offroad ability is its driver's off-road prowess. A Fortuner in the right hands will be a superb offroad vehicle, and the 4x4 fanatics will revel in its go-anywhere attitude. The fact that it offers a combination of appreciable off-road ability, space for 7 occupants and a host of creature comforts is a massive boon.
The drive from the offroad area back home was completed in the flagship 4.0-litre V6. This is the top-of-the-range model and is only available in automatic. It's powerful and the drive experience is commanding. There's a bit of a roar from the big engine when you're pressing on, but no shortage of outright grunt. However fuel consumption is a concern and at times, we were averaging 16.0 L/100km. If fuel consumption is a worry (which it should be considering the massive fuel increase on the cards for April 2016), then we'd recommend opting for one of the excellent GD6 diesel. The 2.8 is powerful yet refined, while the 2.4 punches well above its weight.
The Fortuner is not without a drawback, however. Thanks to the re-engineered suspension (front double wishbones and four-link coil springs at the rear), the newcomer's ride quality and cabin refinement have been substantially improved (much like that of the Toyota Hilux upon which it is based). Having said that there's still a somewhat "wallowing" quality to the Fortuner's on-road behaviour. We expect that the Toyota's ride will even out when it's loaded up with cargo and a few passengers, but when unladen there's a level of bounciness and noticeable body roll. Those characteristics are, unfortunately, endemic in bakkie-based SUVs, but will undoubtedly aid occupant comfort on rougher terrain.
An in-car video of the new Toyota Fortuner crossing tough offroad terrain
Summary
2016 will be a great year for comparisons in this segment. The new Ford Everest was launched towards the end of 2015 and a facelifted Chevrolet Trailblazer should arrive before the end of 2016.
In terms of pricing, if you compare rivalling Everest and Fortuner models, every Toyota derivative is about R45 000 cheaper than the equivalent Ford. When specification plus value for money counts for almost everything and your product can do everything and more than its rival for nearly R50 000 less, it's devastating. There are rumours that the Everest range will soon expand to include lower-specced and smaller-engined derivatives, but for now, that's mere speculation.
Overall, the new Fortuner is very accomplished: it excels in terms of space, comfort and performance/efficiency. Moreover, the range is keenly-priced (for what you get) and 4x4 models offer excellent offroad ability. Unless you're determined to buy a petrol derivative, opt for one of the fine turbodiesel motors and you'll enjoy one of the most capable and practical vehicles in its class. Expect the new Toyota Fortuner to be just as popular as the outgoing model, if not more so...
Toyota Fortuner (2016) prices in South Africa
Toyota has not only come to market with a wider model line-up than the new Ford Everest, but has also priced very aggressively. Yes... expect to see many of these Fortuners on our roads, very soon.
2.4 GD-6 Raised Body Manual: R436 400
2.4 GD-6 Raised Body Automatic: R453 400
2.7 VVT-i Raised Body Automatic: R429 400
2.8 GD-6 Raised Body Manual: R513 400
2.8 GD-6 4x4 Manual: R571 400
2.8 GD-6 Raised Body Automatic: R531 400
2.8 GD-6 4x4 Automatic: R589 400
4.0 V6 4x4 Automatic: R633 400
All retail prices include a three-year/100 000km warranty and five-year/90 000km service plan.