Audi desires to evolve the RS brand into something that has clearer and closer ties to its racing cars. The RS3 Sedan, which will soon be launched in South Africa with a list price of R925 000 (May 2017), is said to be the first step away from "safe and predictable Audi performance models". Our UK correspondent, Neil Winn, took it for a drive through the mountains of Oman to test that statement.
As a versatile hot hatch, the Audi RS3 has always been close to the top of the podium. If you want a quick, luxurious and secure all-weather machine that offers decent levels of practicality and reasonable running costs, it's hard to ignore Ingolstadt's junior performance car. But we've always struggled to gel with the five-pot Audi, partly because of its prodigious price and partly because it places unflappable performance ahead of flamboyant entertainment. However, as demonstrated by the surprisingly playful TT RS, it seems that Audi Sport isn't completely averse to producing cars with a sense of fun.
Tuned for more fun
Therefore, for 2017, special attention has been paid to the RS3's historically straight-laced dynamics. Firmer RS Sport suspension with adaptive damper control promises flatter cornering; widened front and rear tracks (by 20 mm and 14 mm respectively) should limit joy-sapping understeer; and new ESP software even allows for some "controlled drifting" – or so Audi Sport tells us.
Even so, the star of the show still resides up front. Billed as the world's most powerful series-production five-cylinder engine, the 2.5-litre turbocharged five-pot is the same all-aluminium unit first seen last year in the new TT RS Coupé. With peak power rated at an impressive 294 kW, this 'mid-level' RS is now more than half a second quicker to 100 kph than the original Audi R8.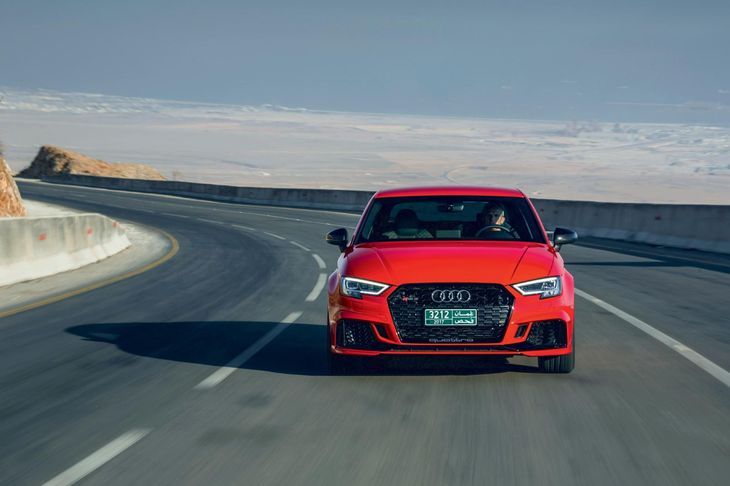 The RS3 has been widened and given more power from a new 5-pot turbo engine.
You'll be able to reproduce the same results time and again, thanks to Audi's 7-speed S tronic dual-clutch automatic 'box. However, more obvious than these mechanical changes is the RS3's new body style. For the first time, Audi is offering the RS3 in sedan form in an effort to generate extra sales in the increasingly important, but hatchback-phobic, US and Chinese markets. In fact, Audi believes it will sell more of these four-door RS3s in the US and Asia than in Europe.
Granted, the idea of an extra expensive compact performance saloon might not be everyone's cup of tea but, to our eyes at least, that sleek body looks great.
Combined with the enlarged air intakes, flared arches and lower roofline, it's hard not to get excited at the prospect of a mini super-saloon. In fact, with a longer wheelbase than a B5-generation RS4, it could be the ideal all-weather machine. The interior is a triumph. The predominantly black cabin is an exercise in restraint, but there are enough touches to indicate that you are indeed sitting in an RS model.
The traditional, flat-bottomed steering wheel and embossed RS logos on the cross-stitched leather seats add a touch of class, and in line with the rest of the facelifted A3 line-up, the interior of the RS3 can be enhanced with Audi's Virtual Cockpit TFT instrument display.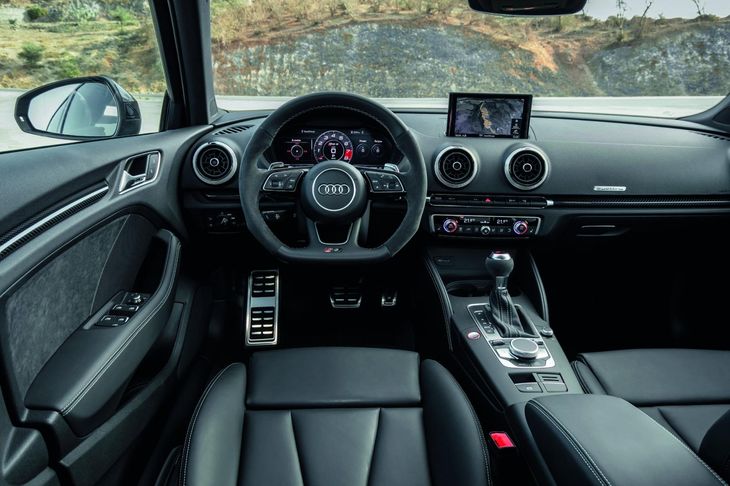 As with the new A3 range, Virtual Cockpit is now available. Touches of Alcantara on the steering wheel and door panels remind you of the RS3's racing pedigree.
The part that matters
Small details aside, there's only one feature in the cabin that truly matters: the bright red starter button. Thumb it and the five-cylinder motor barks into life with an intensity that betrays its compact size. In town, that iconic offbeat firing sequence sounds truly superb, although we were a touch surprised by a distinct lack of pops and crackles on the overrun.
Perhaps Audi has grown tired of artificial sonic enhancements. Regardless, with 480 Nm from 1 700 rpm, the RS3 is seriously quick off the line. The 4.1 seconds-to-100 kph sprint feels entirely believable from behind the wheel, with the quattro all-wheel-drive system ensuring no loss of traction.
Combined with a quick-shifting dual-clutch transmission (in manual mode), it is one of only a few road cars capable of delivering such levels of effortless performance. And yet, once up and running, the RS3 never quite delivers the same kind of top-end rush you'd expect from a sports saloon with nearly 300 kW.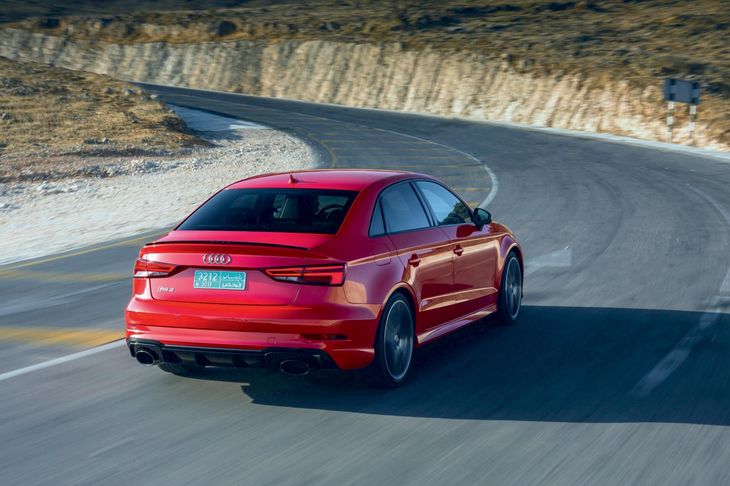 The exhaust barks and pops less on the overrun than the previous RS3 but it still sounds superb when you let it loose.
This is partly down to the engine's flat torque curve, but the car is also hampered by a gearbox that can be hesitant when left to perform its own shifts. It's a combination that is most noticeable on the exit of hairpins and slower corners: when you expect to accelerate out on a wave of torque, you instead have to wait for the boost to build before you're able to drive cleanly off the corner.
To its credit, the new engine does benefit the RS3, albeit passively, when the roads get twisty. With the car's wider track, a revised ESP system and, most important, less weight over the nose, the car turns in more sharply than the outgoing (and non-saloon) RS3.
How does it drive?
Where the old model would slip into understeer mid-corner, the new car digs in and drives through more accurately. On the tight and twisting switchback roads that snake their way up and down Oman's Dhofar mountains, it was easy to play with the RS3's newfound balance.
Lifting off on entry now allows you to dictate your angle of attack, with the rear axle helping to point the car at the apex. It's a joyous feeling when you get it right. Once you get on the power, the supposedly 'playful' quattro system pulls everything back into line, despite it being theoretically capable of dispensing 100% of its available power to the rear wheels.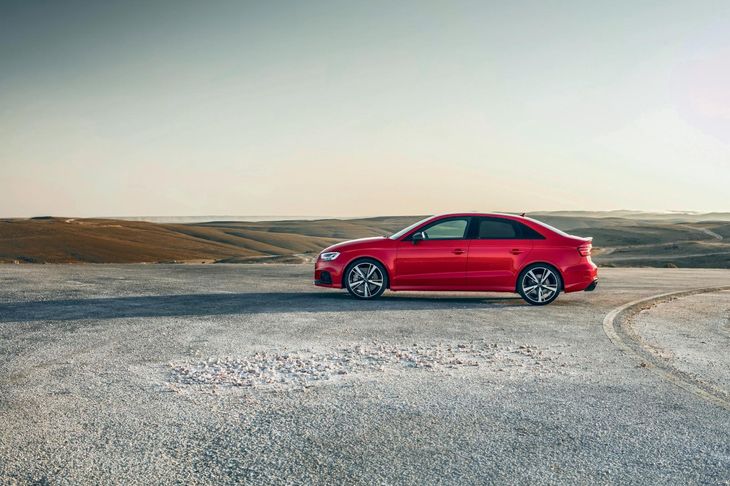 It's capable of sending 100% of available power to the rear wheels, reducing its tendency to understeer.
Still, there is no question that this is a genuinely talented car and one that is engaging on the right road. The hot and dusty roads of Oman are quite similar in nature to those we have in SA, the low-grip surface did give us an insight into the RS3's abilities up to and over the limit – abilities that bring it closer to rivals such as the VW Golf R and BMW M140i, both of which are significantly cheaper. And therein lies the reason that this is a car that is hard to recommend, especially when you factor in the comparative costs.
Should you buy it?
Official prices have yet to be announced by Audi Sport, but we've locked them down to a figure of R925 000, which is a mighty amount of money considering that the outgoing RS3 Sportback started at R710 000. Add in the best part of R100k plus for carbon-ceramic brakes and the optional adaptive dampers, and you're looking at an 'entry-level' RS model that's not far off the cost of a BMW M4.
Will that be enough to put the public off buying one? Of course not. But the choices of machinery that hover in and around the million rand mark are wondrous, and you may find it difficult to justify an RS3 Sedan over something like a BMW M2, Mercedes-AMG CLA 45 or even a Porsche Cayman S - if you want a sportscar.
Audi RS3 Sedan Quick Specs
Price: R925 000
Engine: 5-cylinder, 2 480 cc, turbopetrol
Power: 294 kW at 5 850-7 000 rpm
Torque: 480 Nm at 1 700-5 850 rpm
Gearbox: 7-spd dual-clutch automatic
Kerb weight: 1 515 kg
0-100 kph: 4.1sec
Top speed: 280 kph
Economy: 8.3L/100 km
Related Content
Looking for a used Audi RS3?