While hot-hatch aficionados eagerly await the local arrival of the rally-bred Toyota GR Yaris, which produces 200 kW in standard trim, a Hampshire-based tuner has been cranking up its 3-cylinder turbopetrol motor to produce 224 kW and is developing a slew of custom components for the newcomer.
Developed with the express purpose to homologate Toyota's contender for the world rally championship, the all-wheel-driven GR Yaris is built in the Japanese firm's Motomachi factory, in a dedicated section of the plant that is reserved for the production of GR sportscars.
ICYMI: Toyota GR Yaris (2021) International Launch Review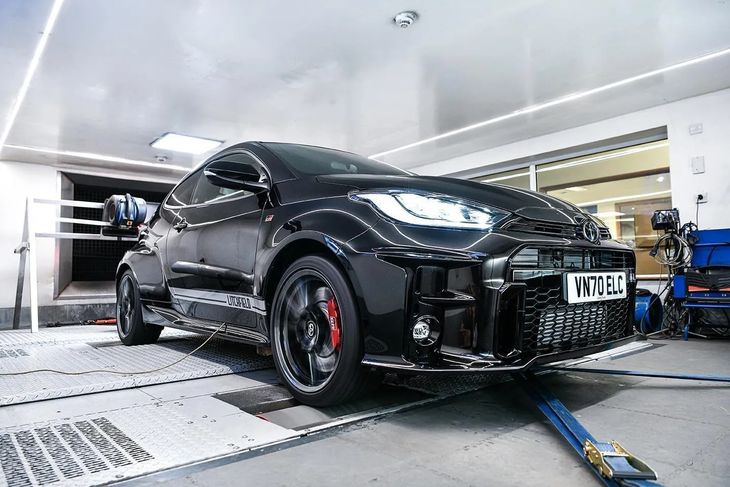 Litchfield conducting a dyno test on the more muscular GR Yaris, the initial engine upgrade comprises tweaked ECU software.
We've seen spy pics of what appears to be a prototype of an even hotter GRMN version undergoing testing, but while Toyota may – or may not – be working on a more potent GR Yaris of its own (consider that once the firm has sold enough units of the car to satisfy competition regulations, it may quietly suspend production... that's what the overwhelming majority of manufacturers do), tuners have been fettling the Japanese hot hatchback; many of them are JDM-based, but some are from Europe – well, in this case (in a post-Brexit world), the neighbouring United Kingdom.
Litchfield, which also produces upgrade kits for performance cars such as the Alpine A110, BMW M2 and Ford Focus RS, bought a pair of GR Yaris units shortly after the vehicle's UK launch late last year and is developing a plethora of aftermarket parts, such as performance exhaust systems, a bolt-in roll cage, a new intake system, an ECU tuning package, an uprated intercooler, polyurethane bushes, as well as race seats for the car, Autocar reports.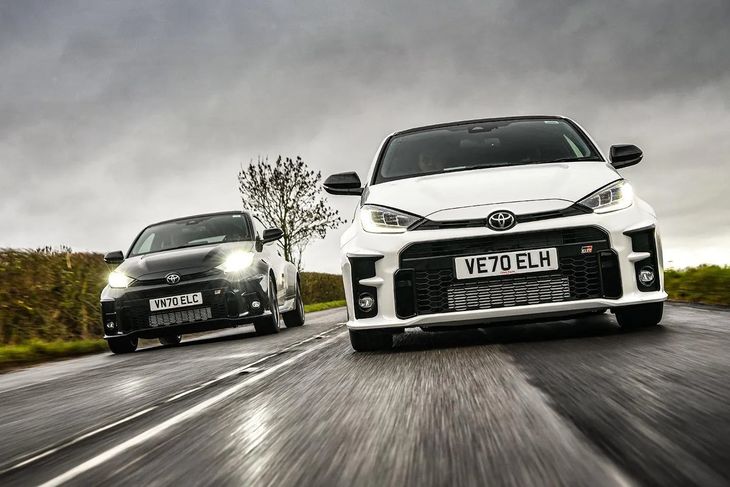 The customer coilover kit from Nitron is said to lower the ride height AND improve the GR Yaris' ride quality.
In standard trim, the GR Yaris' 3-cylinder, 1.6-litre turbocharged engine offers up 192 kW and 360 Nm, but there is also said to be a high-output version that produces 200 kW and 370 Nm… and we understand the South African market is likely to get the latter.
In developing new engine management software for the GR Yaris' ECU, Litchfield has effectively reverse-engineered its way into the Toyota's control systems. The firm has been testing a piggyback system that extracts at least 224 kW from the mechanically unmodified "triple" motor, representing a gain of about 24 kW over the standard car, but is also refining the software tweaks to ensure "smooth, consistent" power delivery.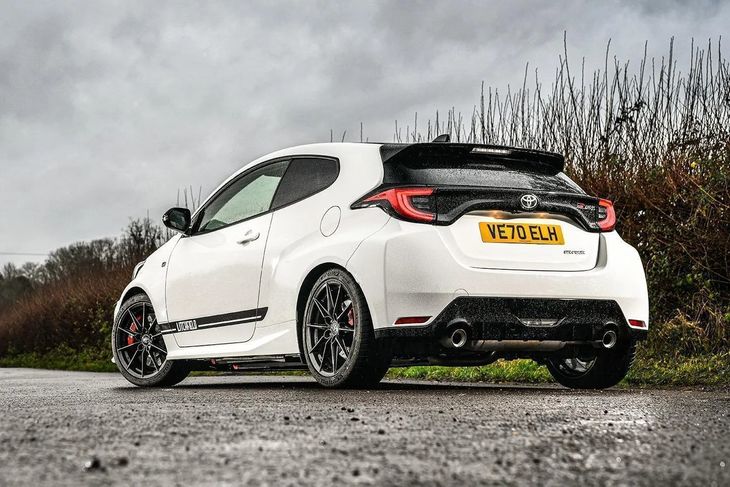 Note the more aggressive stance now that the wheels sit more tightly in the Toyota's wheel arches.
The GR Yaris' all-wheel-drive system can apportion power between its front and rear axle dynamically via the Normal (60:40), Sport (30:70) and Track (50:50) drive modes. Whereas the standard model (equipped with a 6-speed manual gearbox) is said to bolt from 0 to 100 kph in 5.5 sec, Litchfield may hope to shave a 10th or two off that time.
Meanwhile, the company is planning to offer a pair of suspension upgrade packages for the Toyota, both of which are said to "result in a lower ride height and improved ride quality without compromising the factory-specification car's dynamic characteristics," at least according to the tuner.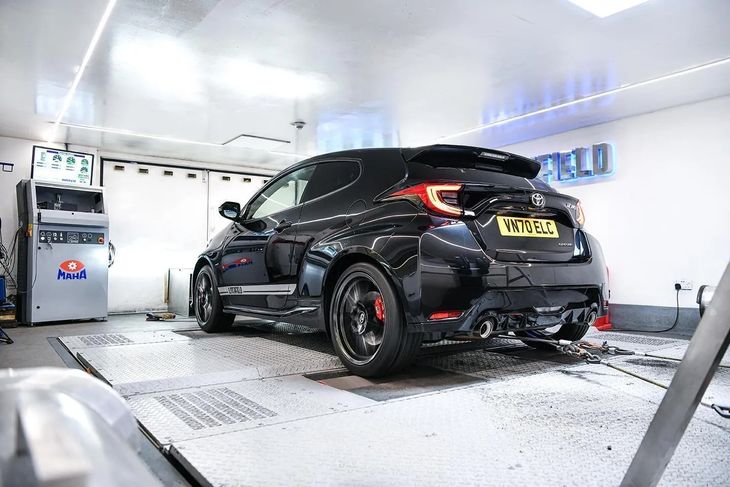 During the initial development phase, Litchfield has extracted 224 kW from the 1.6-litre 3-pot motor, how much more is to come?
To that end, Litchfield is developing a custom coilover kit in conjunction with UK suspension company Nitron. The prime setup offers 3-way adjustment "for maximum capability", but the firm has also fashioned a 2-way kit that "locks-in" the basic optimised in-house settings at a lower starting price. A by-product of the mod is a lower, decidedly hot hatch-like ride height and a sportier stance.
In the meantime, we await the Toyota GR Yaris' arrival on local shores. We will publish local specs and pricing info as soon as official details become available.
Related content:
Toyota GR Yaris for SA in mid 2021
Toyota GR Yaris (2021) International Launch Review
GR-parts make GR Yaris look fiercer