Calvin Fisher has a long history with hot 2 Series BMWs. This one is the hottest of the lot, the 331 kW/550 Nm BMW M2 CS (Clubsport), which was launched at Kyalami Race Circuit. We wished him good luck.
Meet the BMW M2 CS, a track-oriented M car if there ever was one. Years ago, I was one of the fortunate few to try out the original M240i at the Las Vegas Speedway and then, about 12 months thereafter, I returned to the 'States to try out the (then) new BMW M2, which had its first outing at the legendary Laguna Seca Raceway.
But today, Kyalami – an equally winding circuit with a comparable amount of elevation change to the famed Californian circuit – would host my eagerly anticipated meeting with the ultimate version of the F87-generation 2 Series: the BMW M2 CS, with its thumping 3.0-litre inline-6. Under its carbon fibre bonnet lurks 331 kW (peaking at a lofty 6 250 rpm) and 550 Nm of torque. That's approximately 10% more powerful than the already sublime M2 Competition model. But, as I was about to discover, and you'll encounter in the following paragraphs, power isn't all that's been improved.
Very limited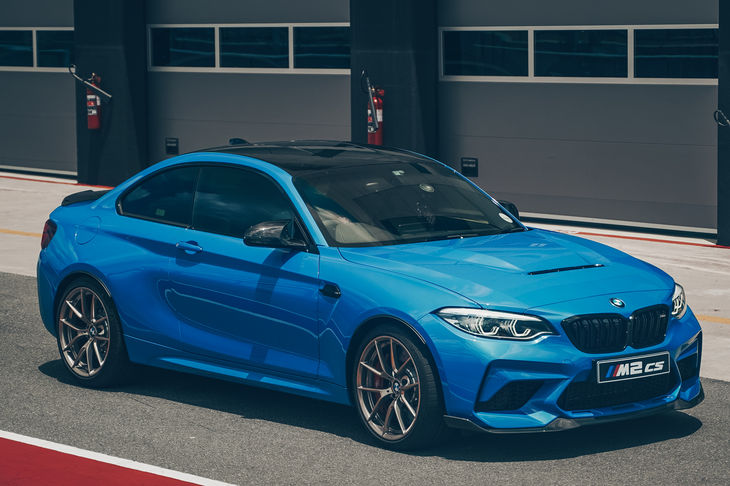 Just 30 units have been made available to SA with the first 20 being auctioned off to the highest bidders.
But first, let's talk exclusivity. Yes, the M2 CS is a limited-edition model, BMW's 1st low-volume compact model since the 1M Coupe. And while 2 200 units will be produced, Mzansi will get only 30 of those. By the time you read this, the first 20 had been auctioned off for around the sticker price. That's right, twenty R1.65-million cars (depending on options) were snapped up instantly. If you want to get your hands on one of the last ones, you better call in a few favours or find a dealer who's got an allocated unit to sell you (alternatively, you may have to buy a speculator's car at an inflated price).
And did I say track-biased? Well, yes, but don't think of actually taking this rare machine to one, because if you do, you'll incur the wrath of the gods of Motorplan. Instead, we must dust off that old cliche aka, it's "a racecar for the road". It's quick as greased hell, yet comfortable enough to live with and then there's the fact that unlike its Porsche Cayman GT4 rival, the M2 CS still has rear seats. It's also rather handsome, if you enjoy aggressive aero, muscular body panels and blistered wheel arches. I certainly do. My steed, in particular, was a sight to behold, resplendent in Misano Blue with the optional matte gold alloy wheels at each corner, shod with Pilot Sport 2 rubber. Gripping stuff. The standard-issue wheel is an equally attractive 19-inch Y-Spoke rim. Either or, really.
About that carbon fibre, well it's just bloody everywhere. That aforementioned vented carbon fibre bonnet is 50% lighter than the one on the M2 Competiton. The mirror caps and roof are also made of that magical dark-weave material, ditto the front splitter. As a result, overall weight has been shaved and that will affect the responsiveness of what was already an accomplished performance chassis – one that further benefits from the adaptive M suspension for supreme handling.
But to appreciate that, one must climb inside. Drop a cheek into the leather and Alcantara M Sports pew and you'll encounter yet more carbon fibre. You'll also get to grips with an M Sports 'wheel (of which the rim can be trimmed in Alcantara) available with or without paddle shifters depending on your choice between a 6-speed manual or 7-speed M double-clutch auto 'box. The centre console is lashed with carbon and the cabin's littered with fine details such as M2 CS door sills and badges, plus fire-red stitching – the tinsel of motorsport, or exactly what you want in your special-edition M car.
And since I've just mentioned littering, now's a good time to decide where you'll put your phone, wallet and keys since the M2 doesn't come with a cubbyhole. Instead, it comes with a 0-to-100 kph sprint time of just 4.0 sec, which is, well, wonderful. It also means that you'll find your previously mentioned items "somewhere in the back". Top speed is rated at 280 kph, which is enough in anyone's books.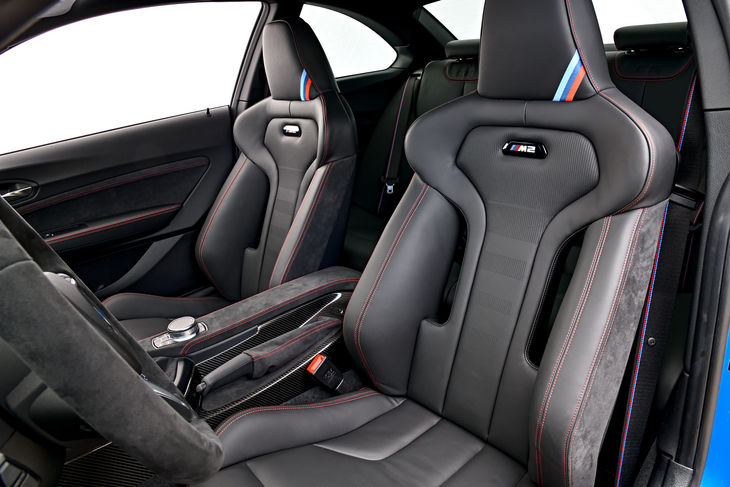 Lightweight leather and Alcantara sports seats are standard, as is carbon fibre in as many places as you can fit it.
To reign in all that shunt and grunt, BMW has fitted highly capable M Sport brakes matched with red calipers. Ours has the optional carbon-ceramic brakes for greater stopping power and another weight saving (in unsprung mass), this time a further 23 kg. The driver will have the usual M Dynamic modes and profiles to switch between ala Comfort, Sport and Sport Plus, the latter really leaning into the Active M differential's abilities. This helps appreciably in what is ultimately a high powered, torquey rear-wheel-drive sportscar with a smallish footprint.
Dial all the settings up to the high heavens and you'll unlock a performance whip that improves on the Competition model in every aspect. Louder, livelier, more responsive and just gluttonous in its ability to eat up corners. Kyalami has 13 turns, and I had the time of my life transferring every single one of them from the windscreen to rear-view mirror (on at least 6 occasions) before BMW took the keys away from me. Add to this the fact that a glorious straight-6 soundtrack is integral to the driving experience, and you'll understand why I was reluctant to extract myself from the CS' driver's seat.
Verdict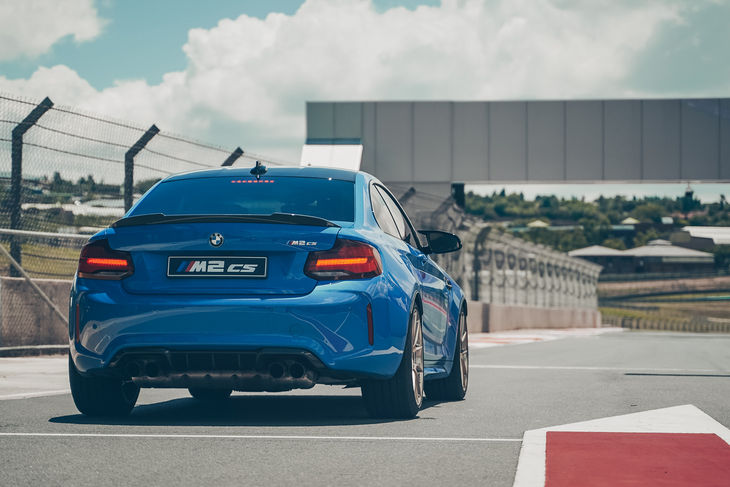 One of BMW's greatest hits, but we hold thumbs that reports of the next-gen 2 Series Coupe will be a RWD car are true.
There is an obvious, inherent specialness to the BMW M2 CS; many people thought the aforementioned 1M Coupe was a once-off, but the M2 CS has brilliantly followed in its tracks. With the 1 Series hatchback and the 2 Series Gran Coupe going down the front- and all-wheel-drive route, arguably at the cost of ultimate driver involvement, there were fears the M2 CS would be BMW's final great small sportscar. Fortunately, a next-gen 2 Series Coupe (based on the Z4's RWD architecture) is said to be around the corner, so hopefully, this extraordinary coupe won't be the last of the breed.
Ultimately, the M2 CS doesn't need to justify its price of R1.6 million. In excess of 300 potential buyers are in the queue for a shot at the chance to own one of just 30 units. With the CS, which is one of my most memorable drives of 2020, BMW has turned its scalpel into a laser. A powerful, noisy precision instrument that can hold its own against anything you throw at it. I'd say get one, but you probably couldn't even if you tried...
Related content:
BMW M2 CS Takes On The Nurburgring
BMW M2 CS (2021) Specs & Price