Toyota has revealed its sixth-generation van and for South Africans, it could be a very big deal.
Although its dominance in the bakkie market, with Hilux, is generally sighted as Toyota's most successful local motoring venture, the Japanese automotive giant has achieved even greater segment supremacy with HiAce.
More South Africans have a motoring experience with one of Toyota's HiAce vans than any other vehicle and the sixth-generation is a notable leap forward in design. It features a bonnet and eschews the blunt-nose box-shape packaging of the fifth-generation HiAce, known locally as Quantum.
The new HiAce is 12% longer than a Quantum, most of it attributable to the addition of that bonnet, which supports Toyota's vision of a safer van – with improved crash absorption safety and a marginal improvement in aerodynamic efficiency.
What that repackaged profile with its bonnet growth has also enabled, are a range of better engines. Toyota's proven 2.8-litre turbodiesel, known to Hilux owners, will power new HiAce. It will be graded at 130kW, with torque output varying between 420- and 450Nm, depending on the transmission attached to it. A 3.5-litre V6 petrol will also become available, with both engines configured to drive the rear wheels – through a choice of either manual or automatic six-speed transmissions.
The cabin gains a steering wheel and instrumentation binnacle from the current Fortuner, with a unique HiAce specific centre-dash and three front airbags. Safety is further enhanced by the addition of electric stability control and for those van drivers who roam steep urban areas, there is hill start assist on the six-speed manual version.
Seating configurations for the new HiAce vary between 12 and 15. The local tax industry might continue to have option on a locally built fifth-generation HiAce (Quantum) for many more years, but this new HiAce could make commuting a lot more comfortable and safer for many South Africans.
SA Arrival
Toyota South Africa confirmed that the new Quantum van will be arriving in Q2 of 2019. The range will comprise three-seat vans in long (LWB) and super-long wheelbase (SLWB) configurations and six-seat LWB crew cabs. The bus range will comprise of 11 (LWB) and 14-seater (SLWB) versions. There'll be just one engine: the 2.8-litre 4-cylinder turbocharged diesel, which currently does service in the Hilux.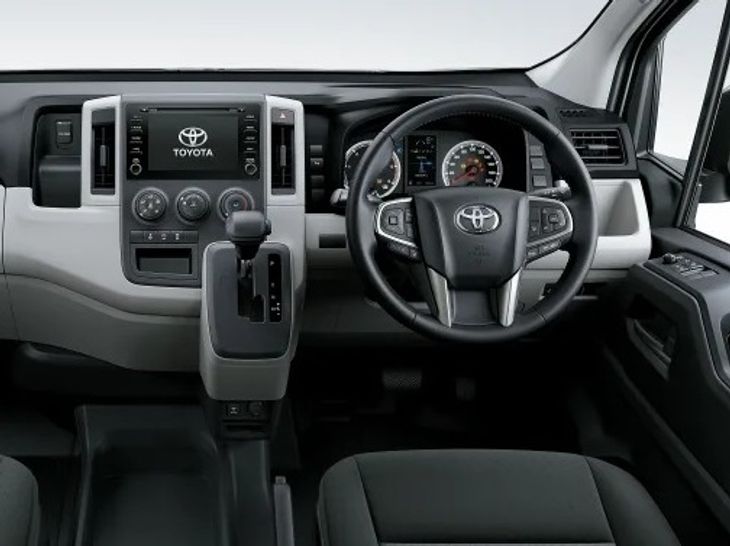 The interior of the new Toyota Quantum
Want to buy a Toyota Quantum? Browse through new and used stock here
Further Reading