The Yaris used to be one of the bestselling compact hatchbacks in the new vehicle market, but its popularity has waned. Now Toyota South Africa has introduced a new version, which is built in Thailand... will it change the Yaris' fortunes for the better?
We like: More space, better infotainment system, willing engine, good ride quality.
We don't like: Cheap interior materials, horrid turning circle, lack of reach adjustment on steering column.
Alternatives
The standard choice: The Volkswagen Polo is SA's best seller and the new model has just arrived in 2018. It may be at the upper end of B-segment pricing but it's an excellent, modern hatch that doesn't have any major flaws.

The #CarsAwards category winner: The Mazda2 is a solid, dependable choice in this segment. It is keenly priced and an excellent drive. Most models lack stability control, however.

For some flair: The Renault Clio offers good value for money with a well-kitted car that looks good and returns excellent fuel economy. The interior trim quality may not quite be up to the Mazda and Polo's level.
Click here to compare this Yaris derivative's specifications with those of comparable versions of the Volkswagen Polo and Mazda2.
Why change the Yaris?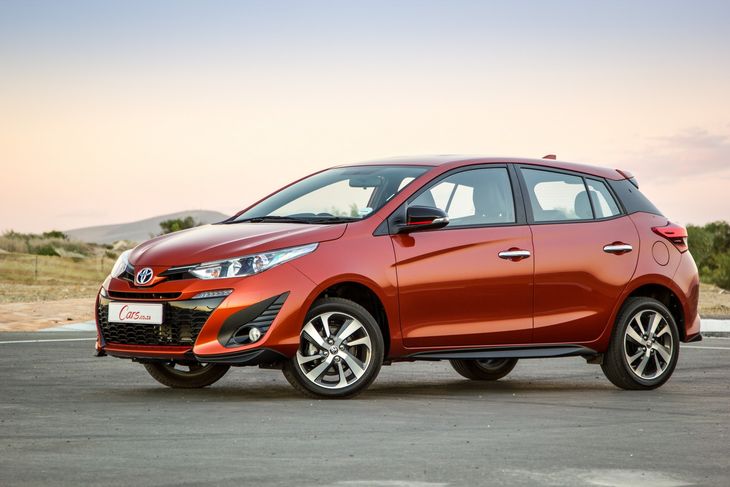 Toyota's customers wanted something sportier and bigger, Toyota SA responded by bringing in this Thai-built Yaris.
It's an interesting question because the Yaris received an update midway through 2017 with the launch of the Yaris Pulse. Safety was improved and it seemed a more-than-decent value proposition, that's why it was selected as a #CarsAwards finalist in the 2017/18 awards programme.
This 2018 Yaris can't be thought of as a new Yaris – it runs on the same chassis as before. The major difference is that it's now imported from Thailand instead of Europe, and with that comes a few distinct changes. The body design is clearly different with the front-end featuring winglets that run down the wheel and surround the foglight. It looks like a bigger car and indeed it is some 163 mm longer and 5 mm wider. Toyota suggests that customers of the previous model were looking for a sportier look to improve the appeal of the product and that's exactly what the newcomer offers.
There's still a 1.5-litre naturally aspirated engine under the bonnet, but it's now the only choice of engine and it comes with either a 5-speed manual or a continuously variable (automatic) transmission.
How does it fare in terms of…
Kerb appeal?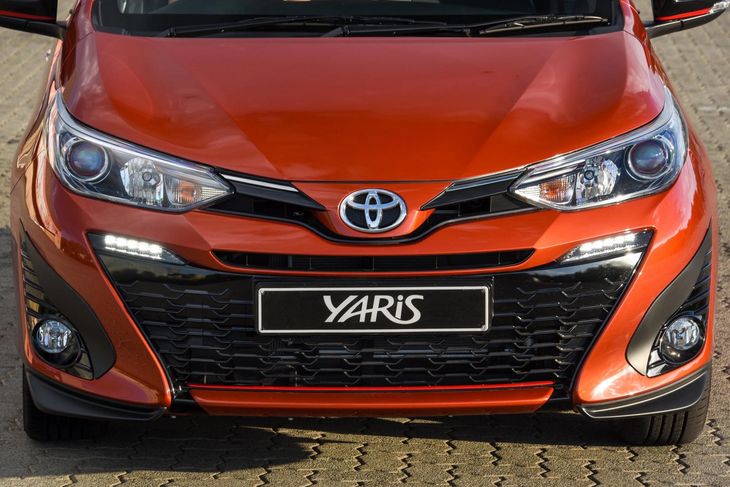 Is this the face of a large Manta Ray, found off the coast of Thailand? The previous Yaris' anodyne looks have been banished.
A major factor of success in this segment is appealing to the younger, early-20s generation with an eye-catching design. The Yaris that has now left us was attractive, but perhaps not to everyone's taste. Toyota believes this Thailand-made model is more grown up with sporty looks and a less polarising design.
An aesthetic critique is subjective, yes, but the Yaris looks chunkier and has a more substantial presence. The front-end design gives it an aggressive face, even with the winglets that look like they were traced from the face of a Manta Ray. It would be a stretch to say this Yaris has classic looks that will stand the test of time (like those of the Polo or Clio IV), but there is no danger of it blending into the scenery...
Running around town?
The 1.5-litre engine under the bonnet does develop more torque than the outgoing model with the peak outputs now sitting at 79 kW and 140 Nm. This compares well with the other similarly-sized naturally aspirated engines from Mazda and Kia, but lacks the torque of the modern turbocharged petrol units in the Polo and Clio, for example.
It is quite a responsive engine though, with adequate power delivery for town and freeway speeds. The accompanying manual gearbox is typical Toyota with its "easy-fling" shift action that syncs gears quickly.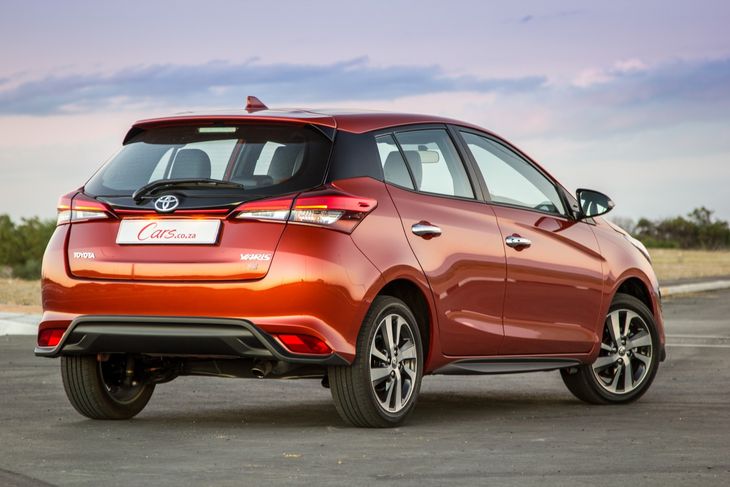 The engine remains responsive with decent tractability. The ride is supple and comfortable.
Fuel consumption is claimed at 5.9 L/100 km for this manual model and, as we have experienced with most naturally aspirated engines, they tend to get closer to their claimed economy figures than their turbocharged counterparts. We achieved a commendable 6.6 L/100 km during our test.
One particular thing that became apparent during our test (we did not notice it at the car's media launch) was the surprisingly large turning circle (for a small hatchback). It makes parking in shopping centres tricky and there's nearly no way you could pull off a U-turn without having to reverse and 3-point turn your way out of your position.
Practicality?
The Yaris has grown 163 mm in length, which benefits luggage space. It's up 8% over the previous model (to 310 litres) and that's par for the B-segment, but 40 litres smaller than the new Polo. Rear legroom is good, but headroom around the sides is diminished by the large curving roof. It seems the Yaris nameplate has grown in the same way that Minis are "not so Mini" anymore.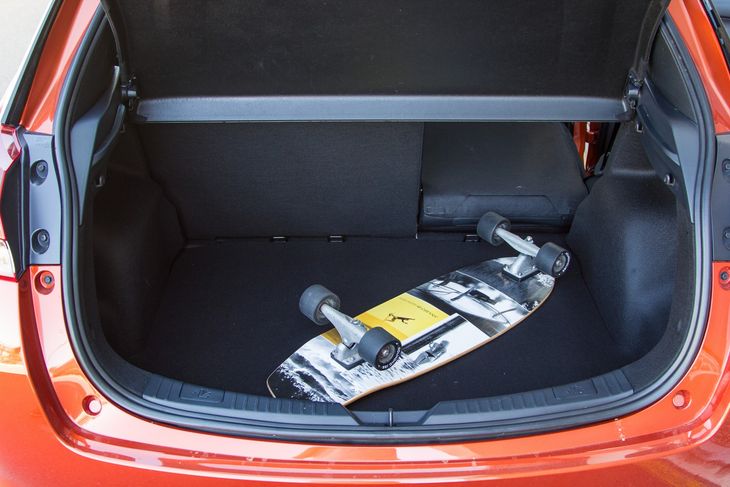 The claimed luggage capacity has increased to 310 litres; the rear aperture can easily swallow an upside-down skateboard, among other things.
The front of the cabin could have done with a few more storage spaces to hold oddments like keys, which get relegated to the cupholders in the case of the Yaris. There appears to be a slot alongside the handbrake to hold a phone, but all it does is turn your phone into a projectile every time you have to use the brakes.
The centre console is quite small but the door pockets are large enough to fit big bottles that won't squeeze into the cupholders.
Ride quality?
As with its siblings in the Toyota stable, the Yaris rides really comfortably. Its chassis is more-than-capable on bumpy terrain and cushions speedbumps and potholes well. What's more, the body doesn't roll excessively in corners or roundabouts and remains flat and stable when changing direction.
At freeway speeds the Japanese hatchback remains poised – even the gusty Cape Town wind didn't have much of an effect on it. Some of its competitors can feel a bit floaty at higher speeds, but the Yaris remains planted and rides positively. The steering has a slight dead-spot around the centre, where nothing happens, which can lead to a few over-corrections when maintaining your lane.
Interior ambience?
The previous Yaris may not have been the best at incorporating modern technology, but the cabin materials were at least of a soft-touch variety and relatively upmarket. Unfortunately, this Thai Yaris does not feel very premium inside, apart from the leather upholstery offered in this S model... The plastics are hard and scratchy, although we have no reason to doubt their durability. Furthermore, the dash on the front passenger's side features faux stitch marks on it, which is a bit silly, while the steering wheel appears to be covered in leather, but the material doesn't quite feel as if it was sourced from a cow.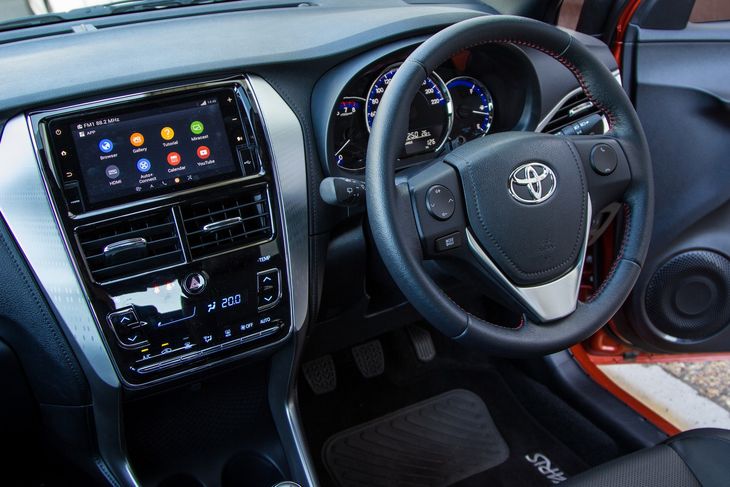 The infotainment system has much-improved tech. No reach adjustment on the steering wheel is a pain, however.
The driving position is difficult to get right because the steering wheel does not have reach adjustment (yes, really!), but at least the capabilities of the infotainment system are much improved. Apple Carplay and Android Auto are available (as are USB and HDMI ports). There's navigation, but it's not the easiest system to use and the sound system is middling, so don't expect much volume/clarity when you crank it up.
Safety?
After adding stability control to the Pulse last year, it's good to see that Toyota has stuck with it for this model too. The S also comes with ABS, EBD and hill-start assist. All models are equipped with driver and passenger airbags, while the Sport derivative on test here further has side, curtain and driver knee airbags.
The automatic headlights appear to be the most sensitive we have ever tested. In fact, it seems they can be activated by the smallest of shadows, so if you happen to be driving down a tree-lined road or past buildings where there are lots of shadows, the Yaris constantly switches the lights on and off. We can only imagine how this strobe-light effect must confuse motorists in oncoming traffic...
Pricing and warranty (Feb 2018)
An entry-level Yaris Xi starts at a reasonable R230 500 and the Xs manual version appears to be the sweet spot in the range (in terms of value for money) at R253 400. Our test unit is the top-spec Sport, which costs R286 000. All Yaris derivatives are sold with a 3-year/45 000 km service plan and a 3-year/100 000 km warranty.
Verdict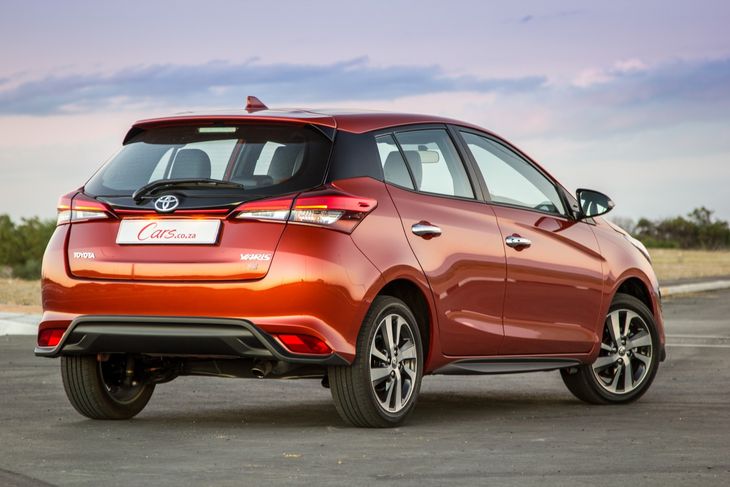 Apart from the looks and tech upgrades, it's difficult to suggest this Yaris is fundamentally better than the previous version.
We can't see how this Yaris represents an improvement over the previous model. Bar different looks, a few more Nm of torque and an updated infotainment system, there are some notable detractions. The interior doesn't feel as premium as the competition and there are a few niggles like the turning circle, non-reach adjustable steering wheel and constantly activating lights that may annoy prospective buyers.
At R286 000, you can get a Volkswagen Polo Highline that's hard to fault and, for a couple hundred (if that) extra rands a month, you can spec it into a much more premium product than the Yaris could ever be. There may be buyers who won't be particularly concerned about the Yaris' niggles, but after trying out a few of its competitors, they may notice that the Yaris doesn't match up with the best in the segment.
Further reading:
Toyota Yaris (2018) Specs and Pricing
3 Reasons Why Toyota Yaris is #CarsAwards Finalist
Toyota Yaris 1.5 Pulse (2017) Quick Review
Toyota Yaris GRMN (2017) International Launch Review
Want to buy a Toyota Yaris?