After the recent Toyota Hilux launch, the Japanese brand has given some other models its updated 150 kW 2.8 GD-6. The first of these is the Toyota Land Cruiser Prado and here's how much you can expect to pay.
There are two engines for the South African market. The updated 2.8-litre turbocharged diesel 4-cylinder now produces 150 kW and 500 Nm, and is the same unit found in the updated Hilux. The Toyota Land Cruiser Prado features a 6-speed automatic transmission. The updated motor features a bigger, heavy-duty turbo as well as upgrades to the cooling, combustion chamber and intake manifold, all of which serve to improve performance and economy while retaining that Toyota reliability. Fuel economy is claimed at 7.9 L/100km.
How did Toyota get 150 kW out of the GD-series motor?
The iconic 4.0-litre petrol V6 is carried over, and in this application, generates 202 kW and 381 Nm. It too features a 6-speed automatic transmission and it's said to consume 11.3 L/100 km. Both engine derivatives have 87-litre main fuel tanks and 63-litre secondary tanks.
The Prado is an exceptionally capable offroad vehicle, with a ground clearance of 215 mm and approach/departure angles of 31 and 25 degrees respectively. The towing capability has been improved to 3-tonnes, which is in line with the same updates that occurred on Hilux and Fortuner earlier this year.
There are 3 levels of trim offered in the Toyota Land Cruiser Prado range; TX, VX and VX-L. There are also 10 colours to choose from, plus it appears Android Auto/Apple CarPlay has made its way into the Prado. The spec upgrades for the VX-L model, which sits at the top-of-the-range makes use of paddle shifters and driving mode buttons.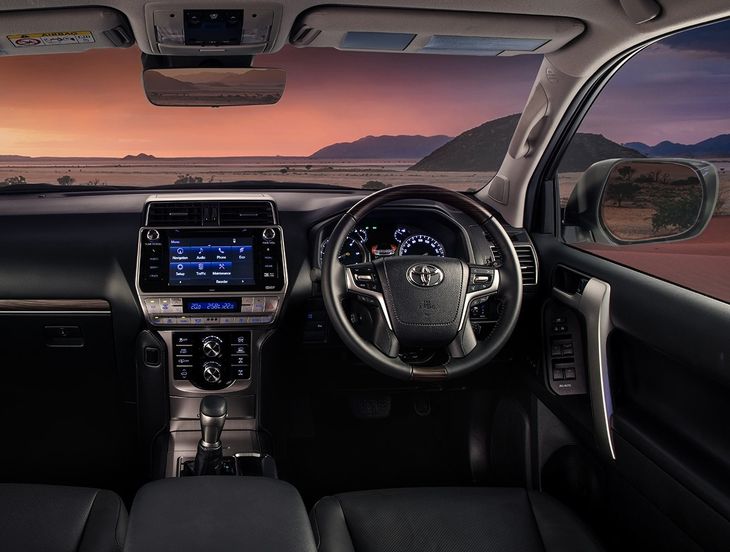 TX
Hydraulic steering
6 speaker audio
Manual Tilt & Telescopic steering column adjustment
Halogen headlights
Colour Coded/ Power, Retractable, With Indicator, Heated mirrors
Intermittent wipers
17-inch wheels
Fold Down Manual 3rd row of seats
Rear park distance control
VX
Hydraulic Variable Flow Control steering
14 speaker audio
Power Tilt & Telescopic steering column adjustment
Standard TFT Colour Multi-Information Display
Standard/ AVN navigation
LED headlights
Colour Coded/ Power, Retractable, Illuminated, With Indicator, Blind Spot Monitor (BSM), Heated, Camera mirrors
Intermittent, Auto,Rain-sensing wipers
Tonneau cover
Standard Illumination sidesteps
18-inch wheels
Fold Down Power-assisted 3rd row of seats
Electrochromatic mirror
Front and rear park distance control
Offroad type ABS
Blindspot monitor with Rear Cross Traffic Alert
Drive mode select
VX-L (VX trim plus the following)
LED Auto High Beam headlights
Adaptive cruise control
Pre-Crash System (Brake Synchronised)
Standard Lane Departure Alert
4 Spoke Leather+Wood steering wheel
Toyota Land Cruiser Prado Price in South Africa
The updated Land Cruiser Prado is sold with a 3 year / 100 000km warranty and in terms of servicing, Toyota is offering its 90 000 km/9 services plan.
Toyota Land Cruiser Prado 2.8GD TX R939 900
Toyota Land Cruiser Prado 4.0 VX R1 029 000
Toyota Land Cruiser Prado 2.8GD VX R1 060 600
Toyota Land Cruiser Prado 4.0 VX-L R1 072 600
Toyota Land Cruiser Prado 2.8GD VX-L R1 105 800
Further Reading
Japanese Toyota Prado gets Power Hike
More potent Toyota Prado in the works
Toyota Land Cruiser Prado (2017) Launch Review