The Toyota Prado, which remains hugely popular with adventurous motorists who occasionally exploit the full extent of their vehicles' off-road ability, has received an update. But don't worry, it has NOT become a softy!
We like: High value standard spec, robust reputation, comfortable long-distance cruiser, off-road ability
We don't like: Could do with a touch more power, updated cabin still lags in terms of design/ergonomics.
Alternatives:
Stylish and sophisticated Land Rover: For about R40 000 more you can get the baby derivative in the new Discovery range. It is, of course, a very desirable, stylish product that also offers more engine power and torque (190 kW and 600 Nm), but you'll have to spend a considerable amount on extras to get close to matching the features offered as standard in the Prado.
Rugged, aged Pajero: Coming in significantly cheaper than the Prado is another legend of the bush... the Mitsubishi Pajero. It's not as sophisticated nor as feature-packed as the Toyota, but if off-road ability is a requirement and your budget is tight, it's an alternative that's unlikely to let you down.
Compare the Toyota Prado 3.0D VX-L with the Land Rover Discovery TDV6 S and Mitsubishi Pajero 3.2 DI-D GLS Exceed by clicking here
Facts & Figures
Price: R979 600 (May 2018)
Engine: 3.0-litre, 4-cylinder turbodiesel
Transmission: 5-speed automatic
Power: 120 kW
Torque: 400 Nm
Fuel consumption: 8.5 L/100 km (claimed)
0-100 kph: 11.7 seconds
Top speed: 175 kph (claimed)
What's changed?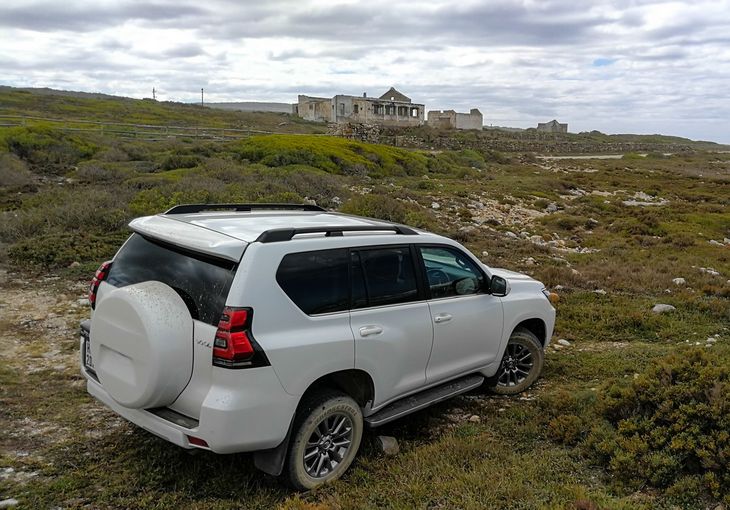 Venturing far off the beaten track? That's the enduring appeal of the Prado – luxury and unburstable reliability combined.
Toyota's Land Cruiser Prado has been a strong seller in the local market for a very long time – it seems impervious to changes in automotive trends and fashion trends. There are several reasons for its enduring appeal, the most important one of which is that it is a proper Land Cruiser, and therefore perceived to be nearly indestructible and unmatched in its ability to transport 7 people in relative luxury across vast distances (even outside of our borders). It's a real peace-of-mind adventure machine.
Nevertheless, time doesn't stand still and so Toyota recently refreshed the Prado, adding a higher-specification VX-L flagship model (reviewed here), more blingy looks and a few technological updates. But, at its mechanical core, the Prado is relatively unchanged – which is probably exactly what most of its hardcore fans will want.
The Good
Supremely comfortable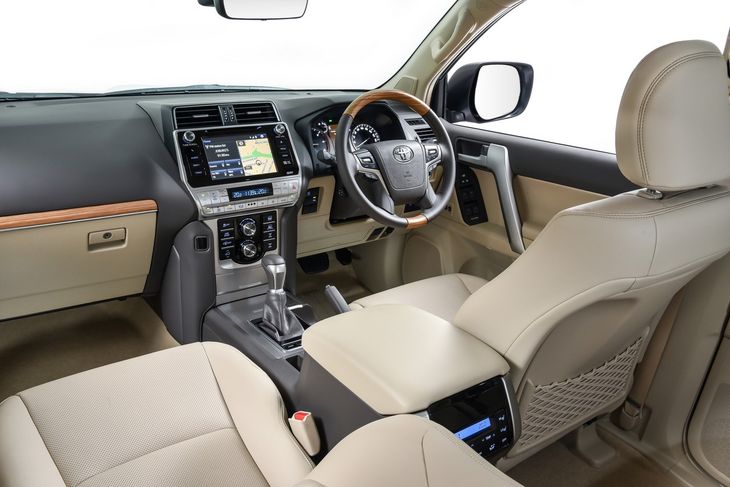 Our test unit came with an all-black interior, but a lighter "Neutral Beige" treatment is also available (pictured).
The Prado has a traditional body-on-frame construction, which is widely believed to be ideal for vehicles meant for extreme off-road usage. This suspension type isolates the cabin from many of the impacts that could occur in the bundu, but often translates into a fairly uncontrolled, bumpy ride and wallowy on-road handling at higher speeds. While the Prado isn't dynamically as "car-like" as a new Discovery, for example, on tar roads its soft, refined ride is arguably more in tune with the likely usage patterns it will face. It does roll quite a bit more in the corners, but that's a small price to pay for such effortless comfort elsewhere (in addition to the off-road advantages).
The high levels of comfort are not only the result of the chosen suspension configuration. This VX-L derivative is plushly appointed with features such as heated/cooled front seats, triple-zone climate control, leather upholstery and even an electrically operated 3rd row of seats. The seats are cossetting and offer great support for longer distances; what's more, the seating positions throughout the vehicle prioritises good visibility out of the vehicle. Evidently, the designers of the Prado wanted its occupants to see landscapes whizz by as they make their way to their next destination while ensconced in the comfort of Toyota's venerable luxury off-roader.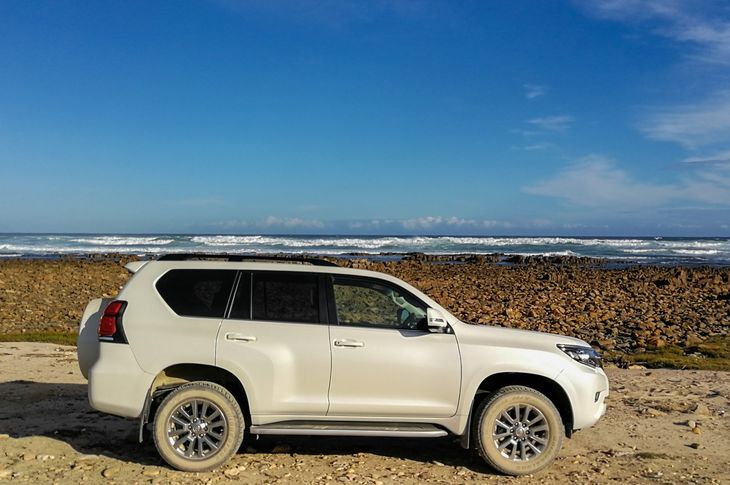 The Prado remains one of the best (possibly THE best) vehicles to drive if long distances on unsealed roads are part of the plan.
We also think there has been a noticeable improvement in the NVH (noise, vibration, harshness) suppression. Certainly, when cruising at the national speed limit the cabin is a hushed, calm place with even the noise of the relatively aged turbodiesel engine underneath the dramatically sculpted bonnet struggling to make its way to the occupants' ears. Head onto rougher surfaces such as gravel roads and the impressive performance continues – the comfort-optimised suspension, generously sidewalled 18-inch tyres and admirable cabin insulation combine to make it possible for the Prado to shrug off such changing conditions.
Off-road ability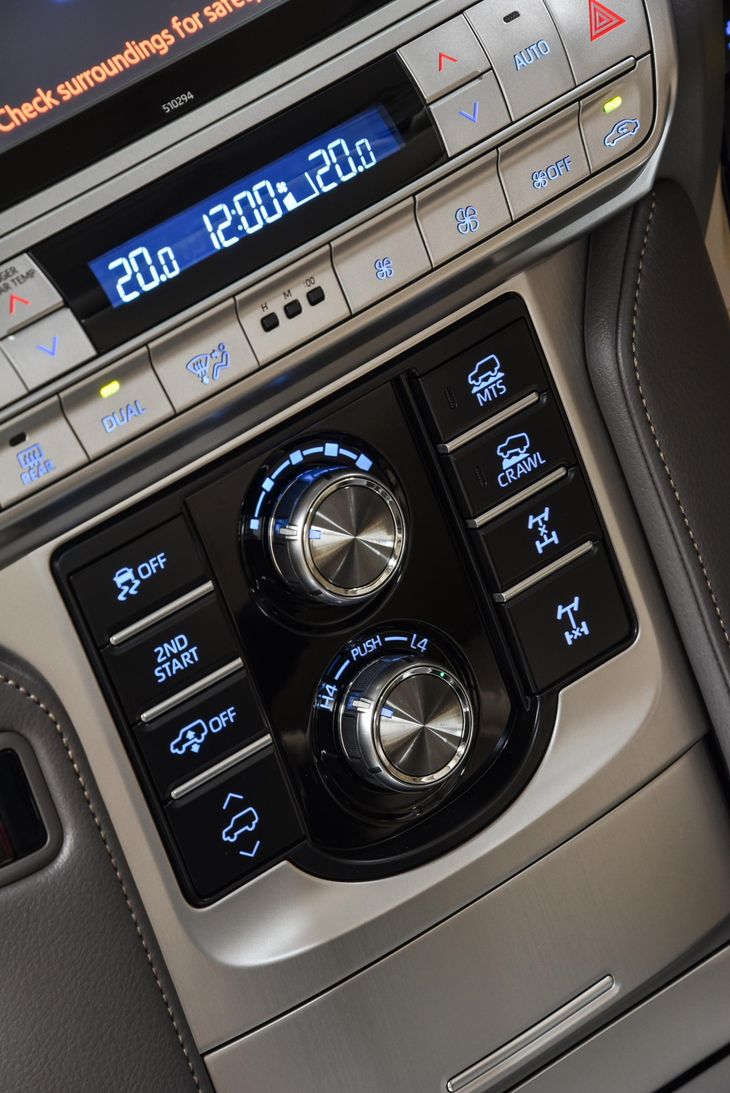 The Prado is packed with electronic off-road aids. Use them properly and you're highly unlikely to ever get stuck.
The Prado appears to be optimised for off-road use in every possible way. Notice the deep "canyon" on the bonnet? Well, that's there to improve visibility! You may also notice that the dashboard is slightly lower these days... also to improve visibility when conditions get tricky. The Prado offers a ground clearance of 215 mm (which seems a conservative claim to the naked eye), with 31-degree approach, 25-degree departure and 22-degree ramp break-over angles.
But those are minor details... In keeping with the times, the Prado has a Multi-Terrain Select system (operated by a large rotary knob) that allows its driver to set up the vehicle for prevailing off-road conditions by fine-tuning its traction control, transmission, power and suspension settings. There are 5 modes to choose from: Mud&Sand, Loose Rock, Mogul (compromise setting), Rock&Dirt and Rock. Downhill Assist Control is fitted, as is a low-range transfer case with both rear- and centre diff-locks.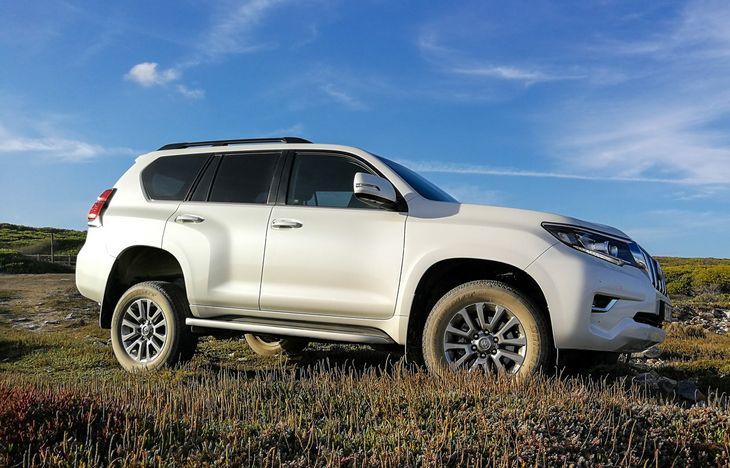 Great axle articulation contributes to the Prado's traction-finding abilities.
The Prado further features the crawl control mode from its bigger brother, the Land Cruiser 200, and, as such, is easy to pilot in the type of extreme terrain that might intimidate even relatively experienced adventurers. Then there are those KDDS hydraulically interconnected front and rear stabilisers – by disconnecting a particular wheel's stabiliser bars at low speed, it can benefit from greater wheel travel in a cross-axle situation. All of this sounds terribly complicated, but, in reality, the Prado eschews a complex solution (such as air suspension, which is integral to many premium SUVs) in favour of mechanical simplicity. It's unlikely to go wrong.
We ventured quite far off the beaten track with the Prado and found it a confidence-inspiring off-roader. Visibility is truly excellent – the new surround-view Multi Terrain Monitor camera system includes panoramic and overhead view modes. If you're going to be doing a lot of serious off-roading, then you may have to consider a different tyre, but the standard Bridgestone Duelers strike a good on/off-road compromise. We think they contribute to the overal quietness as well. Indeed, if you use the Toyota's available off-road assistance systems properly, the Prado will invariably find a way to achieve positive traction in whatever off-road condition it may find itself.
Standard Features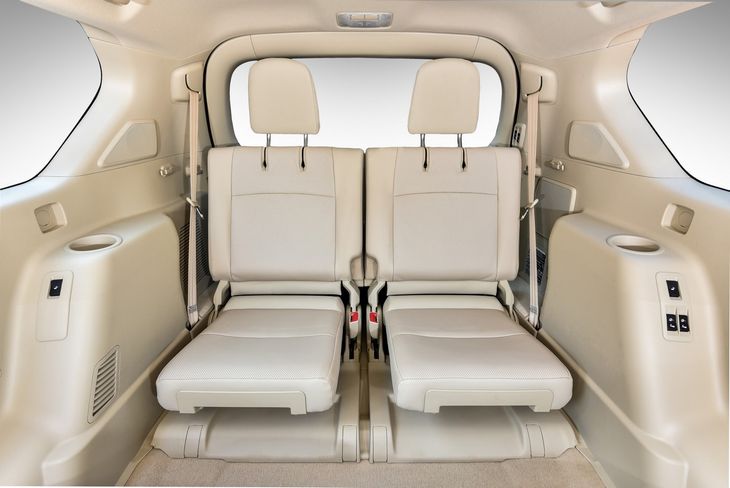 The third row of seats in the Prado VX-L are electrically controlled.
This new VX-L derivative is positively loaded with luxuries. Just about everything is electrically adjustable, including the steering wheel and 3rd row of seats. This flagship model also comes with a tilt/slide "moonroof" and shares the VX's comprehensive infotainment system, replete with a 14-speaker Premium sound system and large tablet-like touchscreen. As mentioned before, the front seats are heated and cooled, but even the second row gets heating for those early winter morning starts!
The moonroof is not the only thing that distinguishes the VX-L from lesser derivatives. In fact, its specification sees a greater focus on advanced safety systems. In addition to ABS, EBD, Brake Assist, stability control and Trailer Sway Control systems, the VX-L further adds a raft of active technologies, including a pre-collision system with pedestrian detection, adaptive cruise control, lane departure alert and an automatic high-beam function.
The adaptive cruise control is particularly useful when hitting the long road and the rear cross traffic alert system is one of the automotive sector's best new innovations.
The (not so) Good
No extra oomph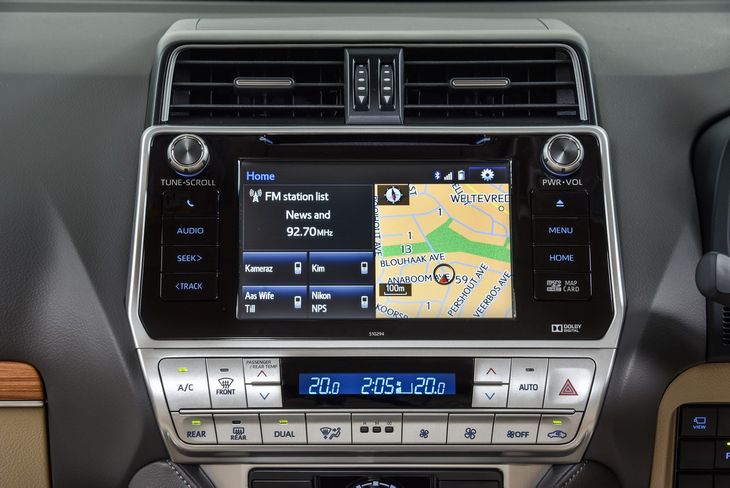 The Prado's new infotainment system is comprehensive and easy to use.
Firstly, let's be clear... we appreciate the fact that the 3.0D-4D engine underneath the Prado's bonnet is both tried and tested and also able to operate on relatively poor quality, high-sulphur diesel. This is particularly beneficial when travelling into unknown areas. We also rate the engine's ability in low-speed off-roading conditions, where it feels particularly well-matched to the 5-speed automatic 'box.
But there are areas in which it is clearly lagging. With 120 kW and 400 Nm of torque on offer, its outputs are significantly lower than those boasted by the competition, and by virtue of tipping the scales at nearly 2.5 tonnes, the Prado is no featherweight. So, when loaded with people and their detritus, the Prado is not the most responsive of vehicles when you need to, for example, overtake a slew of slower vehicles. It is also relatively thirsty compared with modern rivals. Toyota claims a combined cycle consumption figure of 8.5 L/100km, but you're likely to get closer to 10L/100km in mixed driving. We achieved 9.5 L/100 km on a longer stint.
All things considered, however, we're happy to continue with the lower output, especially if a lot of cross-border driving is on the agenda.
Pricing and warranty
The flagship Prado 3.0D VX-L derivative, as tested here, sells for a cool R979 600, which includes Toyota's usual 3-year/100 000 km warranty and a 5-year/90 000 km service plan. On the downside, you'll have to take it for service every 10 000 km...
Verdict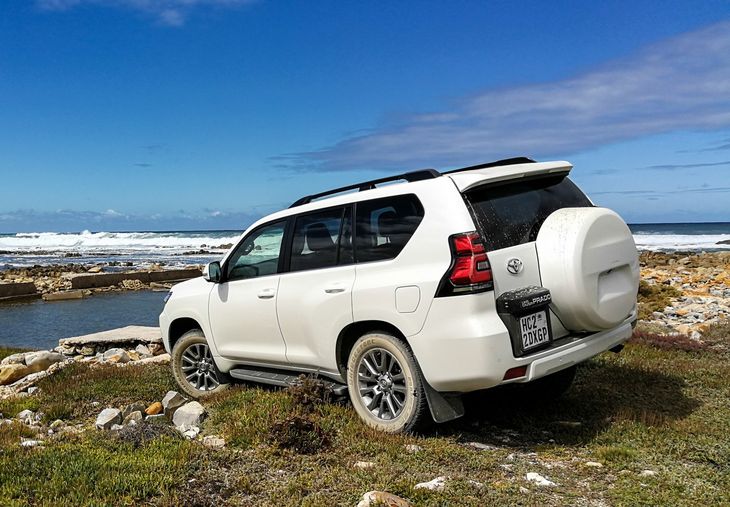 It's not going to win any beauty contests, but nevertheless, the Prado is highly desirable.
The Prado is exceptionally well-priced considering its vast array of talents. It offers extensive off-road ability (including genuine, confidence-boosting cross-border capability), a comprehensive standard specification, and, of course, it instils the sense that you've bought something that will last forever. In reality, there isn't a vehicle that is directly comparable to this VX-L derivative; not at the price. The similarly rugged Pajero is unrefined, aged and lacking in modern tech by comparison, and the Discovery has seemingly become more of a style statement that, as standard, lacks many of the features fitted as standard to the Prado, yet the Landy costs more.
So, if you're looking for a vehicle that has it all and can do it all (except win drag races), then the Prado remains the top choice.
You may also be interested in:
Toyota Land Cruiser Prado (2017) launch review
Buyer's Guide - Rugged 7-seat SUVs (2018)
Top 5 Used Luxury SUVs under R500k
Looking for a new/used Toyota Prado to buy?