The updated Toyota Hilux Raider range has landed in showrooms. Here are detailed specifications and pricing for this model.
The Toyota Hilux is South Africa's most popular vehicle, with sales tallying into the thousands each month. Late in 2020, Toyota introduced the facelifted Hilux range, complete with the flagship Legend RS model. Being a flagship product, pricing has breached the R800k barrier and is thus out of reach for some customers who need a bakkie.
For the mid-spec customers, Toyota offered the SRX grade for Hilux, which has been rebranded back to Raider. Here are the details regarding the 2021 Toyota Hilux Raider.
Why the change back to Raider? Toyota says, 'the simple answer is that as the 'bakkie' market has evolved; customers have come to expect more from even utility-biased derivatives. This in turn meant that the mid-tier SRX grade moved closer-and-closer into traditional Raider territory, somewhat blurring the lines between the mid-grade and top-grade models.
Visually, you can spot the new Raider with its updated headlamps, grille and chrome. There are 17-inch alloy wheels wrapped in 265/65 R17 rubber.
Engines and Gearboxes
In single and double-cab format, the 2.4 GD-6 is available in both Raised Body (4x2) and 4x4 configuration, with a choice of either a 6-speed manual or 6-speed automatic transmission. The 2.8 GD-6 is available as either Raised Body or 4x4 and coupled with the 6-speed 'auto'. The Xtra cab variants feature a simplified two model line-up.
Toyota South Africa is offering 2 engines to choose from. The 2.4-litre GD-6 produces 110 kW and 400 Nm, while the 2.8-litre GD-6 which features 150 kW and 500 Nm, when paired with an automatic transmission. With a manual gearbox equipped, there's 420 Nm. The 2.4-litre is available in both manual and automatic.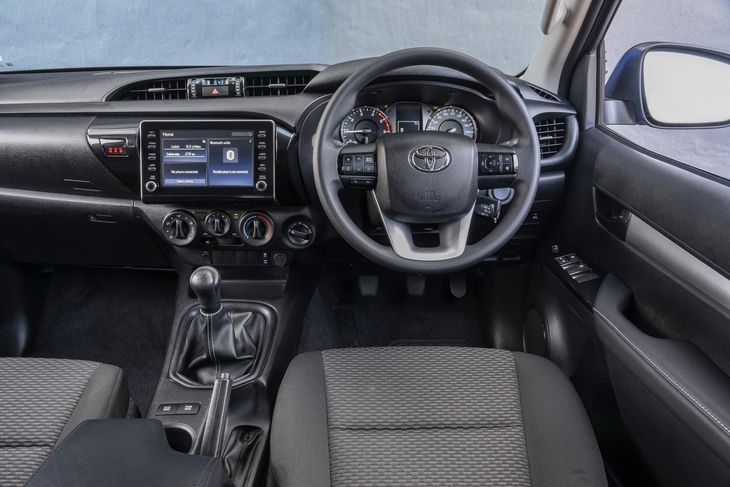 Features
The Toyota Hilux Raider gains park distance control (PDC) and its safety offering has been increased with side and curtain airbags. Previously there was just a bag each for the driver and passenger. The 2.4 Raider gain LED-spec fog lights while the 2.8 gets full LED headlamps and taillights. A Limited Slip Diff (LSD) has also been specified for Raider models, aiding traction in low-grip situations.
Inside, the new Toyota Hilux features a new infotainment system with an 8-inch screen and rotary-knob control. Apple CarPlay and Android Auto functionality are part of this updated system. There's also Bluetooth and a USB port. Other noteworthy features include air-conditioning (climate control for the 2.8 GD-6), cruise control, reverse camera, air-conditioned glovebox, 12- and 220-volt accessory connectors, tilt-and-telescopic adjustable leather steering wheel and steering switches.
All Toyota Hilux models come with Toyota Connect which creates an in-car WiFi hotspot. There's 15gb of complimentary data and you can link your vehicle to the MyToyota App which allows on-demand service bookings, vehicle info, tracking data and you can even renew your vehicle license online.
Toyota Hilux Raider Price in South Africa (February 2021)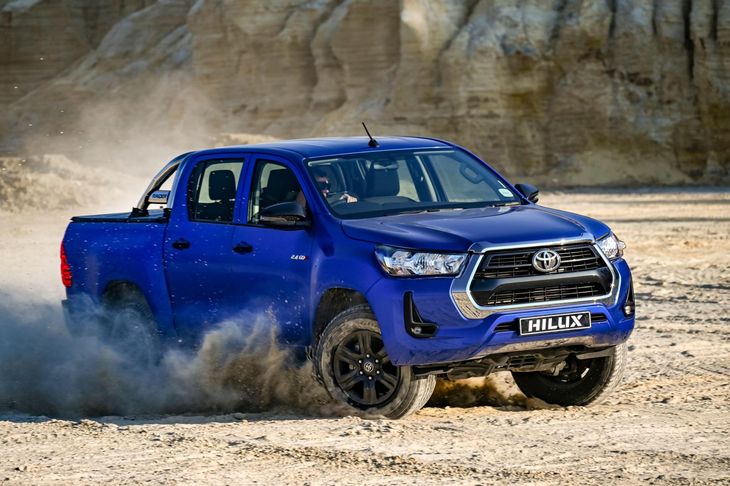 All Hilux models come with a 3-year/100 000 km warranty. A 9-services/90 000 km service plan is standard on all models. Customers can also purchase extended service plans and warranty packages via their Toyota dealer.
SINGLE CAB
HILUX SC 2.4 GD-6 RB RAIDER 6MT R459 000
HILUX SC 2.4 GD-6 RB RAIDER 6AT R477 800
HILUX SC 2.4 GD-6 4X4 RAIDER 6MT R531 100
HILUX SC 2.4 GD-6 4X4 RAIDER 6AT R551 700
HILUX SC 2.8 GD-6 RB RAIDER 6AT R545 600
HILUX SC 2.8 GD-6 4X4 RAIDER 6AT R614 400
XTRA CAB
HILUX XC 2.4 GD-6 RB RAIDER 6MT R471 500
HILUX XC 2.4 GD-6 RB RAIDER 6AT R490 200
DOUBLE CAB
HILUX DC 2.4 GD-6 RB RAIDER MT R515 300
HILUX DC 2.4 GD-6 RB RAIDER AT R531 600
HILUX DC 2.4 GD-6 4X4 RAIDER MT R595 400
HILUX DC 2.4 GD-6 4X4 RAIDER AT R621 700
Hilux DC 2.8 GD-6 RB RAIDER AT R644 500
Hilux DC 2.8 GD-6 4X4 RAIDER AT R720 500
Further Reading
2021 Toyota Hilux Arctic Trucks Revealed
Toyota Hilux Legend RS Review - A significant refresh of the Hilux formula, but does it work?
South Africa's top-selling cars of 2020