As the market's perennial top-selling bakkie, the 8th-generation Hilux has undergone continuous refinements since its launch in 2016, but lately, it has arguably lagged a few of its rivals in terms of all-round leisure-vehicle appeal. With the latest facelift, Toyota brings its mainstay bang-up-to-date.
We like: Refinement, extra power, feeling of solidity, off-road ability, improved infotainment
We don't like: Roller-shutter malfunctioned during test, lack of reach-adjustment on steering column
Fast Facts:
Price: R851 100 before options (November 2020)
Engine: 2.8-litre turbodiesel 4-cylinder
Power/Torque: 150kW/500Nm
Transmission: 6-speed automatic
Fuel consumption: 8.0 L/100 km (claimed)
Top speed: 175 kph
What is it? ​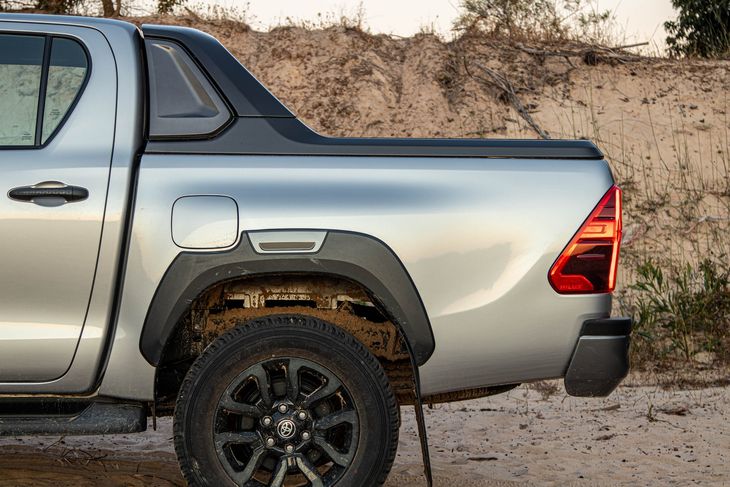 Riding on new 18-inch wheels and sporting more aggressive wheelarch extensions, the Hilux has a sportier side profile.
The fact that the Toyota Hilux has been updated so frequently since its launch in 2016 is not only indicative of fierce competition in this market segment, but how quickly requirements for particularly the leisure-bakkie niche are evolving. Ford's popular Ranger and the evergreen VW Amarok (a multiple CarsAwards winner) are the Hilux's most serious rivals, but soon it will also have to contend with the all-new Mazda BT-50 and Isuzu D-Max. So, Toyota's engineers have come up with a raft of changes to the Hilux, resulting in what is far more than just a mere cosmetic update.
But let's be honest here, aesthetics are important in this segment! In previous updates, the Hilux discarded its awkward-looking "over-bite" front-end, but this latest version is certainly the most head-turning Hilux we've ever driven. In fact, we used it as a workhorse during our most recent SentiMETAL Gathering, which attracted hundreds of classic and collectible car enthusiasts... and the Hilux (which was supposed to be "hidden" behind a gazebo) proved to be one of the most photographed cars there!
Futhermore, the Hilux seemed to lag some of its rivals in terms of refinement, onboard infotainment and safety tech and those elements have also been addressed in this latest round of improvements. Now, the question is whether this flagship Hilux is worth its heady pricetag?
How it performs in terms of...
Performance and ride/handling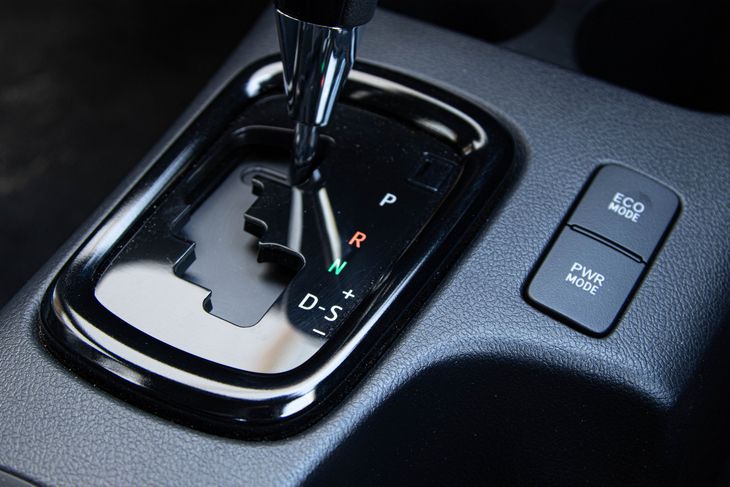 As was the case before the 2020 update, the automatic Hilux has a torque (50 Nm) advantage over its manual counterpart.
With a new, enlarged turbocharger, as well as a revised common-rail injection system, the Hilux's power has been upped by 20 kW to 150 kW, and torque (in this automatic derivative) by 50 Nm to a meaty 500 Nm. The cooling system and intake manifold have also been upgraded with the aim to ensure the Hilux's reputation for reliability remains undiminished.
Toyota has also fettled the 6-speed automatic transmission to deliver improved acceleration, particularly when towing (it claims). On the road, the new Hilux does indeed feel more responsive, though it's hard to say how much of this is down to the extra power, or the revised transmission. Either way, what we particularly enjoyed is that it reacts more promptly to throttle inputs, and does so in a smooth and refined manner. In fact, testers enthused about the refinement. It comes as no surprise, then, to learn that a balance shaft has been installed to minimise noise and vibrations.
Toyota claims an average fuel consumption figure of 8.0 L/100 km, which interestingly is 0.5 L/100 km less than what was claimed for the 2.8GD-6 Raider Auto we tested back in 2016. In the real world, you're more likely to average around 9.5 L/100 km. This compares favourably with the fuel consumption of the bi-turbodiesel 2.0-litre Ford Ranger derivatives.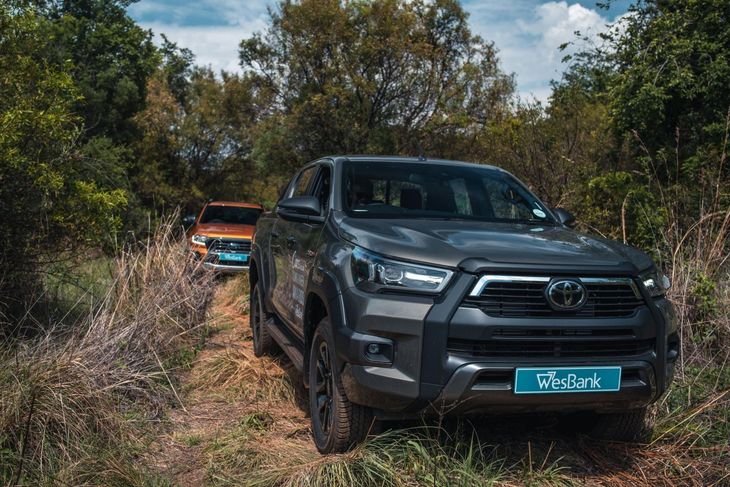 Hilux being off-road tested during the Cars.co.za Consumer Awards evaluations at Gerotek. It remains a segment frontrunner.
The focus on refinement is also evident in the way the Hilux now rides, handles and, in particular, cruises. The Hilux features revised spring rates, new shock absorbers and suspension bushes, as well as revised leaf springs, with a focus area being ride comfort when unladen (a common problem with double-cab bakkies). While the suspension now deals with, and settles after, a bumpy section much faster, it has lost none of its robust feel. The Hilux remains a bakkie that feels like it can be driven at speed over (or through) just about anything in its way. It's also in such tough conditions that the solidity of the cabin (not a rattle to be found) impresses hugely.
During recent #CarsAwards testing at the Gerotek facility, the Hilux was subjected to quite a challenging off-road evaluation by the judges. It's an area in which the Hilux has always put in a class-leading performance, and the latest changes have certainly not impacted its performance in a negative way, although its weak-chin forebear arguably offered a better angle of approach. Oh, and be wary of those fancy-looking running boards!
Exterior design & Packaging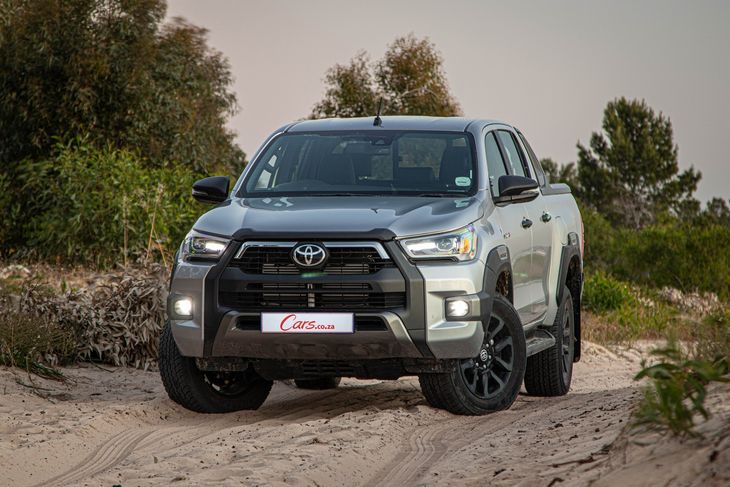 Imposing new "face" is another big step forward in giving the Hilux the necessary "macho" appeal this segment requires.
To reiterate, Toyota had already significantly enhanced the appearance of the Hilux at the time of its previous upgrade, but this latest facelift embues the bakkie with a lot more presence. The new slimline headlights, combined with the black trim around the more angular grille give the Hilux a fierce-looking face. We also like the new wheel arch extensions (and how they flow into the front foglamp surround) and the LED tail lamps.
This particular model's RS moniker may lead you to expect something more overtly "sportly" from the Hilux, but it turns out that RS is an abbreviation for "Roller Shutter". This is in reference to the electrically operated roller-shutter tonneau cover fitted to this model. It's a smart-looking system that brings with it a swoopy roll-over hoop, as well as plug points and LED lighting in the load bay. The system offers vastly improved security compared with a traditional canvas tonneau cover, but it's arguably less practical, seeing as it eats into cargo space and not easy to remove. During the test, the system also stopped working for no apparent reason, but a friendly Toyota technician sorted it out quickly enough.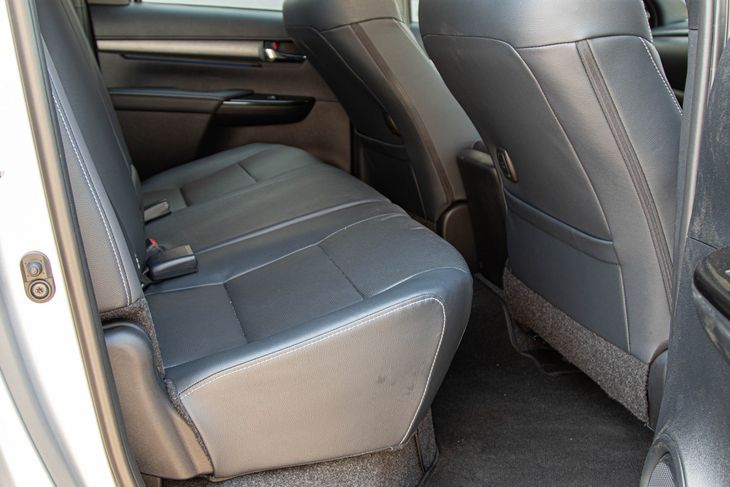 Rear legroom is about average for this segment.
Inside, in terms of packaging, there are no major changes to speak of. Front passenger space is very good, but rear legroom is probably only about average for this segment. Interestingly, we experienced a front-left flat tyre during the bakkie's tenure in our test fleet, which necessitated fitment of the spare. During the wheel-change, we noticed that the standard jack is probably a bit too small for the Hilux, as we had to jack up well beyond the yellow warning (maximum recommended lift) line. Thankfully we were stranded on a solid, flat surface and not out in the sticks!
Interior execution and features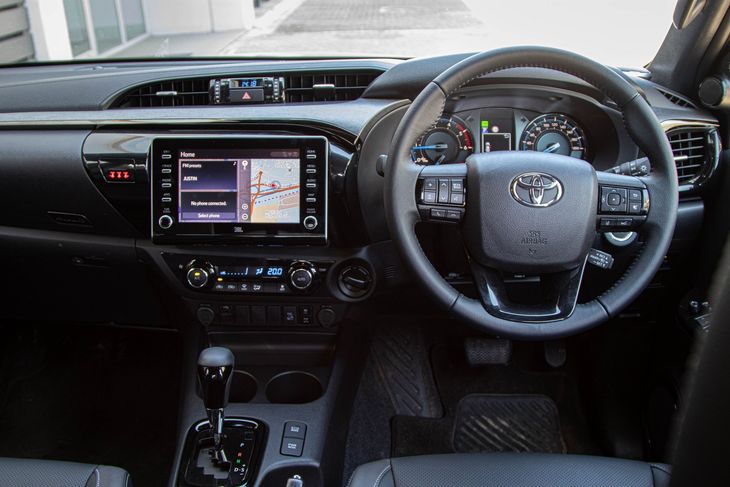 Detail refinements have been made and new tech fitted (including an Apple CarPlay/Android Auto compatible infotainment system).
The big news inside is tech-related. First of all, the Hilux now features an all-new 8-inch infotainment system that is compatible with Apple CarPlay and Android Auto. This allows for music streaming services, as well as access to real-time navigation and traffic info via Google Maps. As a bonus, there's now an in-car Wi-Fi hotspot and complimentary 15 Gb of data. The touchscreen console still incorporates hard buttons for major functions, which makes it easier to use the system on the go. Secondly, Toyota has also introduced a 9-speaker JBL sound system as standard.
Also included in the price on this model is the Safety Sense package. It consists of a pre-collision detection system, road-sign detection, lane departure alert and adaptive cruise control. The latter feature is particularly welcome on longer road trips.
Price and after-sales service
The Toyota Hilux 2.8GD-6 Double-Cab 4x4 Legend RS Auto sells for R851 100 (before options, November 2020). The price includes a 3-year/100 000 km warranty and a service plan that covers the first 9 services.
Browse for a new or used Toyota Hilux on Cars.co.za
Verdict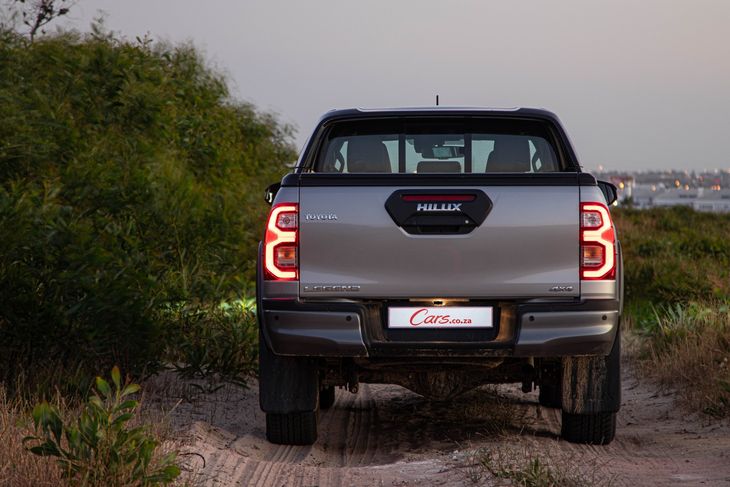 Striking new LED tail lamps further elevate the aesthetic appeal of the refreshed Hilux.
With this latest round of (rather far-reaching) improvements, the Hilux is now arguably the most well-rounded offering in the local market. The stylistic improvements give it considerably more kerb appeal, an important factor in the leisure double-cab segment where "image" is key. The extra grunt from the 2.8-litre turbodiesel motor is certainly welcome, but the overall refinement (drivetrain and ride) is even more noticeable. And, finally, the Hilux now offers a comprehensive suite of infotainment and modern safety features that will stand it in good stead when its new rivals arrive on the market. None of these improvements have come to the detriment of the Hilux's usual strenghts and, combined with the fact that Toyota is our current #CarsAwards Brand of the Year (based entirely on owner feedback), we can't but give the revised Hilux an enthusiastic double thumbs-up!
Cars.co.za's Youtube channel is powered by Budget Insurance. For an instant quote, click here.
Related content:
2020 Toyota Hilux: What has actually changed