The Toyota Hilux receives goodies from Arctic Trucks, making it even more tougherer. Check out the Hilux AT35.
The Toyota Hilux is a thoroughly capable double-cab bakkie. With excellent approach and departure angles plus a low-range transfer case, you have only yourself to blame if you get stuck. For those wanting to really venture into the wild, Arctic Trucks is offering a package for the recently-updated Hilux. We've become quite familiar with Arctic Trucks over the years, who can forget the Top Gear episode featuring a very red Hilux? Locally, we spent some time at Isuzu's facility in the Eastern Cape, witnessing the process to convert a standard D-Max into a D-Max AT35.
For 2021, Arctic Trucks has teamed up with Toyota to build the all-new Hilux AT35. Upgrades are extensive, ranging from extreme changes to the chassis, suspension and let's not forget those monster flared wheel arches and giant tyres. The suspension upgrade allows the fitment of huge 35-inch BF Goodrich all-terrain rubber. In terms of the numbers, there's an additional 65 mm of ground clearance on top of the already decent 286 mm. There are improvements to the approach and departure angles too.
The stock suspension has been replaced by Arctic Trucks' Bilstein setup, which features springs and dampers, with an adjustable anti-roll bar at the rear. Arctic Trucks is claiming the AT35 offers "superior mobility from the wider front and rear tracks, wider tyres and a larger, "lighter" footprint for more secure driving over soft and delicate terrain". The modifications make the Hilux AT35 wider and taller than the standard Hilux, but it's also 115 kg heavier.
The engine and gearbox are unchanged, but Arctic Trucks has tweaked the AT35's front and rear differentials. Visually, the Hilux AT35 features flared wheel arches, extended side steps, and bespoke badges. If you want to go even further, Arctic Trucks will do an underbody armouring package, light bars as well as a tyre inflation kit.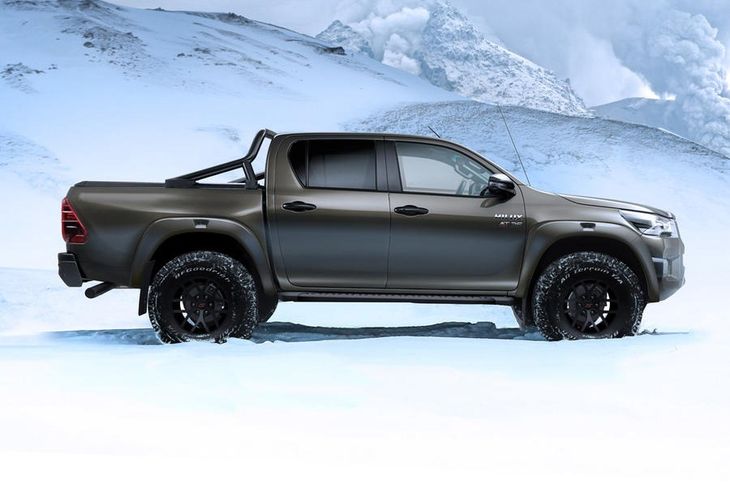 Further Reading
Isuzu D-Max Arctic AT 35 (2019) Launch Review - Cars.co.za
Toyota Hilux Legend RS Review - A significant refresh of the Hilux formula, but does it work?
Ford AT44 is a Fat Tyre F-150 - Cars.co.za