Toyota has refreshed its Etios hatchback and sedan line-up with the addition of 1.5 Etios Sprint derivatives, which are now available in South Africa. We took an Etios 1.5 Sprint for a drive in the Eastern Cape to see what it has to offer...
The Etios, much like the Corolla, is a bread and butter model for Toyota in South Africa and the local appetite for reliable budget-market-oriented compact passenger vehicles has made the Etios quite popular, with over 90 000 units sold since its introduction in 2012. To keep its Etios offering fresh and exciting, Toyota now welcomes the Etios 1.5 Sprint hatchback and sedan to the range and we attended the local launch to take it for a spin.
Updated Etios Range
There are now 3 distinct Etios derivatives on offer.
The Etios 1.5 Sprint replaces the previous mid-spec Etios 1.5 Xs and can easily be distinguished from its brethren courtesy of a redesigned bumper with large air dams and integrated fog lamps, plus a wing motif grille (replete with a broad chrome strip). Apart from a reprofiled rear bumper, the newcomer is further differentiated with new twin-spoke 15-inch alloy wheels and a carbon-fibre inspired "Sprint" badge.

The Etios 1.5 Sprint slots above the entry-level Etios 1.5 Xi derivative, which remains much the same as before, but now includes a colour-coded grille with chrome accents and rides on 14-inch steel wheels. Both the Xi and Sprint derivatives are offered in hatchback and sedan body styles.

The Etios range is headlined by the Etios 1.5 Cross, adding a degree of ruggedness with its roof rails, protective body cladding and raised ground clearance. Much like the Etios Xi, the Etios Cross remains unchanged in terms of exterior design and it's only offered as a hatchback.

All 3 derivatives are powered by the same 1.5-litre 4-cylinder engine that develops 66 kW and 132 Nm of torque and is mated with a 5-speed manual gearbox. Fuel consumption for the Etios hatchback is claimed at 6.0 L/100 km, while the sedan sips slightly less at 5.9 L/100 km. In terms of safety, dual front airbags and ABS with EBD are fitted, plus Isofix child seat mounting points are now offered as standard across the range.
What's the Etios Sprint like to drive?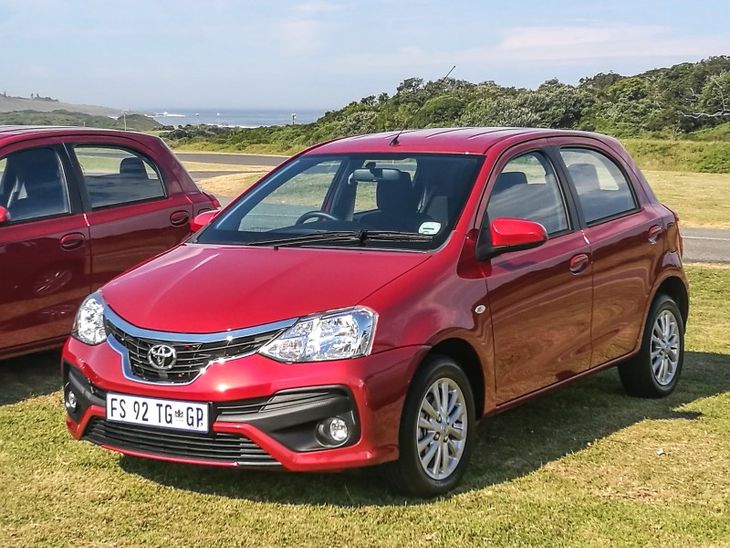 Offering perky performance and decent ride quality, the Etios Sprint is a suitable daily runner.
The media contingent landed in East London where a number of Etios Sprint hatchbacks and sedans were waiting for us. To our surprise, were told to drive to the nearby East London Grand Prix Circuit for a lap around the track. We only had 1 lap to push the Etios 1.5 Sprint to its performance limit and although we barely reached 150 kph on the main straight, the Toyota seemed to handle the corners with relatively good composure.
As we set off into the sunset towards Port Alfred (some 150 km away), the 1.5-litre engine proved itself a solid performer. Although its outputs aren't particularly lofty, the motor makes the most of the Etios' low kerb weight to provide good overtaking ability on the freeway; for the record, the 5-speed manual transmission shifts smoothly with little effort required.
Tractability in the higher ratios is good – even on steeper sections of road, the Etios 1.5 Sprint showed few signs of labouring in fifth gear, which is an absolute bonus in a budget car. Suffice to say buyers should find the Sprint's performance adequate in both the city and open road scenarios.

In terms of ride quality, the Etios 1.5 Sprint delivered a relatively smooth drive and even though the road to Port Alfred was in a poor state, the newcomer absorbed the bumps and ruts surprisingly well. Road noise intrusion is moderate (Toyota credits additional sound-deadening material).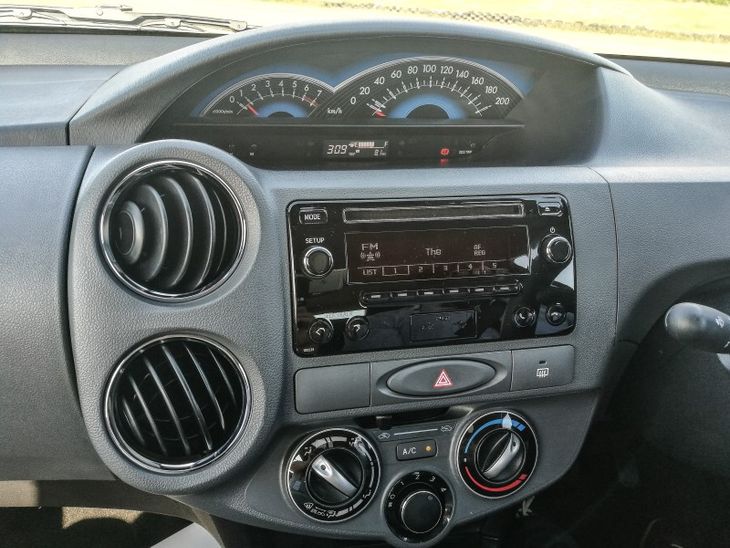 A somewhat awkward interior design, but it's functional...

In terms of the Etios' interior, it remains pretty basic and the instrument cluster, radio/CD player and air-conditioning controls are centrally located on the dashboard. Bluetooth functionality is standard, as is a USB and auxiliary port. Despite claims of improved fit and finish, the interior build quality feels average, but the plastics are hard-wearing and should withstand typical abuse from shoe scuffs and grubby human hands (or animal paws).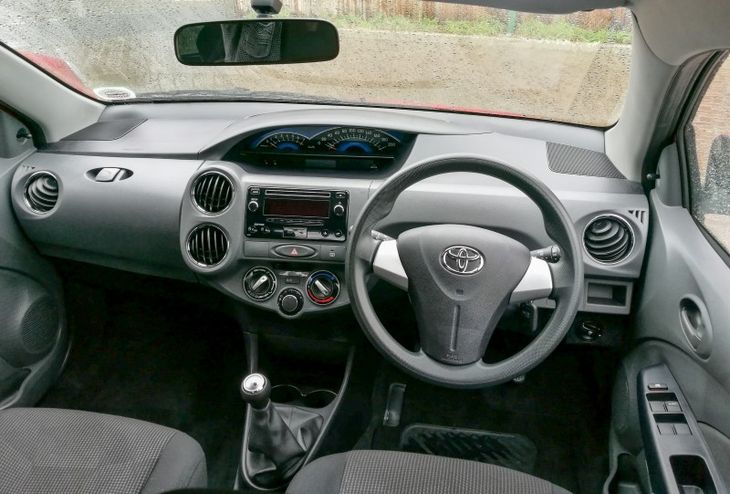 The interior of the Etios 1.5 Sprint is much the same as before with minor material upgrades and improved fit and finish.

The steering wheel is devoid of multifunction controls, but there are bottle holders in all 4 door pockets, plus another 3 drinks holders. We found the seats quite hard, which might become an issue on those longer journeys. Toyota has, however, upgraded the quality of the upholstery.
Space for rear passengers is adequate and the sedan is claimed to have a larger boot than its rivals (562 litres, which is quite sizable), while the hatchback's luggage bay is claimed at 251 litres. The rear seats, however, are not split, which means the whole rear seat folds down to access more loading space. A lights-on warning is now offered on all derivatives and the Sprint is conveniently equipped with front and rear electric windows.
Summary
At this price point (R172 600 for the 1.5 Sprint hatchback, R180 500 for the sedan), the Toyota is certainly a substantial product offering. Its engine and transmission feel unburstable, the ride quality is good and the performance punchy. The interior design isn't flattering, but it's functional and the occupant/luggage space is more than reasonable.
The competitively priced Etios 1.5 Sprint should do a good job of being an inexpensive daily runner. It should also be reasonably affordable to maintain over time and Toyota's reputation for reliability will likely continue to have a positive impact on Etios sales going forward.

Compare the Toyota Etios Sprint with the Volkswagen Polo Vivo and Ford Figo
Toyota Etios - Price in South Africa
Hatchback
1.5 Xi Hatchback R163 900
1.5 Sprint Hatchback R172 600
1.5 Cross Hatchback R194 300
Sedan
1.5 Xi Sedan R172 200
1.5 Sprint Sedan R180 500

All Etios models are sold with a 2-year/30 000 km service plan and a 3-year/100 000 km warranty. Service intervals are set at 10 000 km.
Related Content
Toyota Etios Sprint - Price in SA
Locally-developed Etios RSi project – an inside look
2014 Toyota Etios Cross Review
Volkswagen Polo CitiVivo (2017) Specs & Pricing
Volkswagen Polo Vivo GTS (2016) Review
Volkswagen Polo Vivo (2014) Review
Want to buy a Toyota Etios?
Find a new or used Toyota Etios on Cars.co.za