Considering the strong market support for the preceding Polo Vivo 1.6 GT derivative, it is clear that the Volkswagen budget offering's appeal is not only restricted to the entry-level models. We tried out the new GTS flagship to discover why.
We like: Solidity, spaciousness, grip, cabin detail
We don't like: Coarse engine, ride
Alternatives:
For better performance: While a zero to 100 kph time of 10.6 seconds is pretty good at this price level, the GTS is beaten by the entry-level Mazda2 1.5 Active (8.7 sec). Another entry-level offering, the Opel Astra 1.0T Essentia, is also slightly quicker. And let's be honest... acceleration times account for only part of an overall performance package. The naturally aspirated Mazda has a sweeter revving engine compared with the coarse Volkswagen, and the Opel's power is spread across a wider engine range courtesy of turbocharging. So, if you want performance and don't mind relatively "mundane" looks, both the Opel and Mazda are strong alternatives.
For a racier look and feel: This is where the Polo Vivo GTS arguably excels. With its lowered suspension, fat tyres and gunmetal-coloured alloy wheels it doesn't only offer plenty showroom appeal, the suspension and tyres actually contribute to a sportier feel on the road and through the steering wheel. At the price, it can't be beaten in that regard, seeing as most of its rivals (on price) are the entry-level derivatives of their respective model ranges.
For greater value: Whether the Polo Vivo GTS constitutes good value depends greatly on what you're after. If you want something relatively spacious that is also sporty-looking and includes a reasonable number of features, the GTS is hard to beat. At this price the Corsa 1.0T Essentia is attractive, but it is the base-model Corsa and lacks a few features, which will bump up the price. And the Mazda2, which certainly has the performance, is also a base model, so may not offer sufficient desirability.
What is a Vivo GTS?
For the past few years, Volkswagen has been doing reasonably brisk business with a sporty "GT" version of the Vivo. Compared with a standard Vivo 1.6-litre, the GT (and the new GTS) merely offer racy visual addenda over and above a widely loved package. With the GTS, this concept has been refined, so you can feast your eyes on a roof painted in black, side mirror housings in gloss black, striking 16-inch Rivazza alloy wheels in a grey metallic gloss finish, two-tone GTS side decals and a few other GTS-specific details. It is also offered in five colours; besides the Reflex Silver of our test unit, Pure white, Flash red, Sunset red and Pepper gray are also available.
So, if you've got around R200 000 to spend and you want something that looks a bit racy, but can't afford to sacrifice the convenience of 5 doors and good cabin features, then the Vivo GTS may very well be a good fit for you.
How does it fare in terms of...
Desirability?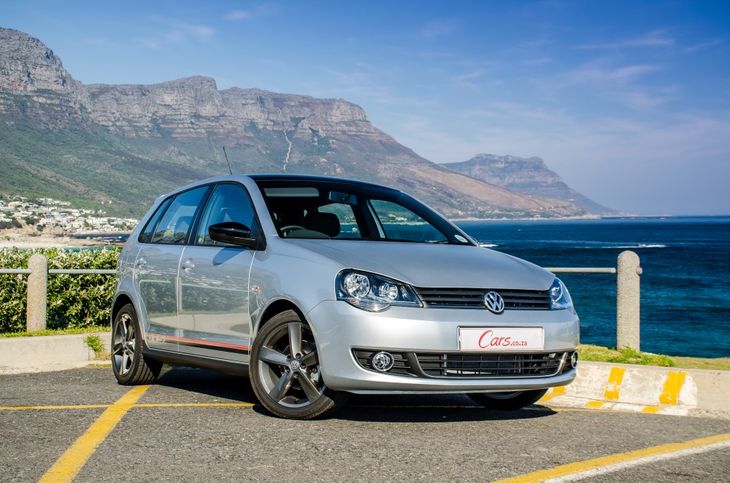 The previous-generation Polo's design has dated well, so Vivo remains an attractive offering.
It's hard to believe, but one of the main reasons why a buyer would consider this particular Vivo derivative is... desirability. After all, there are more modern offerings around at the same price. There are safer choices, too, as there are more spacious and more feature-packed ones... the list goes on. However, during our test period with the GTS one thing became clear –South Africans, of all ages, genders and races – seem to be drawn to this model, and often enquired about what makes it a GTS derivative.
The basic Vivo design (or, let's be honest, old Polo design), still clearly holds plenty of appeal, and Volkswagen's racy add-ons appear to have hit a sweet spot. Park a GTS next to a late previous-generation Polo, or even an early Vivo, and you'll be amazed at the extent of the design detail that Volkswagen has introduced since the Vivo made its debut.
The GTS' lowered ride height is particularly apparent; it looks quite purposeful as it crouches on those dark, 16-inch wheels. At the rear there are double chrome-tipped exhaust outlets and a subtle spoiler. Interestingly, there is not even one Polo or Vivo badge to be found on the car's exterior...
Inside, the changes are similarly tasteful and effective. The leather-wrapped, three-spoke steering wheel is particularly attractive and nice to hold, while the chequered cloth upholstery has a lovely retro look to it. And then there's the build quality. Volkswagen's Uitenhage factory (where the Vivo is built) recently came out on top when compared with a dozen other Volkswagen factories world-wide, and it shows. The Vivo didn't squeak or rattle once during the test, and the soft-touch fascia finish remains a nice-to-have at this price level.
So, while some may think that these additions are not enough to make a humble Vivo "desirable", in reality, at this price level, there isn't really anything else that would offer similar showroom appeal to an enthusiastic young car buyer.
Performance and handling?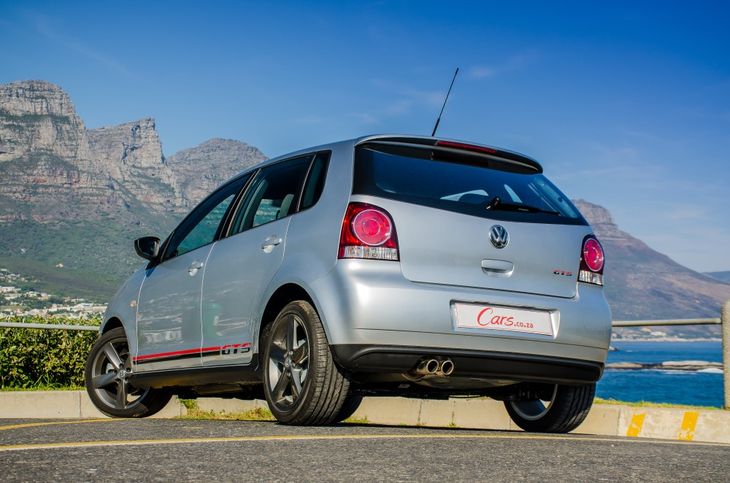 Lowered ride height and fat tyres contribute to high grip levels and a sporty feel.
Let's deal with the handling part first... Like the GT before it, this GTS boasts a slightly lowered ride (by 15 mm). It also gets 16x7J alloy wheels shod with some pretty wide (205/45) Bridgestone rubber. To drive, it has quite a different feel to a standard Vivo. It rolls much less in the corners and grip levels appear to be signficantly higher too. Consequently, it's a car that can corner with a surprising degree of exuberance. There's still not much feel from the steering wheel, but at least it is nicely weighted and pleasingly direct. A slight downside of the impressive dynamic showing is the ride quality. Due to the suspension's sporty setup, the going can get quite bumpy over poor surfaces.
In terms of performance, the news is not as positive. The GTS uses the same well-proven 1.6-litre 4-cylinder engine as its Vivo siblings. The unit develops 77 kW and 155 Nm of torque, which is competitive with the smaller-capacity vehicles priced around it. So the performance is there. Unfortunately, you have work the engine quite hard to extract optimal performance, which wouldn't have been such a problem if only this powerplant wasn't so coarse. It's not particularly keen to rev and the sound it emits while doing so is somewhat pained.
The engine is mated with a 5-speed manual transmission that offers that typically Volkswagen "notchy" shift quality, which is loved by fans of the brand, but loathed by others. A potentially bigger problem (over an extended period of time) than the coarse engine could be the gear ratios. Yes, the short ratios give the GTS spirited sprint performance, but when you're not churning the 'box enthusiastically, the resultant engine drone can become tiresome. Cruising at around 120 kph in top gear results in quite a lot of engine noise in the cabin.
Standard features & comfort?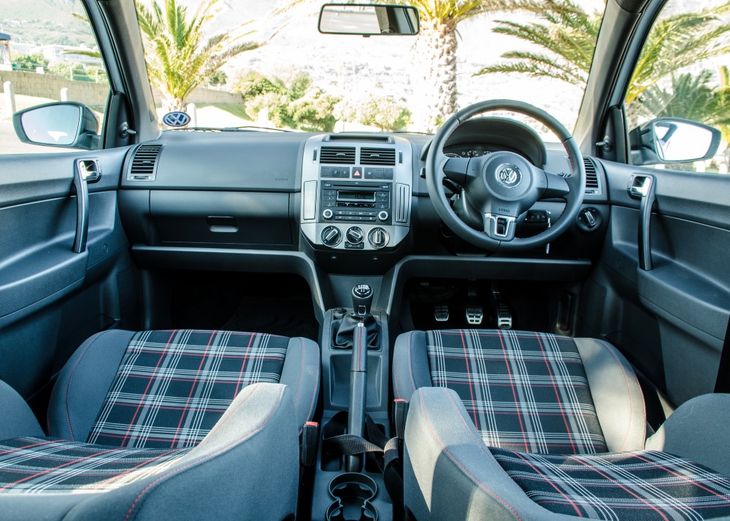 Not an unattractive interior for such an old design!
Volkswagen has specified the Vivo GTS with a younger "enthusiast" in mind. As such, there is a definite focus on things that look and sound nice. Besides the aforementioned attractive interior trim, the star of the show for many will be the comprehensive sound system. It offers 6 speakers and Bluetooth, SD card and USB functionality from a neatly integrated interface.
Also included as standard are: front fog lamps, electric front windows, air-conditioning, power steering, dual front airbags and ABS with EBD. As is to be expected, there is no traction control. You also have to adjust the side mirrors manually, which is a bit of a pain. Cruise control can be specified at extra cost.
Still, comfort levels are reasonably good, ignoring (for a moment) the noisy/strained engine note at higher cruising speeds. The seats are superb, with especially the front sports seats receiving plenty of praise for their combination of comfort and support.
Practicality?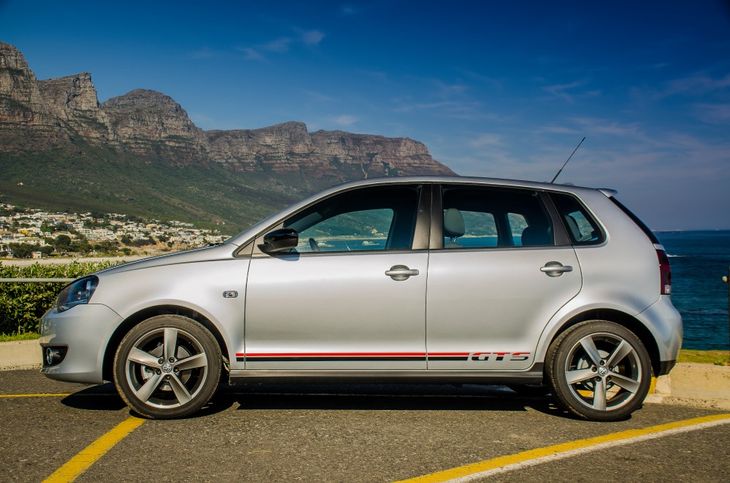 Five-door body and relatively capacious boot make the Vivo GTS a practical daily driver.
Whereas the Vivo GT was initially offered in 3-door guise, the GTS is available only in practical 5-door form. This means that, notwithstanding its racy looks, the GTS still offers a healthy dose of daily-driver practicality. The boot is similarly sized to those of its (price) rivals, and decently shaped to accommodate bulky objects as well. A space-saver spare wheel is fitted underneath the boot floor. A slight downside is the single-piece rear seatback, where most rivals offer a 60:40 split/fold design. Should you require space for bulky objects that necessitates the folding of the rear seat, the Vivo is therefore immediately transformed into a two-seater.
Rear legroom is acceptable for what the car is and proved more than enough to transport young children in comfort. The news is good in front, too. The driver gets a rake- and reach-adjustable steering wheel, as well as a height-adjustable seat. And it is quite surprising (given the age of the design), to note that the Vivo can teach modern rivals a thing or two about oddments storage. There is a convenient shelf that spans the width of the cabin underneath the fascia and a multitude of other smaller hidey holes.
Pricing and Warranty
The Vivo GTS sells for R199 900, which includes Volkswagen's usual 3-years/120 000 km warranty. A service plan is optional and service intervals are scheduled for every 15 000 km.
Verdict
With decent sales figures in its first two months on sale, it would appear that Volkswagen has judged the local market perfectly once again. In theory, the Vivo GTS should not succeed. After all, it is based on the previous-generation Polo, which was never a dynamic superstar. And to turn it into a Vivo, Volkswagen had to strip out many of the things that made the previous Polo feel like such an upmarket vehicle.
And yet... at the price, the Vivo GTS offers a desirable mix of look-at-me styling, sharper handling, spaciousness and a classy, well-made cabin. There is no direct competitor at around the R200 000 mark, so the facts that the engine is too coarse and that the GTS badge doesn't come with extra performance are likely to have precious little impact on its appeal.
Compare the VW Polo Vivo 1.6 GTS with the Mazda2 1.5 Active and Renault Clio Blaze


Related articles:
Volkswagen Polo Vivo (2016) Specs and Prices
Volkswagen Polo Vivo Street Edition in SA
Volkswagen Polo Vivo Eclipse Arrives in SA
Volkswagen up! vs Polo Vivo - Which Is Better? (Video)
Interested in buying a Polo Vivo?