Toyota has a proud history of performance models, both locally and internationally, but of late the Japenese marque's offerings have been a little lacklustre, especially in terms of the hot hatchback genre. We meet someone who wants to change that by introducing a locally-developed product in limited numbers and in parallel with the brand's mainstream products at participating outlets. It's ambitious, yes, but the Etios "RSi" shows much promise...
Here in sunny South Africa, Toyota has been a brand which is deeply entrenched in our culture. As you read this, you yourself may own or have owned a Toyota and we'd bet that you definitely know someone who has one.
Performance Toyota products will bring tears of happiness to the petrolheads as their eyes glaze over in fond memory of the various generations of Supra, Celica and of course, the AE86. However these cars were not readily available in our market and the handful that are here are far from standard and come from Botswana, Namibia or Mozambique.
So much can be said about the 4AGE-powered Toyota products like the Conquest RSi, the twin-cam 16-valve "wet look" Corolla hatchback that simultaneously vaulted the Prospecton-based firm into the hot hatch league and achieved much success in local track and rally formulae. I could easily fill this page with reams of copy harping on about how the RSi nomenclature has such an illustrious heritage... It took pride of place on the Conquest, Corolla, Cressida and RunX and in its ultimate form, it featured a 20-valve configuration. Adored for its rev-happy performance characteristics and banshee wail, the 4AFE-engine holds a special place in Toyota's lore.
Search our stock for a fast Toyota Corolla now
The Toyota RunX RSi was the last locally made Toyota to bear the RSi badge, but it was formidable machine that packed a mighty punch from its 1.8-litre engine. Outputs of 141 kW and 180 Nm weren't bad, but the catch was you had to rev the nuts off of it to access the optimal performance. Much like a Honda Civic VTEC, the fun only began after 6 000 rpm. Toyota also released a Toyota Racing Development (TRD) of this car, which featured a sportier suspension, a TRD short shifter, red cabin stitching and some fancy wheels. It was cutting edge for the post Y2K generation, and even today, there are a few examples running around.
Find a Toyota RunX RSi for sale here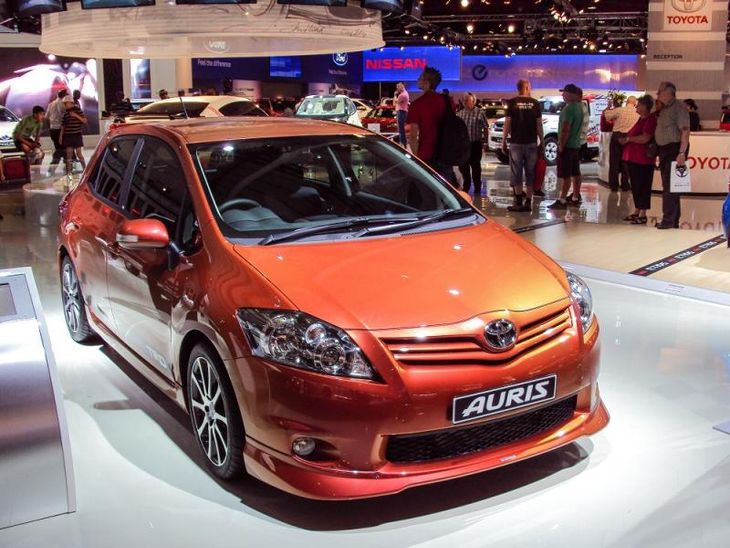 Remember this? It all sounded so good on paper, but did it deliver the performance which Toyota fans were looking for?
Packaging trumps performance
At the Johannesburg International Motor Show in 2011, Toyota showcased something very interesting. Meet the Auris TRD. Complete with specialised pearlescent paint and a boosted engine, the Toyota Auris TRD had fans excited. Power came from a supercharged 1.6-litre 4-cylinder unit and it delivered a commendable 133 kW and 202 Nm. The show car looked the part too, with a neat little bodykit and some sporty alloy wheels. Did it deliver for the masses? According to some, yes. Others say it just wasn't enough to satisfy the Toyota performance aficionados.
There are a few Toyota Auris TRDs for sale. View stock now.
Would Toyota ever produce a hot hatch again? Roll on to 2017 and Toyota is scheduled to showcase a WRC-inspired turbocharged 1.6-litre four-cylinder-powered Yaris hot hatch at the Geneva Show. While not all the details have been published, Toyota UK's blog claims it "is based on a three-door Yaris body and is powered by an engine producing more than 210 bhp (155 kW), forging a link between the Yaris WRC and the standard road-going model range." From the image below, we can see it'll definitely look the part when it arrives. Oh, about that. Toyota South Africa said it won't be coming to our market because it does not align with the local product's value offering. Toyota would certainly benefit from having a budget-friendly performance variant. Sadly, the evocative Toyota 86 coupe doesn't quite fall into that category.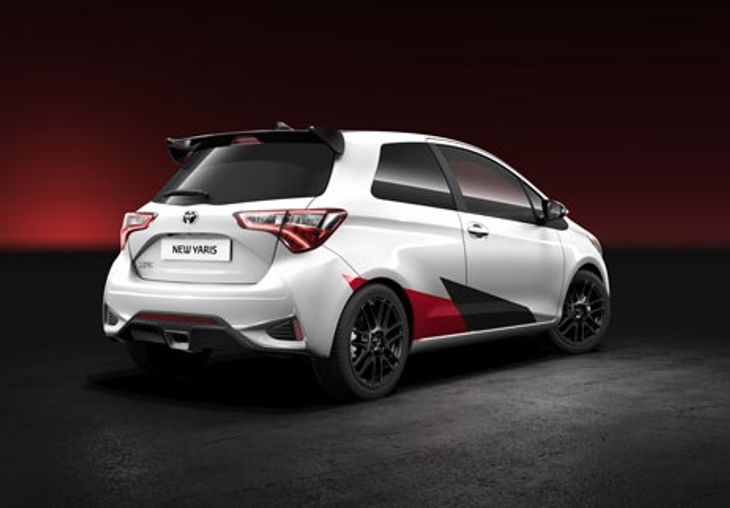 A hot hatch rival to take on the Ford Fiesta ST? Sounds good, but it's not coming to South Africa
Toyota Etios "RSi" prototype drive
What if there was a fast and entertaining Toyota for the masses? There is, and while it's not officially endorsed by Toyota South Africa, it is exceptionally interesting... Interesting in that the car is based on a Toyota Etios. Etios is not exactly a name associated with modifying potential and performance.
An RSi badge might raise the ire of the Toyota fanatics as it represented giant-slaying potential, something this Etios won't do. Its creator, Martin Pretorious from Pretoria, happily admits that his creation was never intended to compete with the current hot hatch brigade anyway, but rather tap into a segment of the market which has been remarkably devoid of anything exciting other than the beloved Suzuki Swift Sport and the now-discontinued Chevrolet Sonic RS. It's odd seeing the low-end market not catered for.
Let's get technical. The standard 1.5-litre naturally-aspirated 4-cylinder engine from an Etios XS hatch is capable, but never going to provide the entertainment which this market desperately needs. With outputs of 66 kW and 132 Nm, performance is geared towards basic commuting. In terms of performance modifications, turbocharging offered the best bang-for-buck solution and in went a low-boosting turbo, intercooler and free-flowing exhaust and intake. Power is now up to 110 kW and 210 Nm from 0.4 bar boost. Pretorius says that the boost was deliberately kept on the low side for longevity.
Suspension development
While it's easy to make a vehicle go fast in a straight line by throwing in big power, this Etios is designed to be a faster all-round performer and it's the handling which has piqued my interest. Considerable work has been done to this Etios, so much so that it doesn't even feel like an Etios. New springs, dampers were sourced and stopping power comes courtesy of larger brakes with 300 mm discs at the front with a recalibrated ABS setup.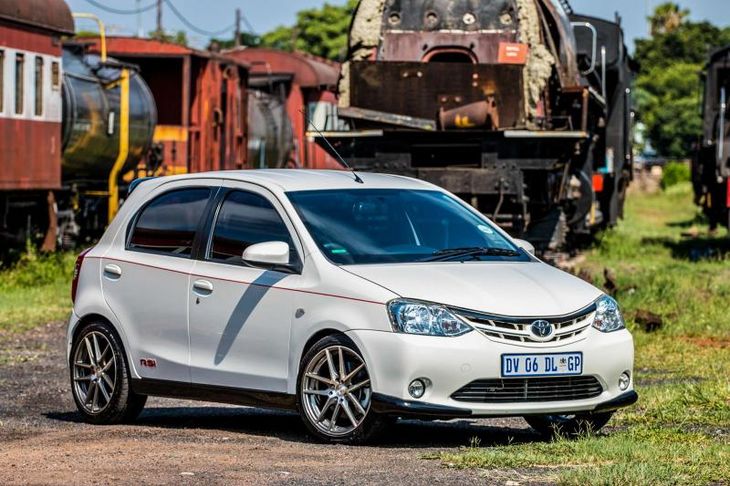 What you see here is the test mule, ground zero for the Toyota Etios RSi project. It has been subjected to some serious testing and fiddling. Countless engineering hours, as well as its creator's heart and soul, have been poured into it. It's not just a performance upgrade here as work has been done to the noise, vibration and harshness thanks to some additional sound deadening. The interior benefits from a leather-wrapped steering wheel and some leather seats, while the in-car entertainment gets a new head unit, which offers far more functionality than the stock unit. What you're really wanting to know is how it drives.
So in the run-up to the festive season, I headed to Johannesburg to meet the turbocharged Toyota Etios RSi and its creator. I could hear it coming long before I caught a glimpse of it – that was a good start! Then I saw it. The Etios "RSi" certainly looks the part, with its little bodykit and bigger wheels. The red pinstripe down the flanks is subtle and tasteful, while the twin exhaust pipes are a sure-fire indication of the power within.
Fire it up and the engine comes to life with a purposeful burble. Engage first gear and release the clutch. Apply power and as you hook second gear, there's a terrific whoosh from the turbocharger's wastegate as it expels air with each shift. It's immensely addictive, if a little infantile, but it'll appeal to the young market which the vehicle is aimed at. It may operate on low boost only, but once on song, the Etios "RSi" pulls eagerly.
A test up a steep hill indicated how tractable the engine is, and there was no need to downshift as the turbo's torque kept it in the power band. Handling is sharp and will entertain those who crave agility. It's a valiant effort and a pleasant surprise. It's very unlike the Etios platform upon which it is based to drive and actually feels a bit more solid and substantial.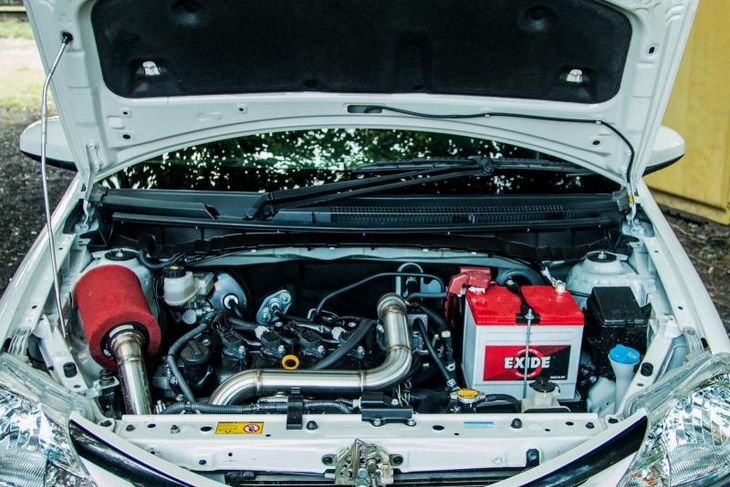 So, why are we featuring this vehicle and not other tuned vehicles? See, this vehicle is not a one-off unit created for a customer, but rather the starting point for a limited production run. The Toyota Etios "RSi" is a fascinating exercise in demonstrating that fun can be had in the sub-R300 000 segment. Officially, Toyota South Africa knows about the car and we understand that the company's brass is excited about the vehicle, but the TMC-controlled firm cannot endorse the project due to its international corporate policy. However, there's a loophole that will allow the car to be sold from participating Toyota Automark pre-owned vehicle showroom floors.
I drove the Etios "RSi" to Automark Monument Toyota dealership in the West Rand of Johannesburg for a marketing exercise and to see how potential resellers would react to a test drive. Given the RSi's amusing demeanour and pace, it was no surprise that they enjoyed it and gave it a resounding thumbs up.
We're at the stage now where some dealerships have expressed serious interest (at least one had signed up at time of writing) and a few orders have been confirmed. There are plans to build 40 units initially, which will reportedly be backed by a competitive aftermarket warranty plan and finance options. It'll be priced around the R250 000 mark, which is fair given the specification and performance. A Suzuki Swift Sport (benchmarked as the number one rival of the "RSi") retails for R264 900.
More refinement to come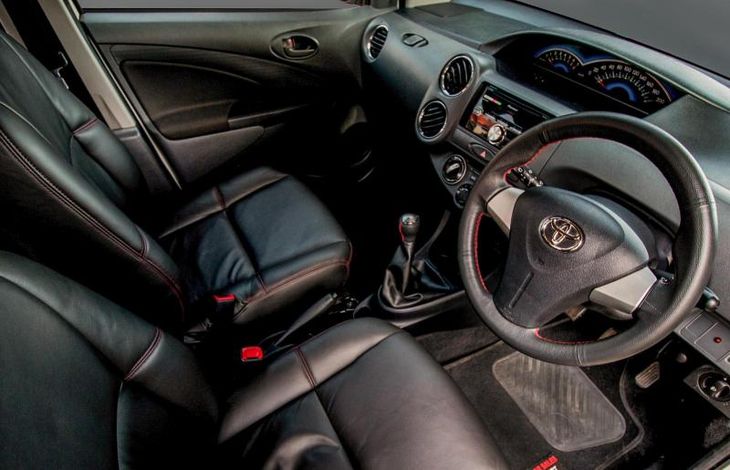 As for the car itself, the unit I drove was the prototype (not the final product)... The exhaust was a touch too loud for freeway cruising conditions, but that should be a straightforward fix. Power delivery is excellent and the entire car doesn't feel like a cobbled-together backyard job. At the time of writing, the dealership I visited purchased one for demonstration purposes and became the first confirmed dealership.
The Toyota Etios "RSi" is still a work in progress, but if these first impressions are anything to go by, it'll gain traction and you could potentially see it becoming a sought after addition to the Etios range. Sure, the looks are divisive, but it's aimed at a market which is largely stuck in the past (forced to run and maintain old cars) due to budget constraints. Think of this then as a hero for the blue-collar petrolheads. If you think it's tacky and silly, you're probably not the target market.
We look forward to having another go, this time with a production model at sea level. Keep tabs on the Etios RSi project on Facebook, by searching exactly that: "Etios RSi".
Further Reading
Check out Toyota Etios vehicles for sale here
Read a review of the Toyota Etios Cross
Stay on top of all the latest Toyota news now