More than 1 million Corollas have been produced and sold in South Africa. A perennial bestseller, Toyota's family car faces stiff competition from other segments and rival products… Has it kept up with the times?
It's crazy to think that the Corolla nameplate is 50 years old this year, with the first generation Corolla introduced in 1966. More than 45-million Corollas have been sold worldwide, making it the best-selling car, ever. That's impressive! But the Corolla has a long history in South Africa too, more than 40 years, in fact, starting with the introduction and local production of the third generation Corolla in 1973.
Fast forward to 2017 and, yes, the Corolla is still very much a part of the South African motoring landscape, but the game has changed. It's no secret that demand for C-segment sedans in South Africa has declined sharply in recent years as car buyers increasingly favour compact crossovers and SUVs instead.
Toyota will be looking to capitalise on this shift with the imminent arrival of the attractive C-HR compact crossover due for launch at the end of February 2017. Despite declining demand, the Corolla is currently dominating the C-segment sedan market against rivals such as the Volkswagen Jetta, Ford Focus, Hyundai Elantra and Chevrolet Cruze. In fact, in 2016, combined dealer sales of Corolla and Quest, outnumbered its closest rival, the Volkswagen Jetta, with a ratio of five to one, making the Corolla the best-selling C-segment sedan by a large margin. The Corolla is the only C-segment sedan that is selling well in a declining sedan market and the facelifted Corolla will no doubt strengthen Toyota's grip in this segment.

Get all the specification and pricing details for the facelifted Toyota Corolla here!
Improved styling, smarter finishes

The Toyota Corolla's styling has been improved with subtle changes to the headlights, grille and bumpers.
The facelifted version introduces minor exterior design updates to improve the overall appeal of the Corolla. These changes include new headlamp clusters, revised front and rear bumpers, a raised bonnet and additional chrome accents at the rear, giving the vehicle a more sophisticated look. LED daytime running lights (Exclusive models) and LED taillights (1.8-litre models) further add to the Corolla's appeal.

On the inside, the Corolla now features an updated instrument panel with a revised climate control panel and circular air vents. Furthermore, the previous 6.1-inch infotainment touchscreen has been replaced with a larger 7-inch unit fitted on Prestige derivatives. Other interior improvements include a piano-black centre cluster surround as well as chrome-plated ornamentation.
Engine line-up
The engine offering remains the same with three petrol and one diesel engine on offer. Three trim levels are also offered and these include Esteem, Prestige and Exclusive. The petrol offering starts with the 1.3-litre derivative with 73 kW and 128 Nm of torque. A 1.6-litre engine with 90 kW and 154 Nm of torque is also available, while a 1.8-litre engine with 103 kW and 173 Nm of torque tops off the petrol range. The only diesel option on offer is a 1.4-litre turbodiesel engine with 66 kW and 205 Nm of torque.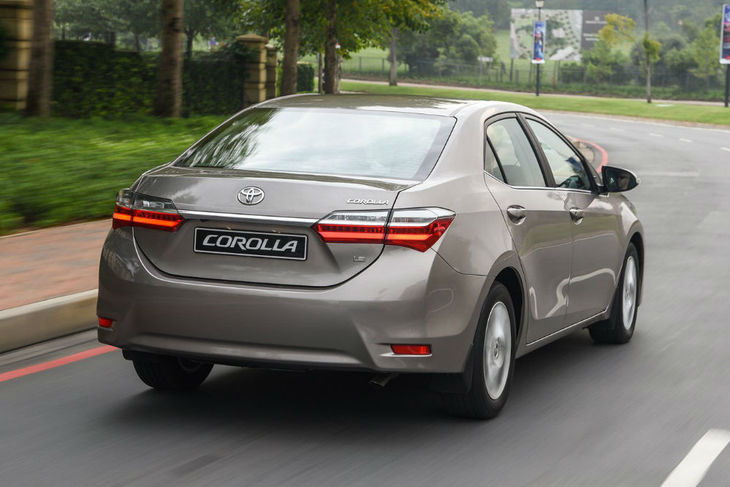 Engine options remain unchanged with three petrol and one diesel engine on offer!
All engine options are mated to a 6-speed manual transmission, while a revised CVT is offered for the 1.6 Prestige and 1.8 Exclusive derivatives. Toyota says that the CVT automatic transmission has been retuned to deliver quicker, crisper and smoother "shifts" that are better matched to engine speed.

Toyota has also included stability control and hill start assist as standard for all 1.6 and 1.8 derivatives. Other standard safety features include ABS with EBD, brake assist and a minimum of 4 airbags (7 airbags are fitted on Exclusive models).
The driving experience
Toyota had both the 1.8 Exclusive and 1.4 turbodiesel Corolla available on launch. Sadly, we only had time to drive the 1.4 turbodiesel Prestige derivative.
We found the interior of the 1.4 Prestige to be pleasantly comfortable with leather seats and a leather steering wheel. It was also equipped with nice-to-have features such as cruise control and a rear reverse camera. The larger 7-inch infotainment system is more prominent and it's relatively intuitive and easy to use.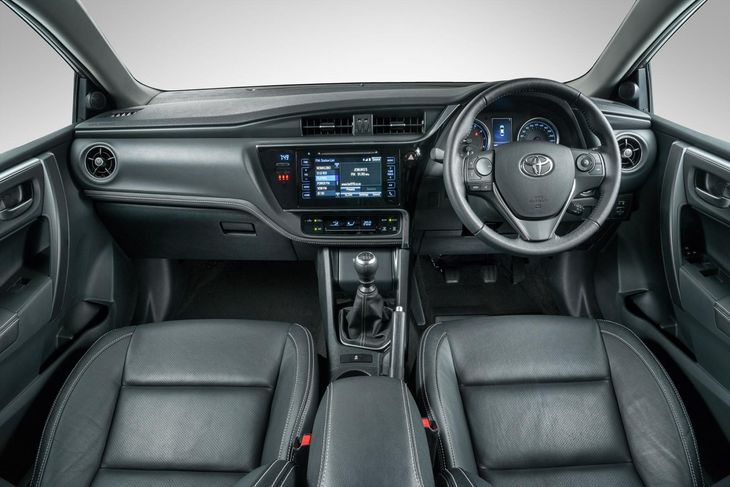 The interior boasts a larger 7-inch touchscreen and revised instrument panel.
The launch route took us through the suburbs of Cape Town, the N2 highway and into Cape Town's CBD. What became abundantly clear during the drive, was the Corolla's good ride quality and surefooted handling. For this facelift, the Corolla's suspension system adopts larger-diameter shock absorbers and an additional rear damper bush that ultimately improves ride quality and handling and it seems to be an improvement over the pre-facelift version. The cabin is also quieter while driving thanks to the implementation of improved insulation.

The 6-speed manual gearbox was a pleasure to use with its smooth-shifting action and although the 1.4 turbodiesel engine can be sluggish low in the rev range, its performance quickly escalates past 2 000 rpm and it actually performs quite well on the open road. Surprisingly, the turbodiesel engine is not as noisy as you would expect, which is a good thing...

Toyota claims luggage capacity at 452 litres and the rear seats can fold down in a 60:40 configuration should you need extra space for longer or bulkier items. With that said, if you don't need a taller luggage bay, typically offered on most crossovers and SUVs, then you will find the space offering in the Corolla more than sufficient.
Summary
Overall, we were impressed with the drive quality of the facelifted Corolla and we have reason to believe that it will still appeal buyers who are looking for an affordable, spacious and reliable family sedan. The Corolla's stylish looks, excellent reputation for reliability and competitive pricing structure against its key rivals should bode well for the Corolla's ongoing success on local soil. The Corolla is difficult to ignore in this segment and buyers looking for value should keep the Corolla "top of mind".
We will have the facelifted Corolla on test soon, so look out for a thorough evaluation coming your way soon!
Toyota Corolla - Price in South Africa
| | |
| --- | --- |
| 1.3 Esteem | R261 300 |
| 1.6 Esteem | R280 200 |
| 1.3 Prestige | R281 300 |
| 1.4 D Esteem | R294 400 |
| 1.6 Prestige | R299 900 |
| 1.8 Prestige | R313 500 |
| 1.4 D Prestige | R307 500 |
| 1.6 Prestige AT | R314 000 |
| 1.8 Exclusive | R336 300 |
| 1.8 Exclusive AT | R349 400 |
All prices include a 5-year/90 000 km Service Plan and a 3-year/100 000 km manufacturer warranty.
Related content
Toyota Corolla facelift (2017) Specs & Prices
Toyota Corolla Quest enhanced for 2016
Toyota Corolla Sprinter (2015) Review
Toyota Corolla Quest Video Review
Chevrolet Cruze 1.4T LS Automatic (2015) Review
New Chevrolet Cruze: Buying Advice, Pricing & Rivals
Hyundai Elantra 1.6 GLS (2014) Review
5 highlights of the Hyundai Elantra (2016)
Want to but a Toyota Corolla?