Distinguished by futuristic looks, a new, responsive turbopetrol motor and spacious interior, the Civic seeks to bridge the divide between compact and business class sedans. It comes well specified and is satisfying to drive, but can Honda lure buyers away from the premium marques?
We like: Progressive styling, legroom and boot space, engine-transmission combo, ride quality
We don't like: Feels an upmarket product, but there are a few finish and trim niggles
Alternatives:
For more space and power: Ford Fusion 2.0T Trend (R433 900) is a fully fledged D-segment saloon with a feisty 149 kW motor and spacious cabin. Spec-wise, it cannot match the Honda for luxuries (even alloy rims are optional), fuel efficiency is middling and its build quality is fair, but not great.
For sophisticated comfort: Volkswagen Passat 1.4TSI Comfortline auto (R432 600) may be a trifle too conservative for some tastes, but it's a very well-made family sedan. Lags behind the Honda in terms of specification, but is lighter on fuel and comes standard with a 5-year maintenance plan.
In case you missed it: If it's a capacious family sedan you're looking for, there are a number of recently-discontinued cars to consider, such as Mazda6, which (in top-spec) offers a well-finished, generously specified interior and 2.2-litre turbodiesel automatic powertrain. Find one on Cars.co.za
Compare the specifications of the Honda Civic 1.5T Sport and its Ford Fusion and Volkswagen Passat rivals
What is it?
If you ignore the premium-marque-dominated business class segment for the moment, the history of the large family saloon in South Africa reads like a Greek tragedy. Discontinued in the recent past are (in alphabetical order, not by order of merit): Citroen DS5, Honda Accord, Hyundai Sonata, Kia Optima, Mazda6 and Peugeot 508; market leaders Toyota last dabbled in this segment a decade ago with the Avensis and are unlikely to return. That leaves us with only the Ford Fusion, Lexus ES and Volkswagen Passat to compete with dominant Audi, BMW and Mercedes-Benz products.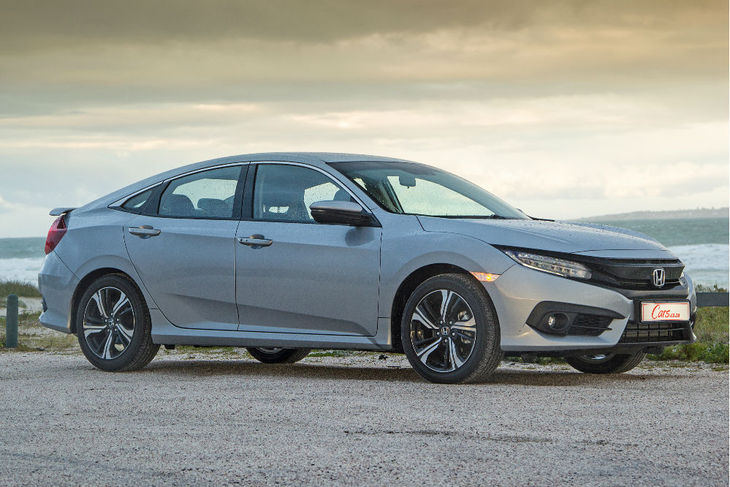 The Civic's Sport specification foregoes lashings of chrome brightwork for edgy black accents.
The new, enlarged Civic is purported to fill the void left by its departed Accord sibling, but it needn't bother in that regard, because as much as we'd like to take a myopic view and blame the family sedan's demise squarely on SA consumers' penchant for brand snobbery, the fact that the family car segment of Cars.co.za Consumer Awards is locked out by compact SUVs/crossovers speaks volumes.
But wait, the Ballade (the car that we now know as the Civic, not to be confused with the Jazz-based product) was always positioned slightly above volume compact sedans (it was regarded as a kind of junior executive/business class sedan). It was sporty to drive, offered commendable build quality and finishes and had a kind of classless, cross-generational appeal. Unfortunately for Honda, the Civic became an increasingly conservative, if accomplished, proposition – especially in sedan guise. So, perhaps if the Japanese manufacturer could revive the sedan's spiritedness, there's some hope.
How does it fare in terms of…
Standout looks?
Ever since the sci-fi inspired 8th-generation Honda Civic hatchback (launched in South Africa in 2006), dropped out of light speed near Earth and descended to terra firma, only the now-defunct CR-Z hybrid could be described as a Honda with any semblance of arresting styling; the rest of Japanese manufacturer's products have all been humdrum and staid in terms of aesthetic execution.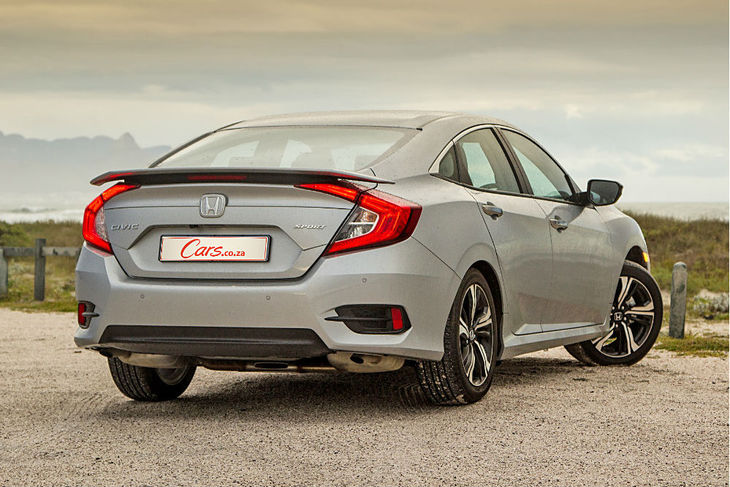 The 1.5T Sport marks the first time that the Civic has sported a standard rear spoiler in many a year.
Well, consider the reset button a-pressed. The newcomer, brandishing a Sport-spec wing-shaped black grille, menacingly slanted LED-laced headlights, purposeful slashes in the flanks, a side-glass area that tapers to the rear in concert with an almost fastback-like rear screen, looks low-slung and eminently sporty; the 17-inch alloys fill out the wheel arches handsomely and, from the rear, the elaborate C-shaped taillights neatly cup the spoiler-adorned boot line. Kerb appeal? Check.
In a segment not renowned for adventurous outer packaging, the Honda is just "from outer space", yet "smart and distinguished" enough to attract the right kind of attention from prospective buyers. Not all testers agreed that the rear spoiler was an appropriate addendum, given that it is attached to a CVT-employing family car with a mere 127 kW at its disposal, but more about that later…
Spaciousness and luxury?
The Civic's interior treatment strikes a tasteful between the futuristic and classic. The instrument cluster, for example, is a vibrant all-digital affair (and no, that's not an optional extra), yet Honda has segmented it into three stacked sections and added racy brushed metal copings for the temperature and fuel readouts. In fact, the application of metallic trim is quite minimal, yet effective, on the soft-touch dashboard, climate control- and centre consoles as well as the multifunction steering wheel.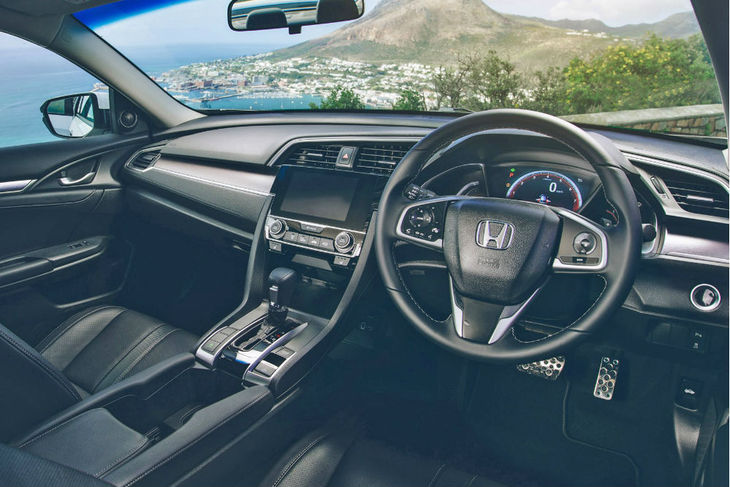 The Civic's interior features a number of sporty touches, including shift paddles and drilled aluminium pedals.
The driving position is low and engaging, so much so that even our taller testers felt the need to ratchet the driver's seat up a notch and a little further back to adopt a relaxed daily-commute position. We were impressed with the quality of the cabin materials, especially the uppermost plastic surfaces and appreciated ample space to rest a mobile phone out of sight under the bottom edge of the fascia, plus the generous oddment space underneath the centre console.
Ergonomically, there are elements that are good... and not so good. As far as the steering wheel is concerned, we applaud Honda for packing so much functionality into the tiller's simplistic controls. We believe that the touch sensitive volume controller, for example, which responds to fingertip glides to adjust the audio system's output, will definitely catch on. However, the 7-inch infotainment touchscreen may look slick, but its menus seemed a trifle clunky to navigate, which would get easier with familiarisation, but it's still not as responsive or intuitive as most smartphone interfaces.
As for rear accommodation, our testers had no difficulty getting seated behind the driver's seat when the former was set up for themselves and the shoulder- and headroom available was perfectly acceptable, which is even more impressive given that the cavernous boot is claimed to swallow 430 litres. So far we're not missing the Accord much, but there's always a caveat.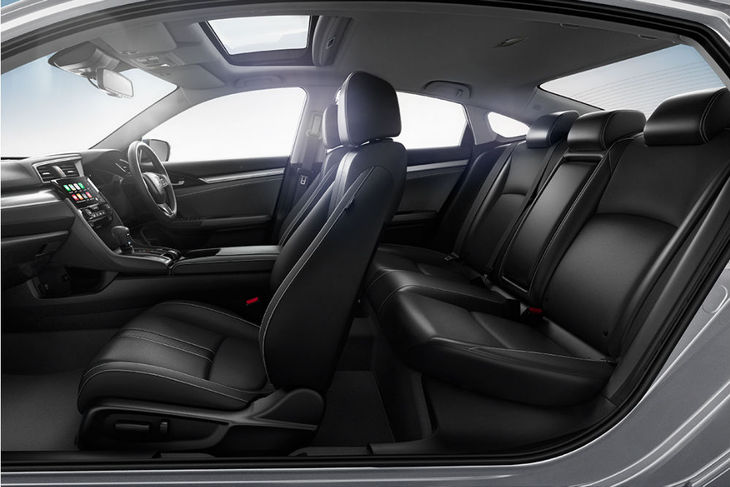 This cross-section of a Civic cabin demonstrates how much added rear legroom has been availed.
Although we were generally impressed with the upmarket ambience and luxury appointments of the new Civic, there were elements that we thought could be improved. Upon opening the driver's door, for example, you can see an (albeit impeccably painted) welding seam, the lid of the glovebox felt insubstantial and one tester noted that the boot lid trim seemed to be slightly loose at its edges.
Ride and handling?
For all the criticism that continuously variable transmissions have copped in the past, detractors have often failed to mention that CVTs are usually combined with motors with narrow peak-torque bands (in rpm), leading to drivers and occupants having whirring and oft-shrill aural experiences.
Honda (and other manufacturers) have engineered "steps" into the way the CVTs operate to endow them with torque converter gearbox-like "shifts". More importantly, the Japanese manufacturer, having been slower to adopt turbocharging in passenger vehicle applications (compared with its European counterparts), has produced a plucky forced-induction 1.5 litre that avails 220 N.m from 1700 to 5500 rpm. It's not the most potent motor, but proved very willing and, importantly, flexible.

In a welcome return to form, for a non-Type-R Honda product at any rate, the Civic responds eagerly to inputs; in fact, the steering seems a little too quick/pointy, perhaps because it is feather-light.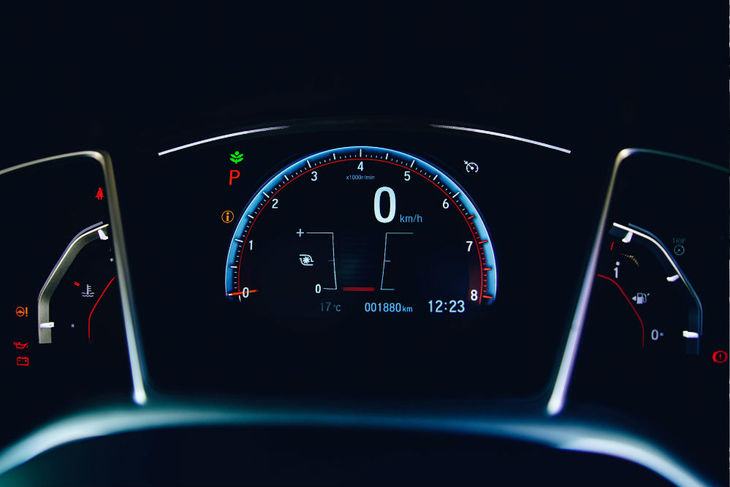 The dominance of the digital rev-counter on the dynamic digital instrument cluster will please driving enthusiasts.
And it's all good news from that point on. Be it as a combination of the plump 215/50 rubber tyres or the anti-seesawing composure of its extended wheelbase, the Civic has a pliant ride quality, without insulating its driver entirely from the road surface. At freeway speeds, the sedan demonstrates low levels of wind, mechanical or structural sound intrusion. It is in this aspect that Honda's newcomer sets itself in a different league to its (smaller) compact sedan rivals.
Value for money?
At its asking price of R430 000, the Civic seems pricey compared with its traditional compact sedan rivals, yes, because it juxtaposes the 1.5T Sport with a mid-spec Ford Fusion and entry-level Volkswagen Passat. Then there is the small matter of being within touching distance of the less practical, lower-spec but very desirable Audi A3 sedan and, to a lesser degree, Mercedes-Benz CLA.
In its defence, the Honda has a very competitive powertrain, a healthy dollop of charisma and over and above the mod cons expected on vehicles of its stature, the derivative comes equipped with a full leather interior, climate control, keyless entry with remote start and auto lock, heated front seats, cruise control, electric folding mirrors, rear PDC and reverse camera, an 8-speaker Bluetooth compatible touchscreen audio system – all standard. Front PDC would have been nice to have too.
In terms of safety specification, dual front-, side and curtain airbags, ABS with EBD, vehicle stability control, hill start assist and the firm's agile handling assist (AHA) system if fitted. Full marks there.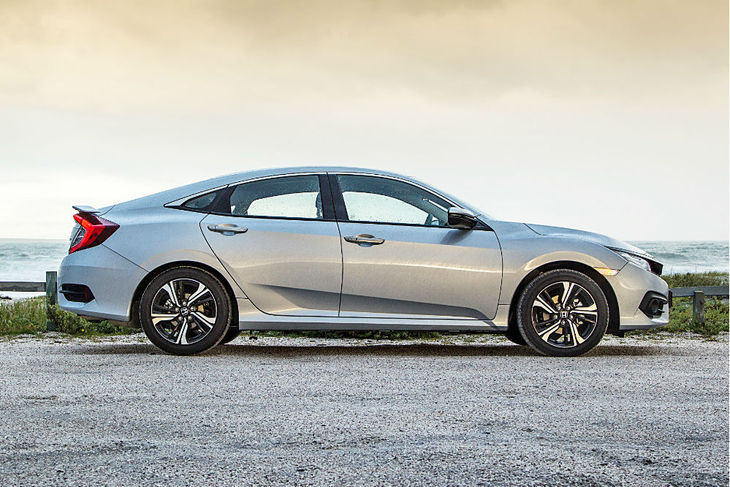 Given the conventional silhouettes of its Civic (and Accord) predecessors, Honda's newcomer cuts a distinctive profile.
Price and after-sales support
The 1.5T Sport costs R430 000, which includes a 5-year/200 000 km warranty, a 5-year/90 000 km service plan, as well as 3-years of AA Roadside Assistance. Services are at 15 000 km.
Verdict
It's been a while since a Civic sedan has stirred much excitement, but Honda, having erred on the side of conservativism to the benefit of its products' quality, reliability and, ultimately, reputation is gradually regaining the sense that its vehicles don't only need to be solid, but bold and spirited too.
After all, in a cut-throat automotive market, a volume-selling brand cannot dare to be viewed as 1-dimensional or dull and we humbly suggest that it is easier for a marque to button down than put on a blazer and tie. The new Civic sedan embodies most of Honda's best-known and finest traits, but it also has a sense of daring (from a stylistic point of view) and fun (as a mildly engaging driver's car).
This one-rung-below-flagship derivative of the Civic feels more substantial, luxurious and refined than its traditional rivals and, yes, it's even entertaining to drive. We are not too concerned with the quality niggles we discerned (we drove one of the first models to arrive in South Africa), but at its price point we are unconvinced the Civic nameplate has the sheer brand cachet required to pinch notable sales from well-entrenched marquee-badged rivals. What's more, the newcomer's sedan configuration seems a drawback in a market obsessed with crossover/SUVs, of which Honda itself has good ones.
Those who do opt for the reinvigorated Civic are highly unlikely to be disappointed with their purchases, however. This ambitious newcomer bodes well for where Honda, as a brand, is heading.
Related content
New Honda CR-V revealed
Honda BR-V (2016) First Drive
Honda Civic Sedan (2016) First Drive
Volkswagen Passat 2.0 TSI R-Line DSG (2015) Review
Toyota Corolla Sprinter (2015) Review
Ford Fusion 1.5 EcoBoost (2015) Review
Interested in buying a Honda Civic?