Toyota has taken the covers off of the 2021 C-HR GR Sport. While its not the outrageous performance model we're craving, there's no denying it's quite the looker!
Toyota's performance hierarchy is complex. Petrolheads will be lusting after the hardcore GRMN and GR models, while those who want to look the part can opt for the GR Sport range. The Toyota C-HR is a popular model, with 120 000 European sales in its first year. Assembled on the TNG platform, it combines fashionable styling with pleasant driving manners. The SA-spec Toyota C-HR is a finalist in the CarsAwards-powered by WesBank, where it takes on the Subaru XV and Mazda CX-3.
With the Toyota Gazoo Racing flavour, there's bolder and more dynamic focused styling. The model receives some updates on the exterior, in the cabin and in the tech department. Visually, the bi-tone contrast combines well with a sporty-looking front end with piano black detailing. The bumper is a bit more aggressive and there are 19-inch alloy wheels on each corner. There's a subtle GR Sport logo on the rear as well as a bespoke under-bumper trim garnish.
Inside, the cabin features a choice of Alcantara-trimmed leather or all-fabric seat upholstery, both enhanced by a GR-inspired Red and Grey stitching theme. There's also a perforated leather steering wheel rim, red stitching accents to both the wheel rim and the gear lever gaiter, model unique scuff plates, the GR Sport logo, a GR stop/start button and a GR start-up animation in the driver's instrument binnacle TFT screen. The 2021 Toyota C-HR gains the latest version of Toyota Safety Sense too.
While the GR Sport trim generally focuses on giving a vehicle some visual punch, Toyota has given the C-HR a revised suspension and steering tune, which the brand says will 'perceptibly improve the GR Sport's dynamic behaviour.'
European sales of the Toyota C-HR GR Sport will start in January 2021.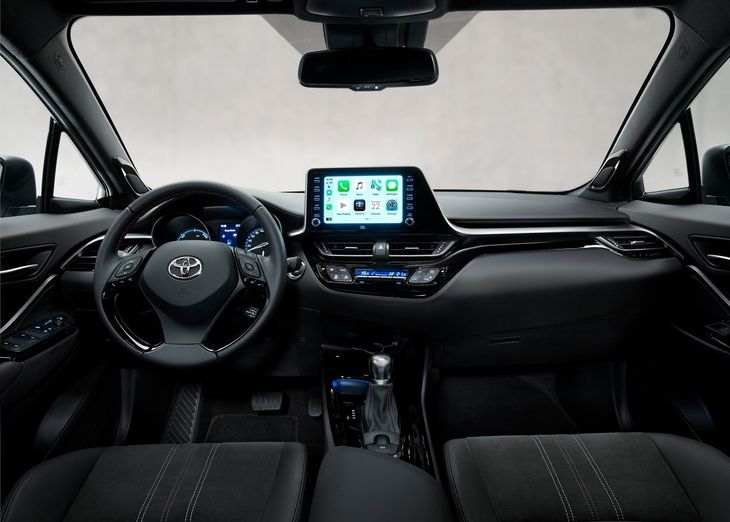 Toyota C-HR for sale - New/Used
Further Reading
Toyota C-HR GR Coming with 200 kW
Yaris GR Still on the Cards for SA - Toyota SA
Updated Toyota C-HR (2020) Launch Review