Toyota recently unveiled its refreshed C-HR, which is expected to arrive in South Africa early next year. Our UK correspondent has driven the updated compact family car in Cascais, Portugal and herewith his findings…
Where do the years go? Before you can say Brexit or #FakeNews, you realise that the Toyota C-HR is already 3 years old. It still looks like the near-production-ready concept car that surprised everyone with its chiselled bodywork and slinky interior upon its unveiling in Geneva in 2016.
In Europe (and the UK), the CH-R has proved a phenomenal success; Toyota has sold more than 400 000 units of its "boutique small crossover" since it entered the bustling market segment. Little wonder then, that as part of its mid-life update, Toyota hasn't changed the styling all that much.
Exterior styling updates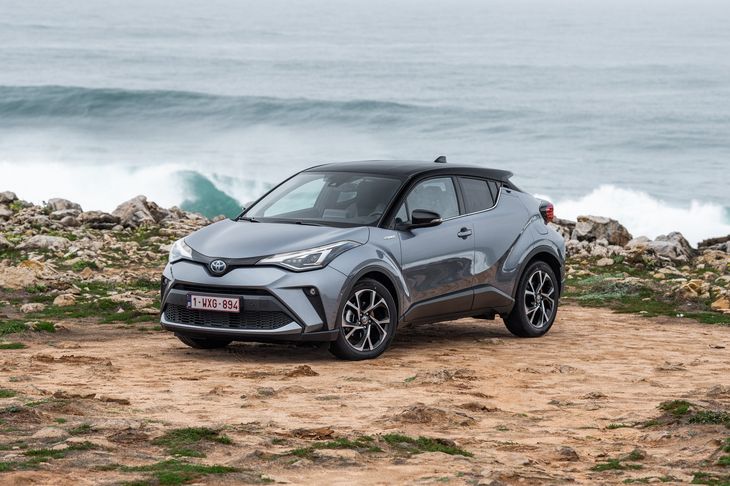 A less fussy front end has improved the appeal of the facelifted C-HR.
Exterior tweaks to the C-HR were largely based on customer feedback and the usual tick-list for a mid-life refresh has been followed. The creases and sharp lines of the outgoing model have been softened somewhat and the overall effect looks a lot less busy, but also smarter/upmarket and arguably more generally appealing. Having said that, it retains much of that original wackiness that surprised so many of us back in 2016.
There are repositioned fog lamps, new standard-fit LED headlamp clusters, along with a larger grille/bumper that now sports a painted bottom lip, which makes it look a little lower to the ground. The LED tail lamps (with active scrolling), meanwhile, are connected by a smart gloss-black spoiler.
Subject to respective markets, there are new paint colours and a choice of 2 roof finishes (depending on the main colour of the car). The limited Orange Edition shown in the pictures is the new 2.0-litre Hybrid derivative, which is bound for the UK market in January.
Interior changes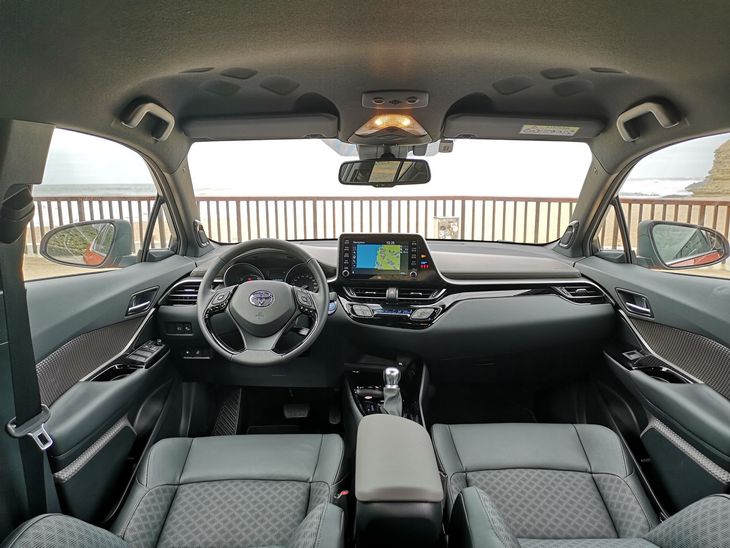 Finally, Android Auto and Apple Carplay are available on a Toyota.
Inside, new higher-grade materials adorn the top of the dash and the inside of the doors. It's all mostly grey and black, but there are plenty of curves, textures and surfaces to keep things interesting.
The C-HR still doesn't feel quite as plush inside as the Peugeot 3008, which still sets the design benchmark for compact SUVs. Fortunately, the front seats are far more comfortable as they now feature extra base- and side bolstering. There's a reasonable amount of space in the back, but the doors aren't huge, the windows are small and it all feels a bit claustrophobic back there. Upfront it's all quite nice and cosy for a compact family car.
The most welcome change is the introduction of Apple CarPlay- and Android Auto compatibility, which will also come to South Africa. The upgrade allows you to operate your favourite smartphone apps through the car's touchscreen and bypass Toyota's own infotainment and navigation software, which remains lethargic and distracting to use, despite an upgrade that includes function buttons either side of the screen.
The load-bay capacity for the UK model is 377 litres because there is no spare wheel fitted (but rather a puncture repair kit), whereas SA-spec cars have an emergency spare fitted, reducing the luggage space to 297 litres.
Engines & drivetrains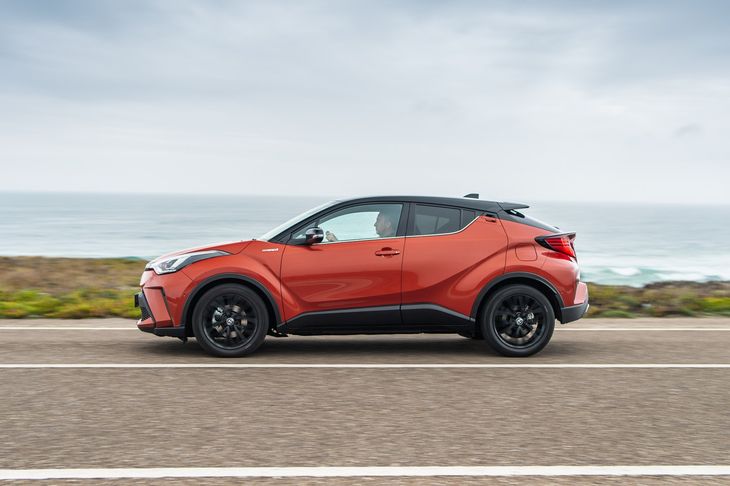 A hybrid derivative is in the pipeline, but for now, SA will only get the 1.2-litre turbopetrol.
Toyota South Africa has confirmed that – at least for the moment – the C-HR will continue to be offered with a 1.2-litre 4-cylinder turbopetrol engine. The Prospecton-based firm said that while its executives were considering the introduction of a hybrid powertrain to the local market, no decision had yet been made in the matter. In that regard, I'd like to put my 2 cents' worth on the table...
In the UK, we've previously had the 85 kW 1.2T engine. It was a peppy little thing that proved reasonably efficient and frugal (6.3 L/100 km). However, mostly due to lack of demand, it has now been dropped from the British market, reinforcing Toyota UK's commitment to hybrid power.
Apart from the 1.2T, the UK has offered a 90 kW 1.8-litre hybrid powertrain paired with a CVT 'box since 2016. With low emissions and a claimed consumption figure of around 3.0 L/100 km, you can understand its advantages. It continues in the UK line-up, but has had its eco performance enhanced by an upgrade to a lithium-ion high-voltage battery and by size, weight and efficiency improvements in all its principal hybrid components.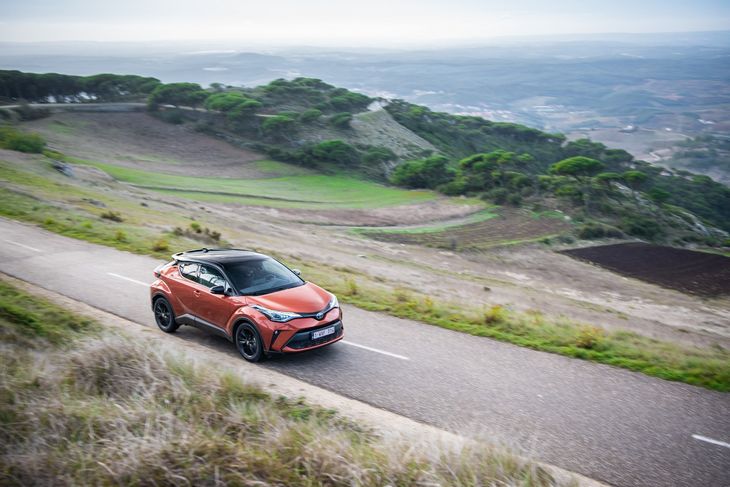 A CH-R with 132 kW does sound like it could be a lot of fun.
However, along with this mid-life refresh of the C-HR, comes the introduction of another full hybrid powertrain – an all-new 2.0-litre unit. It's the 4th-generation hybrid powertrain from Toyota Japan, and the one I think Toyota SA should strongly consider for the Mzansi market.
The full hybrid powertrain (petrol engine and electric motor combined) produces peak outputs of 135 kW and 190 Nm, yet it's more efficient than (and dynamically superior to) the 1.8-litre system. Although power is greater by a whopping 50 per cent, fuel consumption is only 10 per cent higher. Combined cycle fuel economy is a claimed 4.3 L/100 km (WLTP data), which is far better than similarly rated turbopetrol engines.
Ride & handling
The only engine available to test drive at its media launch event in Portugal last week was the new 2.0-litre hybrid unit. Compared with the willing 1.2-litre turbopetrol, the 2.0-litre unit (with the extra power it produces) makes full use of the car's excellent chassis.
Underneath the new C-HR, the suspension settings have been tweaked, which brings improved ride and handling, along with a modified electronic power steering unit to improve steering feel. On the road, those technical enhancements do much to improve the car's driver-centric dynamics.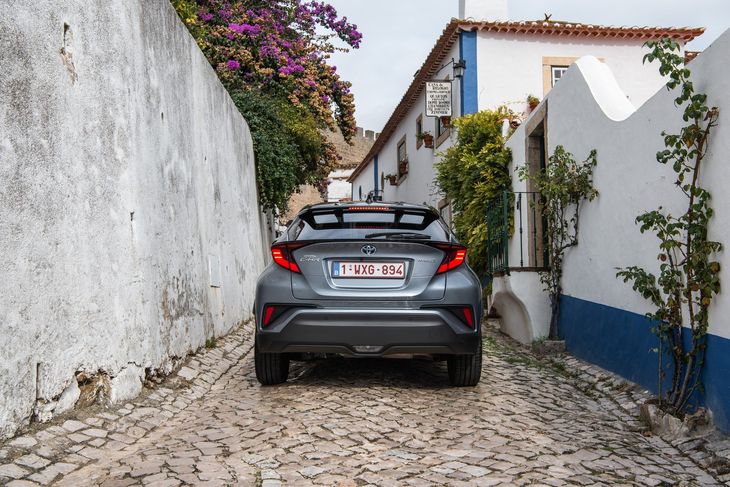 Improved levels of comfort and handling are made courtesy of tweaked suspension.
Overall refinement is noticeably improved – the combination of a hybrid engine and CVT is one of the best yet in terms of responsiveness and quietness. Unlike many CVTs before it, the new transmission isn't coarse, nor audibly intrusive (it's only noticeable when you floor the accelerator). Most drivers won't, of course, and this version builds speed with a pleasing pace that doesn't leave you hanging or frequently checking your watch.
However, if you're the type of driver who frequently drives with a heavier right foot, the C-HR is unlikely to be on your radar, anyway. Compared with the outgoing C-HR model, the new 2.0-litre power plant is a most welcome addition.
Once Toyota South Africa gets over a few technical issues with the new hybrid engines, we could see the 1.8-litre hybrid powertain feature in the C-HR, with the RAV4 likely to receive this 2.0-litre unit. Price sensitivity remains the biggest hurdle to the local introduction of the 2.0-litre hybrid petrol.
Pricing
This far in advance, there are no price indications for the 2020 Toyota C-HR model line-up in South Africa, but Toyota SA did say the trim grades would essentially remain the same and that pricing was hoped to be along similar lines as present.
Summary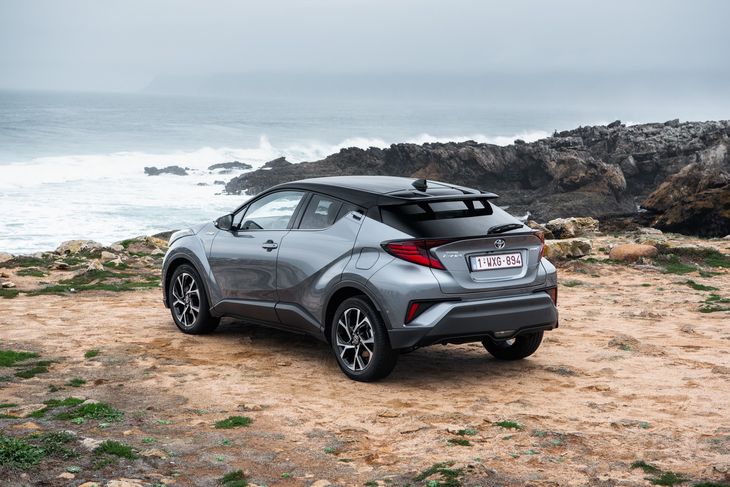 A better car to drive so long as you don't have a huge need for practicality.
There is little doubt that Toyota's refreshed C-HR will remain an interesting alternative to all the usual suspects in the compact family car segment.
It looks good, has an interesting interior that's well-made and now of higher quality, is nice to drive and the hybrid setup is more efficient and cheaper to run than that of the previous 1.2T. It's not the go-to for practicality, but the addition of key connectivity equipment and a more powerful hybrid motor make it far more appealing.
Related content:
New Volkswagen T-Cross vs Volkswagen Polo - Which one should you buy?
Suzuki Vitara 1.4T GLX (2019) Review