At the recent Jimny 50th celebrations held in December 2020, Suzuki South Africa surprised many by revealing the first Brezza on SA soil. Confirmed for an early 2021 introduction, the Brezza sits just below the Vitara. Here's what you need to know about the compact SUV.
With the high level of specification, modern powertrain and subsequent pricing jump, the Suzuki Vitara has moved into a premium space. There's now a substantial gap between the Ignis and the Vitara as the top-spec Ignis retails for R240 900, while R310 900 will get you behind the wheel of an entry-level Vitara. Suzuki South Africa reckons this hole can be plugged by the Brezza.
It's an Indian-built vehicle assembled by Maruti and will be coming to market powered by a 1.5-litre K-Series naturally-aspirated motor with 77 kW and 138 Nm. We expect it to be light on fuel, much like the rest of Suzuki's offerings.
The vehicle is front-wheel driven and while transmission details were not confirmed, a manual gearbox and an automatic transmission is available for the Indian market. We suspect Suzuki SA will bring both. Physically, the vehicle is a touch smaller than the Vitara, but a quick walkaround and glance inside the cabin highlighted similarities to the base-spec Vitara. There was the new touchscreen infotainment system, for instance and rear legroom looked adequate.
Pricing and details will be announced closer to the vehicle's launch in early 2021. As far as rivals go, the Brezza will be taking on the Renault Duster, Ford EcoSport, Mahindra XUV300, and Hyundai Venue.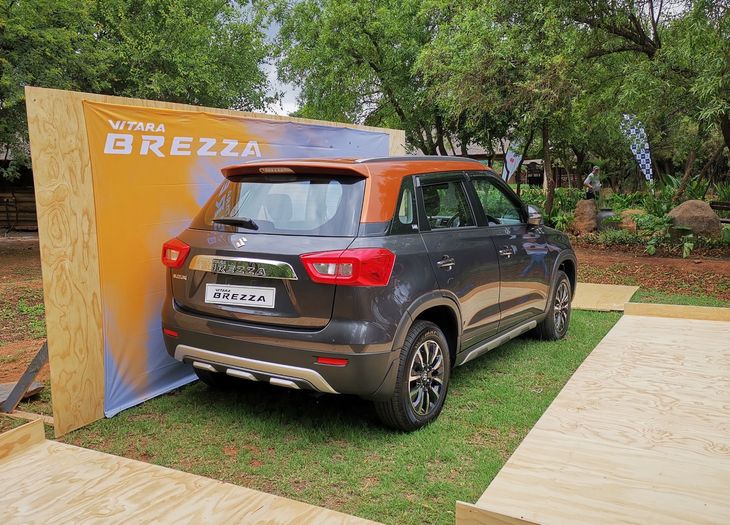 Further Reading
Toyota Urban Cruiser: More Details Emerge
Suzuki Ignis 1.2 GLX (2020) Review