The budget sedan market or Uber-car segment (as the pocket of the market is colloquially known), has an unsung hero. The Suzuki Ciaz has been facelifted for 2019 and we've tested the GLX derivative extensively over 2 000 km.
We like: Leather trim, spaciousness, build quality, fuel-efficient engine.
We don't like: Rear seats don't fold, high driving position, no stability control.
Fast Facts
Price: R244 900 (June 2019)
​Engine: 1.5-litre 4-cylinder petrol
Gearbox: 5-speed manual
Fuel economy: 5.5 L/100 km (claimed)
Power/Torque: 77 kW/138 Nm
Own a Suzuki? Tell us about your experience here.
SERIOUS ABOUT BUYING?
Where does it fit in?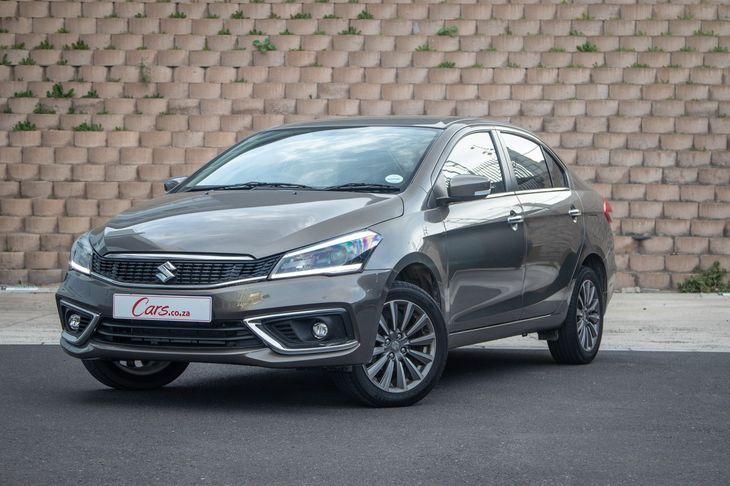 It's an UberX, but with the spec of an Uber Black...
Fleet cars, Uber cars or budget sedans. Whatever you call them, there are plenty of these sensibly priced compact 4-doors around, but most of them are Toyotas or Volkswagens. The Corolla Quest and Polo Sedan dominate the sales here, but the Suzuki Ciaz is a little gem that gets overlooked in this segment, despite offering good value and fuel efficiency, which are surely top of mind to someone running a fleet or Uber car?
The Corolla Quest went through an update in 2016 - read about it here
For this latest version, Suzuki has added some more in-car tech to modernise the Ciaz's infotainment system, transplanted a more powerful petrol motor into its engine bay and topped off the exterior look with LED lights.
How it fares in terms of…
Performance and efficiency
The new engine under the Suzuki's bonnet delivers 7 more kilowatts than before. The 1.5-litre naturally-aspirated (non-turbo) 4-cylinder petrol motor produces outputs of 77 kW and 138 Nm of torque, which are slightly under par compared with those of its rivals, yet the Ciaz doesn't feel gutless. Aided by a light body and revvy engine, the 1.5 GLX has more than enough zip to scurry along, whether in the confines of the city or on the freeway.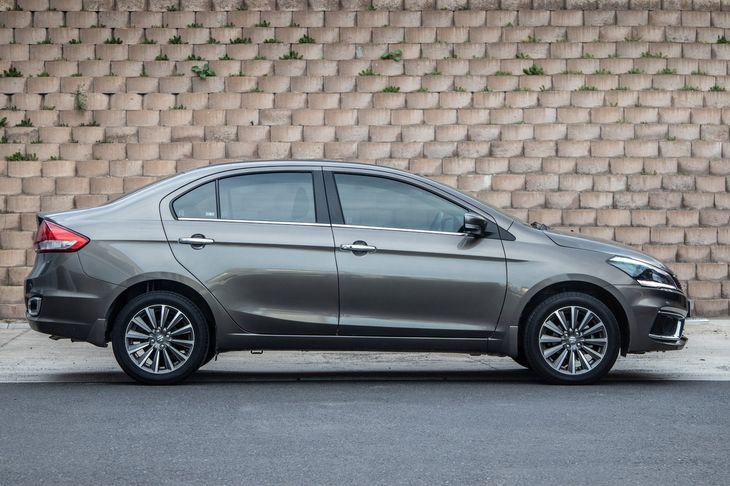 The new engine is typically efficient, but not averse to being revved into its upper reaches.
Suzuki engines are typically fun to rev eagerly and the 1.5 GLX is no exception. By utilising a lively right foot and the fast-shifting 5-speed manual 'box you may find yourself venturing towards the motor's rev limit often – not that it would be of major concern to budget-oriented sedan buyers. The Ciaz may be a gear short of the Corolla Quest, but at freeway speeds the revs are low enough that it doesn't feel like the 'box needs a 6th gear.
The claimed fuel efficiency is 5.5 L/100 km, and we can vouch that if you drive the 1.5 GLX conservatively, you can easily achieve that figure. Throughout our 2 000-km test, we averaged a frugal 6.2 L/100 km, much of which was with a car loaded with baggage and filming equipment.
Practicality and refinement
Starting with passenger space, rear legroom is generous – the bench easily seats 3 passengers. Rear head- and shoulder room are satisfactory and the boot measures 480 litres, which is a bit bigger than those of its rivals. The rear seats don't fold down, which seems like a bit of an oversight, especially because it limits the Ciaz as a family car. You can bet that at some stage you will need to carry something longer than the length of the boot and because the seats don't fold down, you'd be stuck. As a fleet buyer, it's not likely to be an issue, but it may be a deal breaker for families.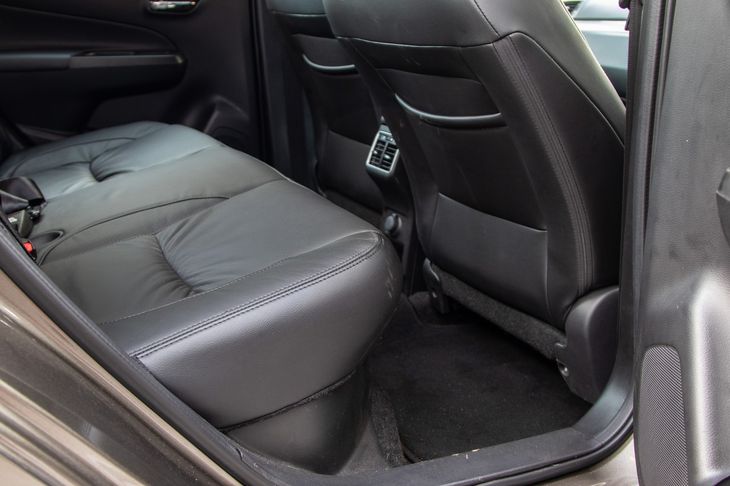 Enough legroom, rear aircon vents and leather. It's the best-equipped rear in the segment.
On the road, the Ciaz is quiet and well insulated from the wind and tyre roar in ways that budget car offerings usually aren't. It's pleasant and comfortable with an easy clutch/shift action that won't be arduous in congested traffic. The ride is geared towards comfort, so the suspension softens out bumps and ruts smoothly. Because it's light, it still feels nimble in the bends and promotes confident driving. It's a very easy car to acclimatise to.
Interior tech and comfort
Suzuki has updated the Ciaz's interior by modernising its infotainment system, which brings some welcome digitisation to the Ciaz's cabin. The infotainment system now features a 7-inch touchscreen that incorporates a feed from a reverse-view camera, the latter of which is a rarity in this segment. The setup is Apple Carplay and Android Auto compatible, but it would be best to check whether your smartphone's fully compatible with the system during the test drive... we had issues with a few Android smartphones (Suzuki does have a few troubleshooting options if you struggle).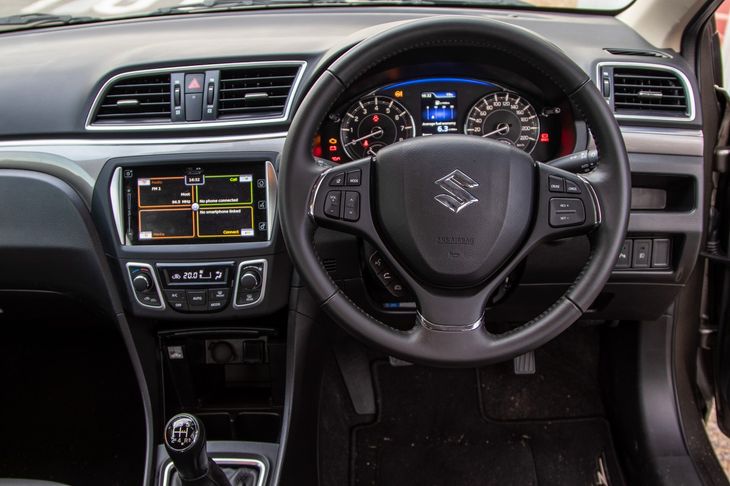 The interior has a modern infotainment system now and cruise control.
The instrument cluster has gained a central digital screen that displays the trip computer; it's a simple, but effective, way to improve the ambience of the cluster. Automatic climate control is a nice-to-have, as are the steering wheel-mounted controls for the radio and newly added cruise control.
Suzuki's major advantage in this segment is the leather upholstery, which is standard on the 1.5 GLX derivative. Having sat on many a dirty cloth-trimmed seat in Uber cars, leather is most welcome on a car in the "UberX segment".
The driver's seat, despite being height adjustable doesn't go low enough for taller drivers (181 cm and above). You have to deal with a very raised driving position and be ever mindful not to knock your head on the door frame every time you exit the vehicle.
Safety
It's a bit disappointing to note the absence of stability control in the Ciaz, although only the Polo offers it (of the competitors we mentioned). The Ciaz has 2 front airbags, ABS, EBD with brake assist and keyless entry (GLX only). The safety spec, therefore, is par for the course for this segment.
Verdict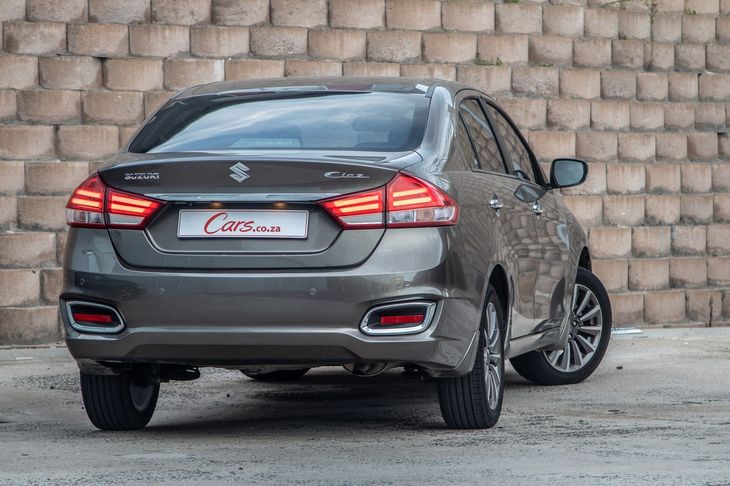 Suzuki Ciaz should pose a real threat to the segment's top-sellers.
The Suzuki Ciaz underperforms on the sales charts, especially considering the equipment levels and value for money it offers. The 1.5 GLX's price point is competitive and the running costs are likely to be pleasantly low. Suzuki has won multiple #CarsAwards Brand of the Year titles for delivering excellent levels of customer service and support, so prospective owners can look forward to peace-of-mind ownership. The warranty has been extended to 5 years/200 000 km while the service plan (3-year/60 000 km) offers more mileage than those of the Corolla Quest and Polo.
Read about what Brand of the Year entails here
It comes with ample passenger space and leather seats, something its competitors can't match. The new engine performs admirably despite its lower power and torque outputs. It also proves to be more economical on fuel, due to its low weight and 1.5-litre capacity.
It does however, appear to be firmly targeted at the fleet buyer rather than the family buyer with the exclusion of stability control and rear folding seats. If a Suzuki Ciaz every pops up when you hail an UberX, you'll be pleasantly surprised at just how more luxurious it is than the usual suspects.