The Impreza compact sedan has always played second fiddle to its WRX and WRX STI performance derivatives as well as Subaru's family car/compact SUV offerings. The Japanese brand recently introduced an all-new model with the hope that a new platform, generous specification and robust build quality will help the Impreza see off its rivals and remain relevant in a market where the popularity of sedans is on the wane.
We like: Up-to-date infotainment system, better-than-expected fuel efficiency, ride- and build quality.
We don't like: Uninspiring to drive, middle-of-the-road performance
Alternatives:
Sporty Korean: Hyundai has done considerable work on its 2017 Elantra and the Sport flagship model costs the same as this Impreza. However, the Korean packs a 150 kW turbo punch mated with a dual-clutch 'box and has the edge in performance (but not handling). Combined with Hyundai's excellent warranty, it's a strong contender.
Go German: The Volkswagen Jetta has been around for ages and still offers good value and practicality. Even the flagship 1.6 TDI Comfortline auto is cheaper than the Impreza, but down on features. For a petrol option, consider the similarly-specced 1.4 TSI Comfortline auto for R368 900.
Another Japanese offering: The new Honda Civic certainly looks the part, but derivatives powered by the best engine (1.5T) in the line-up are expensive and the 1.8-litre normally aspirated 1.8 Elegance is well specced at R381 100, but its engine performance is middling and the CVT's an acquired taste. Not the best-made Honda we've ever tested either.
Compare the specifications of the Subaru Impreza to the Hyundai Elantra Sport, Volkswagen Jetta and Honda Civic here
What is it?
To many motorists, the name Subaru Impreza evokes images of a blue, be-winged rally cars charging across a track. Yes, although the best known Impreza derivatives are the high-performance WRX and WRX STI versions that offer giant-slaying performance for relatively little money compared with exotic sportscar and sedans, the 2.0 R and 2.5 RS versions (to name but 2 examples, both of which featured normally-aspirated motors combined with the brand's famed all-wheel-drive system), offered a more attainable, yet satisfying Subaru ownership experience. Fast forward to 2017 and there's an all-new Subaru Impreza available. It is built on an all-new platform and features the latest safety technology and features.

As ever, the styling of the standard Impreza errs on the side of conservativism; it is a good-looking sedan, but a bit anonymous.
How does it fare in terms of…
Ride and handling?
The new Impreza rides on an all-new platform (it's a tad longer than the outgoing car's) and Subaru claims it has improved the compact sedan's torsional rigidity by up to 70% compared with its predecessor. This new platform, combined with a well-balanced suspension setup, immediately manifests in a notably creak- and rattle- free cabin, with low wind and mechanical noise intrusion and ride quality that is pleasingly pliant, but without ever feeling ponderous (the 2.0 Lineartronic is shod with 17-inch alloys and wheels).
These attributes bode well for future generations of high-performance Subarus, which will, of course, be built on the same modular architecture. To reiterate, the Impreza exudes a reassuring feel of solidity from behind its 'wheel. The steering feel is well weighted and ultra-direct, and when you combine these with virtually no body roll and all-wheel drive, you feel confident when cornering with verve. Let's not forget the brand's rally pedigree either – while this Impreza is marketed as a family sedan, it felt perfectly at home on a gravel stretch.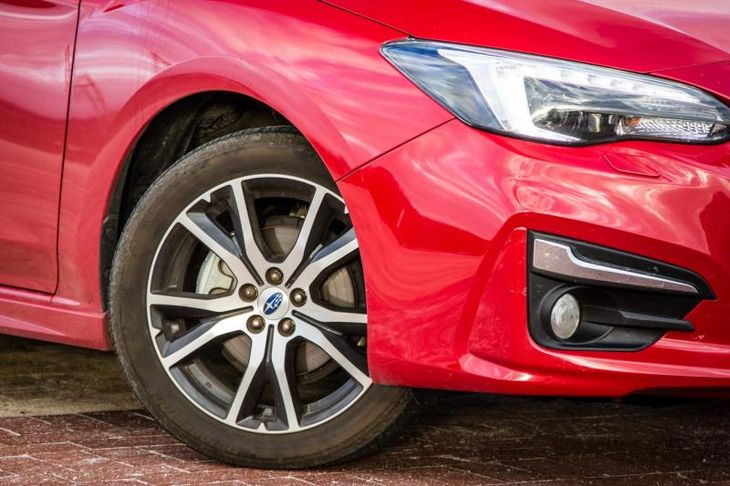 Whereas the Impreza still has a sporty bent, cues to its athleticism are subtle, such as these handsome 17-inch alloys.
Engine performance?
The Subaru Impreza is powered by a new naturally-aspirated 2.0-litre flat 4 petrol motor. The direct injection powerplant is 12 kg lighter than its predecessor, while the gearbox is almost 8 kg lighter too. These savings help keep the car's overall weight down, but despite it being a lighter and more powerful Impreza, with peak outputs of 115 kW and 196 Nm going to all four wheels through Subaru's Lineartronic CVT, performance is fair. Expect the 0-100 kph sprint to be dispatched in around 10 seconds, which is about on par for the segment.
To its credit, however, the Impreza doesn't feel slow; we suspect that the throttle mapping and CVT calibration have been programmed to deliver instantaneous responsiveness, which allows the Suburu powerplant to make optimal use of what it's got. There's a faint Subaru-style engine note when you're really pressing on, which makes a change from the bland engine notes of its rivals and that's not even the best of it... This Subaru engine is quite economical. The claimed average consumption figure is 7.2 L/100 km and during the test, we saw an impressive 8.5 L/100 km.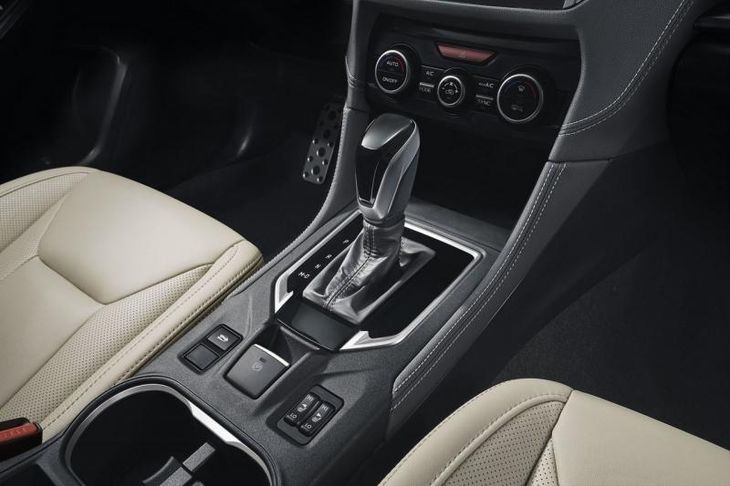 The Lineartronic continuously-variable transmission is calibrated to highlight engine flexibility; it's one of the better CVTs we've experienced.
Practicality?
Some smart packaging in the Subaru Global Platform has resulted in a car that appears a bit shorter than equivalent sedans but offers impressive cabin space nonetheless. Rear legroom is to be commended, while the boot is deep enough and wide enough for a family of four's luggage. In terms of numbers, Subaru claims the boot can hold 460 litres and with the rear seats folded down, we even managed to squeeze in a mountain bike. From the driver's seat, there are plenty of storage spaces to place your phone, keys and wallet.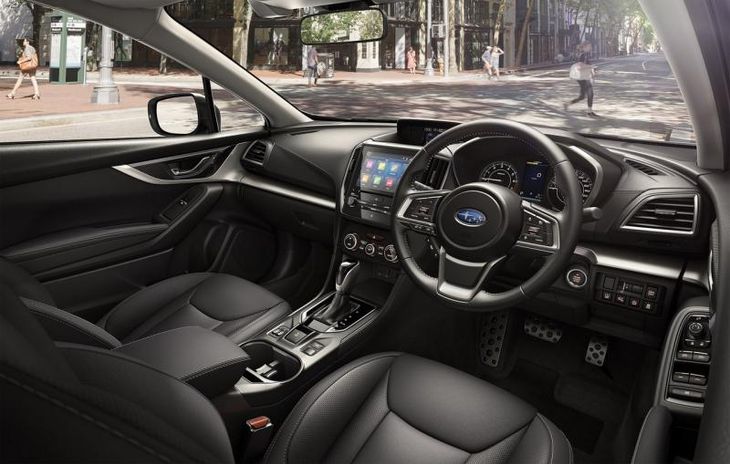 The Impreza's leather-trimmed interior exudes a big car ambience, the fascia design is a bit plain, but build quality is top-notch.
Safety and tech?
The 2 aspects in which the Subaru Impreza really excels are technology and safety. The cabin is modern, well appointed and the fascia's dominated by a large full-colour infotainment screen, which offers a crisp display and an intuitive user experience, much like a smartphone or tablet that allows you to zoom and pinch. This infotainment setup offers everything from satnav (powered by TomTom) to Apple CarPlay and Android Auto connectivity. There's also Bluetooth connectivity and numerous USB ports dotted around the cabin.
The Impreza further features cruise control, climate control, auto- headlamps and wipers, but the safety features are the real highlights. Here are a few systems worth mentioning: Subaru's Vehicle Dynamics Control, steering-responsive headlights, high beam assist and Rear/Side Vehicle Detection which includes Blind Spot Detection, Lane Change Assist and Rear Cross Traffic Alert.
Seven airbags are provided, as are your usual plethora of braking acronyms (ABS, BAS and EBD), as well as ISOfix child seat anchorage points. The top-spec derivative gains the semi-autonomous Eyesight Driver Assist tech and, for the record, the newcomer scored 5-stars in the Euro NCAP and Australian ANCAP ratings.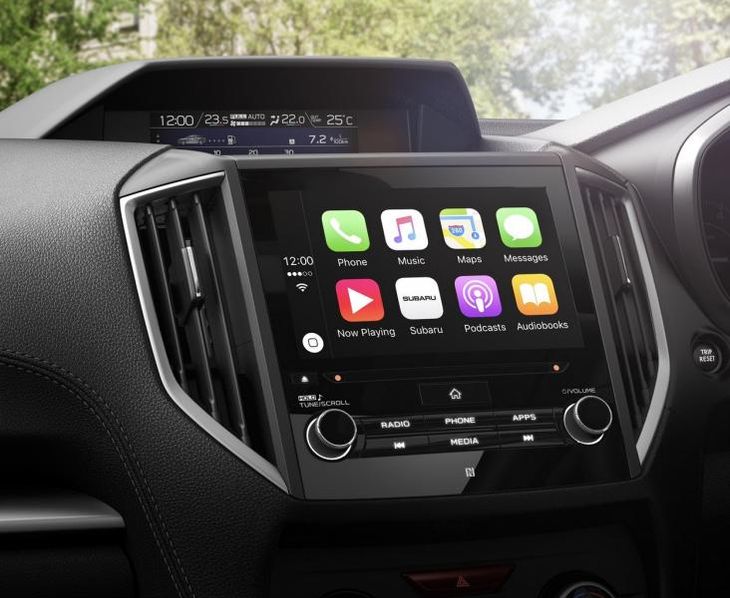 Whereas the functionality of Subaru infotainment systems used to be pretty basic, the Impreza's unit is very user-friendly.
Subaru Impreza Price in South Africa (November 2017)
The Subaru Impreza is sold with a 5-year/150 000 km warranty and 3-year/75 000 km maintenance plan. As of November 2017, it costs R 399 000.
Verdict
Whichever way you look at it – and setting aside the anti-sedan-pro-hatchback market trend for the moment – the Impreza 2.0 Lineartronic is an impressive family car. It combines willing performance with comfort, refinement and solid build quality. One of our testers bluntly described the Subaru as "an all-wheel-drive luxury Toyota Corolla" and after the rest of the team's initial shock passed, we found some merit in that statement. Yes, this derivative isn't cheap, but owners will revel in the car's solid engineering, backed by good spec and a maintenance plan. At this price, however, there's a dangerous rival in the shape of Hyundai's Elantra Sport, which offers notably more power and a similar level of kit for the same money.
We don't think Subaru South Africa is too concerned about sales volumes of the Impreza, however, at least not in the long term. Given how the market favours SUV-like family cars and crossovers, such as the venerable Forester and the new XV (which is a very accomplished product and deserving #CarsAwards finalist), the Japanese importer's focus will be mostly on its "off-road offerings". That is, of course, until the next generation WRX and WRX STI come along, which will please the petrolhead fanatics of the brand. For now, the entry-level Impreza is a strong enough offering.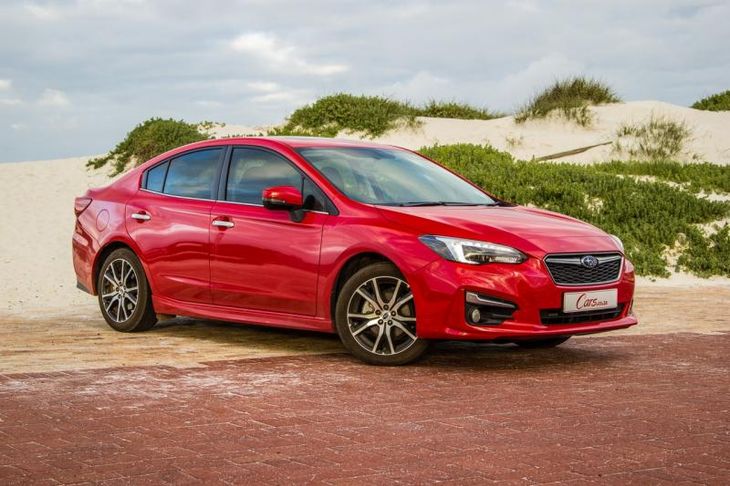 Even if the compact family sedan market appears to be dying out, the Impreza's one of the segment's finest offerings.
Related content
Subaru debuts new Impreza Hatch at Frankfurt
Do you suffer from anti-stationwagonism?
2017/18 Cars.co.za Consumer Awards – powered by WesBank; Semi-Finalists
Searching for a used Subaru?