Some hardcore petrolheads, not least the Alfisti, might believe the Alfa Romeo SUV to be a complete and utter joke, but David Taylor reckons that it's the Stelvio, and not the Giulia, which is key to securing Alfa Romeo's future.
I'm fond of Alfa Romeo's vehicles and our history goes way back. My father had a lovely 156 2.0 T Spark, which I was only allowed to drive under strict supervision, but that didn't stop me from borrowing it a few times for a few drives. One day, however, I was caught. How I am still alive beggars belief. I tried to convince my parents that my first car should be a 146 Ti, which they vetoed faster than Russia at the UN Security Council. Everyone everywhere has a fond association with Alfa Romeo and it is a brand that you bond with emotionally, more than physically. One of my colleagues has an Alfa Romeo Giulietta and he's obsessed with it.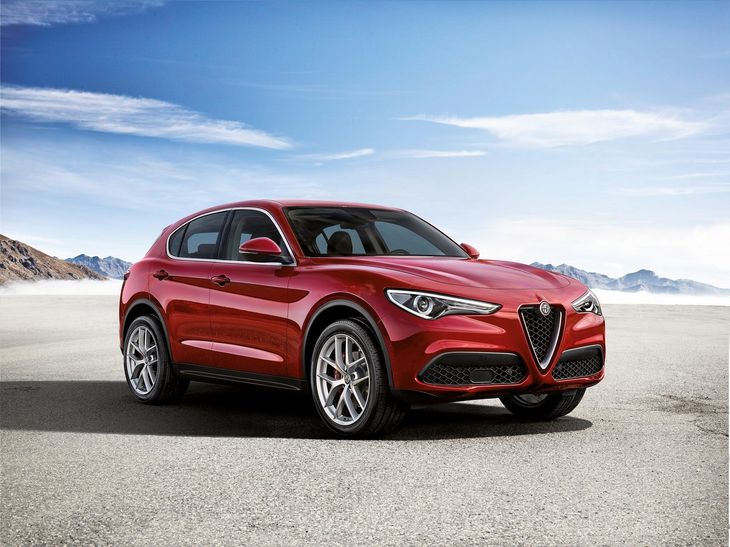 The Stelvio marks Alfa Romeo's first foray into the highly competitive SUV segment and it's already making waves.
The Alfa Romeo Giulia has been fairly well received since its international reveal in Milan back in 2015, which I attended. That day was filled with every plausible Alfa Romeo cliche. The launch car was red and FCA boss, Sergio Marchionne, flew in by helicopter, escorted by Mafia-style security. Andrea Bocelli sang 'Nessum Dorma' and the culinary spread comprised the finest pasta, cheeses and wine. As Bocelli hit the high notes, the car came out and tears were shed. Only the Italians can pull this off!
Subsequently, we have driven the Alfa Romeo Giulia, both in QV and Sprint application, and we came away impressed, thus ending a 5-year drought for an Alfa Romeo D-segment sedan. There's a lot to like about it and the Giulia is a #CarsAwards finalist too. The masses are openly suggesting that Alfa Romeo is back and it's all thanks to the Giulia.
However, I believe that the Alfa Romeo Giulia is not the saviour of the brand at all, but rather an exercise in branding and pleasing the petrolheads. Alfa Romeo has tremendous heritage and is playing the petrolhead game remarkably well. Is there a better way to announce your return than by offering a sledgehammer sedan called the Giulia QV that elbows the Mercedes-AMG C63 in the ribs and slaps the BMW M3 around?
Combining a V6 turbo motor with Ferrari mechanicals, Alfa's trademark pretty looks, the Giulia QV is the petrolhead perfect storm. Let's not forget that dreadfully overused cliche either, 'You Can't Be A True Petrolhead Until You've Owned An Alfa.' Ugh.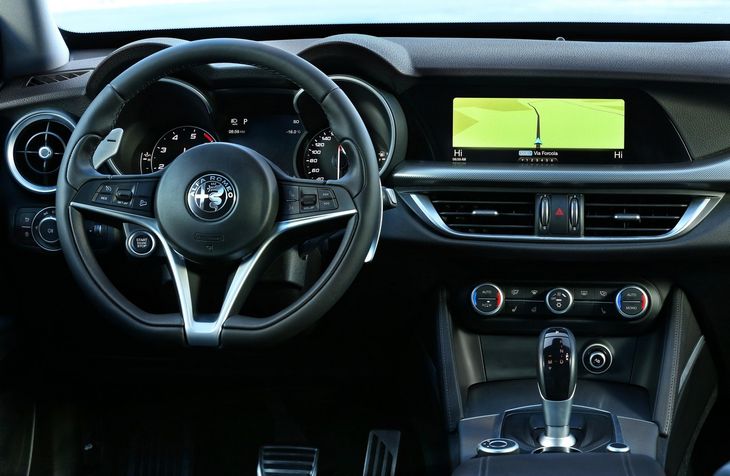 The Stelvio's interior design is pleasing to the eye with luxury finishes and a host of equipment on offer.
However, when your brand is centred around one model which is in a diminishing segment that appeals to a small demographic, you're living on borrowed time. Look at how BMW 3 Series, Audi A4 and Mercedes-Benz C-Class owners have jumped into X1/X3, Q2/Q3 and GLA/GLC respectively. The big German trio is in the midst of a massive SUV campaign, while Swedish brand Volvo has launched 3 SUVs in just 3 years. Volvo's XC series is outselling the sedans comfortably. SUVs, hate them all you want, but they're here to stay and now Alfa Romeo has gone down this road.
The real brand-saving accolade belongs to the new Alfa Romeo product which has just landed on South African shores, the Stelvio SUV. An Alfa Romeo SUV sounds like a catastrophe, but brands have been stepping out of their comfort zones for some time now. Take Porsche for example. If it were not for the Macan, Cayenne and Panamera, the company would be struggling. It simply does not sell enough 911s, Caymans or Boxsters and the market for these cars has shrunk. A few years ago, Porsche admitted that it sold more Cayennes than the rest of its portfolio combined, which says it all.
Admittedly, Alfa Romeo has been here before and thankfully the Kamal was never produced. Looking back now, the concept dated badly and it was hideous. Stelvio, on the other hand, is not over-the-top when it comes to styling. Make no mistake, it's still an Alfa Romeo, but it's not dramatic or polarising.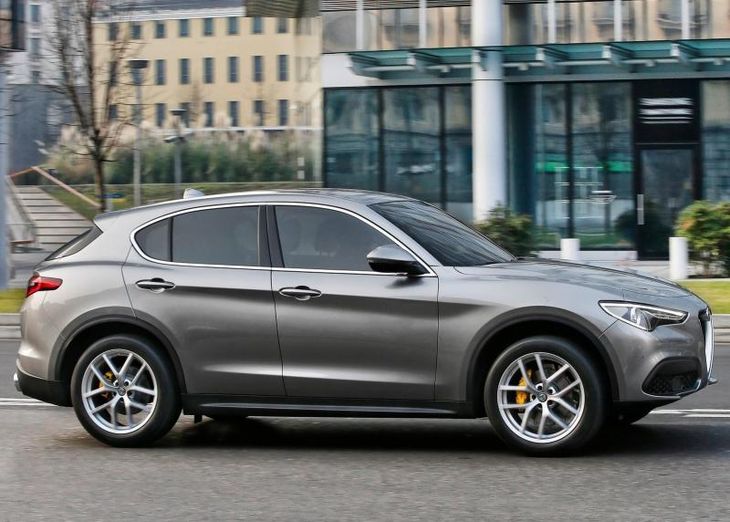 Alfa Romeo Stelvio in Generic Silver. Nothing over-the-top here, just a luxury SUV with all the practicality and safety you'd want.
An Alfa Romeo SUV makes perfect sense as it doesn't appeal to the petrolhead brigade and can be taken seriously by non-car people. You know the types who are after comfort, value-for-money, safety features and perhaps a little hint saying to other road users that they've made it financially. The Alfa Romeo Stelvio ticks those boxes. Here we have a luxury and well-appointed SUV, which boasts all-wheel drive for all-weather capability and enough ground clearance to comfortably tackle gravel roads.
It's wonderfully practical thanks to a generous boot and there's ample room in the rear. We had a solid day's worth of driving at the South African launch and we can't wait to get under its skin even further. It was pleasant and relaxing on the open road, but it still delivered a thrilling drive when coaxed into some corners, so don't think for one second that the Stelvio has been neutered and is boring.
Of course, being Alfa Romeo, there just had to be a red-hot performance model and the Stelvio QV boasts the same biturbo V6 as the Giulia. However, thanks to all-wheel drive, it'll be ludicrously quick off the line and we won't be surprised to see it break 4 seconds to 100 kph as well as nudging its sedan sibling out the way. We'll be driving it at its international launch event before the end of 2017 and expectations are high.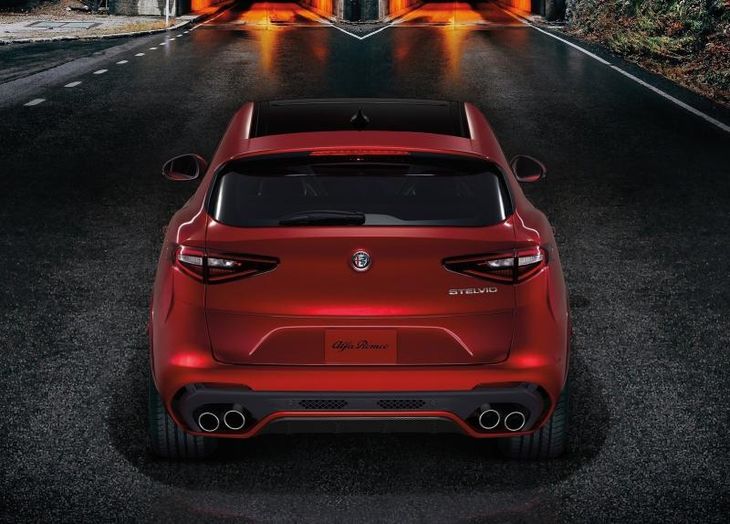 Alfa Romeo Stelvio QV. Move over GLC 43 AMG, BMW X3 M40i and Audi SQ5.
The Stelvio's secret to ride quality and driving manners comes thanks to the same Giorgio platform which underpins the Giulia sedan. That Giorgio platform has been commended unanimously by the motoring press and it's no surprise that we'll see it underpin not just future Alfa Romeo products, but Maserati, Jeep and Dodge products too. Petrolheads are pining for an estate derivative of the Giulia, but the Stelvio has been so well received thus far that the estate project is all but canned.
The best part of the Giorgio platform is just how versatile it is, which means that we're likely to see a few more Alfa Romeo products before 2020. There are rumours of a BMW 4 Series rival, a bigger-than-Stelvio SUV, a smaller-than-Stelvio SUV as well as replacements for the MiTo and Giulietta. Watch this space.
Alfa Romeo is feeling bullish and the dark uncertainty which clouded its future has lifted slightly. Alfa Romeo has plenty of work still to do before it can truly claim that it's back as a credible rival to the German trio. As for the rumours of Alfa Romeo and the rest of the FCA family pulling out of SA? They're just that, rumours, and given how many products will have their South African introduction in 2018, FCA is not going anywhere.
Related Content
Alfa Romeo Stelvio (2017) Launch Review
Alfa Romeo Stelvio in SA (2017) Specs & Pricing
Alfa Romeo Stelvio (2017) International First Drive
Alfa Romeo Stelvio Quadrifoglio Smashes SUV Ring Record
3 Reasons Why is Alfa Romeo Giulia is #CarsAwards Finalist
Alfa Romeo Giulia 2.0T (2017) Review