That's right, Alfa Romeo has released an SUV. Based on its Giulia sedan platform, the new Alfa Romeo Stelvio offers eye-catching looks, is laced with luxury trimmings and promises a superb driving experience. We attended the launch of Italy's latest SUV to bring you this report.
Ah, Alfa Romeo. That brand which every petrolhead is apparently morally obliged to adore without question. The Italians have produced some fantastic machinery over the years and yours truly learnt how to drive in an Alfa Romeo 156 Twin Spark, one of the finest business class sedans the brand has ever produced. Despite the Giulietta offering a credible fresh(ish) product, there hasn't been anything groundbreaking from Alfa Romeo for some time. Until now, that is. With the Alfa Romeo Giulia, we witnessed a new chapter for the Turin-based manufacturer. All-new from the ground up, with very few shared parts from FCA Group, the Giulia has won many fans and accolades, including a #CarsAwards finalist nod from us.
However, as good as the Giulia is, the market for business class and executive sedans is on the decline. Enter the executive SUV, where people want a raised driving position and a bit more space, at the sacrifice of outright driving thrills. The Alfa Romeo Stelvio is the brand's first mainstream SUV, but it's not the first time it had ventured down this route. Back in 2003, Alfa Romeo released the Kamal concept, which you could say was ahead of its time.
An Alfa Romeo SUV? What!?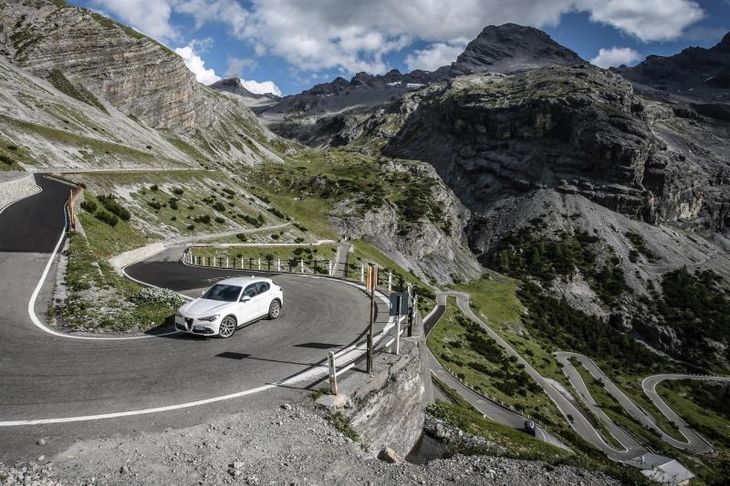 The Stelvio driving on the Stelvio Pass.
The Alfa Romeo Stelvio is named after an iconic pass in the Italian Alps. Made famous by Top Gear, the Stelvio Pass is both beauty and beast. The scenery is off the charts, but in terms of actual driving experiences, the Stelvio Pass is a monster with 75 hairpin bends. As for the Stelvio itself, it's built on the same Giorgio platform as the Giulia, which is a great thing. The Giulia is a joy to drive and we expected the Stelvio to provide much the same in terms of driving thrills, but more on that a bit later. Under the Stelvio's skin is extensive use of carbon fibre, such as in the prop shaft, which contributes to an astonishingly low kerb weight of 1 660 kg. In terms of size, it's the same length as the Giulia at 4.7 metres and is 1.7 metres high. Ground clearance is a credible 200 mm and the vehicle comes with Alfa's Q4 all-wheel-drive setup, meaning gravel roads can be taken on without hesitation.
Powertrain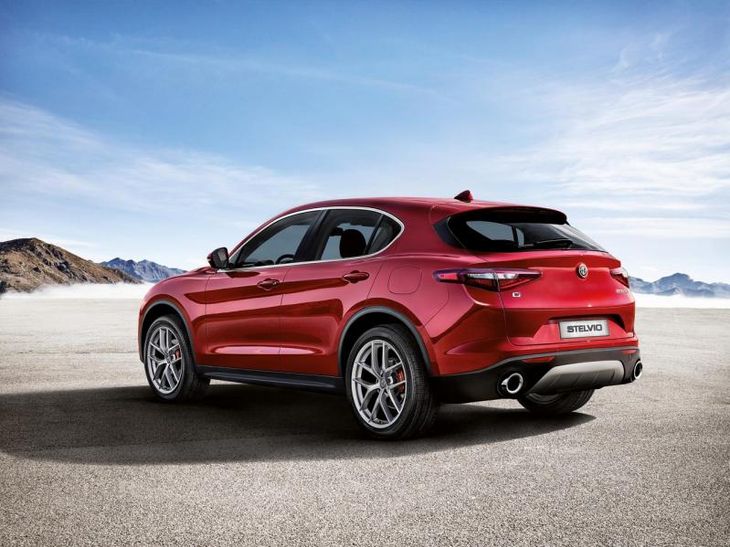 This is the Alfa Romeo Stelvio First Edition, featuring big alloy wheels and a panoramic sunroof.
Right now Alfa Romeo has only one powertrain option for the Stelvio. A fire-breathing Stelvio (the Quadrfoglio Verde) will be coming to SA in the third quarter of 2018. The SA-spec Stelvios come with a 2.0-litre turbocharged 4-cylinder petrol engine with 206 kW and 400 Nm. Power goes to all four wheels via an 8-speed automatic transmission. This Q4 setup sends 100% of power to the rear wheels until the front wheels lose traction and the front axle powers on with up to 50% torque. The potential result could be a drifting Alfa Romeo SUV, but we were not going to try it out as the launch route was subjected to a tremendous cloudburst over the Franschhoek region. The benefit of this engine is that it's modern and conforms to Euro6b regulations. Alfa Romeo claims a combined fuel consumption figure of 7.0 L/100 km, but in reality, you're likely to see closer to 10 and we'll explain why below.
What is the Stelvio like to drive?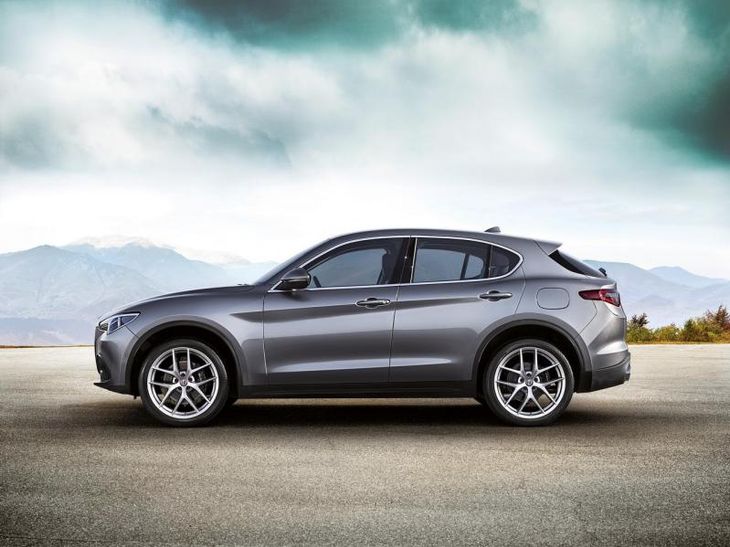 The Stelvio's 2.0-litre engine is not the same spec as that of the 4-cylinder Giulias, it produces higher peak power of 206 kW.
In a word, sensational. We mentioned that fuel consumption is likely to be higher than expected and for good reason. It's a phenomenal piece of driving goodness. The Alfa Romeo Stelvio defies belief and the laws of physics, by driving in a most SUV-unlike manner. Stelvio feels more hatchback than luxury family SUV and our launch route comprised some of the finest stretches of driving roads in the Western Cape. It was a perfect testing ground to put Alfa's claim of 'impeccable handling' to the test and boy did pass with flying colours. Despite the inclement weather on some parts of the route, we felt confident to carry on regardless, knowing well enough that the Q4 all-wheel-drive system and communicative chassis was going to keep us in firm control. Off the line performance is credible too, with zero to 100 kph dispatched in under 6 seconds.
Much like the Giulia sedan, the Stelvio's steering feedback is wonderfully accurate and the directness is something we appreciate. There's a sense of being firmly planted to the road, which is refreshing considering how many cars feel disconnected to the tarmac. The car features Alfa's DNA system which refers to the driving modes. Dynamic is self-explanatory, Natural is for everyday driving, while Advanced Efficiency dials everything back to improve fuel economy. The Alfa Romeo Stelvio also has 50/50 weight distribution.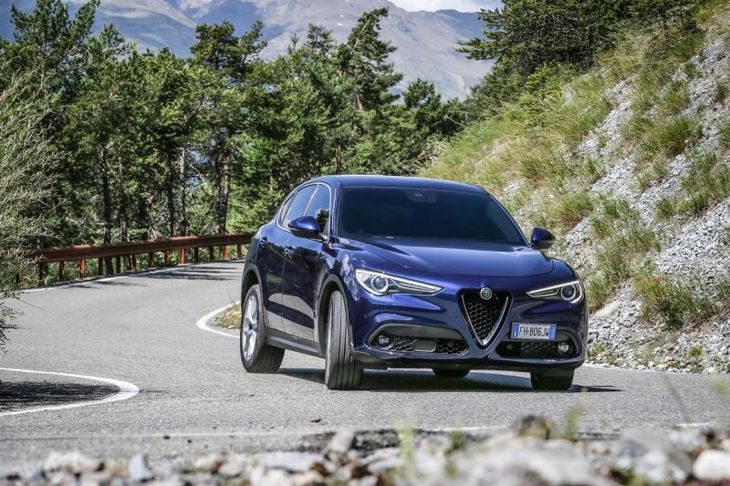 Features
The Alfa Romeo Stelvio comes to market with two trim levels, Super and First Edition, and you can see the comprehensive specification below. There are few optional packs, which further sweeten the deal if you're wanting some extra goodies. We'd recommend looking at the Cold Weather Pack (heated front seats and steering wheel) as well as the Sound Theatre Pack (Harmon Kardon audio). We have experienced this infotainment system before in the Giulia and while not groundbreaking, it's slick and fairly straightforward to use.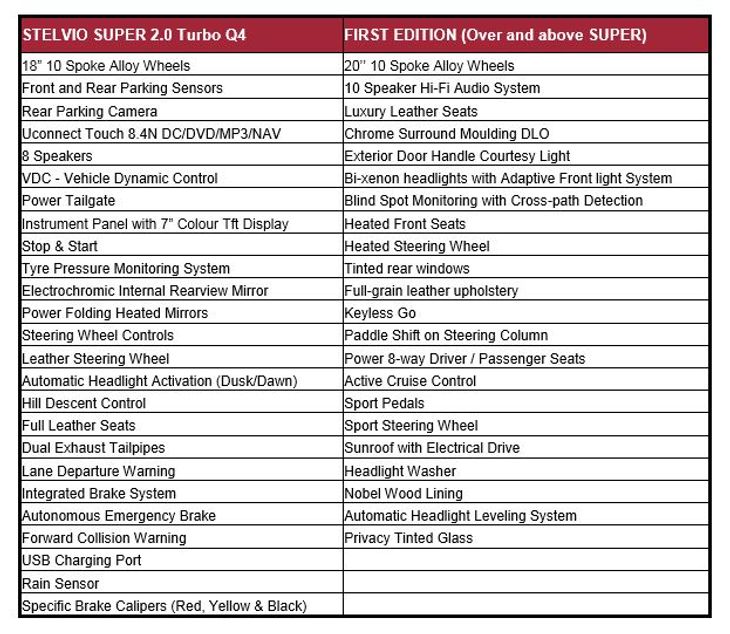 Safety
Alfa Romeo's Stelvio is one of the safest vehicles on the road and features many safety features, both active and passive. Highlights include Integrated Brake System (IBS), Forward Collision Warning and Autonomous Emergency Brake with pedestrian detection, Lane Departure Warning, Blind Spot Monitoring (BSM) with Rear Cross-Path Detection and Active Cruise Control. The EuroNCAP report for this car is excellent, with highlights such as a 5-star rating for the 2017 test.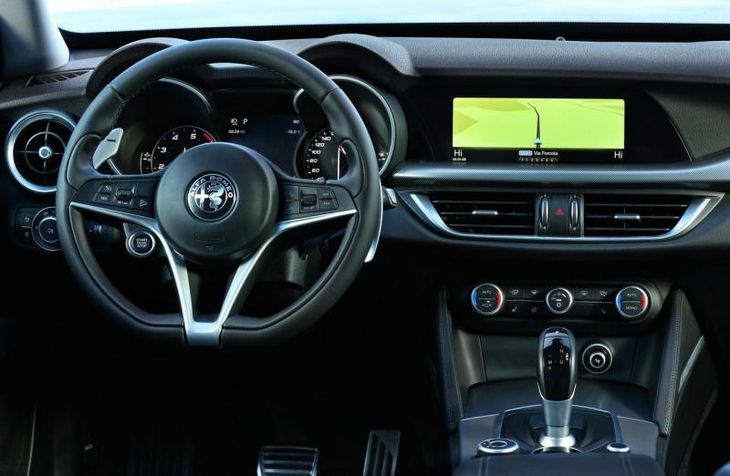 European left-hand drive pictured. SA cars will be right-hand drive. Note the start/button on the steering wheel.
Alfa Romeo Stelvio Price in South Africa
The Alfa Romeo Stelvio has gone on sale with pricing from R810 000 for the Super, while the First Edition is priced at R946 000. All Alfa Romeo Stelvios feature a 3 year / 100 000 km warranty and a 6 year / 100 000km maintenance plan as standard. While some may wince at the price, remember that there are very few options and the vehicle comes standard with a generous amount of kit. Also factor in a wildly fluctuating exchange rate, which hurts manufacturers who do not have plants in SA. Alfa has noted that customers want choice and variety, and there are eleven body colours and three alloy wheels (from 18" to 20") to choose. For the Alfisti, the telephone dial-style alloys are back, just for you.
Quick Summary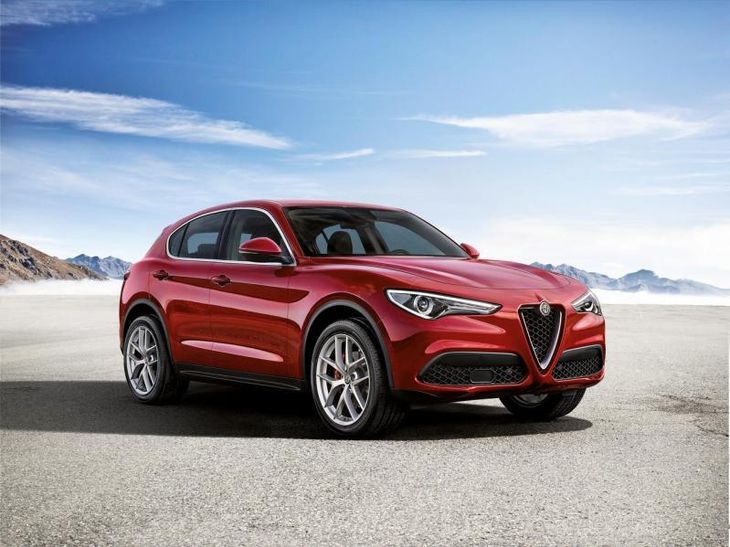 Alfa Romeo Stelvio. Drives as well as it looks.
Hardcore Alfa Romeo fans must be wincing at the thought of their beloved brand producing a mainstream family SUV. Fortunately for them it ticks all the boxes. Exceptionally pretty? Check. A joy to drive? Check. Potential issues with dealerships? Check. See, Alfa Romeo South Africa has a not-so-stellar track record when it comes to customer service and they've admitted it. However, with a new boss at the helm who has considerable experience with luxury brands in South Africa, there's an attitude of 'we know there were issues and we're going to fix them'. It's refreshing to see and for all the naysayers who think Fiat/Alfa Romeo are going to leave South Africa? Think again. FCA are here to stay and will be investing heavily in new dealerships as well as a new head office. The team at FCA happily point out that they've fixed their parts supply issues.
As for the Stelvio, Alfa Romeo has taken the luxury SUV brief and knocked it out the park. While interior quality may lag slightly behind say an Audi Q5, the standard specification and overall driving experience blows Ingolstadt's offering out the water. The Alfa Romeo Stelvio defies belief and the laws of physics with the way it drives. It feels like a Giulia on stilts, which in actual fact, isn't far from the truth. We're hoping that the Stelvio portfolio is expanded to include a diesel derivative and an entry-level 4x2 version wouldn't go amiss either. Alfa Romeo has got the basics right with the Stelvio and if this is what it takes for the illustrious Italian brand to survive the 21st century, then they're well on the way to preserving their heritage and securing the future.
For detailed specifications and pricing of the Alfa Romeo Stelvio, click here
Buy an Alfa Romeo on Cars.co.za
Related Content
Alfa Romeo Stelvio (2017) International First Drive
Alfa Romeo Stelvio Quadrifoglio Smashes SUV Ring Record
Alfa Romeo Stelvio SUV Revealed (Updated)
Alfa Romeo Giulia Quadrifoglio (2017) Video Review
Giulia: an Alfa reborn… no, reimagined