Hyundai is working on a faster, more nimble iteration of its i30 N hatchback and a prototype has been spied flexing its muscles on the famous Nurburgring. Here's what we know so far.
Picture credit: S. Baldauf/SB-Medien. We have paid for these photos and at the photographer's request, have watermarked them.​
Hyundai's i30 N has been well-received globally and the brand is working on a facelifted model. Given the advancements in the segment with the imminent arrival of the all-new Volkswagen Golf 8 GTI, new versions of the Ford Focus ST and Honda Civic Type R, as well as the launch of the Renault Megane RS300 Trophy, Hyundai's N division will be hellbent on creating as much a storm as they did when the first i30 N launched.
While the influence of the i30 N in South Africa might be regarded as negligible in our GTI-obsessed market, other regions, such as Australia have reported strong demand for the fiery Korean hatchback. Hyundai Australia previously reported that sales are almost double than what they expected, showing there's demand for an involving and engaging hot hatch.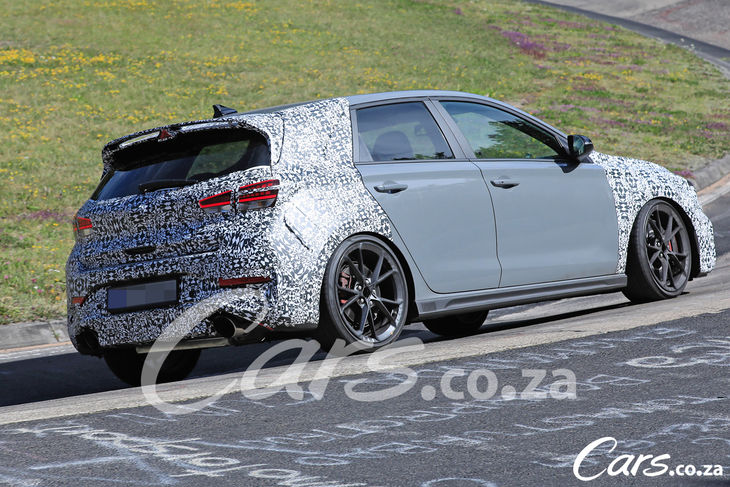 A mild-styling revision is likely but Hyundai will look to build on the strengths of the current i30 N. Expect a sharper and more dynamic driving experience.
So, what can we expect from the new model? Seen in these latest spy shots, the i30 N has lost some of its camouflage which is an indication that Hyundai is getting closer to completion. We expect a mild front-end revision with a more aggressively-styled air intakes and grille. The rear taillights have also been redesigned and appear to be smaller in size and it also looks like a larger tailpipe is fitted to this prototype too. Perhaps, Hyundai will look to enhance the sound of the exhaust note this time around? Let's hope so...
Mechanically, the key change here will be the introduction of an 8-speed dual-clutch transmission that will be offered alongside the 6-speed manual. Granted, while manual gearboxes are great for engagement, the majority of sales have always leaned towards the 2-pedal setup as it's just easier to drive in traffic. Earlier this year, CarAdvice reported that the updated Hyundai i30 N will also receive some updates to the steering and suspension setup and for those that play the numbers game, there should be an increase in power too.
In 2019, Albert Biermann who leads the performance projects, said Hyundai would "crank a little bit more power out of it when the eight-speed auto arrives." Along with the mechanical performance updates, expect a new-look front end, not too dissimilar to the 2021 Hyundai i30 N-Line you see in the gallery above.
As a reminder, the Hyundai i30 N currently produces 202 kW and 353 Nm from a turbocharged 2.0-litre 4-cylinder petrol engine. Our guess is that Hyundai will look to bump power and torque up to 220 kW and 380 Nm.
As a side note, Hyundai is also updating the i30 N Fastback, which adds the practicality of a boot while retaining the performance and handling dynamics of the i30 N hatchabck. The i30 N Fastback isn't available in South Africa.
The updated i30 N is expected to come to market in 2021 and we should see it fully revealed before 2020 draws to a close.
Listen to the 2021 Hyundai I30 N with its DCT
Further Reading
Hyundai I30 N Review - Better than a GTI?
8-spd DCT ups ante for Veloster, i30 N