The compact Suzuki Jimny will be growing in size as spy photographers have snapped a longer version testing in Europe.
Picture credit: S. Baldauf/SB-Medien. We have paid for these photos and at the photographer's request, have watermarked them.
The charming small 4x4 is currently available in SA in 2-door, 4-seater configuration. As cool as it is, the boot space is laughably small and the rear legroom is only appropriate for small children. Now Suzuki plans to stretch out the Jimny and give it a bit more practicality.
What you see here looks identical to what's currently on offer, but upon closer inspection, you can see the lengthened area behind the driver's door. Interestingly, there's still only two doors, but we suspect a 4-door offering will be on the cards too, to make rear passenger access easier. The boot capacity should grow in size substantially, giving it some utilitarian use. You still can't beat the radical Jimny bakkie customs we've seen though.
The real change here will see the introduction of some tweaked engines as the European CO2 emissions have become stricter and stricer and Suzuki Europe was forced to convert the Jimny into a 2-seater commercial vehicle as that segment's EU fleet emissions targets are not as tough as the passenger car segment. Will we see new engines though? While there's nothing wrong with the current 1.5-litre 4-cylinder mill, Suzuki can call upon its force-fed Boosterjet range, available in 1.4 and 1.0 applications.
We should see some production Jimny derivatives being revealed sometime in 2021.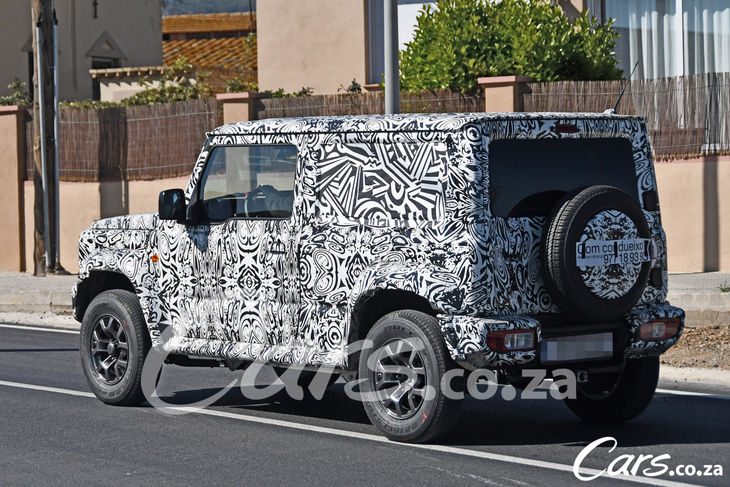 Further Reading
Suzuki Jimny 5-door coming in 2021 – report
Suzuki Jimny Celebrates 50 Years of Cool
Suzuki Vitara Brezza (2021) Launch Review
Suzuki Jimny Commercial Announced