The Suzuki Jimny has a cult following around the globe. With its cute looks and go-anywhere attitude, there's a clear reason why these little SUVs are so adored. Suzuki South Africa recently assembled every generation of Jimny to celebrate the model's 50th birthday, and David Taylor was there for the family reunion.
There's something incredibly likeable about this plucky, non-conformist vehicle. Often bought by the heart and not the head, the Jimny is not a perfect multipurpose offering – at all. It demands compromises by virtue of its minuscule fuel tank and lack of functional luggage space, but then, if you slide behind its simple controls and set off on a journey, all objectivity flies out the window. And if you venture off-road, well, you'll be a convert.
The Jimny story started officially in 1970, but its origins go back a bit further to 1967. The Japanese car market has the Kei car segment, essentially a market for ultra-compact (by modern standards) and affordable commuter-focused motoring. The Kei car aimed to revolutionise the car world, by offering a back-to-basics vehicle whose sole purpose was transportation. A tiny outfit called Hope introduced its ON360, a small 4x4 that would comply with Kei car regulations. It was a dismal failure, with just 15 units manufactured, and build quality was reportedly awful and mechanical reliability even more so. Hope, in an effort to try to recoup its costs (and pride), put the ON360's plans up for sale and Suzuki snaffled them.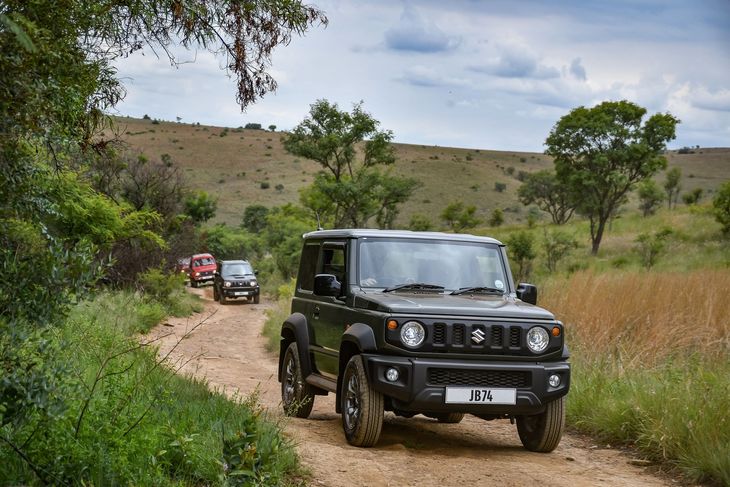 The modern Suzuki Jimny leads the older generation models
Suzuki LJ10
From the ashes of the ON360 came the Suzuki LJ10 in 1970, equipped with a ladder-frame chassis, solid axles, leaf-spring setup, all of which had been substantially revised from those of the original design. It was an instant winner, proving as capable as the bigger offroaders of the day, like the Toyota Land Cruiser and Nissan Patrol, but costing far less in terms of the initial purchase price and ownership costs.
The powertrain specifications are laughable by today's standards. Power came from a 2-stroke petrol motor producing 18 kW and it had a top speed of 70 kph. Subsequent versions included the LJ20 (1972), LJ50 (1975), LJ80 (1977) all had power upgrades of 21 kW, 24 kW and 31 kW respectively. Incidentally, the LJ80 featured a 4-cylinder 4-stroke engine in place of the motorcycle-derived 2-stroke engine.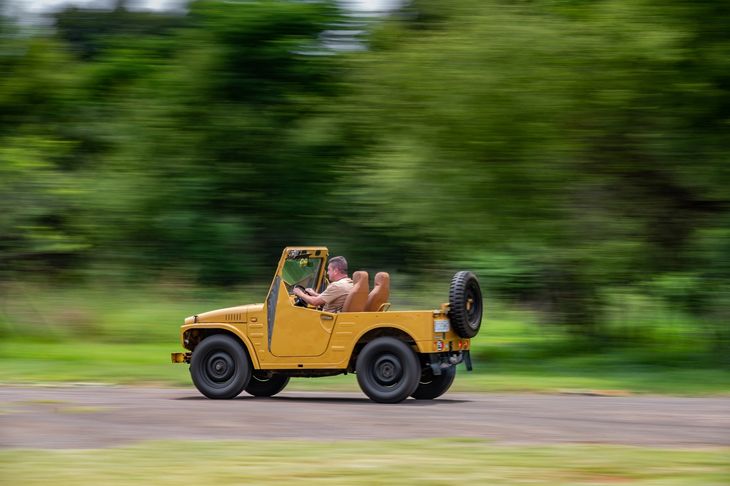 Despite its comical proportions, the Suzuki LJ was remarkably composed on the rough stuff.
Enter the SJ
The 2nd-generation model, dubbed the SJ410, first rolled off the production line in 1981 and was in service until the 3rd generation of Suzuki's plucky off-roader was launched in 1998. Both the SJ410 and updated SJ413 become instant cult classics. Both of these derivatives retained their incredible offroad prowess, but many customers were using them as daily drivers, with occasional off-road use. With this shift, luxury features such as air conditioning, electric windows and radios were introduced in the early 90s, along with a coil-sprung front suspension for additional comfort.
Power was increased to 33 kW / 74 Nm from a 970 cm³ motor in the SJ410, with the SJ413 gaining a 1.3-litre motor with peak outputs of 45 kW and 96 Nm. The latter had a top speed of 140 kph.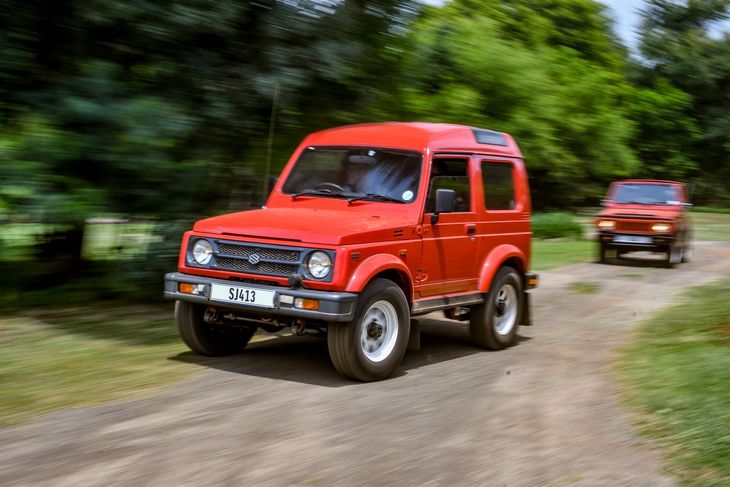 The Samurai was one of the most entertaining drives of the day.
JB43 Series
Our first taste of Suzuki Jimny locally came from the JB43, which made its debut in 1998. The marketing slogan was simple, "smart in the city, tough in nature." Power came from a 63 kW/110 Nm 1.3-litre 4-cylinder and featured a revolutionary (for the time) automatically locking front hubs as well as a dial to activate the 4x4 transfer case. The coil-spring suspension was a tad more road-biased, but still remarkably capable off-road.
It proved popular right the way up to the launch of the 4th-generation Jimny and during its 20-year tenure, it received numerous spec updates and facelifts, but the fundamental basics remained the same.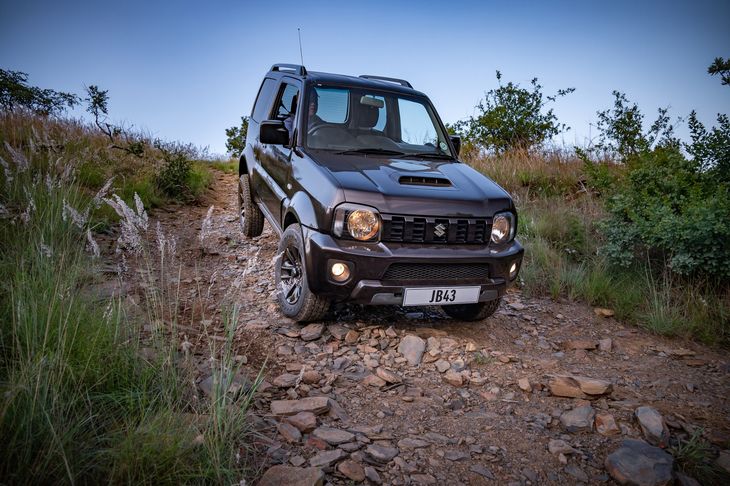 A vehicle we're quite familiar with at Cars.co.za – the JB43
JB74
This is the Jimny as most of us know it. It retains its incredible off-road capability, boasts the most potent engine ever fitted to a Jimny and looks great. The 1.5-litre petrol mill produces 75 kW and 130 Nm, but because the body tips the scales at 1 095 kg, performance is more than adequate.
First revealed in 2018, this iteration of Jimny has proven immensely popular with demand far outstripping supply. South Africa is but one of several countries where there's a waiting list, but Suzuki Auto SA assures us that the delay between placing an order and taking delivery has come down dramatically, despite Covid-19's best efforts. Interestingly, Mexico was allocated just 1 000 units and all were snapped up within 72 hours.

As far as family photos go, this one's a goodie. Long live the Suzuki Jimny!
Driving Experiences
Admiring the classic Jimny models is one thing, but driving them requires flicking a switch (or two) in your brain... There are no electronic driver aids on offer in any of the older models, of course, which meant that they delivered just the purest driving experience. Suzuki had booked out the ADA off-road facility near Hartebeespoort Dam to ensure we could really put the legends through their paces on some challenging terrain.
Comprising some excellent off-road trails with a spectacular backdrop through an abandoned slate mine, ADA's technical sections provided a great test for the Jimny family's capabilities. The stints in each of the Jimny models were brief, but exceptionally memorable. Every model had its quirks and charms, making it easy to understand why these cars have become highly sought-after on classified websites.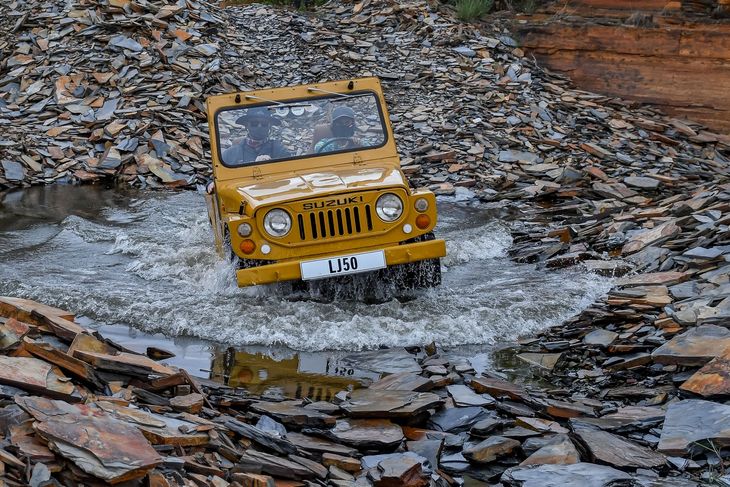 Wading through an abandoned slate mine was no problem for the little LJ.
The Suzuki LJ50 aka Genesis may be the smallest and simplest vehicle in this line-up, but it's not the easiest to drive. Firstly, the clutch pedal has an exceptionally short travel and offers little in the way of modulation, and secondly, it's very stiff, requiring a strong left leg to operate. Once you're rolling and have selected 4H, the little LJ proved very nimble, hopping and skipping across the rocks. With its 2-stroke motor eagerly revving away and my nerves settled, you start to appreciate just how simple yet capable it is. Not bad for a 50-year-old veteran!
The highlight of the day was driving the SJs from the '80s. The Samurai, which is old enough to be called a classic, but modern enough to remain easy to drive, was exceedingly fun to pilot. Both offered a wonderfully analogue driving experience, requiring strong arms to make the most of the unassisted steering. There's something immeasurably satisfying about stepping out and locking the front hubs, then engaging 4-wheel drive.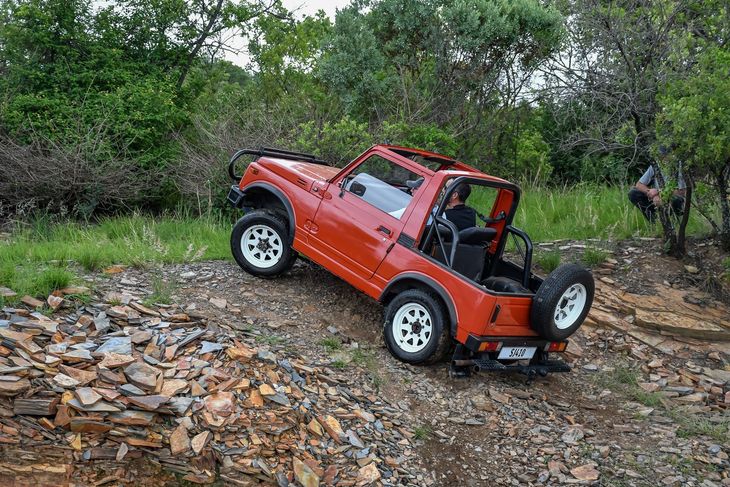 A convertible Jimny... can you get any cooler?
After driving the 3 older members of the Jimny family, the 2 newer JB-series models felt incredibly luxurious and technologically advanced by comparison. While the older models have immeasurable charm and their coolness factor is "off the chart", I have heaps of admiration for the relentless march of progress. The contemporary Jimny is much improved, but still retains those qualities that have endeared the model to so many.
Want to buy one of these super-cool offroaders? Browse stock
Further Reading
Suzuki Jimny 1.5 GLX (2019) Review [w/Video]
Suzuki Jimny Review in South Africa
Suzuki Jimny Commercial Announced