Hyundai is continuing with its approach of making a performance N version of every model in its arsenal. Here's the Hyundai Elantra N, spotted testing.
Picture credit: S. Baldauf/SB-Medien. We have paid for these photos and at the photographer's request, have watermarked them.​
Our spy photographers have reported 3 Elantra N prototypes have been spotted on the road. While what you see is heavily camouflaged, this is definitely a performance version as you can see the bigger wheels, huge exhaust tips and a fixed rear wing.
Hyundai is keen to push its 2.0-litre turbocharged 4-cylinder motor and it appears to be going into everything from the i20 N (albeit potentially detuned), current i30 N, updated i30 N and Kona N. In current form, there's 202 kW and 353 Nm, and while Hyundai is keen to keep using the current 6-speed manual gearbox, there's also a recently-revealed 8-speed dual-clutch offering.
As for rivals, we're interested to see where it will be positioned as there are not many performance compact sedans left. We can think of the Audi S3 seedan, Mercedes-AMG CLA35 and BMW M235i, but other than those German offerings, the Hyundai Elantra N might just be peerless, especially if it can undercut with pricing. There's talk of Toyota offering a Corolla GRMN, but whether that will be in pure hatchback form or a sedan remains to be seen.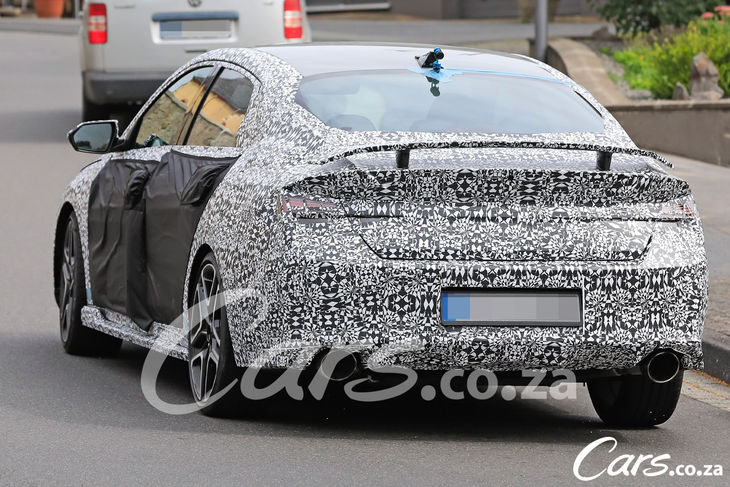 With that wing and those big exhausts, this is definitely a performance Hyundai Elantra.
Further Reading
Hyundai Elantra N vs Toyota Corolla GR
Hyundai Elantra N: What We Know