The still-stylish Evoque has proven a massive sales success for Range Rover, and to celebrate the brand has created a special edition model called the Evoque Landmark.
More than 600 000 Range Rover Evoques have been built at JLR's Halewood facility since 2011. It's a global success story, and in one month alone, nearly 18 000 Evoques were sold. It was won many awards too, both locally and internationally. An Evoque is built every 170 seconds and is sold in 130 countries.
Range Rover Evoque Landmark Features
To celebrate this production and sales milestone, a special edition version is on the way. It's called the Range Rover Evoque Landmark and will be available in this striking Moraine Blue paint, said to be 'inspired by the turquoise lakes of the Canadian Rocky Mountains.' Other colours available are Yulong White and Corris Grey. It features a contrast panoramic roof, 19-inch Gloss Dark Grey alloy wheels and Graphite Atlas grille, bonnet, fender vent and tailgate lettering. Dark grey accents continue inside in the form of brushed satin centre console trim finishers. Grained Ebony leather seats with contrasting Light Lunar stitching and a perforated mid-section also catch the eye.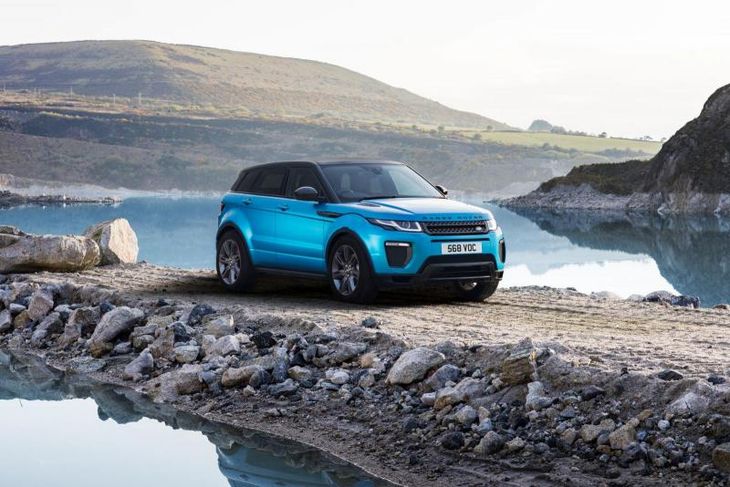 Range Rover Evoque Landmark features vibrant blue paint and celebrates the sales success of the stylish SUV.
"What makes Evoque so special is its relevance. The design remains modern and fresh. The Evoque is widely acknowledged to have brought a whole new youthful generation of buyers into the Range Rover brand, including more women," said Gerry McGovern, Land Rover, Chief Design Officer. "Its success was clear from the start and gave us the confidence to break new ground, which you can see with vehicles like the Evoque Convertible. This Landmark Special Edition is a celebration of 6 years of success so far."
The Range Rover Evoque Landmark special edition is confirmed for our market and we'll have pricing when the order books open in June 2017.
Related content:
Range Rover Evoque Convertible Video Review
Range Rover Evoque Convertible (2016) First Drive
Looking for a Range Rover Evoque to buy?