2018 will be a busy year for the compact hot hatchback segment: the South African market will see the introductions of the next-generation Ford Fiesta ST and all-new Volkswagen Polo GTI. While both cars have been revealed internationally and we have some details, it's too early to tell what the local market's cars will be specified with. However, the recent introduction of the Polo GTI now makes a like-for-like comparison worthwhile...
Developed from the ground up using Volkswagen's MQB AO platform, the new Polo measures 4 053 mm in length, 1 7511 mm in width and 1 446 mm in height. Compared with the outgoing Polo, it is 81 mm longer, 63 mm wider and 7 mm lower.
Meanwhile, over at the Blue Oval, the new Fiesta looks similar to its predecessor, but it's 71 mm longer and 12 mm wider. The bonnet loses its centre bulge, the grille is wider and the headlamps smaller and more elongated.
Whereas the Fiesta ST features a 1.5-litre 3-cylinder turbopetrol, the Polo GTI Volkswagen has a 2.0-litre 4-cylinder engine.
Ford is sticking with a manual gearbox, while Volkswagen is standing by its DSG dual clutch transmission.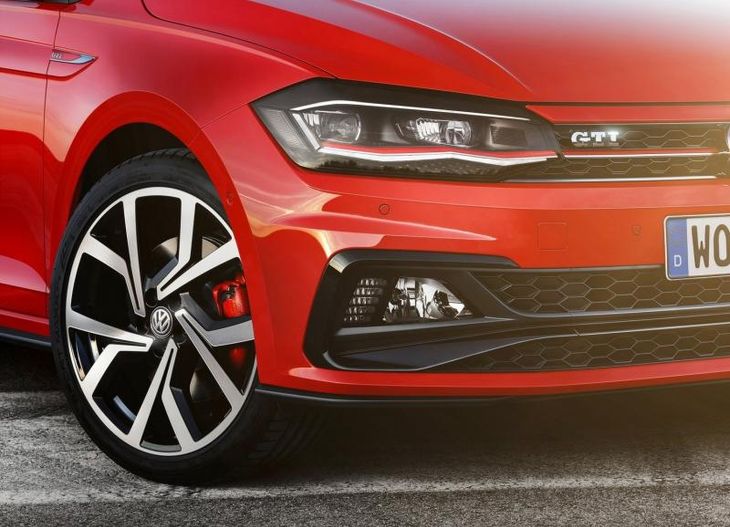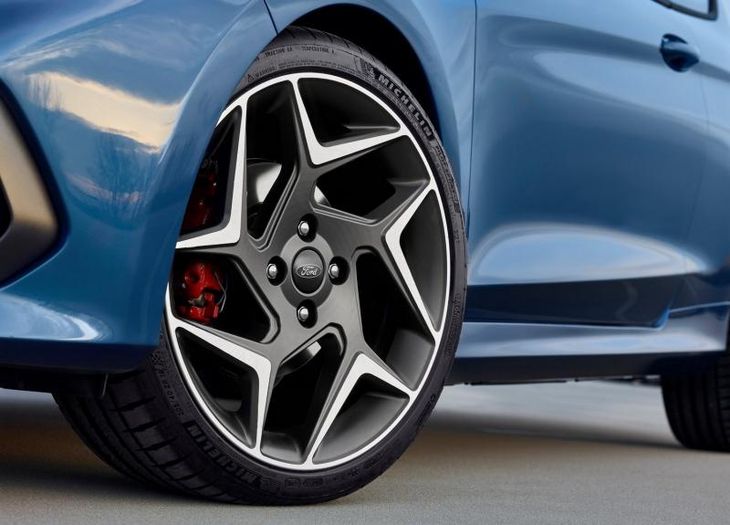 Engines
We have an interesting battle on our hands as the two brands are headed in different directions when it comes to engines. Ford is continuing with its downsizing ethos, while Volkswagen is doing the opposite and upsizing.
Let's start with the Ford Fiesta ST. Under its bonnet is a 1.5-litre 3-cylinder turbocharged petrol engine that produces peak outputs 147 kW and 290 Nm of torque, plus Ford is claiming a 0-100 kph sprint time of 6.7 seconds. This newcomer is the first Ford Performance model to feature a 3-cylinder motor and it'll be the first time we will see a Fiesta ST with selectable driving modes. They are: Normal, Sport and Track, each one of which is pretty self-explanatory. As if 3 cylinders aren't few enough, the motor features cylinder deactivation to save fuel.
In the red corner, Volkswagen has wedged a 2.0-litre turbocharged motor into the new Polo GTI. Engineering aficionados may be interested to know that this mill is essentially a detuned Golf engine. It has outputs of 147 kW, but Volkswagen has not yet announced a maximum torque figure.
The previous generation 1.8-litre motor boasted 141 kW and 250 Nm, so we predict that it'll have between 260 and 290 Nm. Performance figures have not yet been confirmed either, but based on claim for the previous generation's car of 6.7 seconds for 0 to 100 kph, we'd be surprised if it doesn't do at least 6.5 seconds to 100 kph.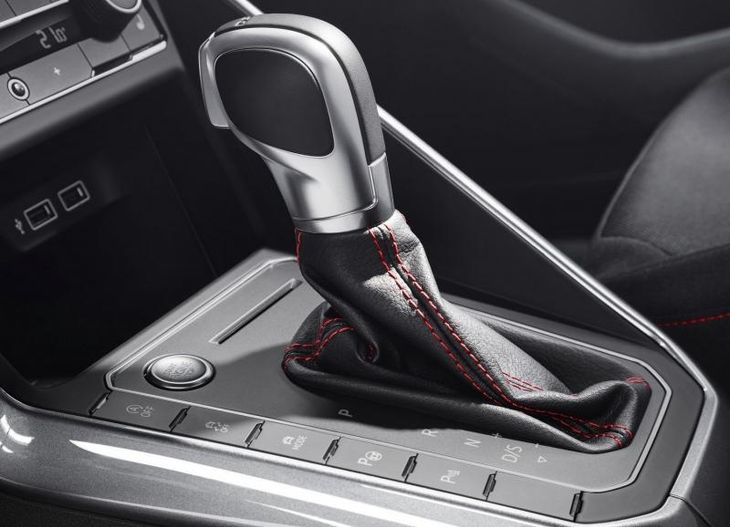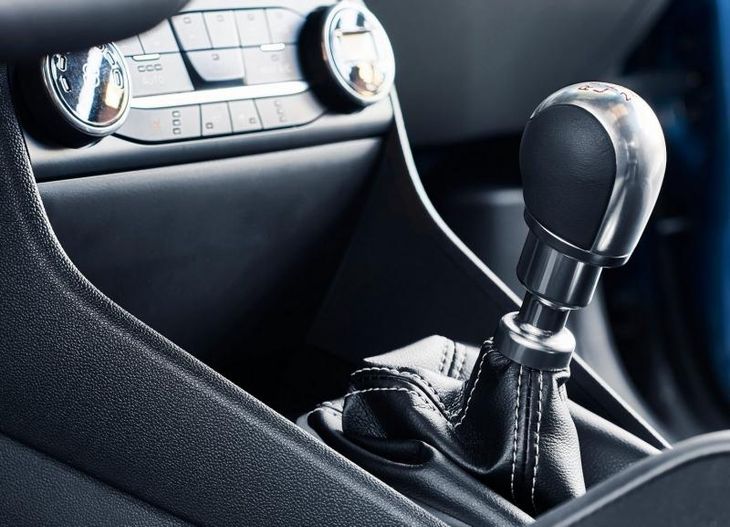 Gearboxes
There are no surprises here: Volkswagen will be sticking to its dual clutch transmission (DSG) with steering wheel-mounted shift paddles for the Polo GTI and Ford will only offer a 6-speed manual gearbox exclusively in its Fiesta ST.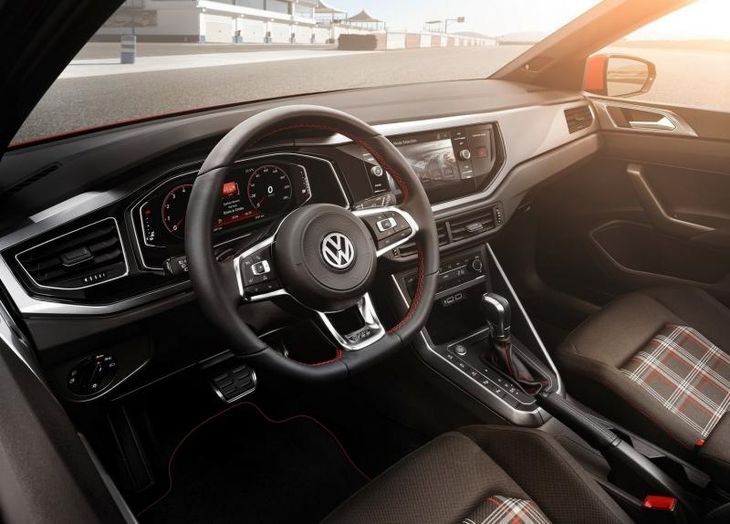 Interiors
From a quick glance to compare the interiors of the ST (top) and GTI (above) it is clear that the ST retains its "working class hero" appeal (well, at least to an extent). Apart from the obligatory racier ST detailing (and sporty aluminium pedals), a colour touchscreen infotainment system and climate control console are the only overt nods to luxury in the Ford. The Polo GTI's interior, however, is dominated by piano black trim, metallic inserts, the Active Info Display (instead of a conventional instrument panel) and the fascia's integral touchscreen.
Predictions
Based on the current models where the Ford Fiesta ST has impressed due to its fun-to-drive traits and old-school analogue feel, while the Volkswagen Polo GTI delivers quick performance with ease of use and daily drive comfort, we expect nothing to change.
Ford is determined to stick with a manual gearbox for the ST, but by offering additional driving modes, the Blue Oval demonstrates its belief that Fiesta owners would like to tailor their cars' performance characteristics. Those who know what they're getting into will undoubtedly adore the new Fiesta ST: it is still all about unfiltered driving fun.
On the other hand, the Volkswagen Polo GTI will continue doing what it does best. It's a brisk car and while it lacks that involvement that comes with a manual transmission, it'll outshine the Fiesta in the comfort and daily driving stakes thanks to its refinement and convenience of an automatic transmission. The Polo GTI will be the sensible choice as it comes in four-door hatchback, while the Fiesta ST is only available in 3-door body shape.
We're keen to put these two against each other when they finally arrive in South Africa at some point in 2018. It's certainly going to be a close call!
Related Ford Fiesta content:
Hottest Fiesta ST200 lands in SA
Three-cylinder Ford Fiesta ST Announced
Update: Ford Fiesta (2017) Unveiled [with Video]

Top 5 Cool Facts: Next Ford Fiesta (2017)

Hotter Ford Fiesta ST200 Revealed

Drag Race: New VW Polo GTI vs Ford Fiesta ST

Hot Lap Race: New VW Polo GTI vs Ford Fiesta ST
Want to buy a Ford Fiesta?
Find a new or used Ford Fiesta on Cars.co.za
Related Volkswagen Polo Content:
All-new Volkswagen Polo Revealed. Details, gallery and more.
6 Rivals the 2018 Volkswagen Polo Needs to Beat
Volkswagen Polo 1.0 TSI R-Line (2017) First Drive

Volkswagen Polo CitiVivo (2017) Specs & Pricing

Volkswagen Polo Vivo Storm in SA - Specs and Pricing

Volkswagen Polo Beats Pricing in SA

Top 5 Cool Facts: Next Ford Fiesta (2017)

Kia Rio (2017) First Drive

Facelifted Renault Clio (2016) First Drive
Want to buy a Polo?