After months of waiting and multiple leaks and teasers, the new Volkswagen Polo has finally been revealed. While we know a fair amount about powertrains already, the official announcement gave us a proper look at the design. We'll get a closer look at the 2017 Frankfurt Auto Show.
Today's reveal took place at Volkswagen's HQ in Wolfsburg, Germany and the new Volkswagen Polo is larger, boasts more cabin space and features more technology. Volkswagen claims the 2017 model year Polo will be offered in five-door hatchback form only, with a choice of up to six engines. The flagship will be the 2.0-litre engine in the new Volkswagen Polo GTI. Expect the usual trim levels: Trendline, Comfortline and Highline, a Beats edition with an upgraded sound system and R-line trim.
Developed from the ground up using Volkswagen's MQB AO platform, the new Polo is 4 053 mm in length, 1 7511 mm in width and 1 446 mm in height. Compared with the outgoing Polo, it is 81 mm longer, 63 mm wider and 7 mm lower. Under the skin, the new platform offers better packaging. There's a claim of a 15 mm increase in front passenger headroom, 30 mm rear headroom, while the boot capacity has been increased to 351 litres.
The cabin has been improved in terms of quality and design. A new dashboard with new steering wheel and new switchgear are the key changes. Volkswagen's Active Info Display is available as an option. Other tech worth noting are wireless smartphone charging pads and keyless entry. In terms of safety and technology, Volkswagen has introduced Front Assist, City Emergency Braking and Pedestrian Monitoring systems as well as a tyre pressure monitoring function and a speed limiter.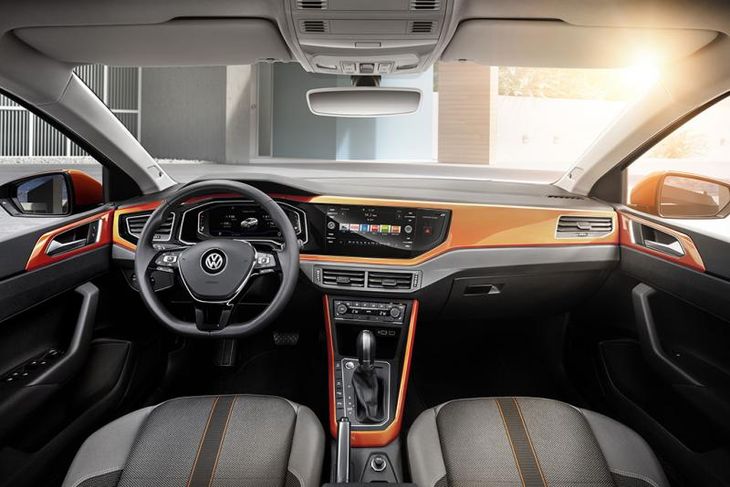 A new dashboard with new steering wheel and new switchgear are the key changes. New infotainment screens are available too.
Powertrains
Volkswagen announced that the 2017 Polo will be available with the choice of four petrol and one diesel engine. Every engine features stop/start and a kinetic recovery system for better efficiency. In terms of gearboxes, Volkswagen has announced a five-speed, six-speed and seven-speed dual-clutch unit will all be available. All new Volkswagen Polos will be front-wheel drive.
As far as the engine lineup is concerned, on the turbo petrol side, there will be a 1.0-litre naturally-aspirated motor, 1.0-litre TSI (available in various states of tune), while the 1.2-litre TSI engine could be replaced by the Golf's 1.5-litre unit (with cylinder shutdown technology, still under consideration for South Africa). In Europe, the 1.5-litre TDI turbodiesel will be superseded by a 1.6-litre TDI unit (local models are currently 1.4-litre units). Meanwhile, the Polo GTI derivative will be powered by 147 kW 2.0-litre TSI lifted straight from the Golf GTI.
When is it coming to SA?
The new Volkswagen Polo will first make an appearance at the 2017 Frankfurt Auto Show in Germany, which is held in September. We can realistically estimate that the new Volkswagen Polo will go on sale in early 2018, but as soon as we hear from Volkswagen SA, we'll update accordingly.
Watch the new Volkswagen Polo in action
Related content:
6 Rivals the 2018 Volkswagen Polo Needs to Beat
Volkswagen Polo 1.0 TSI R-Line (2017) First Drive

Volkswagen Polo CitiVivo (2017) Specs & Pricing

Volkswagen Polo Vivo Storm in SA - Specs and Pricing

Volkswagen Polo Beats Pricing in SA

Top 5 Cool Facts: Next Ford Fiesta (2017)

Kia Rio (2017) First Drive

Facelifted Renault Clio (2016) First Drive
Want to buy a Polo?