The next-generation of the popular Ford Fiesta is expected to arrive in South Africa in late 2017 or early 2018. Here is a detailed list of what consumers can expect from the compact hatchback.
We were afforded the opportunity to attend the world unveiling of the next-generation Fiesta at the recent #GoFurther event at the Blue Oval's factory in Cologne, Germany.
As the launch of the newcomer is about a year away, it's too early to confirm the exact engine line-up, but the 1.0-lite EcoBoost engine (74 kW, mated with a 6-speed automatic transmission, or 92 kW, when mated with an all-new 6-speed gearbox) will almost certainly be offered on the local market. All Fiesta derivatives will have a stop-start button while Ecoboost derivatives feature an Active Grille Shutter and manual versions will gain an ECO button.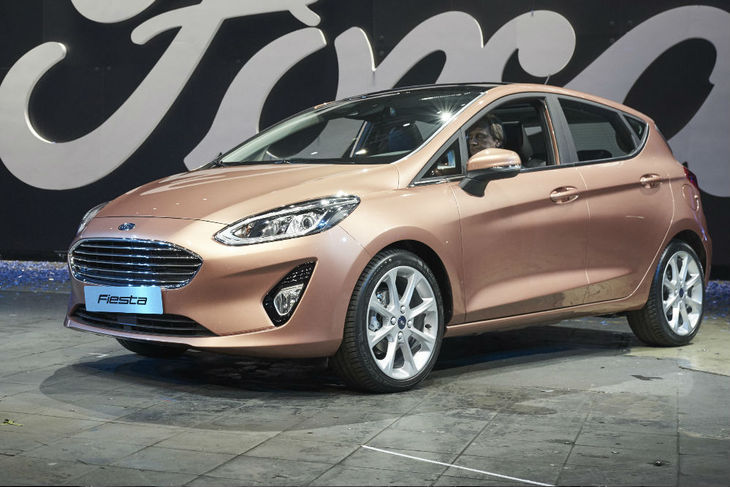 The 5-door version is shown here in top-of-range Titanium specification.
1. ST-line & Active versions debut
Ford unveiled 4 iterations of the new Fiesta in Cologne... One of them was the Titanium (shown above), which is, as is the case with the current product, the highest-spec 5-door version and another was the 3-door Vignale, which is not earmarked for the local market.
However, the ST-line, which has been introduced throughout Ford's product line-up abroad, promises to deliver a sportier look and suspension tuning for buyers who like the look of the ST derivative, but don't aspire (or cannot afford) to own the top-of-the-range Fiesta, which is, of course, in the pipeline too.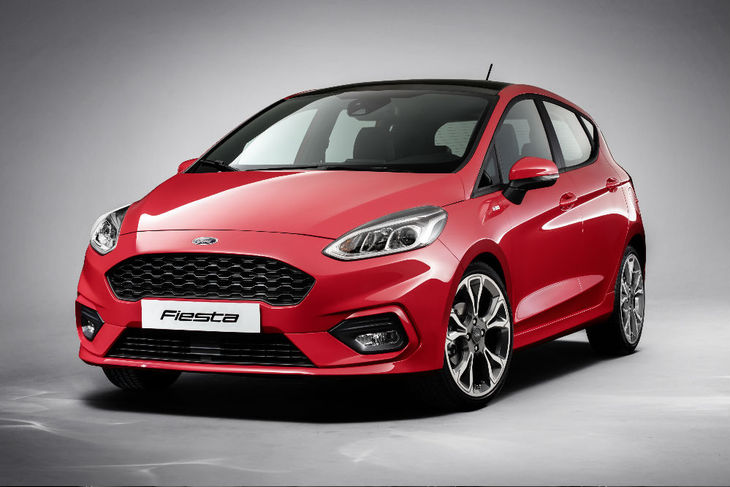 Why hasn't anyone thought of this before? ST-esque looks will be available on lower-priced derivatives.
The ST-line's exterior adornments include unique alloy wheel-, grille-, bumper- and side-skirt designs; the interior features sports seats, alloy pedals and a flat-bottomed steering wheel.
What's more, the new Fiesta Active represents Ford's answer to Volkswagen's CrossPolo. It comes equipped with a slightly raised suspension, with dark body cladding that flows from the front bumper lip, through the wheel arches and side profile to the rear, plus a contrast-painted roof replete with rails. Is there room in the market for this as well as the top-selling Ford EcoSport? We'll see.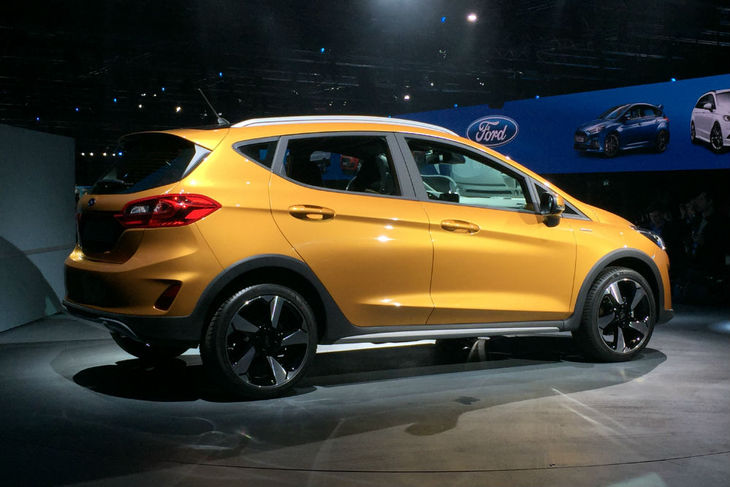 A smattering of black plastic cladding and tasteful roof rails give the Active that fashionable crossover look.
2. Evolutionary design, but much attention to detail
Joel Piaskowski, Ford of Europe's design director, says the market's "ongoing positive response to the dynamic design of the current model (even 7 years after it was introduced) prompted the firm to evolve the hatchback's design to be more contemporary, yet not lose its 'Fiesta-ness'." Therefore, the newcomer's looks are evolutionary, but with simplified, straighter lines and de-cluttered surfaces.
Size-wise, the new Fiesta looks similar to its predecessor, but it's 71 mm longer and 12 mm wider. The bonnet loses its centre bulge, the grille is wider and the headlamps smaller and longer. Ford further extended the Fiesta's belt- and window lines to give it a more dynamic profile and the side mirrors feature a straight cut between the upper and lower sections to "hide" the indicators lenses.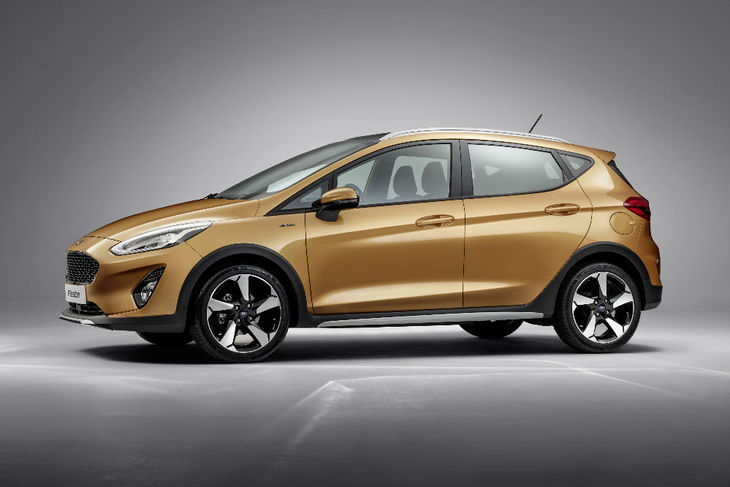 Quickest way to distinguish between the next Fiesta and current model is former's the elongated, swept-back headlights.
An openable, full length, panoramic glass sunroof (which will obviously be an option) is but one of the newcomer's only finer details: the parking sensors are fitted flush with the body panels, the windscreen washer nozzles are hidden beneath the upper lip of the Fiesta's bonnet and the upgraded wipers clear 13% more of glass area. Also, when it rains the roof design better channels water away from the edges, which reduces the risk of occupants being dripped on, Ford claims.
Furthermore the doors are said to require 20% less effort to close and feature Ford's Door Edge Protector (a protective flap concealed in the door that moves into position as it opens to prevent damage to paint and bodywork in parking spaces).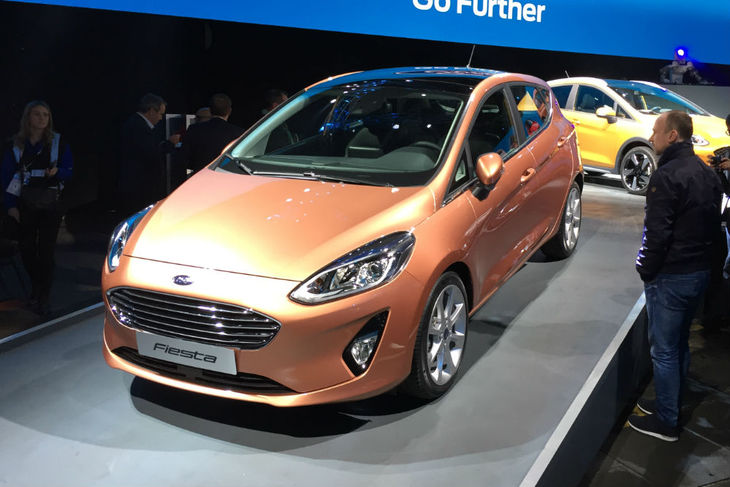 The now discontinued Citroen C3 had a panoramic glass roof, but the new Fiesta's item will be able to open...
The Fiesta's rear is arguably its most conservative aspect, but then again, aesthetic appreciation is entirely subjective. Horizontal tail-light clusters enhance the Fiesta's widened stance and feature C-shaped LED patterns. There are no visible screws in the taillights and the shut line between the roof and the tailgate has apparently been reduced by more than 30%.
3. Much more sophisticated interior
Even if it could be argued that the Fiesta's exterior treatment has stood the test of time, most would agree that its somewhat button-bespattered fascia hasn't. To remedy that, the newcomer's cabin features flush, seamless surfaces and a one-piece centre console connects discreetly to the lower instrument panel.
The user-centric Fiesta interior design is said to have been influenced by "consumer interactions with smart devices and tablets" and the ergonomic positions "were confirmed using eye-tracking software". But over and above more liberal applications of soft-touch materials (including the top of the instrument cluster), the number of fascia and centre console buttons have been reduced by almost 50% compared with the current-gen Fiesta.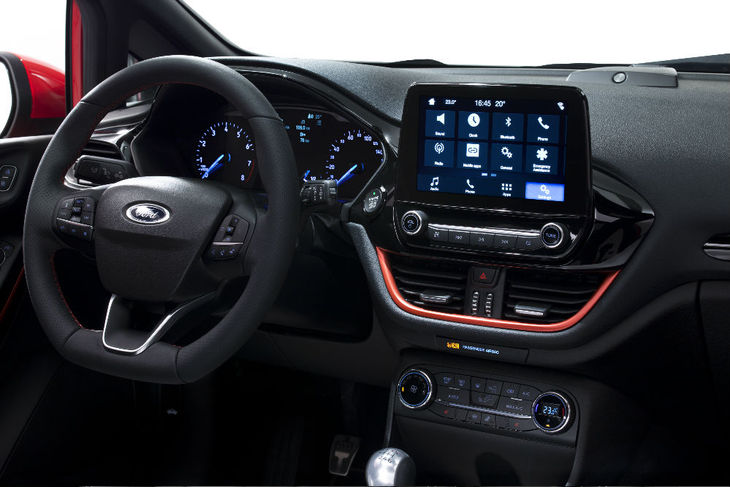 Although the Fiesta's climate control console is evolutionary, the touchscreen transforms/simplifies the cabin.
How? Well, several of the infotainment system's functions are now operable by a touchscreen interface. The top-of-the-range system is an 8-inch colour touchscreen, which can be operated with pinch and swipe gestures. Ford claims "all Fiesta screens offer class-leading resolution and are up to twice as bright as those competitors". A 6.5-inch touchscreen or a 4.2-inch colour screen with the MyFord Dock (for mounting and charging mobile devices) will be offered on lesser derivatives.
The integral SYNC 3 communications and entertainment system not only offers Bluetooth connectivity and audio streaming capability, but will enable drivers to control audio, navigation and connected smartphones using voice commands. It's compatible with Apple CarPlay and Android AutoT and incorporates SYNC AppLink, which enables voice-activation of apps. A pair of USB ports is standard.
For a demonstration of how some of the SYNC 3 functions work, watch this video:
As for basic conveniences, the new instrument cluster features a 4.2-inch multi-function TFT screen, the height-adjustable driver's seat has repositioned lumbar support for greater comfort, the armrest is more practically positioned and a heating element will be optional on the steering wheel (in Europe).
Other upgrades include: a 20% larger glovebox, a 1-litre media bin in the centre console and rear doors can store 0.6-litre bottles and, most notably, rear seat passengers benefit from 16 mm more knee room, supported by new slim-back seats that are softer and offer greater side-to-side support.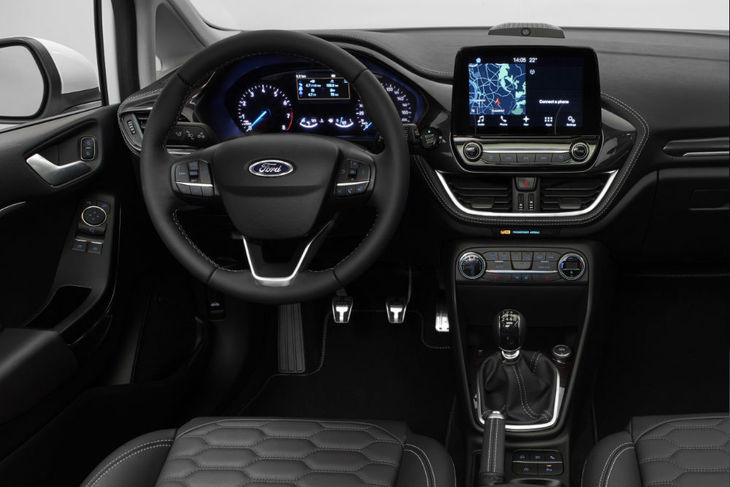 The colour TFT screen in the new Fiesta's instrument binnacle matches the look of the touchscreen interface.
In terms of refinement, the new Fiesta's stiffer body structure, improved noise insulation to isolate powertrain noise vibration and harshness (NVH), plus an acoustic windshield contribute to what Ford claims is "best-in-class interior quietness". The firm claims the newcomer has an interior road noise level of 29.3 sone - a metric for loudness - at 100 kph, which is a 7% improvement over the outgoing Fiesta.
4. High-end safety systems
The next-generation Fiesta features no fewer than 15 driver assistance technologies, including adaptive cruise control, auto high beam, adjustable speed limiter, blind spot monitoring, traffic sign recognition (see the demonstration video below), driver alert, a lane keeping aid and -alert system and forward collision warning.
Ford South Africa stressed that not all of these systems would be offered on the local market when the Fiesta arrives because, in full safety specification, the advanced driver assistance technologies are supported by 2 cameras, 3 radars and 12 ultrasonic sensors, all of which can monitor 360 degrees around the vehicle and scan the road ahead up to 130 metres… that's expensive kit!
Still, it is worth nothing this Fiesta is the first Ford to feature an enhanced version of Pre-Collision Assist with Pedestrian Detection that can detect people who are in the road, or who may cross the vehicle's path, especially at night. "The system (can) reduce the severity of some frontal collisions involving vehicles and pedestrians, or help drivers avoid some impacts altogether," Ford claims.
Need help with parking? Ford's Active Park Assist with Perpendicular Parking has been enhanced to now apply the brakes if drivers do not respond to system guidance and proximity warnings while performing forward and reverse manoeuvres, and a collision with a parked car or obstacle is imminent. Fiesta is also the first car in its segment (in Europe) to offer Cross Traffic Alert, which warns drivers reversing out of a parking space of vehicles that may soon be crossing behind them.
How Active Park Assist with Perpendicular Parking works:
5. (Even) more fun to drive
"A fun driving experience is central to the Fiesta's appeal, and our next generation Fiesta remains true to the character, with the sharpest, sportiest and most balanced performance yet," Joe Bakaj, Ford of Europe's vice president of product development, said at the newcomer's unveiling in Cologne.
And how has Ford managed to coax a claimed "10% more cornering grip", improved steering feel, better braking performance from the Fiesta, while simultaneously improving the car's ride refinement?
Through advances in production, the body has 15% more torsional stiffness. Front and rear track have been widened by 30 mm and 10 mm respectively and wheelbase is slightly longer (by 4 mm).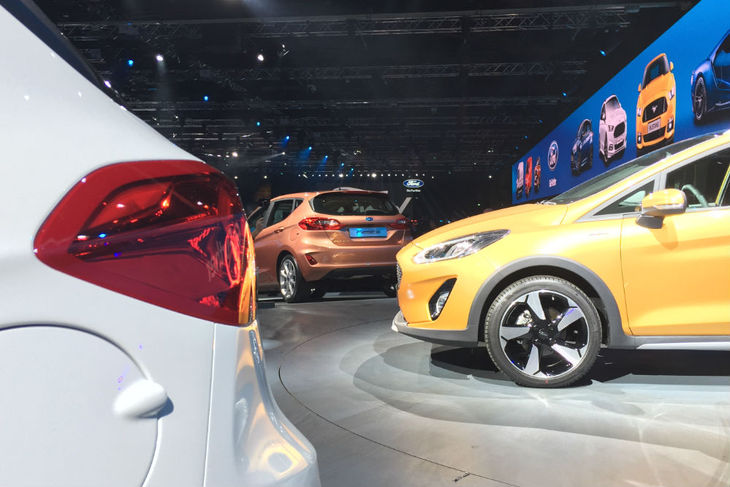 No presentation of the new Fiesta would have been complete without a claim to its inherent driving dynamics...
The suspension features a lighter, stiffer hollow front anti-roll bar (said to contribute to better roll control and steering feel. New double-bonded suspension bushes are twice as stiff as the outgoing Fiesta for sharper steering response and they "bulge in a specific shape designed to better isolate road imperfections, combining with a larger rear twist-beam to reduce the impact of small bumps".
Furthermore, "steering friction has been reduced by 20%, gearboxes now deliver smoother gear changes… (and) braking distances at 100 kph are reduced by more than 8%," the manufacturer claims, adding that rear disc brakes feature on models with more than 73 kW outputs.
Electronic Torque Vectoring Control, which enhances the driving experience by applying a small amount of braking to inside wheels to assist traction and stability when cornering, is also offered.
But what, there's 1 more…
Heads up, audiophiles... The next-generation Fiesta is the first Ford model to offer a B&O PLAY audio system as an option. At this stage, it is unclear whether it will be offered in South Africa, but if not on the next Fiesta, certainly future products.
New B&O PLAY in-car audio systems are exclusive to Ford's global vehicle line-up and, for the Fiesta, this means 10 speakers including a boot-mounted subwoofer and a central mid-range speaker on top of the instrument panel. The total amplifier power is 675W, governed by a Digital Signal Processing Amplifier that controls equalization and audio mixing including Surround Sound.
ICYMI: Watch the spectacular reveal at Ford's Cologne plant below:
​Related content:
Update: Ford Fiesta (2017) unveiled [with Video]
Next Ford Fiesta Spied
Update: New Kia Rio Details Revealed
Spy Shots: Volkswagen Polo for 2018 (Video)
Interested in buying a Ford Fiesta?