Sharper looks and dramatic exhaust acoustics give the Volkswagen Tiguan R a performance focus.
VW has revealed the updated version of its second-generation Tiguan and followers of the brand who value performance, will be pleased.
Aware of its importance to VW's global business – where Tiguan is now more popular than Golf – the designers have been subtle in their approach. The Tiguan gains a broader grille with four horizontal slats and VW's latest signature LED headlights.
Inside there are is a 10.25-inch digital cockpit, supported by VW's 8-inch touchscreen infotainment system. Drivers of the new Tiguan will grip a redesigned helm with greater ergonomic intuition, thanks to haptic sensitive satellite controls.
For those new Tiguan customers who are given to mood sensitivity by proxy of colour, this latest version of VW's mid-sized SUV offers no less than 15 ambient cabin light variations. Music and media influences the mood for all, and new Tiguan will be offering a premium sound system supplied by Fender. Although the new Tiguan is targeted as a family vehicle, VW has released details and images of its high-performance derivative – and the numbers are impressive.
The Volkswagen Tiguan R is powered by a potent 2-litre turbocharged engine, managing to boost 235 kW and 420 Nm from its 4-cylinder setup. Those outputs are channelled to all four wheels, via VW's renowned DSG dual-clutch transmission.
No performance claims have been made, as yet, but there is no doubt that Tiguan R will deliver a very rewarding experience for owners who value driving dynamics. Interesting details pertaining to the new Tiguan R are its model-specific 21-inch alloy wheels, which feature slim spokes and an open design, whilst at the rear, there are Akrapovic exhaust ends.
For VW to upgrade the new Tiguan to an R-specification which includes the raucous Slovenian-sourced Akrapovic performance exhaust, is a sure indication of its importance to the brand.
Volkswagen SA confirmed the facelifted Tiguan is due in the first quarter of 2021, while the performance Tiguan R will arrive towards the end of 2021.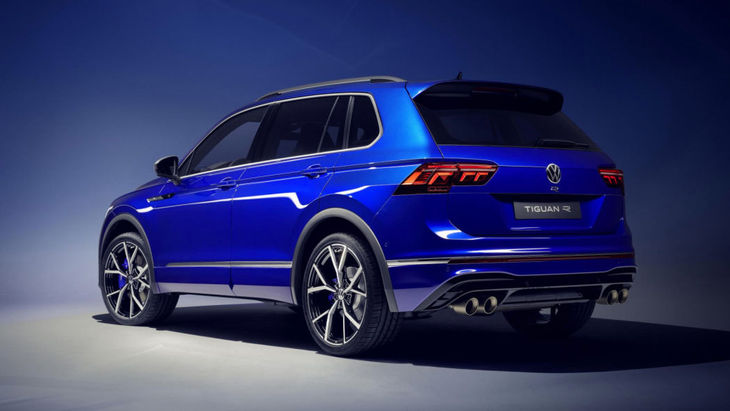 With big wheels, quad exhausts and blue paint, there's no mistaking this for anything other than a Tiguan R.
Further Reading
Facelifted Tiguan only coming to SA in 2021
Spy Shots: Volkswagen Tiguan R Coming Soon?
Volkswagen Tiguan Allspace (2018) Video Review
Volkswagen Tiguan 2.0 TDI Highline 4Motion DSG (2017) Quick Review