Peugeot's flagship family car – replete with seating for 7 occupants – recently arrived in South Africa and we got behind its 'wheel to see if the French newcomer could replicate its smaller sibling's success. How did the Peugeot 5008 fare? We tested it in entry-level 1.6T Allure trim...
We Like: Practicality, powertrain, stylish cabin, refinement and excellent build quality
We Don't Like: Average 3rd-row legroom, quirky driving position, revamped Peugeot SA after-sales strategy yet to prove itself
Fast Facts
Price: R534 900 (As of January 2020)
Engine: 1.6-litre turbopetrol
Power/Torque: 121 kW / 240 Nm
Transmission: 6-speed automatic
Fuel Consumption: 7.0 L/100 km (claimed)
Load space: 780-1 940 litres
Own a Peugeot? Tell us about your experience here.
SERIOUS ABOUT BUYING?
What is it?

At first glance, the new Peugeot 5008 looks a lot like the current 3008.
The Peugeot 5008 has undergone quite a transformation during its model life. Once a frumpy, but eminently practical, 7-seater MPV (which was offered in South Africa about a decade ago), the 5008 is now a modern, slick and stylish 7-seater family SUV, which has been launched in South Africa as part of Peugeot and Citroen's high-profile relaunch in the local market. It's easy to see why the French marque has transformed its people carrier. SUVs are all the rage at the moment (and we see little reason why that won't continue for some time) and buyers want to get behind the 'wheels of cars that look off-road capable and boast high driving positions. Essentially, the Peugeot 5008 is a stretched version of the 3008, a vehicle we're familiar with (and rather fond of). So much so, the 3008 has cracked a finalist spot in the #CarsAwards – powered by WesBank. But what about its big brother – the 5008 – in 1.6T Allure trim?
How it performs in terms of…
Interior quality and features
Whereas the 5008's exterior design needs no introduction (it's a stretched version of the 3008, which is widely regarded as a handsome, sophistically-styled family car, even if not everyone is enamoured with a plethora of curves on an SUV, even in city-slicker guise). The newcomer's interior is bound to be more universally appreciated, however... because it's anything but a study in bland people-mover utilitarianism.
When you step inside the vehicle's cabin and activate the ignition, the first thing you'll notice is the Peugeot's cool digital interface. Dubbed i-Cockpit, the system is beautifully designed and intuitive to operate. It's a "complete 180" from traditional instrument cluster-fascia combos and the majority of our testers loved the 5008's setup. In this entry-level 1.6T Allure derivative, you'd expect to miss out when it comes to luxury features, but the 5008 is quite well-equipped.
Nice-to-have convenience features, such as tyre-pressure monitoring sensors, a hands-free (electrically operated) tailgate, auto headlamps and wipers, daytime running lights, dual-zone climate control, parking sensors, as well as an Android Auto/Apple Carplay compatible infotainment system, which also offers USB ports and Bluetooth connectivity, are standard equipment.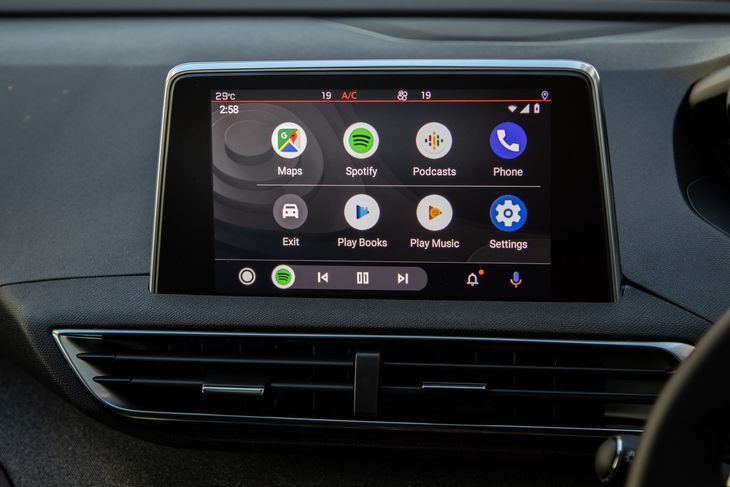 Android Auto is standard on the Peugeot 5008.
Practicality
If there's one area where the Peugeot 5008 truly excels, it's in terms of practicality. The first thing you'll notice is that the 2 rear doors are longer (than on the 3008), which results in easier ingress and exit for aft passengers. The 2nd row of seats is a model of nifty interior execution... all 3 seats are the same size, have child-seat mounting points and legroom is exceptional, plus you can slide them fore (to increase loading space) or aft (for more comfort) individually.
Those who occupy the 3rd row are not afforded the same level of comfort, however, as legroom is tight, making the 2 seats only really suitable for small children. Also, trying to get in and out of that 3rd row as a full-sized adult is not the most dignified of processes. On the plus side, the 2 seats easily fold flat into the load bay and, in 5-seater configuration, the cargo capacity is massive. For even more space, you can detach the seats and take them out of the vehicle.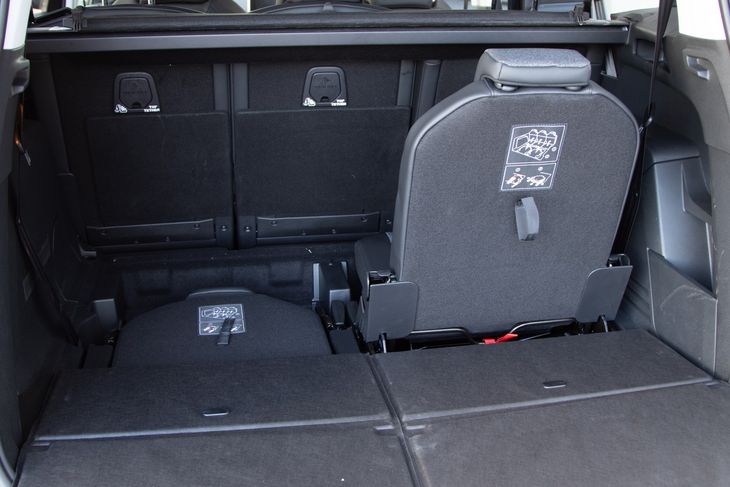 One of the 3rd row of seats deployed. As you can see, rear legroom will not be the most generous
Performance and economy
The 1.6T Allure is powered by the PSA Group's tried-and-tested 1.6-litre 4-cylinder turbopetrol, which produces 121 kW and 240 Nm, drives the vehicle's front wheels and is mated with a 6-speed automatic transmission. Those outputs aren't muscular by contemporary standards and when the 5008 is loaded to the gills with passengers and cargo, its driver is likely to make liberal use of the accelerator pedal to maintain momentum – to the detriment of fuel economy.
Peugeot claims an average consumption figure of 7.0 L/100 km, but, after a few runs with a number of passengers on board in congested traffic conditions, we battled to break under the 9.0-L/100 km mark with the 1.6T Allure. We suspect the 2.0-litre turbodiesel (HDi) version with its beefier peak torque figure (370 Nm) would yield significant fuel savings (an average of 4.8 L/100 km is claimed by its manufacturer), provided you can stretch your budget by R20k. This derivative does come equipped with shift paddles, but we found them largely ornamental because they are affixed to the steering column – as opposed to the 'wheel – and they are less than tactile to operate.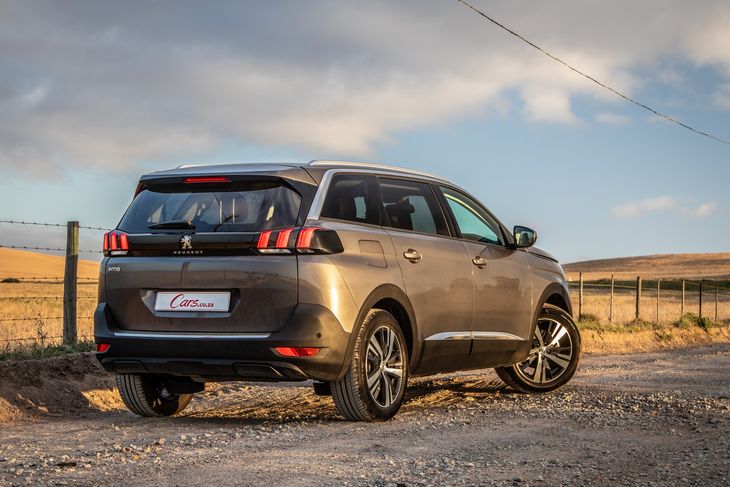 There are 2 engines and 2 levels of trim available in the 5008 range.
Ride and handling
Like most modern Peugeot offerings, the 5008 has an eccentrically-sized (read: small-diameter) steering wheel. Compared to the steering wheels of its contemporaries, the Peugeot's tiller feels comically small and when combined with a high driving position, the 'wheel rim can obstruct the driver's view of the dials. It will take some time to find that perfect driving position as the cockpit is designed for the driver to see the dials over the wheel as opposed to through it.
The feel of the variable steering system is generally good; it transitions from light in the confines of a city to heavier when you're on the highway. Like most modern steering setups, it could always do with a bit more directness, because it can feel a bit remote, although not overly so for a family car. The EMP2 platform upon which the 5008 is built offers a nice blend of comfort and sportiness, but despite the Sport button, the 5008 is anything but an athlete.
One can justifiably expect good levels of ride comfort and on-road refinement from a vehicle that costs in excess of R500 000 – and the 5008 ticks both boxes with ease. Despite its sporty 18-inch wheels and tyres, the 1.6T Allure's ride quality is generally pliant and the French firm's engineers have done well to insulate the cabin from external noises and mechanical vibrations and harshness. And, despite its lack of all-wheel drive, the French compact SUV/family car offers 236 mm of ground clearance, which will come in handy if you're expecting to traverse uneven gravel routes during jaunts to the countryside.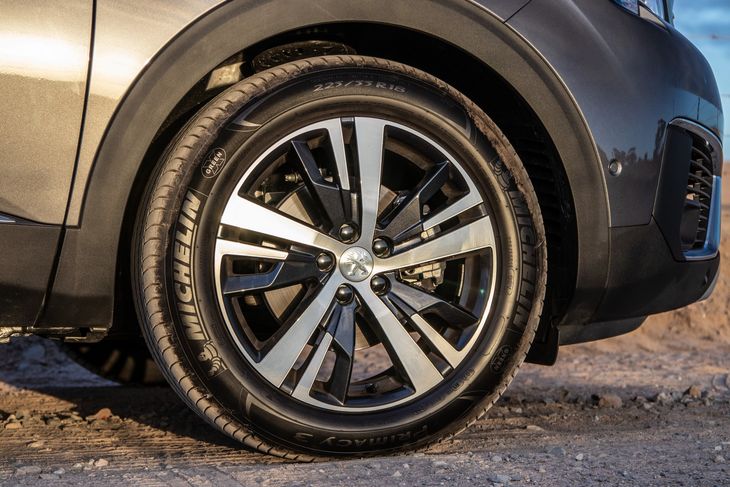 The Peugeot 5008 comes with 18-inch alloy wheels which not only look good, but give the car a refined ride quality.
Pricing and warranty
The asking price for the Peugeot 5008 1.6T Allure is R534 900 and all derivatives in the range are sold with what the brand calls Peugeot Pride, which combines a 5-year/100 000 km comprehensive warranty, a 5-year/100 000 km comprehensive service plan and roadside assistance, access to a 24-hour customer-care contact centre, a licence renewal reminder, as well as service plan and warranty expiry notifications.
Buy a new or used Peugeot 5008 on Cars.co.za
Verdict
Much like its shorter/smaller 3008 sibling, the 5008 represents another big step forward for Peugeot. Not only does it offer high levels of fit and finish, a good standard specification and excellent practicality, but its ride quality and driving experience are on par with the Volkswagen Tiguan Allspace, which is its most natural rival. There seems some truth to the claims that Peugeot is trying to market itself as "The French Volkswagen". However, the big question we've found ourselves asking is this: "Does the family-car segment need 7-seater models?" What does the 5008 offer buyers over and above the 3008? The answer is: "Not much." We don't feel there's enough differentiation between the models...
Should you buy one? Look, if you need a brand new 7-seater at all cost, then the 5008 should be on your shortlist. The 1.6T Allure may be the entry-level derivative, but it lacks little in the way of standard features. For those who want a bit more, there's the GT Line that comes with visual add-ons and luxuries such as massaging seats. There's also the aforementioned diesel engine, which we think would make for a better all-round experience. The big issue for us is Peugeot's reputation. Recent PSA-group products have been of good quality and nice to drive (in general), but the real test will be if the renewed vigour in the halls of Peugeot South Africa will translate into improved customer service.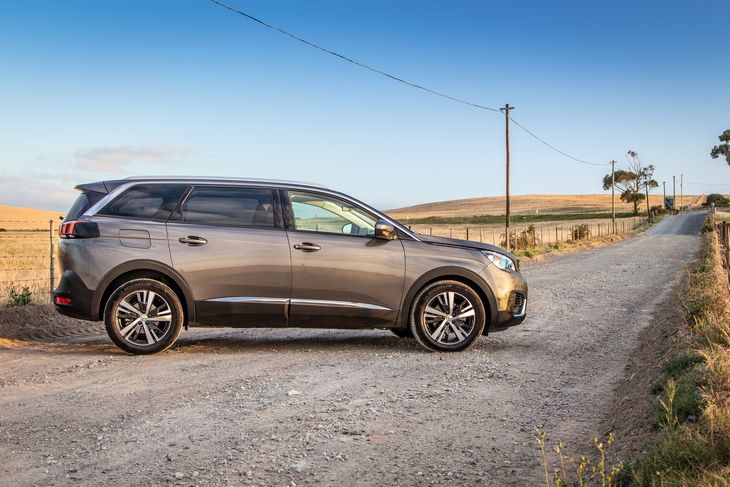 If you absolutely need 7 seats then the Peugeot 5008 is worth considering, but for most family-car buyers, the excellent 3008 is more car than they'll ever need.
Related content:
Peugeot 5008 (2019) Specs & Price
Peugeot 5008 (2019) Launch Review
All-New Peugeot 2008 Announced