After an extensive overhaul of its dealership network, parts supply chain and staff, Peugeot has rolled out a brace of new models in South Africa. The all-new 5008 appeals to luxury- and practically-minded families. Is its generous specification, space and performance enough to pinch sales from the Volkswagen Tiguan Allspace, for example?
As we mentioned in our Peugeot 108 launch story, the PSA Group, comprising Peugeot Citroen DS and Opel/Vauxhall, has made serious inroads into the European sales charts with its offerings in the past 2 years. It is, therefore, odd that the French company's South African operations have floundered (note that Opel is locally distributed by Unitrans Automotive), so much so that many expected it would shut up shop. However, Peugeot South Africa has undergone a relaunch (with a catchy payoff line) and, behind the scenes, extensive work has been done on its dealership network.
Let's be frank, our Ownership Experience Survey shows Peugeot has a less-than-stellar reputation for after-sales service and product reliability; many of us know of someone who has had to wait uncomfortably long periods for Peugeot replacement parts to arrive from Europe, for example. However, under new boss Xavier Gobille, Peugeot SA has gone on the charm offensive and this relaunch is a multi-pronged attack on the market.
Sister brand Citroen is following hard on Peugeot's footsteps and will be relaunched in October 2019. Gobille is a charismatic Frenchman and has gained quite the reputation for being incredibly passionate and determined. He turned Renault South Africa's fortunes around some time ago and, following his successful stints at Jaguar Land Rover and Nissan, it would be a surprise if the Frenchman doesn't pull off a repeat performance.
Peugeot 5008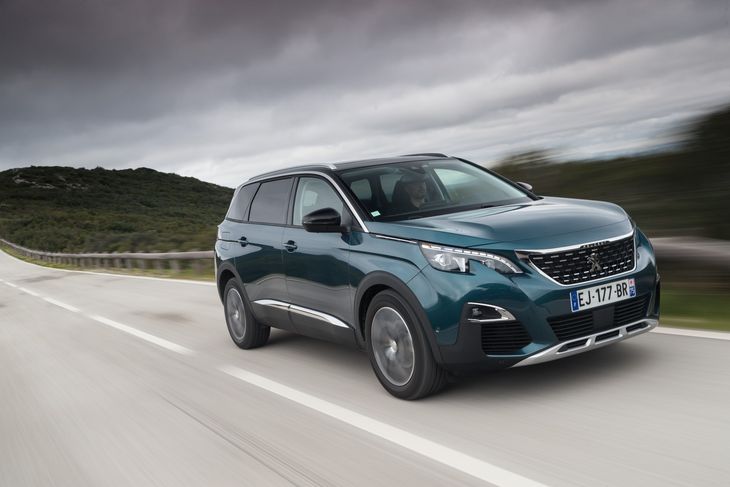 Sharing a platform with the Peugeot 3008, the 5008 adds in extra seating and space
The Peugeot 5008 is a 7-seat family car. Based on the lauded EMP2 platform that underpins its 3008 sibling, the 5008 is available with a choice of 2 engines and 2 lines of trim. With a wheelbase of 2.84 metres, it's notably more spacious than a compact SUV. The pair of 3rd-row seats are removable if you require additional luggage space, not that the load bay is mediocre... Its claimed capacity is 780 litres in 5-seater configuration and 1 940 litres with 2nd and 3rd rows folded flat. The front passenger seat can also fold down, allowing you to carry longer items, such as curtain rails.
In terms of engine options, you can go for either a turbopetrol or -diesel powerplant. The 1.6-litre turbocharged (THP) 4-cylinder petrol-fed unit can be found in many PSA applications and, in the 5008, it delivers peak outputs of 121 kW and 240 Nm. For those who prefer their big SUVs powered by a torquey diesel motor, the 2.0-litre HDi pushes out 110 kW and 370 Nm. All Peugeot 5008 derivatives come fitted with a 6-speed automatic transmission. In terms of fuel economy, the petrol 5008 is said to consume 7.0 L/100 km, while its diesel sibling is more frugal at 4.8 L/100 km.
A vast array of features
The latest iterations of Peugeot products have always come highly-equipped and the new 5008 is no exception. Being a premium offering, it really is jammed to the hilt with comfort and convenience features. There are 2 trim levels on offer: Allure and GT-Line. The GT-Line is the more visually striking of the 2 versions and definitely the one I'd lean towards based on its aesthetic appeal (provided it's within your budget, of course).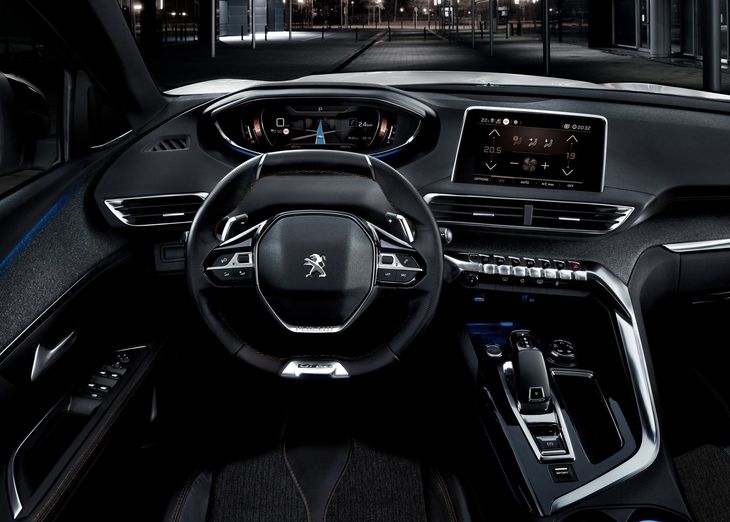 The Peugeot 5008's high-tech cockpit features a digital instrument cluster; its infotainment system is one of the best we've experienced
Peugeot 5008 Allure
18-inch alloy wheels
Tyre-pressure monitoring sensors
Hands-free tailgate
Auto headlamps and -wipers
Daytime running lights
Dual-zone climate control
Cloth/leather trim
Keyless entry
Parking sensors
Apple CarPlay/Android Auto
USB/Bluetooth connectivity
Peugeot 5008 GT-Line adds:
19-inch alloy wheels
LED Lion puddle lamps
Black diamond roof
Panoramic roof (optional)
Full LED headlamps
LED fog lights
Wireless charging pad
Nappa leather upholstery
Semi-autonomous safety package
180-degree camera
Satellite navigation
Upgraded audio system
Front-seat massage function
What's it like to drive?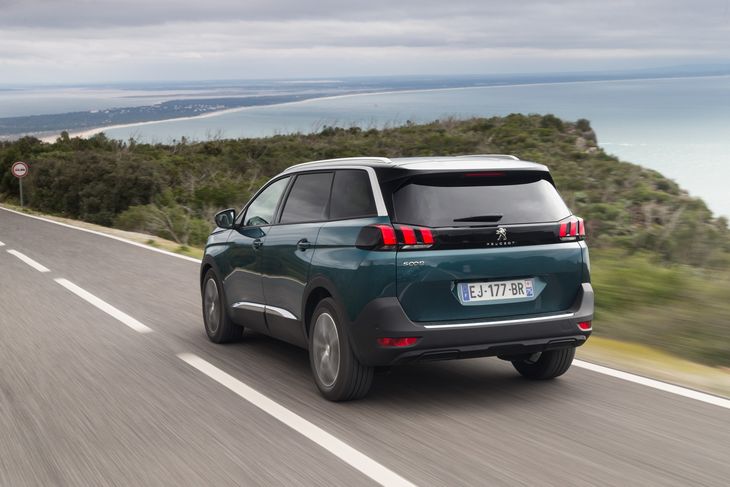 The Peugeot 5008 gives you that big car luxury feel and is impressively refined to drive.
We had a brief chance to drive the Peugeot 5008 GT Line in 1.6 THP guise. The driver is afforded a perched driving position and, for those who are unaccustomed to Peugeot's unusually small steering wheels, the diameter will take some getting used to, but you'll find it surprisingly easy to wield.
Our launch route was frustratingly short and comprised mostly of open-road driving. Ride quality is good, even on the GT Line derivative, which is shod with 19-inch alloy wheels and tyres. You feel there's an element of sportiness dialled into the suspension, which can be felt when traversing potholes and ruts. On the open road, noise/vibration and harshness are largely suppressed and the French family car exhibits impressive levels of refinement. We also had the chance to pilot the 5008 on a gravel road and even though it's not all-wheel-driven, the 5008 offered adequate grip.
That small steering wheel requires minimal effort to turn, but perhaps it feels a bit too light for a 7-seater luxury SUV. The performance of the 1.6-litre petrol engine was less than enthusiastic too; we suspect a fully-laded 5008 THP derivative might feel sluggish. Besides, given PSA's reputation for making impressive diesel engines, a 2.0-litre HDi derivative may be the one to go for. If you're planning to transport your family on long trips, its generous 370 Nm and better fuel economy will be handy. Peugeot's renowned for making stylish small hatchbacks such as the 208/308, but it has fulfilled the large-luxury-car brief surprisingly well. Not only does the 5008 feel comfortable, but it evokes that "big-car feeling" better than its rivals.
It's a commendable effort, but considering that the 5008 is essentially a stretched-out 3008, it makes perfect sense. The 3008 is an excellent offering – it has made an appearance in 2 iterations of the #CarsAwards – powered by WesBank. The latter has garnered several awards globally and is at the top of the sales charts in Europe... Therefore, we look forward to getting to know the Peugeot 5008 a lot better when it joins our test fleet.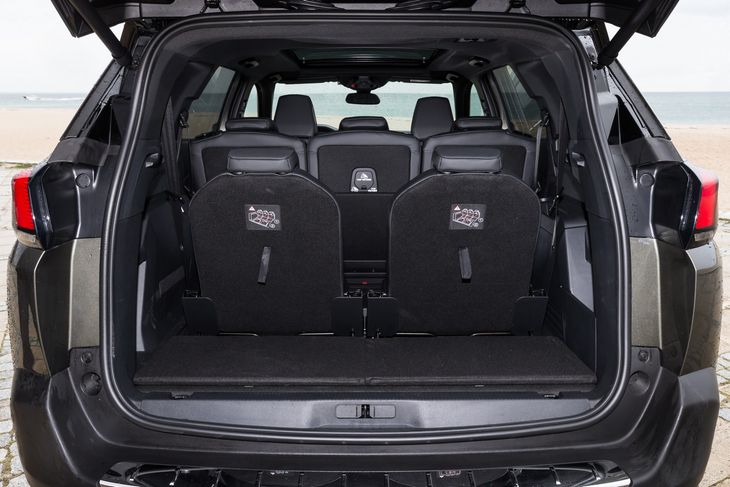 With the 2nd and 3rd row of seats stowed, the Peugeot 5008 is one of the most spacious family SUVs around.
Servicing and warranty
It's dubbed 'Peugeot Pride': every 5008 derivative comes standard with a 5-year/100 000 km comprehensive warranty, a 5-year/100 000 km comprehensive service plan and roadside assistance, access to a 24-hour customer-care contact centre, licence renewal reminder, as well as service plan and warranty expiry notifications.
Peugeot 5008 Price in South Africa (September 2019)
Allure 1.6 THP R534 900
Allure 2.0 HDi R554 900
GT Line 1.6 THP R579 900
GT Line 2.0 HDi R599 900
Further Reading:
Peugeot 5008 (2019) Specs & Price
All-New Peugeot 2008 Announced
Peugeot 108 (2019) Launch Review