The Peugeot and Citroen brands have been relaunched in South Africa, so it's time to sample what they offer. First up: the budget-friendly Peugeot 108. Does it have what it takes to be competitive in this hotly-contested segment?
We like: Low cost of ownership, low fuel consumption, numerous safety and tech features
We don't like: Cramped in the back for adults, small load bay, perception of Peugeot brand.
Fast Facts
Price: R179 900
Engine: 1.0-litre naturally-aspirated 3-cylinder
Power/Torque: 53 kW / 93 Nm
Transmission: 5-speed manual
Fuel economy: 4.3 L/100 km (claimed)
​Load space: 196-780 litres
Own a Peugeot? Tell us about your experience here.
SERIOUS ABOUT BUYING?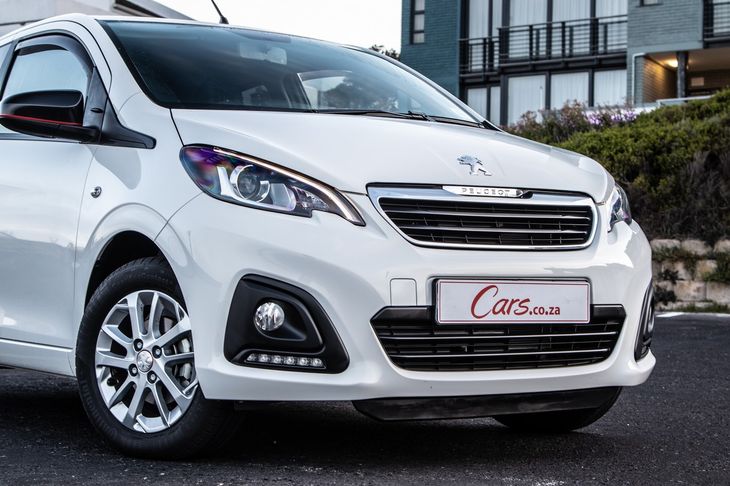 A cousin to the Toyota Aygo and Citroen C1 it might be, but the 108's distinctive detailing makes it stand out from the crowd.
What's new?
The Peugeot 108 is the French brand's entry-level offering and while it's not exactly fresh on the scene (its cousin, the Toyota Aygo has been available in South Africa since 2015; they're produced in the same plant in the Czech Republic), it represents a reasonably affordable budget car in a chic city-car package. There are myriad manufacturers competing in the sub-R200k segment, but their products are predictably compromised by virtue of scant safety features, sparse spec, lack of space, underperforming engines and short- or no service plans. Can the 1.0 Active compete?
How it fares in terms of...
Performance and Efficiency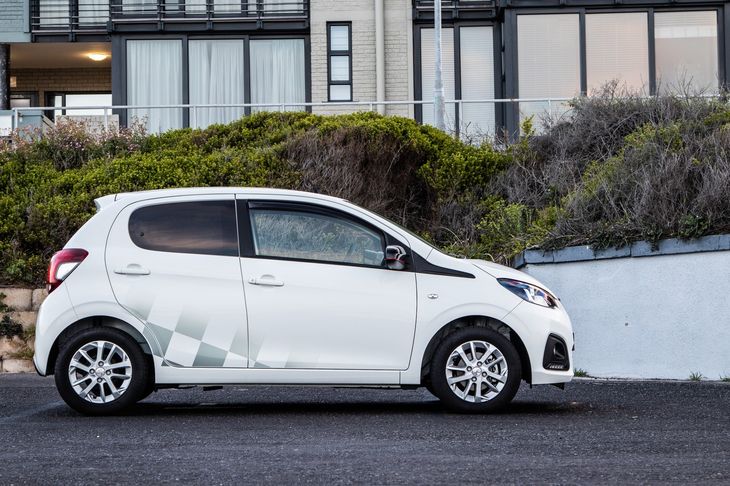 The Peugeot is clearly aimed for childless singletons or couples; it features rear doors, but rear legroom is negligible.
Under the bonnet, we find the tried-and-tested 1.0-litre naturally-aspirated 3-cylinder motor. It produces a fair 53 kW and 93 Nm, which may not sound like much, but in a small car with a low kerb weight (Peugeot claims 840 kg), you don't really need a larger-capacity engine. We've sampled this engine in the Toyota Aygo previously and we noted that it offered sufficient grunt, but we needed to rev that engine out quite often. That action has 2 downsides: firstly, the engine note can get quite loud (irksomely so), at high revolutions, and secondly, the fuel consumption suffers.
Speaking of which, fuel economy is one of the best things about this compact Peugeot. While the claim of 4.3 L/100 km is a bit far-fetched, we regularly saw indicated figures of under 6 L/100 km, which we think is more than fair. At best, we spotted a 5.3 on the trip computer, but after some hurried urban driving, that climbed to 5.9. The 108 also falls under the CO2 tax bracket, which helps to keep its new list price just under R180k.
With a 5-speed manual gearbox and a light clutch action, the French newcomer is simple to operate. The gearbox/clutch action is not the most direct or refined, which is a mild frustration, but we're prepared to cut the 1.0 Active some slack because most of its rivals exhibit the same traits. With 93 Nm and not much weight to move around, the tiny hatchback is nimble and overtaking ability is reasonably eager. You'll find it tends to run out of puff once the kph hits 3 digits, but again, it's not a dealbreaker as the car's performance up to 100 kph is acceptable. Peugeot claims a 13-second 0 to 100 kph time, but note that this vehicle was tested at sea level and that the Peugeot will lose around 17% of its performance at Gauteng altitudes.
Ride and handling

The 14-inch alloy wheels are shod with plump tyres, which helps the 108's suspension to better deal with road imperfections.
The 1.0 Active delivers an acceptable ride and handling balance; its softer suspension setup and 165/65 14-inch alloys soaked up most of the road imperfections we encountered during the 108's tenure in our fleet. Once you've settled at a moderate cruising speed, the Peugeot's engine note settles down appreciably and the steering action is always light and direct. The 108's compact size means it can take gaps in traffic that larger cars can't (or shouldn't!) and, thanks to generous rearward visibility, parallel parking is a cinch. What's more, in an age where mechanical steering has been replaced by electrically-assisted units that offer synthetic feel, it's great to wield a tiller that delivers such simple but "honest" feedback.
Practicality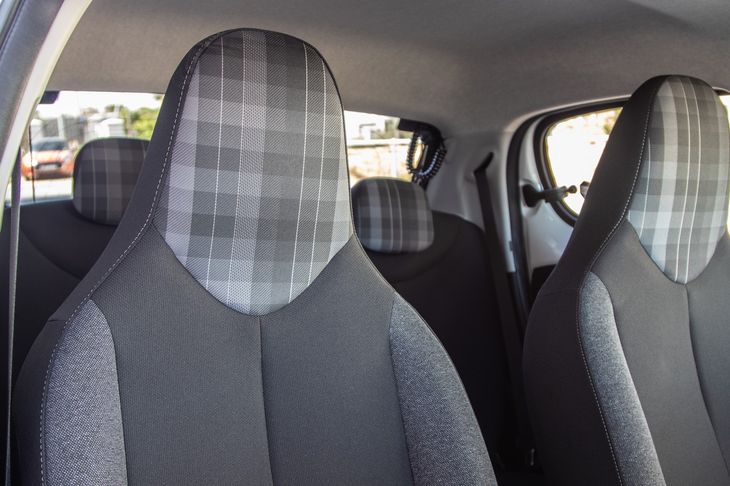 The seats are basic, comfortable and offer a bit of lateral support. The rear bench is firmer, but the lack of leg- and headroom will frustrate.
One of the drawbacks of the Peugeot 108 is its practicality and space – or lack thereof. While it is sold in a 5-door body style, the space in the back won't suit anyone other than small children. Granted, our testers are adult males, but even the sit-behind-yourself test couldn't be completed. The dinky load bay is also impractical for larger items and it has a rating of just 196 litres, making it useful for a laptop satchel and a shopping bag or 2, but not much else. If you need more space, then you can fold the rear bench down, giving you a total claimed loading capacity of 780 litres.
The Peugeot 108's rivals all boast larger luggage capacities, so this may turn out to be a dealbreaker if you're looking for a reasonably spacious budget car. Where the 1.0 Active does make up some ground, however, is in terms of its interior comfort features...
Interior comfort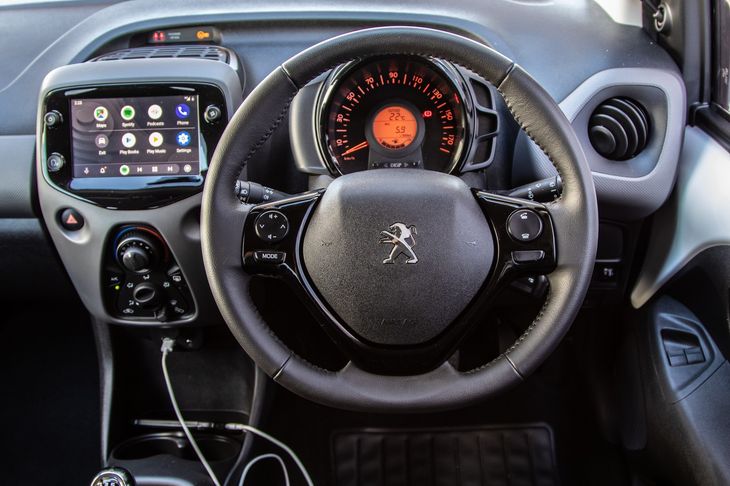 The Peugeot 108 cabin is simple. Note Android Auto on the main infotainment screen, with a mobile phone connected via USB cable.
Interestingly, the Peugeot 108 comes to market with more standard spec than its Aygo cousin. Android Auto and Apple CarPlay compatibility is standard, which is impressive at this price point (some premium carmakers will charge you extra for that!). Other notable features include Bluetooth phone connectivity, height-adjustable multifunction steering wheel, a punchy air conditioner and trip computer. In terms of safety, the 1.0 Active comes fitted with 6 airbags, stability control, anti-lock brakes, hill start assist and ISOfix child-seat mounting points, which is great at this price point.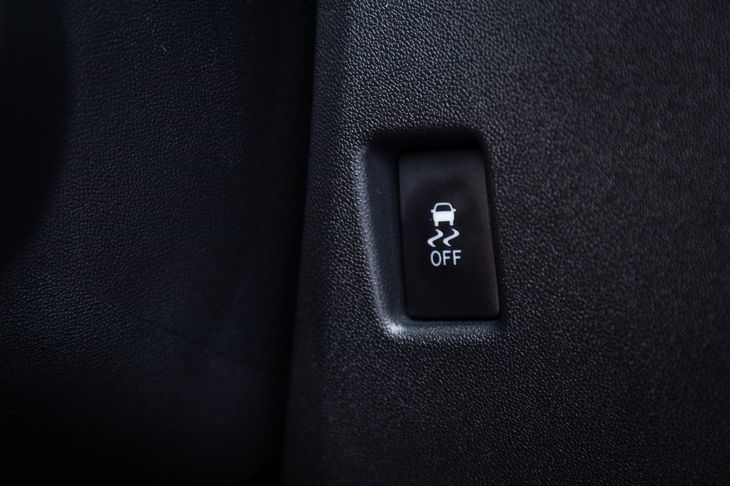 Stability control is a rare feature in the budget-car segment, it certainly engenders peace of mind in inexperienced drivers.
Pricing & Warranty
The 1.0 Active costs R179 900 and comes with a 5-year/100 000 km comprehensive warranty, a 5-year/ 100 000 km comprehensive service plan.
Verdict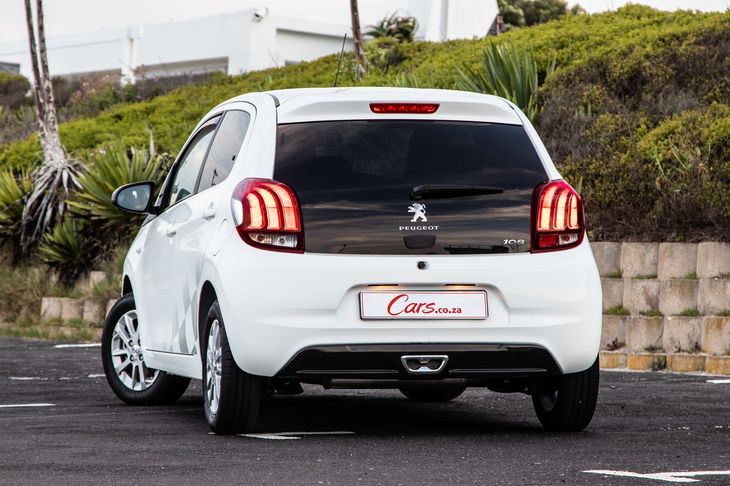 The Peugeot 108 is a cheap-to-run city vehicle, but despite its 5-door body style, practicality is not its forte.
The Peugeot 108 is the first of many new models that Peugeot/Citroen will be re-/introducing in South Africa. While it is essentially a platform-sharing exercise with sister brand Citroen and Toyota, the 1.0 Active brings a bit more tech and safety features to the table. The lively engine suits the playful and compact nature of the car and any suspicions of it being underpowered will be allayed, especially if it's just one person in the car. There's also that excellent fuel consumption to keep in mind. Okay, so in terms of practicality, it is outgunned... Renault's Sandero offers much more passenger space and luggage capacity, for example, but that being said, the Peugeot's features and extensive after-sales package count for a lot.
While many (still) question the reliability of Peugeot, the 108 is mechanically similar to the Aygo and Toyotas are renowned for endurance and fuss-free ownership. The icing on the cake with the 108 is the Peugeot Pride back-up that underpins the product. The 1.0 Active comes standard with a 5-year/100 000 km warranty, a 5-year/100 000 km service plan, roadside assistance, 24-hour customer care contact centre, licence renewal reminder, as well as service plan and warranty expiry notifications. No other budget car in South Africa can match that level of after-sales back-up! If you don't need to cart many passengers or much cargo around, the Peugeot 108 offers a lot for its price. Plus, it should be cheap to own and run.
Related content:
Peugeot 108 (2019) Specs & Price
Peugeot, Fiat tie-up creates world's 4th-largest car firm
Will Peugeot South Africa Turn the Corner?
All-New Peugeot 2008 Announced