German tuning firm Novitec is renowned for extracting much more performance (let alone attitude) from exotic cars; its latest project sees the already-rapid Ferrari F8 Tributo gain more power and torque, as well as a wilder exhaust note. Have a look… and a listen.
The F8 Tributo – an evolution of the 488 – made its South African debut about a year ago, and its roadster sibling arrived on local soil as recently as March. Maranello's mid-engined supercar is still very new to the market, but Novitec has wasted no time to develop a number of initial upgrades for the 3.9-litre twin-turbo V8-engined machine.
We say initial, because apart from riding on sports springs that lower the car's ride height by 35 mm and being shod with bespoke Vossen-Novitec rims and tyres – 21-inch at the front, with 22-inch at the back – the Novitec F8 Tributo looks much like it did when it rolled out of the factory. However, the tuning firm has a series of aerodynamic addenda under development, so we can expect the tuning firm to release a melange of visual upgrades for this Prancing Horse in, um, due course.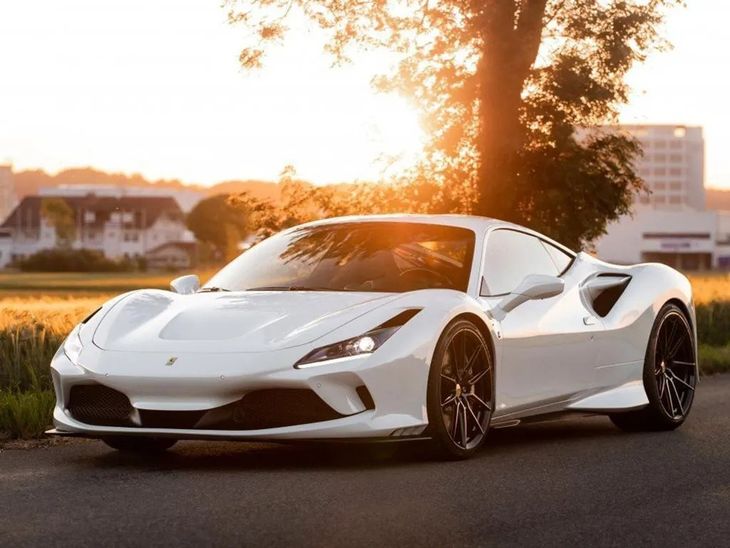 By lowering the F8 Tributo's ride height and fitting different-sized alloys fore and aft, Novitec has given the Ferrari a meaner stance.
Up to this point, the focus of Novitec's development programme has been an upgrade of the power and torque outputs – and therefore, performance – of the F8 Tributo.
The most notable upgrade is the installation of a Novitec N-Tronic control module, which tweaks the Ferrari's engine mapping, ignition and boost pressure. As a result, whereas the standard car generates 530 kW at 7 000 rpm and peak torque of 770 Nm at 3 250 rpm – it's the most powerful V8 engine that Ferrari has ever produced, remember – the modified F8 Tributo produces a heady 579 kW (at 8 000 rpm) and 882 Nm at 3 000 rpm – improvements of 49 kW and 112 Nm respectively.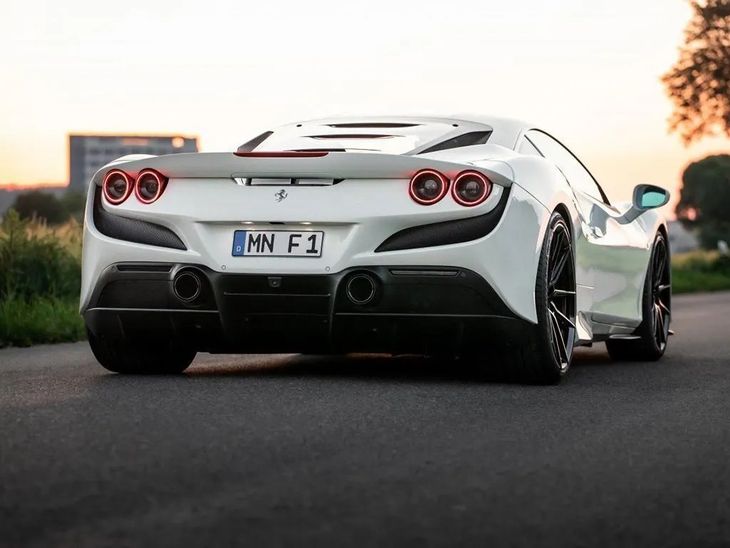 Look closely and you'll notice the Novitec F8 Tributo features custom black fog lamps; aerodynamic parts are in the pipeline.
The Novitec F8 Tributo can sprint from 0 to 100 kph in 2.7 seconds, which is 0.2 sec faster than its standard sibling, and, along with more ferocious in-gear acceleration and "improved throttle response", the fettled Ferrari's top speed is said to be "beyond 340 kph", the tuning firm claims.
But, in the time-honoured tradition of infomercial product0pitches: wait, there's more. Novitec has developed a bespoke exhaust "to optimise the performance further and give the engine a more thrilling exhaust note" – in fact, it's claimed to be lighter than Ferrari's factory-fitted installation.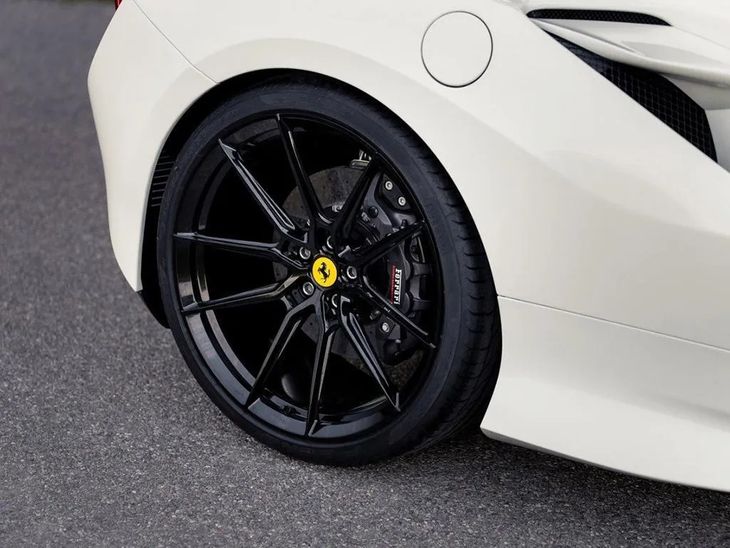 Black 22-inch Vossen-Novitec rims are fitted at the rear.
With the Power Stage 2 update, which combines the N-Tronic control module with the optimised stainless-steel exhaust system (replete with catalyst-replacement pipes), the Novitec F8 Tributo is said to produce 590 kW at 7 950 rpm and 898 Nm at 3 100 rpm... that's if you want another 11 kW and 16 Nm – plus a whole lot more expensive noise.
Finally, the Novitec exhaust system can be paired with the F8 Tributo's standard tips or the company's bespoke carbon/stainless steel ends. Should you require to occasionally dampen the level of the mechanical din generated by the custom-piped setup, a remote-controlled flap-regulation system is also optionally available.
Search for a used Ferrari on Cars.co.za
Related content:
Lamborghini Huracan Evo (2020) Launch Review
10 Most Powerful Production Cars of the Last Decade (2010-2019)
10 Cool Things: Gordon Murray's T.50 hypercar