Lamborghini says its new Evo represents far more than just an average mid-life facelift of its Huracan supercar, which debuted as long ago as 2014. To find out whether there's any truth to the St'Agata-based firm's statement, we took the 5.2-litre V10-engined machine for a spin on some of the Western Cape's finest roads.
It happens to even the best sportsmen and -women in the world – if it's not simply the relentless onslaught of time that leads to a drop in ranking, it's the arrival of young, new talent. In the case of Lamborghini's Huracan, a 6-year old veteran of the supercar world, it's arguably a combination of both. While still hugely charismatic and, in the guise of the wild Performante derivative, massively engaging (and mildly terrifying), the supercar game has been moved on by the likes of the Ferrari F8 Tributo, upcoming Porsche 911 Turbo and the sizzling McLaren 720S, at least as far as performance and drivetrain "management" is concerned... And, from a user-experience perspective, the Huracan's cabin had fallen behind the times by virtue of its lack of modern conveniences, such as touchscreen systems and smartphone integration. Enter the Huracan Evo – it's here to redress the balance.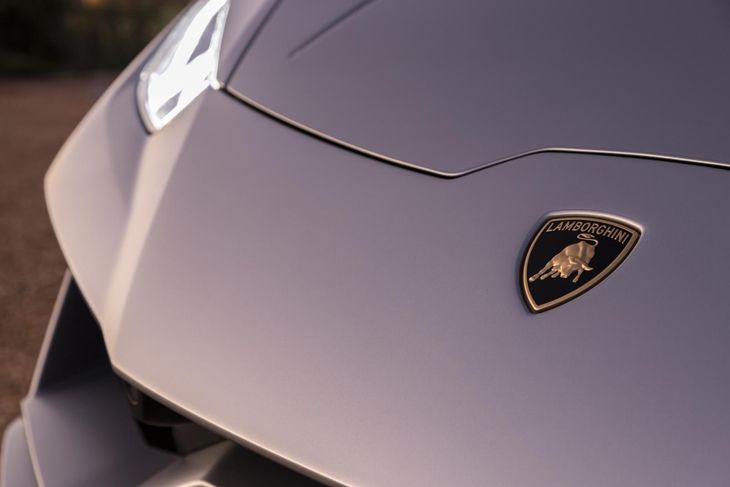 Badge of honour - the revised Huracán is now a more playful, responsive machine with updated interior features.
Fast Facts
Price: R5 500 000 (March 2020, no options)
Engine: 5.2-litre V10
Gearbox: 7-speed dual-clutch
Fuel economy: n/a
Power/Torque: 470 kW/600 Nm
Performance: 0-100 kph in 2.9 sec (claimed)
Admittedly, it's been a while since I've driven something as raw and visceral as the Huracan Evo, but the explosive "trigger" moment, which one reaches by pushing the throttle past the point of resistance, all the way down to the carpet, results in such astonishing violence I'm left breathless... shell-shocked... even. "But this is just Strada mode," are the first words that I can muster after backing off and reining in the matte-grey Italian stallion. My passenger just giggles.
The source of violence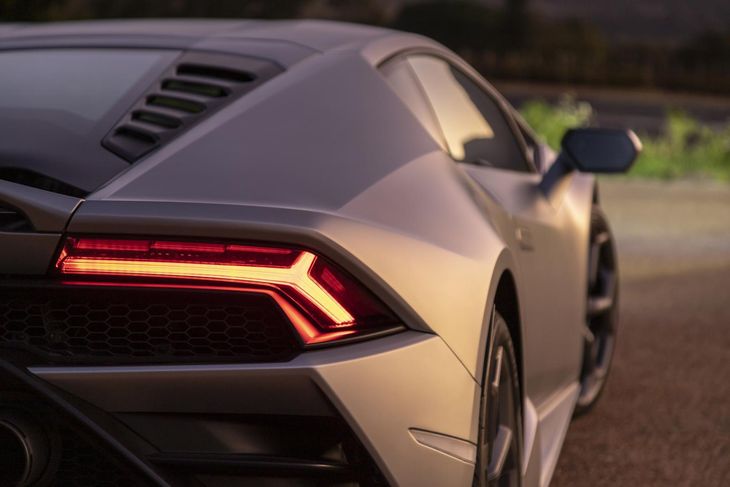 An optional feature fitted to our test unit was a clear engine cover; it allows you (and onlookers) to admire that naturally aspirated V10.
The Huracan retains its naturally aspirated 5.2-litre V10, but in the Evo, it's now to the same specification as the motor in the Performante, which means it gets titanium intake-valves and a lighter, "refined" exhaust system, resulting in a peak power output of 470 kW at a dizzying (and cacophonous) 8 000 rpm. The performance figures are very impressive and, after pressing all the way down on the throttle pedal (just once), there's no reason why I should doubt them.
The 0-100 kph sprint takes 2.9 seconds, but more impressively, 200 kph shows up in just 9 seconds, as the Evo screams its way to a 325-kph top speed. Under full acceleration, and in the appropriate mode (Sport or Strada), the 7-speed dual-clutch transmission takes on a far more aggressive nature; up-shifts punch you in the back, the acceleration flattens your lungs and the sound pierces your eardrums. This car isn't shy about its Lamborghini heritage. It's wild.
The new "brain"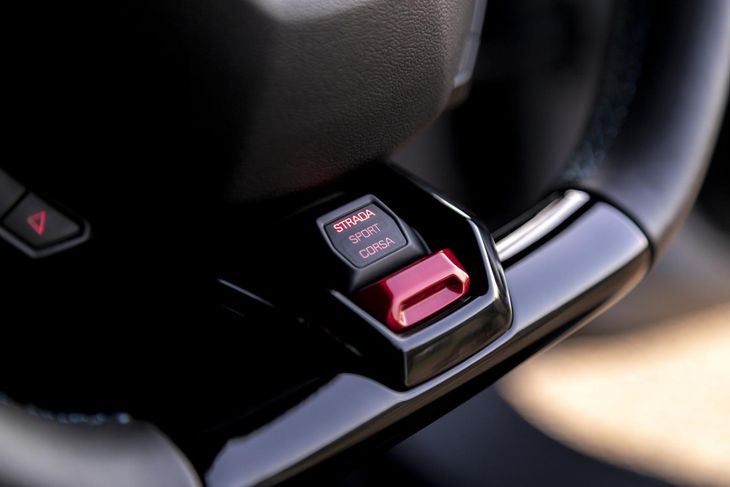 There are three driving modes to choose from, with Corsa aimed at track use. Sport strikes a very well-balanced middle ground.
The biggest change with this new Huracan Evo is its dynamics control system, which is said to make it easier to drive fast. At this point many purists will be squirming in their chairs – a Lamborghini should be wild, shouldn't it? Let's see...
The Lamborghini Dinamica Veicolo Integrata (LDVI) is essentially a CPU that controls every aspect of the car's dynamic behaviour; it's set up to "anticipate" the moves and needs of the driver. Queue more squirming... In addition to LDVI, the Evo features rear-wheel steering and a torque vectoring system (working on all four wheels) – borrowed from the Aventador S and SVJ. The steering system is said to improve agility at low speeds and stability at high speeds.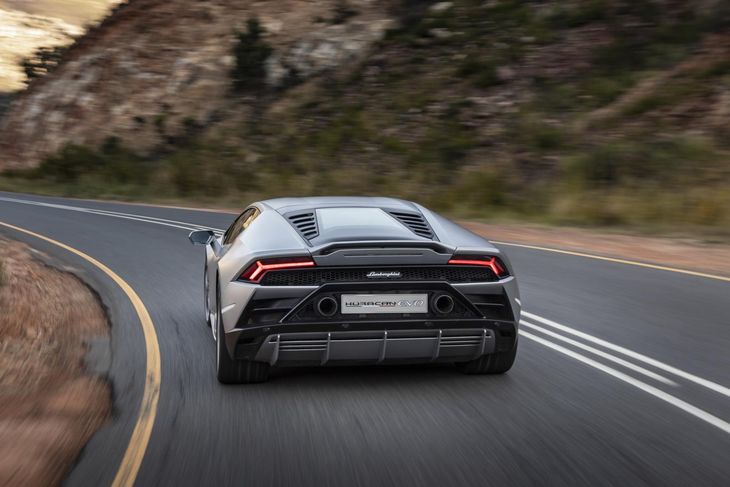 The new LDVI "brain" controls an awful lot of what goes on underneath, but the result, we're happy to say, is a more playful car.
The LDVI really controls everything – in conjunction with the torque vectoring system, it calculates not only the split of propulsion between the front and rear axles, but the allotment from wheel to wheel on the same axle! Also falling in the LDVI's ambit are the magnetorheological suspension with active damping, the variable-ratio electric power steering and the various sensors required to measure the current driving situation and to essentially calculate the driver's next move. It all sounds terribly complicated, and to be honest, it also sounds terribly "digital" for a brand that has traditionally been very analogue, but here's the thing... it works!
Whereas the all-wheel-drive Huracan was previously quite one-dimensional in its dynamic behaviour, the Huracan Evo is more playful, more responsive and, as a result, more fun to drive. And yes, it does bring the supercar's rear-end into play more often and vigorously than before, particularly in Sport mode, which is always welcome on a car such as this.
Improved aero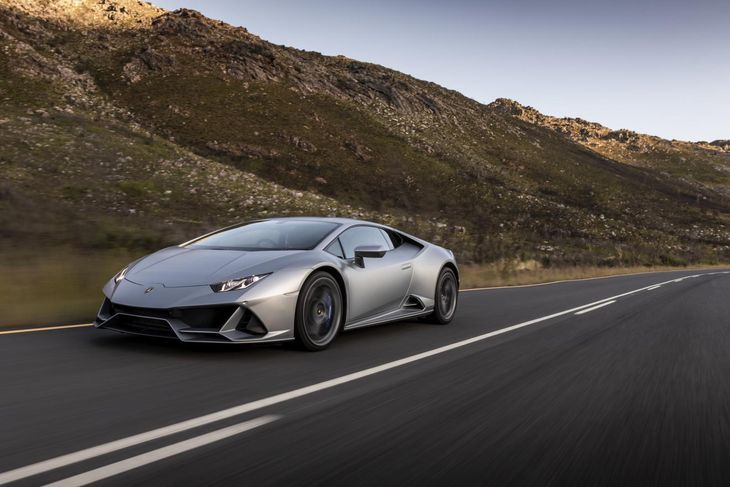 Front-end bite and precision is significantly improved courtesy of revised aerodynamics and a torque-vectoring system.
To the untrained eye, the new Huracan Evo doesn't look all that different from its predecessor, but when you park the two next to one another, the differences are very apparent. The changes are not merely for show, either...
The new front bumper results in improved aerodynamic efficiency via a new front splitter with an integrated wing. New side air intakes, larger front air dams in the typical Lamborghini Y-shape, and a rear-end treatment that closely resembles the marque's Huracan racing car (albeit with a surprisingly subtle, integrated spoiler) round off the improvements. Some Lamborghini fans would have liked the new Evo to be a bit more of a show-off, but there are plenty of ways to achieve that through a very comprehensive personalisation catalogue.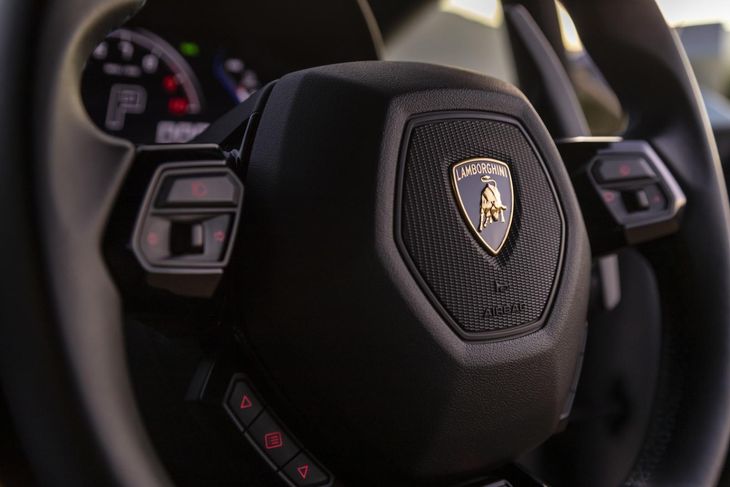 You're going to have to get used to the indicator switch on the steering wheel... but it's a minor criticism of a significantly improved cabin.
The subtle exterior aerodynamic changes and more efficient air management underneath the car have resulted in heightened levels of downforce – Lamborghini says the Evo is 5 times more aerodynamically efficient than its predecessor. It's difficult to say whether the improved aero or the LDVI contribute most to the excellent front-end bite (even in Strada), but either way (or more likely as a combination), it works. The steering feels direct, nicely weighted and offers plenty of feedback. Flick to Sport mode and the Huracan Evo becomes even more playful, particularly with its rear-end being far more willing to step out of line (but remaining easy to control). Corsa is really meant for chasing lap times.
Improved cabin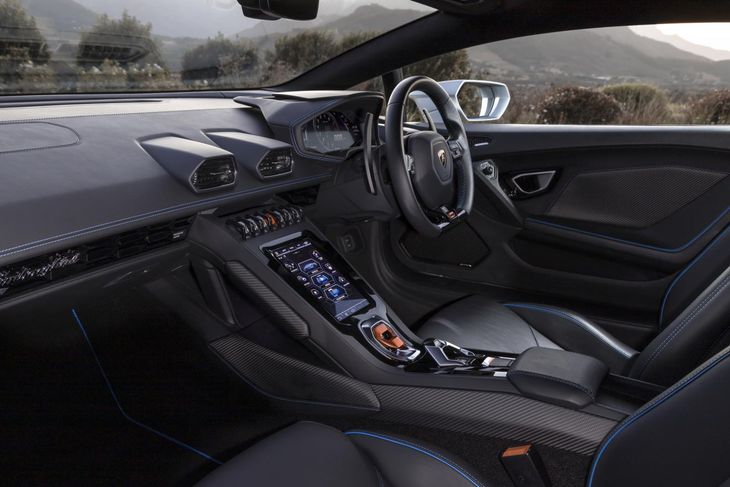 Note new control interface on the centre console. The test car featured Lambo's new "Carbon Skin" material.
When you're not busy conquering mountain passes or attempting to better your PB lap time, you'll appreciate the changes made to the Evo's cabin, too. The centre of attention is the new control touchscreen interface on the centre console, which was developed in-house by Lamborghini. Once you're familiar with the system, you can easily access climate control settings, smartphone integration functions (Apple CarPlay etc.) and, if so specified, there's even a telemetry function that includes a pair of onboard cameras so that you can record your on-track antics. A quirk that requires some familiarisation is the lack of an indicator stalk (replaced by a button on the steering wheel).
As is usually the case with premium vehicles such as this, the options list is quite extensive and there are some very appealing items that you'll have to pay extra for. At a base price of R5.5 million, however, you're likely to be able to afford a few of them... Our test car featured a number of extras that you really can't do without – Bluetooth preparation, a reverse-view camera with parking sensors, a front suspension lift system and the smartphone interface.
Verdict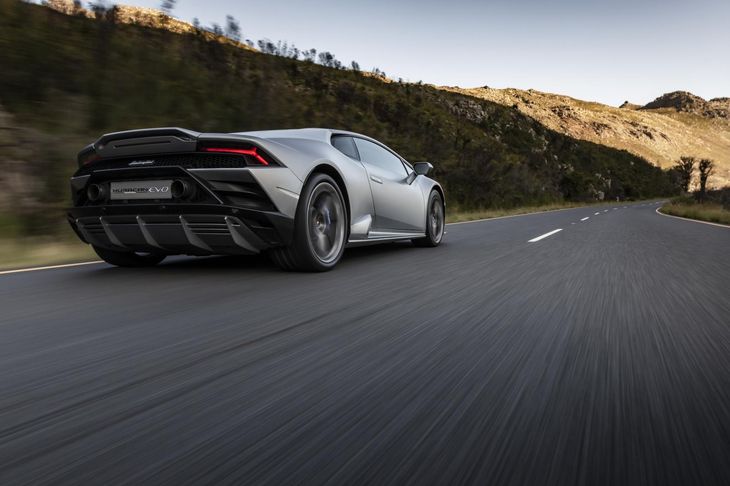 Note the positioning of exhaust outlets and reworked rear diffuser in this image.
As far as mid-life facelifts go, they don't usually come more "transformative" than this one... Whereas the "Huracan experience" was previously dominated by the supercar's wild aesthetics and the drama of its charismatic powerplant, the Evo is now a more complete package; its dynamic ability has been elevated to a level that makes the Italian machine not only more fun to drive in isolation, but more competitive within the context of its market rivals. Lamborghini needs to be applauded for its new LDVI system in particular – it could easily have made the car feel too safe and predictable at the limit... but what it's done is make the car feel more like a wild Lamborghini. And that, folks, is a big win.
You may also be interested in:
Lamborghini Urus (2020) Launch Drive
Aston Martin DBS Superleggera (2020) Quick Review