Nissan has introduced its eagerly-anticipated new Micra in South Africa. We sampled the newcomer at its local media launch in Cape Town to see if it has what it takes to compete against a host of formidable rivals in the popular compact hatchback segment.
The local B-segment hatchback market is crowded and highly-contested with established products such as the Volkswagen Polo, Ford Fiesta, Renault Clio, Toyota Yaris, Hyundai i20, Kia Rio, to name a few, jostling for market share.
Buyers now have one more newcomer to add to their hatchback shopping list and it comes in the form of the new Nissan Micra. When it comes to this new Micra, we suggest you abandon past judgements of the Micra and look at it with fresh eyes.
Nissan has completely redeveloped the Micra and made it fit for purpose to confidently compete against its rivals. The Micra Active (based on the previous Micra) is still offered locally to serve budget-conscious buyers, but this new Micra has gone upmarket in an effort to secure market share in the upper reaches of the B-segment.
Look at specification and pricing details for the new Nissan Micra
What's it like to drive?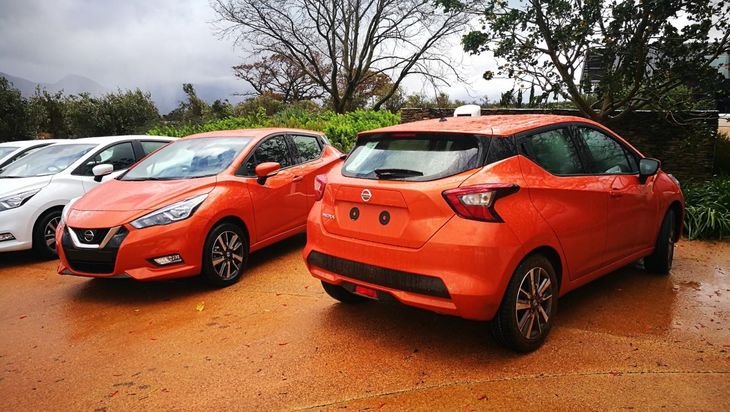 The new Micra offers much-improved styling and offers good performance in the city and on the highway.
The Micra has grown up and is longer and wider than the previous model and now features more modern and edgier styling that aims to attract youthful buyers. But it's not only on the outside where the Micra makes a statement. Its interior design is a huge improvement with a premium look and feel that buyers in this segment will appreciate.
The new Micra was introduced to motoring media inside a hangar near Cape Town International Airport while a vicious winter storm raged outside. Nissan had a large fleet of mid-spec Micra Acenta derivatives on hand for driving. All new Micra derivatives are powered by a Renault-sourced 0.9-litre, 3-cylinder turbopetrol engine offering 66 kW and 140 Nm of torque which is mated to a 5-speed manual transmission. We found the transmission to be smooth and direct in changing gears.

The engine is familiar from the Renault Clio and in the Micra, it delivers adequate performance for both city and highway driving. It's also quite perky when driven with fervour and only on steeper uphill sections did the engine run out of puff in 5th gear, forcing a gear-down to get the engine back into the power band.
In terms of fuel consumption, Nissan claims 5.1 L/100 km for the new Micra and during the launch drive, the trip computer returned a reasonable figure of 6.8 L/100km.
It coped well at the national speed limit and despite the poor weather conditions, the Micra displayed good ride quality with a smooth and comfortable ride. The cabin is also well insulated, suppressing excess road and wind noise from entering the cabin.

Gale force winds made driving difficult, but thankfully the Micra managed to stay on the road. We found the steering to be nicely weighted and responsive to steering inputs and we got the sense that the Micra had a fun side, but the weather prevented us from exploring its dynamic capability.
What about the interior?

The interior is far more premium than before with a mix of hard and soft materials.
We were (mostly) impressed with the interior of the Micra, but there are some drawbacks too. We liked the mix of hard and soft materials as well as the youthful design of the dashboard. General build quality appears to be good and the Micra Acenta comes equipped with a 7-inch infotainment system that offers Bluetooth, USB/MP3 playback and Apple CarPlay.
The steering wheel is adjustable for rake and reach and comes equipped with mounted controls for the standard cruise control, audio and multifunction display. In terms of safety, the Micra comes well equipped with 6-airbags, ABS with EBD, Electronic Stability Control, Hill Start Assist and ISOFIX child seat mounts.
Although we found the seats comfortable, rear passengers might be a bit cramped. With a sloping roofline, rear headroom proved to be an issue and knee and legroom could be better. The load bay is reasonably-sized at 300 litres, which expands to 1 004 litres with the 60:40 seats folded down. We did notice that the carpeted finishing used in the load bay was of marginal quality.
Final thoughts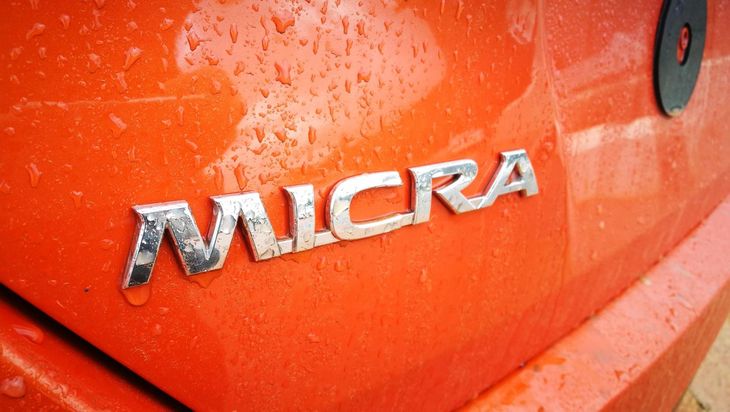 The Micra is well-worth considering in this segment and it should sell reletively well in South Africa.
Overall, we think Nissan deserves praise for revitalising the Micra nameplate and elevating it into a more premium realm. Not only is the exterior and interior design of the new Micra far more appealing than ever before, its keen pricing, good standard specification and comprehensive warranty makes it an alluring proposition.
We think the new Micra has much to offer buyers in the compact hatchback segment and it should, in theory, sell well against more established rivals in this segment. Time will tell how well the Micra is received locally and Nissan hopes to initially sell in the region of 300 Micras per month. Nissan expects the mid-spec Micra Acenta to be the best-selling derivative in the range with a price of R257 400. It might be ambitious, but we think that if buyers can shake their previous perceptions of the Micra, then this new version might very well become a top-seller for Nissan on local soil.
We will have the New Nissan Micra on test soon, so look out for our thorough evaluation soon.
New Nissan Micra - Price in SA
Micra Visia - R233 500
Micra Acenta - R257 400
Micra Acenta Plus - R272 400
Pricing includes a 6-year/150 000 km warranty and a 3-year/90 000 km service plan.
Buy a new or used Nissan Micra on Cars.co.za
Related Content:
Nissan Micra (2018) Specs & Price
We Drive 2018 Nissan Micra [updated]
Nissan Micra Active (2017) Quick Review
Ford Fiesta (2018) Launch Review
Hyundai i20 Facelift (2018) Specs & Price