The new Ford Fiesta has landed in South Africa and we got a chance to drive the newcomer. The big news is that Ford is playing an upmarket strategy with its new compact hatchback – the entry-level naturally-aspirated Fiestas are gone.
The Ford Fiesta is the number one rival to the segment-leading Volkswagen Polo and with 2018 being the year where both models have been replaced by all-new versions, we're in for an interesting comparison. For a start, the new Ford Fiesta range has been trimmed dramatically, with the popular naturally-aspirated models like Ambiente being culled from the lineup.
While it may look like a facelift of the previous version of Fiesta, we're told that while it is based on the same platform, there have been substantial changes mechanically with better insulation, stiffer body structure and improved suspension. There are new upmarket materials in the cabin too. Ford claims the front track is 30 mm wider and the reworked chassis offers better body control and more cornering grip. To be fair, the Fiesta has never been a dull car to drive and this new-generation model is just as great to drive in an enthusiastic manner. But more on that in a little while...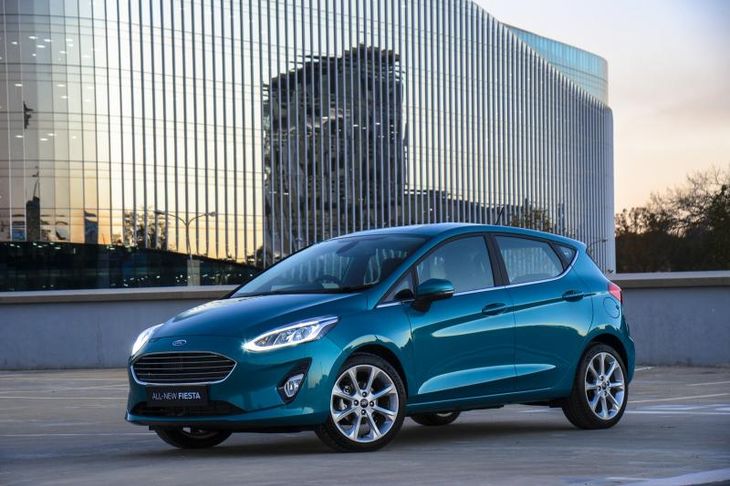 The new Ford Fiesta gains a new look. Titanium derivatives gain the Aston-Martin-style grille.
Engines
The petrol and diesel powerplants now feature force-induction exclusively throughout the range. The award-winning 1.0-litre EcoBoost engine is retained and there's a 1.5-litre turbodiesel motor. Available in two states of tune, the 1.0-litre Ecoboost 3-cylinder engine promises brisk performance coupled with decent efficiency.
Both the manual and automatic transmissions have 6 forward speeds. The manual Trend and automatic Trend and Titanium derivatives produce peak outputs of 74 kW and 170 Nm of torque, but the manual Titanium derivative's power is increased to 92 kW (although peak torque is unchanged at 170 Nm). The turbodiesel 1.5-litre Fiesta is only available as a manual and delivers 63 kW and 175 Nm of torque. If you're after the ultimate in fuel efficiency, then the diesel is the way to go; while the claim of 3.3 L/100 km is a little far-fetched, we saw an indicated return of less than 5.0 L/100 km on our launch route.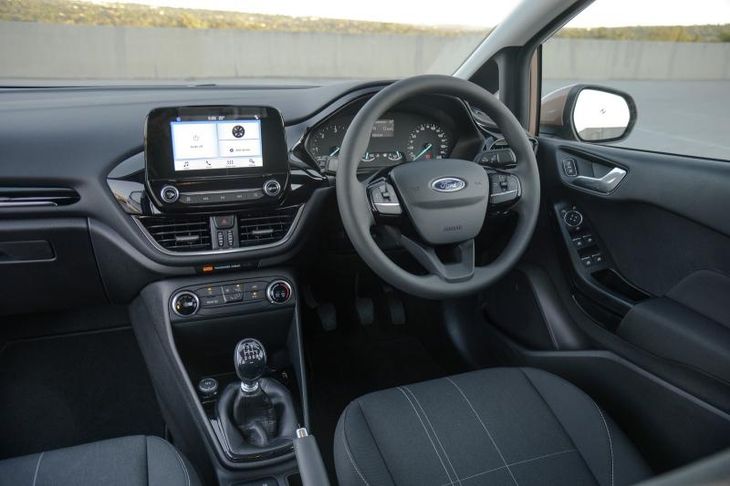 The cabin of the new Ford Fiesta is dominated by the big infotainment screen featuring Android Auto / Apple Carplay
Specification
The Fiesta's list of standard features is excellent. Unlike its rivals, who tend to make most of the nice-to-haves optional, Ford has specced its new Fiesta comprehensively. The focal point of the refreshed cabin is the new infotainment system. Its the SYNC3 setup, which we've experienced in other contemporary Fords (such as the Ranger, Everest and Kuga) and, for those who live permanently connected, it's superb. SYNC3 features Apple CarPlay and Android Auto, both of which allows you to mirror your smartphone and enjoy hands-free communication. It also integrates Google Maps and supports apps such as music-streaming service Spotify.
The Trend derivative does get a smaller screen of 6.5-inches, while the Titanium's is 8-inches in size and boasts navigation as standard. Both levels of trim feature a pair of USB ports, while the Titanium gains an extra speaker over its Trend sibling. Previous generations of Fiesta were hindered by the immense number of buttons and ergonomically, it wasn't great. New Fiesta has addressed this by drastically cutting down on buttons and incorporating most functions in the infotainment system.
The new Ford Fiesta is safer too, with a tougher and stronger crash-absorbing structure and front-, side- and curtain airbags. The usual safety acronyms are there too; ABS with electronic brake assist (EBA) and electronic brake-force distribution (EBD), hill launch assist (HLA), plus electronic stability- and traction control (ESC).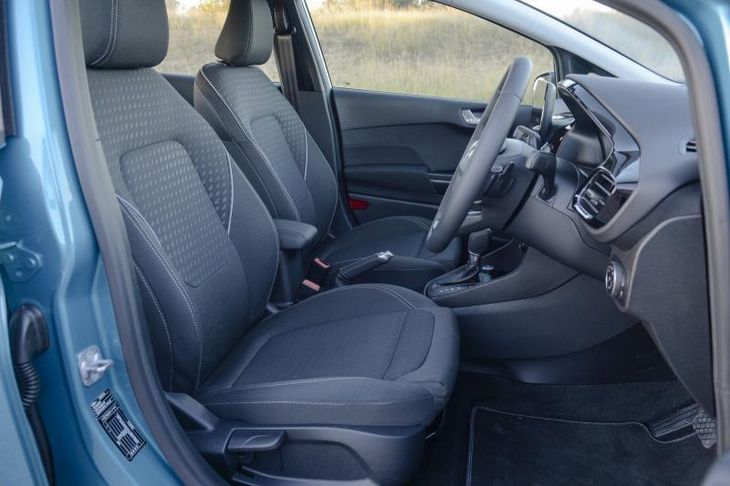 The Titanium derivatives come jam-packed with features such as satnav and heated seats
What's it like to drive?
The launch route from Johannesburg to the North-West province is filled with tarmac that is in dire need of repair in places and it's here where the Fiesta showed off its decent ride quality and on-road refinement. The suspension was working overtime to soak up all the ruts and undulations, but we didn't feel any harsh jolts in the cabin.
We sampled 2 derivatives: a 1.0-litre EcoBoost automatic and a 1.5-litre diesel manual. The petrol-powered Fiesta still delivers credible performance while the gearbox shifts smoothly when left to its own devices. You can mix things up by slotting the gear lever into Sport and take control using the steering-wheel-mounted paddles and while it's not a super-responsive dual-clutch unit, shifts are brisk enough. Thanks to the new sound deadening material, the car is more refined and we could hardly hear the triple-cylinder motor, which is a pity, as the motor usually emits unique, pleasant thrum.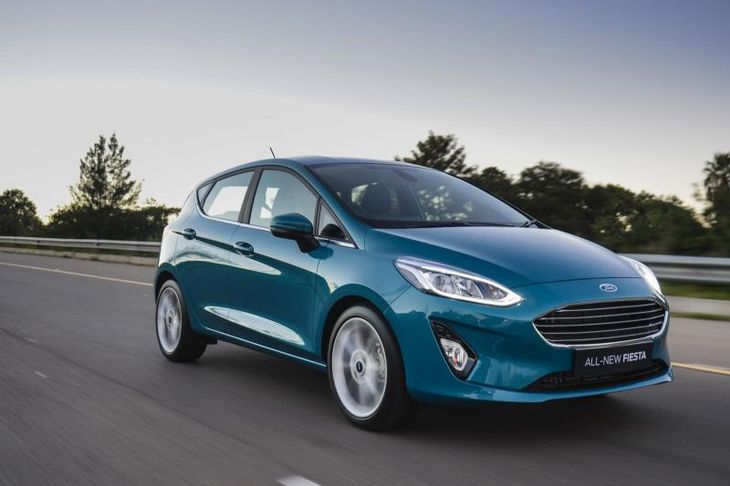 Fiesta has not lost any of its fun-to-drive traits. The communicative chassis and great steering have been retained, but refinement has been increased.
The second vehicle was the diesel and while we're on the topic of refinement, it too exhibited lower-than-expected noise levels. We're quite used to hearing small capacity diesel motors clattering away, but this engine is deceptively quiet. It's also punchy, with all its shove becoming available from low down in the rev range. The 6-speed manual gearbox is good too, but if you're a little careless and lazy with your shifts, you can find yourself accidentally going from 2nd to 5th. Minor concentration issues from the driver aside, it's a commendable package if you want notable overtaking ability from a motor that's otherwise tuned for optimal efficiency.
With an excellent track record when it comes to handling thanks to a communicative chassis and steering feel, the Fiesta has never been a mundane car to "pedal". The previous range's ST, of course, was one of the most entertaining vehicles you could buy at its price point, but performance aspirations aside, even the 1.0-litre Ecoboost can provide bargain thrills. The best news is that the new Fiesta carries on this tradition and can be hustled around traffic circles with youthful exuberance. The steering delivers generous feedback and, unlike some of the modern setups that feel vague, the Fiesta's tiller feels like there's a direct mechanical connection to the front wheels.
Summary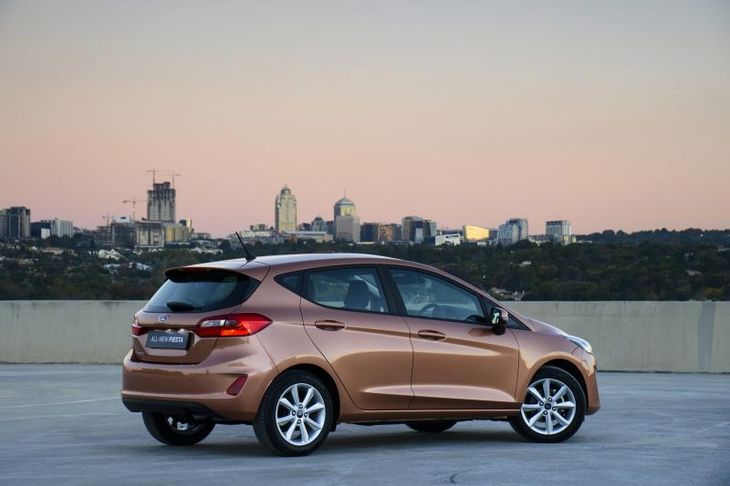 With a new Volkswagen Polo, a new Ford Fiesta and a new Suzuki Swift (about to be launched), the compact hatchback segment of the market's buzzing.
Growing old is mandatory, growing up is optional. Ford has applied this mantra to the Fiesta and while its great to see new levels of refinement, tech and comfort applied, the fun factor and ease of use when it comes to the basic art of driving has not been lost. We're lamenting the lack of an ultra-affordable Ambiente model, but understand that the new Figo will be filling this gap, in the same manner that the Polo Vivo sits at the bottom of the Polo family.
The Ford Fiesta's new infotainment system is a major feather in its cap as its German rival charges extra for the convenience. We're big fans of the redesigned dashboard and think the younger audience will appreciate this car for its standard specification. While its admittedly not as well finished as the segment leader and unlikely to match its sales figures, it's worth noting that the new Fiesta is the number one selling car in the United Kingdom, so Ford is clearly doing something right.
While some may be shocked by the cost of getting behind the wheel of the new Fiesta, it does come with a full house of specification, features and safety and if you pick the right derivative, you could be bagging an accomplished compact car with all the bells and whistles for a reasonable price.
The next iteration of the Cars.co.za Consumer Awards - powered by WesBank, should see a close battle between the new Volkswagen Polo, new Ford Fiesta and, most probably the new Suzuki Swift (which will be launched soon).
Pricing (as of May 2018)
All new Fiesta derivatives come standard with Ford Protect, comprising a 4-year/120 000 km warranty, 3-year/unlimited distance roadside assistance and 5-year/unlimited km corrosion warranty. A 4-year/60 000 km service plan is included, with service intervals at 15 000 km.
1.0 EcoBoost Trend 6MT R261 900
1.0 EcoBoost Trend 6AT R277 300
1.5 TDCi Trend 6MT R292 500
1.0 EcoBoost Titanium 6MT R295 900
1.0 EcoBoost Titanium 6AT R310 600
Related content:
Ford Fiesta (2018) International Launch Review
Ford Fiesta ST (2018) International Launch Drive [w/Video]
Most Fuel Efficient Budget Cars in SA
Top 5 Cool Facts: Next Ford Fiesta (2017)

Video Comparison: 2018 Volkswagen Polo & 2017 Volkswagen Polo
Volkswagen Polo 1.0 TFSI Comfortline (2018) Quick Review
Want to buy a Ford Fiesta?