This is the all-new Nissan Magnite, which will arrive in Mzansi shortly. It sports a fresh design and a turbopetrol engine under its bonnet, but does the budget crossover offer enough substance to win over potential buyers? Our Indian correspondent got behind the 'wheel of Nissan's newcomer to investigate...
Newest Nissan?
Well, that's a rather tricky question to answer. The Magnite is based on an adapted version of the Renault Nissan's CMF-A platform, which also underpins the Triber and upcoming Kiger, but based just on how it looks, the newcomer could have worn a badge from another brand in the alliance; in fact, it was reportedly (and evidently) supposed to be a Datsun. If you look at the way it's designed, it stands to reason that Nissan's marketing team originally wanted to position the Magnite (or whatever it would have been called) as a budget offering. Does that take away from how good this small crossover is?
The answer to that is not particularly clear-cut either, but I'll come back to that in a short while. It's imperative that we consider the Magnite objectively because it's going to be a very important car for the brand, especially in its home market in India, but in other developing countries too. If you're shopping for something in the compact family-car segment, this is virtually impossible to ignore – and not just because of its competitive pricing (on the subcontinent it comfortably undercuts rivals such as the Hyundai Venue, Kia Sonet and Volkswagen W T-Cross, especially their mid- to high-spec derivatives.
Magnite engine options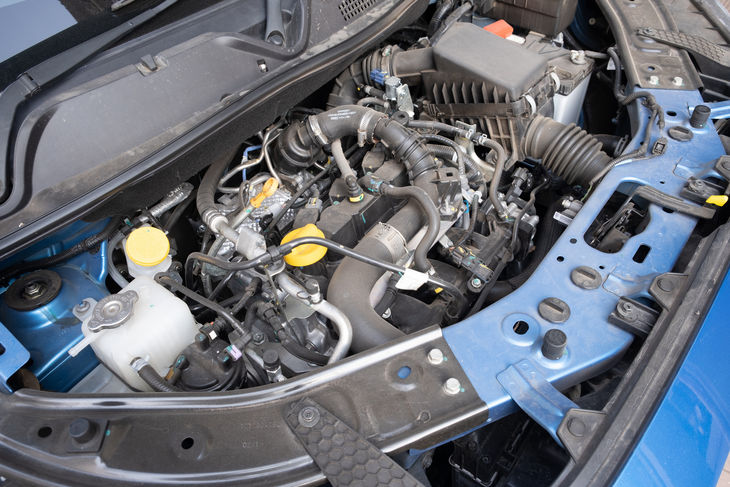 The Magnite is offered with a naturally aspirated 1.0 or a turbocharged version.
Oh, right, we haven't discussed that yet. Magnite derivatives in the South African market will be powered by a 1.0-litre turbopetrol motor. It produces peak outputs of 73.5 kW @ 5 000 rpm and 160 Nm of peak torque between 2 800 and 3 600 rpm (manual transmission), whereas the CVT's specs suggest a wider peak torque band available between 2 200 and 4 400 rpm although it's down by 8 Nm.
The powertrain isn't that noisy at low revs, but it does become more vocal under load, which isn't only as a result of engine induction noise – it's more likely due to a shortage of sound deadening material. Does the drone detract from an enjoyable driving experience... and might the "din" dissuade prospective buyers? Thankfully it does neither – as an everyday car, you might not mind the Magnite at all.
I tested a CVT-equipped derivative and the Magnite's smooth automatic transmission certainly strengthens its abilities as a daily runabout in the confines of the urban sprawl. The convenience of not having to bend and extend your left knee and shift up and down the box ad nauseam in congested traffic isn't the only thing that counts in its favour — the ease at which it picks up pace is bound to make it a favourite among commuters. Having said that, it's a CVT, so you might miss the interaction that a manual-gearbox car offers or even the quick shifts a dual-clutch gearbox can deliver, but it's unlikely.
What's the Magnite like to drive?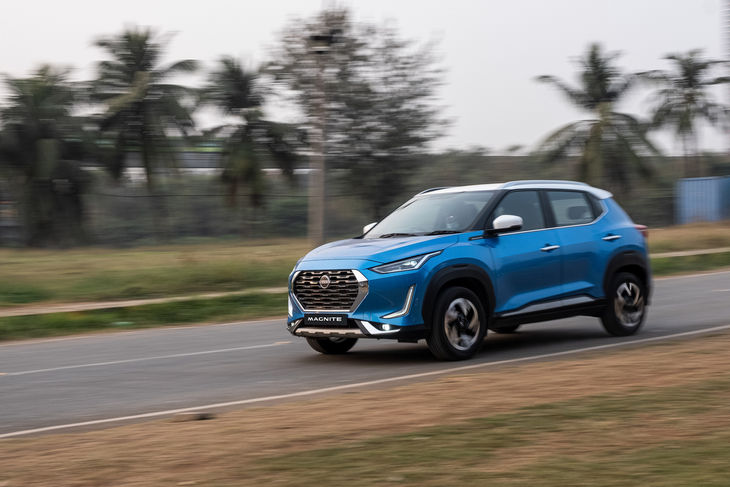 Engine and gearbox seem to pair well together, but the ride could be more forgiving over harsher bumps.
As mentioned above, the Magnite is also available with a manual gearbox, so if that's something you're keen on, it might be worth trying out when the car reaches South Africa (it would be more affordable than the self-shifting version, so there's that). Unfortunately, while the engine and transmission combo seems to be fit for the job, Nissan's budget crossover's ride and handling could certainly be improved. Its handling is akin to most modern cars that appear to be made for anything but leisure. It does the job, that's for sure, but will it encourage you to take a corner faster than you did the last time? Absolutely not! And if you think its ride is its redeeming feature, it most definitely isn't. The car does tend to soak up smaller bumps, but a little more suppleness to the suspension would've gone a long way.
At just over a tonne (the kerb weight of the CVT derivative), the Magnite feels spirited and finds its way through traffic with ease. The steering has some weight to it, certainly, but it's not rich in feel. As soon as you've become accustomed to how easy the Magnite is to place even in the smallest of gaps, however, the Nissan's relevance as a compact family car becomes even more clear. Even when the driver's seat's set at its lowest position, for example, it offers them a generous view of their surroundings. And when it comes to parking, the presence of a 360-degree camera system is certainly a boon. On the Indian-spec car, the video feed's admittedly not of the best resolution, but it does complement the mirrors and makes parking the petite Magnite (3.99 metres long and 1.75 metres wide) a cinch.
What's it like inside?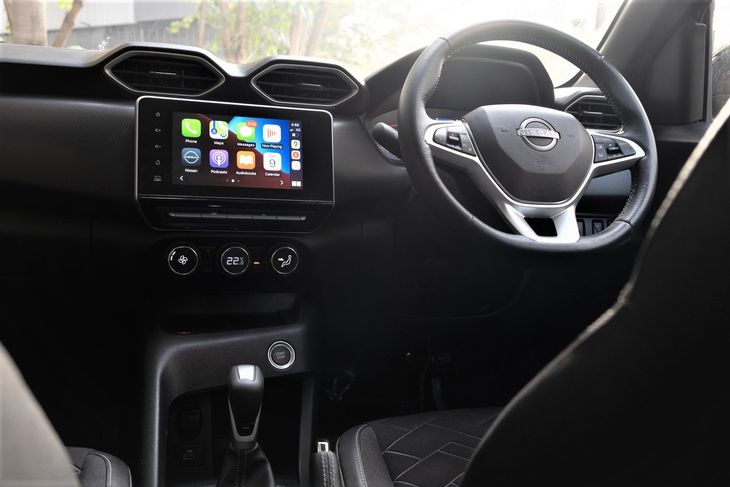 Minimalist interior feature wireless Apple Carplay and Android Auto.
Those aforementioned dimensions do open up quite a bit of room on the inside. The Magnite's load bay, which has a claimed capacity of 336 litres with the rear seatback in place, is similar to that of a mid-sized hatchback, plus there's enough legroom for both the front occupants, as well as the ones seated in the rear (well, relative to other compact family cars). A well-considered list of standard features further improves the newcomer's chances of success. Apart from the "Around View Monitor", an 8-inch infotainment touchscreen, wireless charging pad, 7-inch multifunctional display in the instrument cluster, cruise control, rear vents, an air purifier, JBL speakers, mood lighting and puddle lamps are available. Some of these features are included in the Tech Pack, which can be specified at extra cost.
There are small touches that sometimes go unnoticed on much more expensive cars too: a request sensor (to unlock the doors) is present on both front doors; wireless smartphone mirroring is compatible with Android Auto and Apple CarPlay; the Nissan Connect app is said to add 50 or so features including the ability to track your vehicle, automated calls for roadside assistance, etc. That is certainly not all –while the number of airbags available on the car we tested was just 2, it also had hill-start assist, traction and stability control, brake assist, tyre pressure monitoring and ISOfix child-seat mounts.
Verdict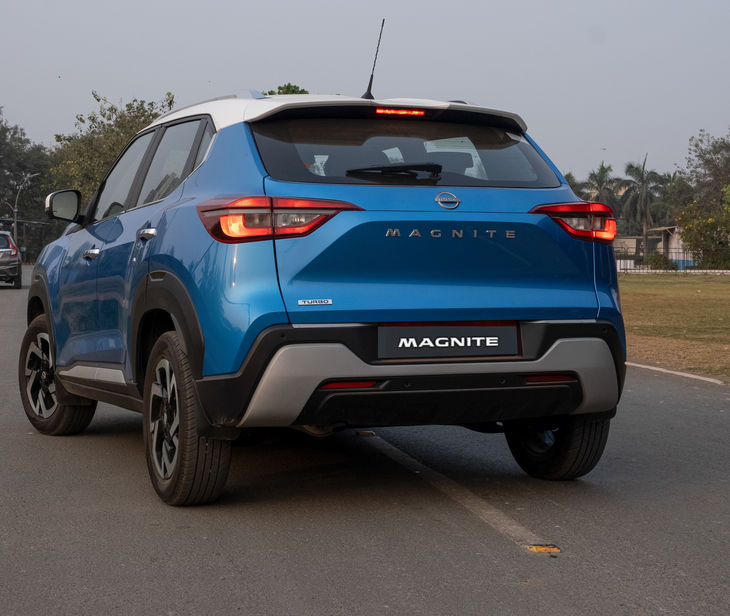 The Magnite's quite a smart-looking new entrant to the busy Compact Family Car segment.
If you compare the Magnite with its aforementioned rivals, their feature lists and engine choices aren't too dissimilar (especially if you consider the former's higher-specced turbo version). That would be an astute observation, but there's an equally unmissable aspect: the substantial price advantage Nissan's newcomer has over its peers (again, in India). In addition, its turbopetrol motor and CVT combo makes it one of the most convenient cars to drive in its segment. On the downside, it does feel a bit rough around the edges. It's not the most fun-to-drive car in its segment, which is not a dealbreaker, but then it's not the most comfortable for commuting, either. The plastic quality left us wondering if Nissan truly intended to pitch the Magnite against the Sonet and Venue, which seem to belong in a higher segment.
That might be an important aspect, and it may also sway your decision away from this Nissan. But despite the aforementioned deficiencies, the Nissan Magnite holds its own when it comes to in-cabin space and sheer affordability/value-for-money appeal. It would perhaps have looked better with Datsun branding (it's certainly not short on young, non-conformist appeal), but considering Datsun's wavering brand image (by virtue of its current range of ageing, lacklustre products), it's actually a good thing that Nissan claimed the Magnite as one of its own.
It's a new dawn for the brand; with all due respect to the Micra Active legacy model and fleet-oriented Almera, the Magnite will effectively be Nissan SA's new entry-level car. Watch this space, folks.
Related content:
Nissan Magnite coming to SA: More details
All-New Nissan Qashqai Revealed