After months of teasers, the all-new Nissan Qashqai has been revealed. Here's all you need to know about the popular SUV that many would argue started the mainstream SUV buying trend.
The much-lauded Nissan Qashqai has been replaced by an all-new model. This is the 3rd generation Nissan Qashqai and its arrival comes 14 years after the original model burst onto the scene. With three million sales in Europe alone, its safe to say the Nissan Qashqai has been extremely successful.
The 3rd-generation Qashqai is assembled at Nissan's facility in Sunderland, UK. You can spot the newcomer with its aggressive front and what Nissan calls 'boomerang' headlights.
Under the skin is the CMF-C platform, which results in a longer wheelbase and improved interior space. Nissan claims the new setup allows for more head, knee and shoulder space. The vehicle's physical dimensions have increased, with it now sitting 35 mm longer, 32 mm wider and 25 mm taller. The wheelbase is 20mm longer too.
When it comes to engines, the new Nissan Qashqai is offered with electrified powertrains for the first time. Kicking off the range is a 1.3-litre turbocharged petrol engine with mild-hybrid tech. It offers 103 kW and 240 Nm and is paired with a 6-speed manual gearbox. There's also a 116 kW and 260 Nm derivative available. Nissan has catered for those wanting a clutchless option, with a CVT being available with either a front-wheel drive or all-wheel drive setup, called Xtronic.
Inside, there's a 9-inch infotainment screen, while the driver benefits from a 12-inch digital display. Nissan is also offering the new Qashqai with a 10.8-inch Head-up display. Other noteworthy features include the wireless charging pad as well as Android Auto and Apple Carplay connectivity. The vehicle also offers 4 USB charging ports, with 2 USB-A and 2 USB-C.
Nissan SA has confirmed the all-new Qashqai will be landing in SA, however exact timing could not be given other than 'later in the 2021 financial year.'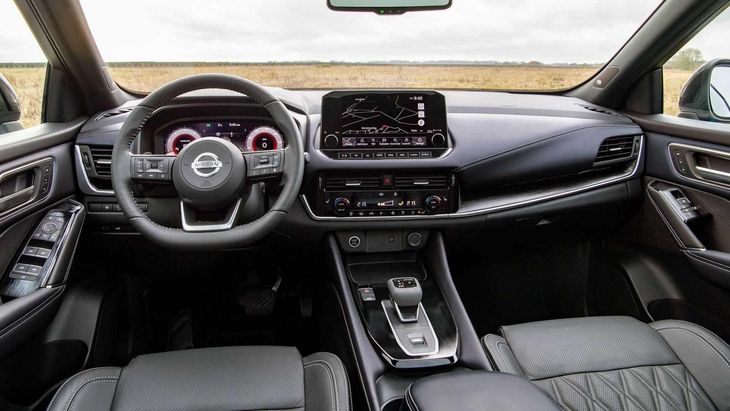 Want to purchase a Nissan Qashqai? We have stock!
Further Reading
Nissan Qashqai Midnight Edition (2020) Specs and Price
Nissan Magnite coming to SA: More details