The Volkswagen T-Cross is a newly-crowned 2019/20 #CarsAwards category winner, but it faces a fresh-faced challenger in the shape of the recently introduced Hyundai Venue. We compare these top-selling compact family cars head-to-head to see which is the better buy.
The small crossover/compact SUV market continues to grow because customers are increasingly looking for a touch more space, an elevated driving position and the prestige of driving an SUV-styled vehicle. Every mainstream brand offers a model in this bustling segment; we're really spoilt for choice. The likes of the Ford EcoSport, Haval H2, Hyundai Creta, Mazda CX-3, Opel Mokka X, Renault Captur and Duster, Suzuki Vitara, Toyota CH-R and others are being favoured over conventional sedans and hatchbacks.
We've selected the 2019/20 #CarsAwards – powered by WesBank – compact family-car category winner: the Volkswagen T-Cross 1.0 TSI 85 kW Highline (but not an R-Line) to take on the latest arrival to the segment, the Hyundai Venue, in 1.0T Fluid Auto guise. Both contenders are from highly respected volume brands and very much in demand.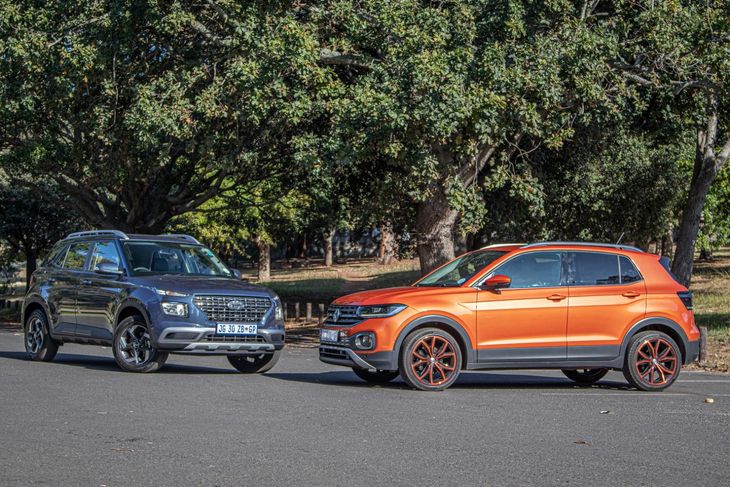 Compact family cars square off in suburbia. The new Hyundai Venue takes on the Volkswagen T-Cross, a #CarsAwards category champion.
How they perform in terms of...
Kerb Appeal
In this segment, customers are looking for distinctiveness; something that says "I've just purchased a new car." In this case, the Energetic Orange T-Cross will unfairly draw your gaze away from the Venue thanks to its liberal applications of orange paint, but the T-Cross loses none of its appeal when it's festooned in a non-violent paint finish. This orange isn't standard (it forms part of the R13 500 Design package, which adds orange wheels and interior accents... and the distinct impression you've been dunked in a vat of Oros).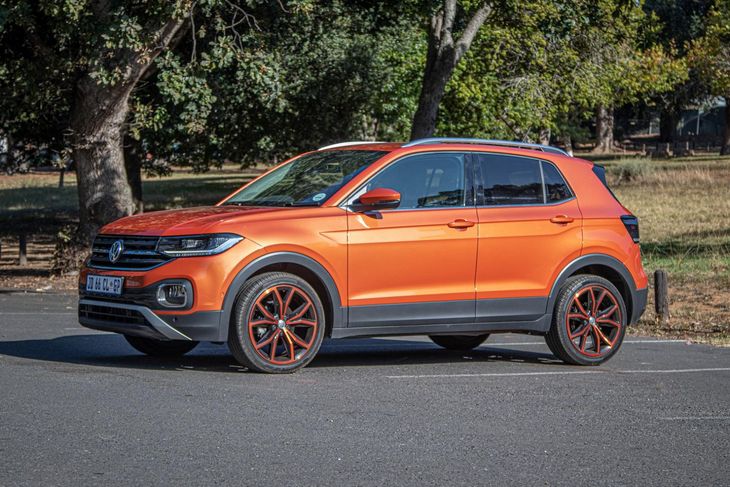 The VW T-Cross is attractive, but if you want THIS MUCH exterior bling, then you can opt for the extra-cost Design package.
The Venue is one of the Korean brand's more interesting designs. Intricate yet polarising, the Venue's look is fresh and modern; it presents a clear indication of the direction in which the firm's design language is heading... expect to see bolder grilles with geometric designs across the entire Hyundai SUV range soon. It has what one onlooker dubbed "Juke Syndrome", in reference to Nissan's quirkily-styled model: you either love or hate the design. Fortunately, this isn't a beauty pageant and looks don't count for that much.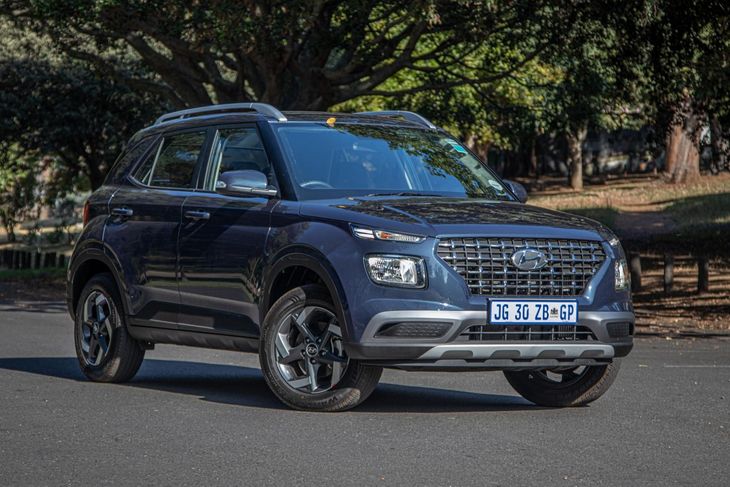 Expect to see bolder grilles on all of Hyundai's SUVs in the near future. As for this Venue's looks, we found it masculine.
At the time of writing (February 2020), both vehicles were offered with just 1 powertrain: a 1.0-litre turbocharged 3-cylinder petrol, but in derivatives with various grades of trim and features. All versions of the T-Cross have 7-speed dual-clutch automatic transmissions, but the range will receive a manual 'box option and a flagship 1.5-litre 4-cylinder turbopetrol derivative during the course of 2020. The Venue, by contrast, is available with either a 6-speed manual gearbox or a 7-speed dual-clutch automatic transmission.
Both cars are similarly sized, with the Volkswagen offering a fraction more in overall length (4 235 mm as opposed to 3 995 mm). Things are much closer in terms of wheelbase, with just 51 mm separating the two vehicles (once again in the T-Cross' favour), which means interior space is closely matched, but more on practicality later in this write-up.
Performance and economy
So, the T-Cross and Venue are both powered by a 1.0-litre 3-cylinder turbopetrol engine that drives the vehicle's front wheels via 7-speed dual-clutch transmission. This, however, is where the commonality ends, because the outputs, performance, economy (and general on-road demeanour) of the cars are quite different.
The Volkswagen engine produces 85 kW and 200 Nm, while it's Korean counterpart delivers peak outputs of 88 kW and 172 Nm. Volkswagen claims a 0-100 kph time of 10.2 seconds, with the Hyundai following in 11.5 seconds. But those performance claims don't really tell the full story, because the Venue's wider spread of peak torque (between 1 500 and 4 000 rpm) means that it does not need to frantically change down whenever it needs to summon overtaking acceleration. By contrast, the Volkswagen has to drop a gear or two often due to its narrower max torque band (2 000 to 3 500 rpm). Thankfully the DSG system is silky smooth and cog-swapping takes place without much hesitation.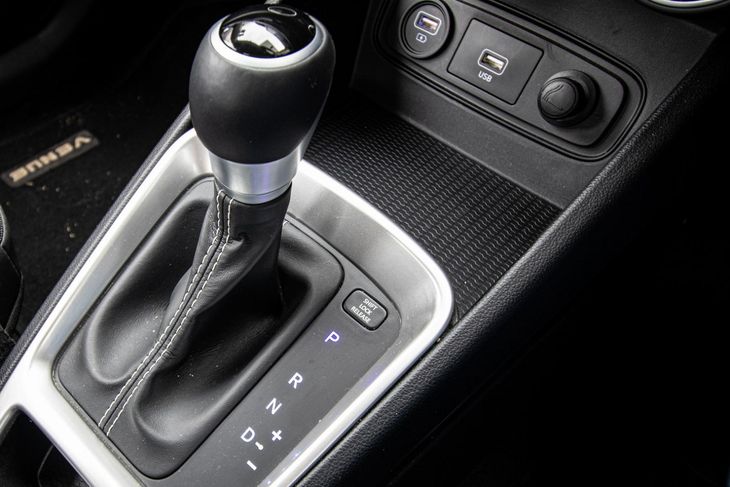 The 7-speed DCT of the Hyundai represents a massive leap forward for Korean dual-clutch technology.
In terms of transmission refinement and quality, we give the nod to the Volkswagen's direst-shift gearbox (DSG), but the margin of victory over the Hyundai's box is tiny; in a relatively short space of time, Hyundai's engineering division has developed a dual-clutch auto 'box that can almost match a Volkswagen Group transmission. Faults? If you were to press us, we'd say the Korean car's downshifts aren't quite as, um, fluid as those of its German rival. And you'll notice in the photo gallery that the T-Cross has 'shift paddles on its steering wheel – they're nice to have, but given the target market of these cars, they're likely to be used as frequently as the Coke Lite dispenser at McDonald's.
When it comes to fuel economy, you'll be happy to know that both these combatants are fairly frugal. One should always take claimed fuel consumption figures with a pinch of salt, as manufacturers' estimates are traditionally overoptimistic. This is especially the case with the Volkswagen... The T-Cross is claimed to consume an average of just 5.3 L/100 km, but we've had enough experience with T-Cross test units to get around the 6.6- to 7.3 L/100 km mark. With its 40-litre fuel tank, it has a theoretical range of 755 km.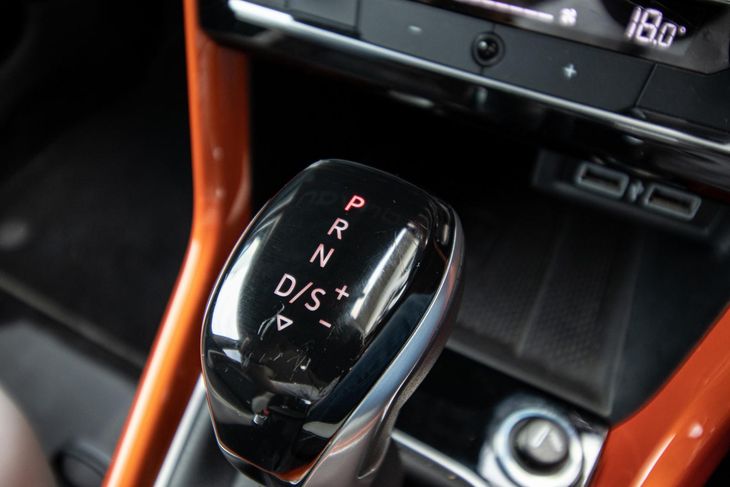 Volkswagen's DSG is one of the best in the business. Note the 2x USB ports and wireless charging pad.
The Venue counters with a far more realistic official claim of 6.9 L/100 km. On the local launch of this vehicle, we achieved a figure in the low 6-litres-per-100 km range and, during its tenure in our test fleet (for the production of this feature and video), it consumed 7.1 L/100 km. With its 45-litre fuel tank, it has a theoretical range of 652 km.
In terms of power delivery and general performance, these small engines deliver surprisingly nippy performance. One can no longer afford to assume a car's performance by the cubic capacity of its engine: these 1.0-litre 3-cylinders easily outperform naturally-aspirated 1.6-litre 4-cylinder motors in terms of off-the-line performance and in-gear overtaking. If you factor in the relatively low kerb weights of 1 110 kg (Hyundai) and 1 160 kg (Volkswagen), the pair perform admirably. These motors don't need to work very hard to get the vehicles moving; they even emit a pleasant rorty sound, which gives them a kind-of sporty edge. We particularly enjoyed the cars' ability to leap ahead of slower-moving traffic by making good use of their mid-range punch, which is entertaining (if you're not used to a turbocharger coming on song and delivering a sudden jolt of urge).
Ride comfort and handling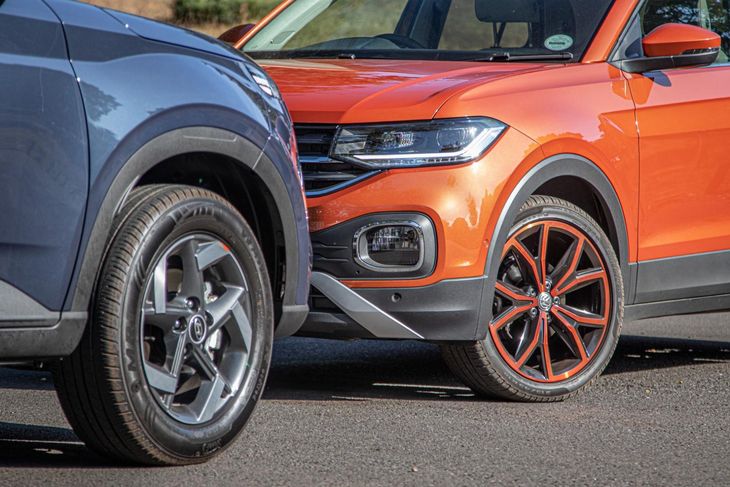 The higher profile rubber of the Hyundai Venue soaks up the road's imperfections better than the sportier optional T-Cross wheels.
Perhaps the members of our test team are all getting old and grumpy... because occupant comfort is fast becoming a major consideration when it comes to new-car evaluations. Granted, there are circumstances when it's less of a critical factor (such as when testing performance cars), but in general, the testers just want to be comfortable in vehicles!
As compact family cars, it's paramount for the T-Cross and Venue to deliver good levels of comfort in all aspects of driving. Be it for short trips to the shops, or a weekend family road trip, buyers expect an above-average level of comfort from these contenders. Do these two vehicles deliver? In terms of ride refinement, we'd say yes. Volkswagen's MQB platform has a good reputation for comfort and refinement, and the T-Cross does not disappoint, although its overall ride quality is still best described as "on the firm side of supple". We will add, however, that the optional 18-inch wheels aren't the best choice for poor-quality roads. Smaller rims with higher-profile tyres would smooth out the ride.
The Venue's general ride quality is also on the firm side, something we attribute to its short wheelbase, but this "rigidity" makes the newcomer unexpectedly fun to pilot – particularly around tight traffic circles. The Hyundai is shod with 16-inch alloy wheels wrapped in 215/65 rubber, which helps its suspension to soak up road imperfections.
Both vehicles feel stable and planted on the road, with light steering setups for optimal manoeuvrability in cramped and congested urban spaces. The Volkswagen holds a slight advantage in the comfort stakes thanks to its steering column, which is rake- and reach-adjustable, whereas the Hyundai's tiller can only be adjusted up and down...
Interior style and quality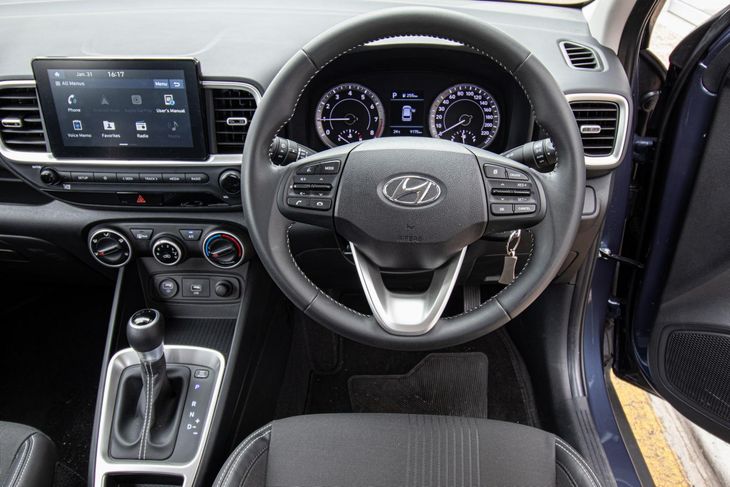 The neat, simple and uncomplicated interior of the Hyundai Venue.
When shopping in this segment, you're likely to want something that looks modern, feels durable and doesn't cost the earth. Fortunately, both cars' cabins deliver in that regard. The T-Cross' interior really looks smart and modern, but remember you're paying extra for the orange funkiness, so try to picture the cabin with plain black panels.
For brands that know how to make well-finished cabins (just consider any of their wares that cost twice or 3 times as much as these cars), finding the balance between luxury and affordability is a challenge. In truth, you can see and feel the sacrifices that have been made in the Volkswagen and Hyundai's respective interiors. Both vehicles feature dashboards and inside door panels made from a hard-wearing (and, alas, -feeling) plastic. It seems made-to-a-cost and a bit compromised, but acceptable at this price point.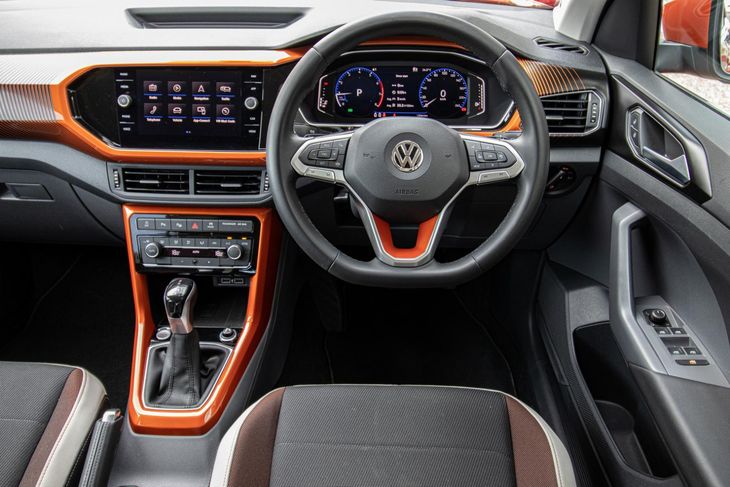 Try forget the orange for a moment and focus on the straightforward and ergonomically sound layout.
The Volkswagen and Hyundai's interiors have a modern, digitally-connected vibe – as soon as you step inside these combatants, you'll notice their large infotainment screens. In the case of the T-Cross, the screen forms part of the Infotainment package, which adds on some nice-to-have features such as the digital instrument cluster, but we'll expand on the cars' as-specced features later. Again, this package is an optional extra. The Venue is a what-you-see-is-what-you-get vehicle: there are no options to be had.
Generally, though, the T-Cross and the Venue feel solid and well-assembled. Hyundai has come a very long way and its build quality is on par with more prestigious brands.
Technology and connectivity
For a full specification comparison, click here.
It's 2020 and we seem to be glued to our smartphones more than ever before. Studies have shown that the average adult in the USA uses a mobile device for more than 3 hours a day. It's therefore imperative that carmakers build vehicles with connectivity foremost in mind: Apple CarPlay and Android Auto have made in-car connectivity simple.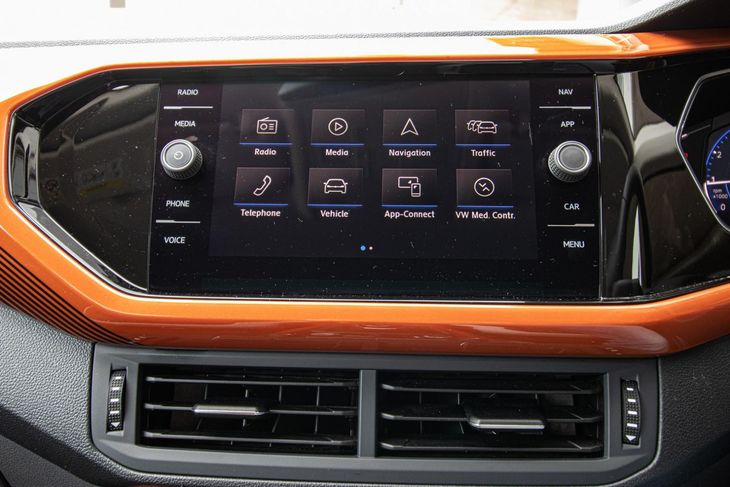 The optional infotainment screen is lovely, but a magnet for dust and fingerprints. Keep a pack of tissues/wet wipes in the car.
Hyundai has fitted the Venue with this hands-free functionality as standard, while Volkswagen includes it as part of a connectivity package (R22 850) in the T-Cross. The ability to use Google Maps (replacing the cumbersome native car navigation systems), access streaming services such as Spotify, and even get your WhatsApp messages read out to you while you drive (and reply back using Speech-To-Text) is a godsend in this day and age. It allows you to keep your hands on the 'wheel and your eyes on the road.
The T-Cross test unit that was availed to us came with a wireless charging pad, 2x USB ports in the front and 2x USB ports for the rear passengers. The Venue boasts 2x USB ports up front – one for connecting to the infotainment system and a more powerful one for quick-charging mobile devices.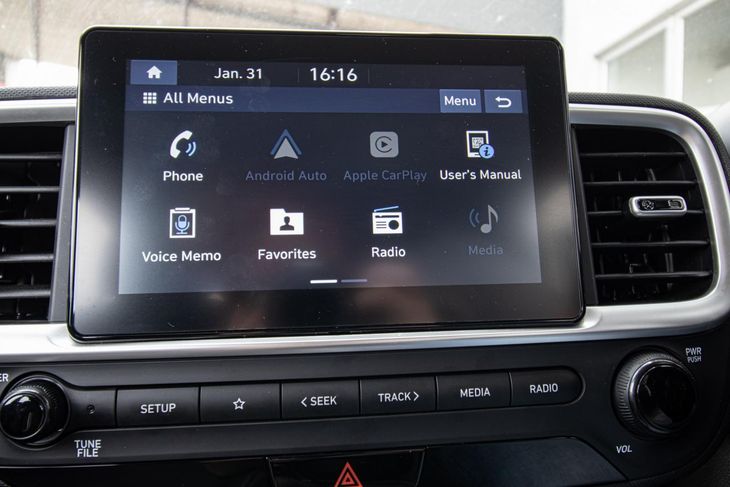 The simple and uncluttered infotainment system of the Hyundai Venue. Its matte finish is more resistant to fingerprints.
To be blunt, the Hyundai knocks the Volkswagen out of the park in terms of standard spec. Features such as auto lights, cruise control, partial leather trim and rear park assist with a reverse-view camera are standard on the Venue's Fluid trim. The T-Cross is not sparsely equipped, but you will have to dive into the options section of the configurator to get to the "really good stuff". Keyless entry is R5 250, the uprated Beats audio system is R9 150, a reverse-view camera with parking assist is R9 300, but what we really recommend you look into is the Infotainment package, which costs a hefty R22 850, but it adds in some nice gadgets such as extra USB ports and digital instrument cluster.
Given that these cars are likely to be bought by people who'd need to transport their family members more often than not, their safety specifications should not be glossed over. In the event, both vehicles come with 6 airbags (dual front-, side- and curtain units), ABS with EBD, as well as electronic traction and -stability control (with hill-start assist).
Practicality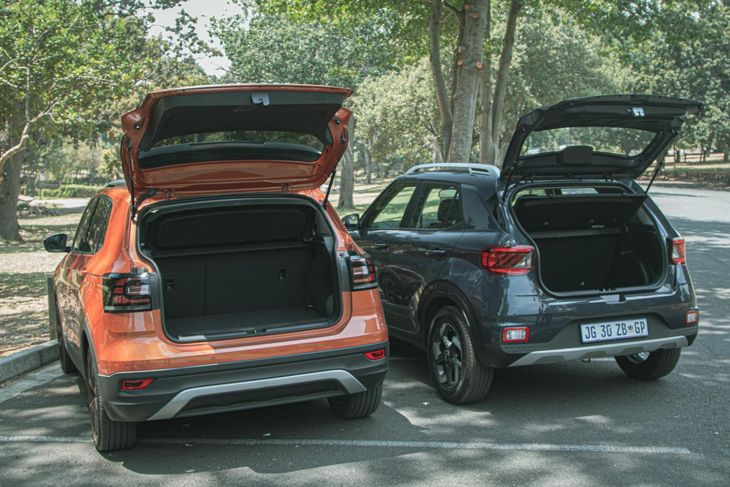 These may be small crossovers, but they're expected to carry more luggage than average hatchbacks.
The Hyundai and Volkswagen might be compact family cars, but their ability to haul objects of various shapes and sizes is important too. What's impressive is just how the rivals have gone about trying to make the most of their available space/packaging. After all, these are compact cars designed to haul passengers, not be delivery vans...
We've established that the cars' cabins are about equally spacious, but in terms of load capacity, the Volkswagen has the edge: its rear bench is mounted on rails and can slide fore and aft to either increase load space or rear legroom as required. The rear seats can be folded down in a 60/40 split, resulting in more carrying capacity without losing all of the rear passenger seating capacity. In Fluid guise, the Hyundai's rear seatback folds down as one piece (curiously only the higher-spec Glide is offered with a 60/40 folding configuration). The folding seatback is useful, but it does not create a flat loading space when flipped forward – there is a pronounced ridge created by the base of the bench
Annoyingly, this T-Cross media-evaluation unit came equipped with the optional Beats sound system, which offers fine audio quality, but the unit's subwoofer is located in an impractical position in the luggage bay. By virtue of that subwoofer, you cannot drop the floor level down to increase the depth of the luggage bay area. Despite this and the visible disparity in luggage-bay depths (as demonstrated in the video review), the Volkswagen has the larger load capacity (377 litres), as opposed to the Hyundai's 350 litres.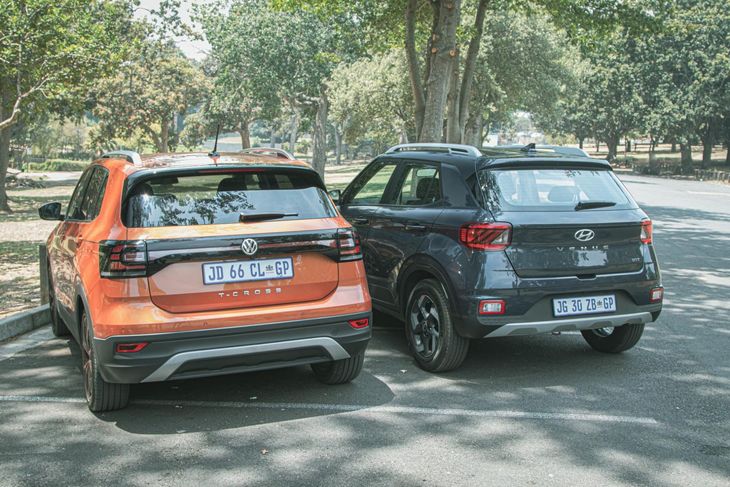 Despite their dimensions, there's a surprising amount of space in both cars, but Volkswagen's rear sliding bench gives it an edge.
While many may assume these cars' rear seats will be occupied by children, the T-Cross and Venue will also be used to transport adults at the back; something we did extensively with the former during its extended test. With the bench set back as at its furthest, 2 adults could comfortably sit in the back of the Volkswagen. The Hyundai's rear bench provided a similar service and it too accommodated 2 adults in comfort. However, after careful examination, we came to the conclusion that the T-Cross offered a fraction more knee- and legroom, but that the Hyundai offered a bit more headroom, as evidenced by the vehicle's overall height (1 617 mm) comparison with its rival (1 584 mm).
Price and warranty
Prices for T-Cross derivatives start from R343 300 (this 1.0 TSI Highline version costs R374 500 as standard). Our test unit was fitted with many extras, however, which pushes the asking price towards the R400k-mark. The range is sold with a 3-year/120 000 km warranty and a 3-year/45 000 km service plan.

Buy a used Volkswagen T-Cross on Cars.co.za
The Hyundai Venue range, by contrast, starts from R274 900 and this 1.0T Fluid Auto derivative costs R339 900. The Hyundai Venue is sold with a 5-year/150 000 km vehicle warranty, 7-year/200 000 km drivetrain warranty and a 3-year/45 000 km service plan.
Buy a used Hyundai Venue on Cars.co.za
Verdict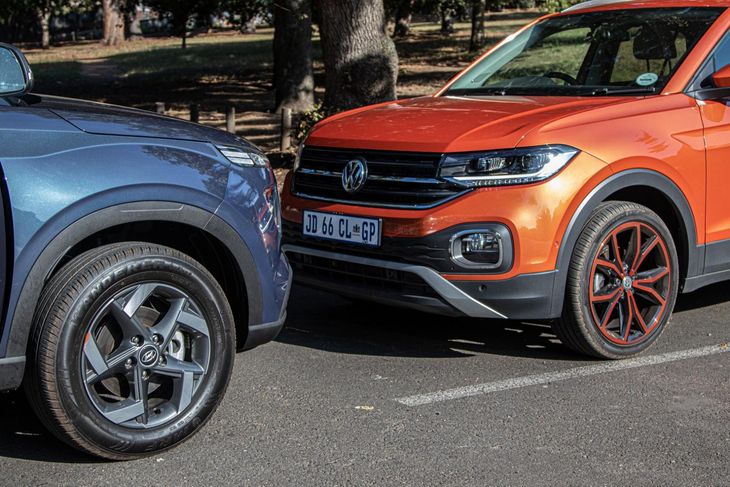 You're likely to see way more Volkswagen T-Cross units on the road, but does popular mean its better?
Which one is the better buy? At face value, it's easy to say the Volkswagen T-Cross edges out its Korean rival and although it may ultimately garner more sales, it comes at a premium. It feels a bit more upmarket, has a better-refined powertrain, a more practical load bay and it's backed by the 2019/20 #CarsAwards – powered by WesBank – Brand of the Year. Can the substantial price difference be justified? Is the Volkswagen that much better at being a small crossover/compact SUV than the Hyundai? These were awkward questions we asked ourselves and, given the price disparity, tough to answer. The German and Korean offerings are closely matched, with pros and cons for both.
The Hyundai Venue demonstrates exceptional value. It was not launched in time to be considered for the 2019/20 #CarsAwards and the more we drove it, the more we liked it. It's pleasant to drive, plus spec-for-spec, it makes a fully-loaded T-Cross look rather overpriced. What's more, in many aspects of this comparison, the Venue is the equal of the reigning #CarsAwards compact family car winner, albeit at a much cheaper price. What's even more impressive is you can get a top-spec Hyundai Venue in Glide trim that comes with even more standard features and it's still cheaper than the T-Cross in Highline trim. As close as these two are, we suspect that many customers will be following heart over head and opting for the Volkswagen, but as an overall value proposition with a stronger after-sales warranty, the Hyundai makes an excellent case for itself.
If neither of these vehicles tickles your fancy, relax: there's plenty to choose from in this segment. As we mentioned at the beginning of this feature, in this class of vehicle there are many offerings that offer much of the same for similar money. Ford will be updating its Ecosport soon, Renault is bringing in a new Captur and Kia's new Seltos is starting to make its way onto showroom floors. Chinese brand Haval is doing exceptionally well with its recently updated H2 and the Mahindra's XUV300 is also well worth a closer look.
Related content:
Hyundai Venue (2019) Launch Review
Volkswagen T-Cross (2019) Launch Review
Hyundai Venue (2019) Specs & Price
Volkswagen SA to expand T-Cross range in 2020