Can the iconic Nissan GT-R, which was unveiled in 2007 and arrived in South Africa 2 years later, still be considered a benchmark sportscar, considering the performance capabilities of much-newer rivals? Have a series of updates, including one during 2016, allowed the R35-generation car to maintain its headliner status? Calvin Fisher finds out for us...
It was 2008 and I was frothing at the mouth in anticipation of a new Nissan GT-R. No longer a Skyline, the R35 iteration of Godzilla would simply be badged GT-R. Whipped into a frenzy since the 2001 Prototype concept was first unveiled, I couldn't believe my luck when I was flown up to Johannesburg to drive the first press car. It was a red R35 GT-R endowed with 375 kW – a supreme performance machine and the latest iteration of Nissan's (if not Japan's) most revered sportscar – and it could be yours for (then) just R1.2 million, yet it could mix it up with exotic cars that cost almost 3 times that price...
Japan had delivered unto us the most practical supercar since its Honda NSX. It wasn't perfect at first: with an iffy launch control and cabin aesthetics that didn't quite excite (nor delight), offering up instead a functional driver-focused cockpit trimmed in stark black, grey and carbonfibre materials. Fast forward to 2016 and again I have the great fortune of slipping ahead of the queue for the honour of driving the latest GT-R – the 2017 version. A lot has changed.

408 kW, all-wheel drive and launch control equates to a staggering 0-100 kph time of 2.8 seconds.
Meet the new animal
With the new GT-R, Nissan aggressively targeted its own Achilles heel: a less-than-premium cabin ambience. That meant a dramatic restyle of the cabin, mostly the dashboard, which has been covered in soft leather, detailed with intricate stitch work and lowered, so that you can actually see over the long bonnet. PDC sensors make manoeuvring the ballistic Nissan, with its cumbersome 5.0-metre profile and extended front wings, a lot easier to park.
What's more, the bronze test unit's cabin was trimmed in tan leather and felt positively lit up as a result; the cockpit no longer delivers the drab, sombre experience of old. An 8-inch touchscreen still dominates the fascia, but it's been completely redesigned/features an all-new user interface. Even the gearbox, which is renowned for being brilliant at swapping cogs near the red line, has been smoothed over for less jarring transitions – bye bye rifle-bolt shifts!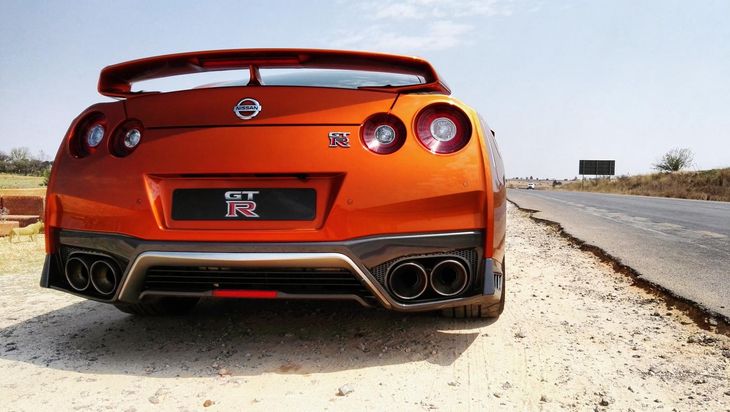 The rear aspect of the GT-R remains one of the most recognisable sportscar visages... in the world.
The exhaust system has also been refined to bark less at low speeds, but still has the potential to howl maniacally as the revs ascend beyond the butterfly-valve activation. Overall NVH (noise, vibration and harshness) has been toned down. In other words, you can no longer hear and feel bits of the road pinging against the undercarriage as the GT-R rips up the asphalt beneath its belly, which, to be perfectly honest, I miss.
But that's okay because to appease the die-hard petrolheads for all that softening (and that includes a cushier suspension) of temperament, Nissan has rewarded with one hell of a power hike and performance upgrade. The claimed 0 to 100 kph benchmark dips below the magical 3-second mark (now accomplished in just 2.8 seconds) thanks to peak outputs of 408 kW and 632 Nm.
That's nothing short of blistering. And good for a top speed of 315 kph. That, folks, is how you justify a Nissan with a R1 950 000 price tag. Sure it's been refined to European standards, but it still has what it takes to shake up your internal organs and mash the back of your skull into the head rest.

The GT-R now has a more premium feel inside, something previous versions have lacked.
Inside the belly of the beast
When you're behind the wheel of a GT-R, the nerdy specs, stats and quotes no longer matter. That samurai facelift doesn't matter. The fact that these engines are built in hermetically sealed chambers and that most of the controls now live inside an i-Drive-styled rotary controller doesn't matter.
And, while it's nice to know that revving is more linear than before thanks to individual ignition timing across a wider power band, none of this will enter my mind as soon as I dial up R Mode across the car's powertrain, suspension and traction control programs, when the GT-R gains its full potential and its driver needs to shut up and pay attention. Like on the empty winding roads around Hartbeespoort Dam, where I was left to my own devices... to roam wild.
At 1 752 kg, the GT-R is 100 kg heavier than an X-Trail, but you'd never guess it. Here engineering trumps physics; power and aerodynamic efficiency combine to help the Nissan scythe through the air and I don't just mean in a straight line... they conspire again when you carve up each and every corner. That predictable Nissan helm helps you to orchestrate every turn; a flat chassis and eager throttle your trusty allies in a car built for mid-corner thrills.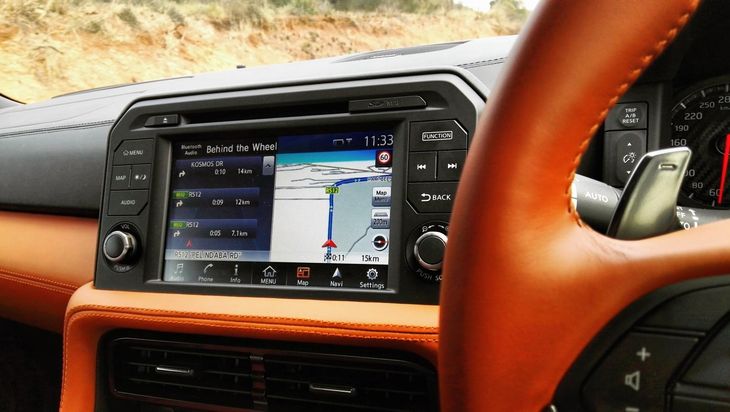 A timely upgrade has brought the touchscreen infotainment system up to date.
I leave it in auto and keep both hands on the wheel to indulge in a game of precision point and squirt. Even when you overdrive the GT-R you'll still have enough stopping power to reign it in, with a V6 soundtrack that's bassy rather than brassy – a noise that I'd sadly argue isn't the most characterful.
In the past, the R35 has been accused of being a sterile PlayStation car that's dictated to and dominated by its electronic subsystem. My friend, the GT-R is anything but THAT. There's a devil in it. And if you've got petrol in your veins, you'd be lucky to meet it.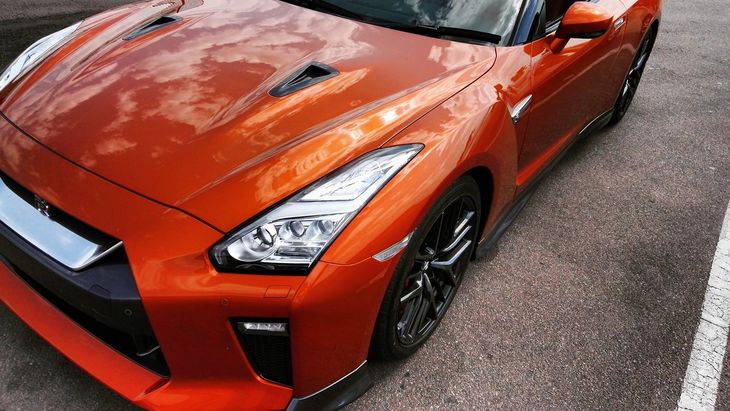 The revised frontal styling of the GT-R has added just amount of visual menace. Detailing is exquisite.
Summary
So has the GT-R lost its way and become overly soft in its quest for a premium clientele? No, it certainly hasn't. It hasn't gone all Jekyll and Hyde either.
This is a quietly confident grand tourer with a thermonuclear device at its very core. Nissan has dialed its "everyday supercar" up to the nth degree. It's now more of a "daily driver" than ever before and you better believe its more "supercar" than its ever been.
In fact, make no mistake – this is the ultimate GT-R. When I drove that red car in 2008, that was my first time at the wheel of any GT-R and I was smitten. I've since experienced most of its predecessors, the pinnacle being a Bayside Blue BNR34 on the C1 circular highway that encapsulates Tokyo, Japan.
I'm qualified now. The R35 broke free of that "hot sedan turned coupe" perceptions when it lost its Skyline badge; it became a bona fide sports machine. And, if you weren't comfortable calling it a supercar in 2008, believe me when I say this: "It deserves that title now."
Nissan's Hiroshi Tamura and Keno Kato explain the development programme of the latest Nissan GT-R:
Related Content
Nissan GT-R (2017 model) Launched in SA
Nissan Navara EnGuard Concept [with Video]
McLaren 650S on Road & Track - The Fastest Car We've Ever Tested
Part 1: Audi R8 vs McLaren 570S with Drag Race
Part 2: Audi R8 vs McLaren 570S Track Race
Considering a used Nissan GT-R?