Nissan South Africa has used the Festival of Motoring (FOM) to give its more refined, more powerful GT-R supercar its first local outing.
According to Nissan, deliveries of the new model will commence shortly after the Festival of Motoring has been packed up. The significantly reworked GT-R features a range of styling, mechanical, luxury and performance upgrades. You can read more about the detail in our previous report here.
"With its first introduction in 2007, the R35 GT-R redefined the boundaries of supercar performance and handling. Over the subsequent iterations, the model has been improved and refined to the pinnacle of hand-built perfection in this, the 2017 model," said Xavier Gobille, Director of Sales, Marketing and Aftersales at Nissan South Africa.
When it comes to the GT-R, most people head straight for the all-important numbers, so...
Quick Facts
Power: The 3.8-litre twin-turbo engine now delivers 408 kW at 6 800 rpm and 632 Nm of torque from 3 300 to 5 800 rpm.
Performance: The GT-R sprints from rest to 100 kph in less than 3 seconds and has a top speed of 315 kph.
Price: You will pay R1 950 000 for the Premium Edition and R2 050 000 for the Black Edition.
The Major Changes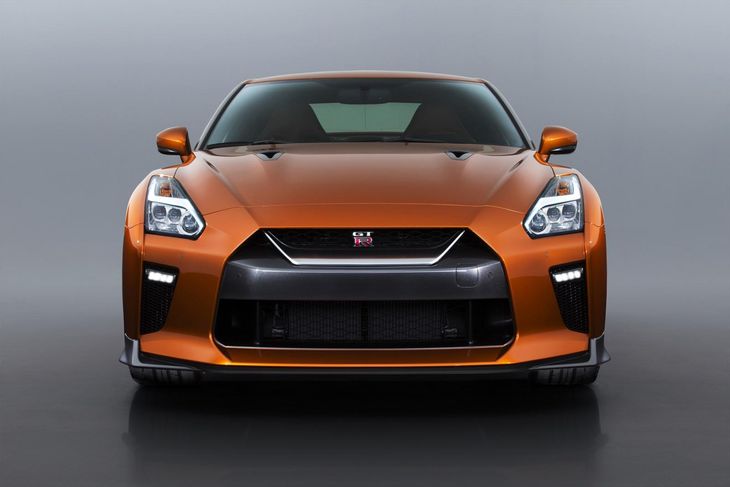 Look closely and you'll notice a new bonnet, grille, bumpers etc. on the new GT-R.
This model year update is quite a big one. The cabin has received a number of upgraded materials, simplified controls and a "tactile redesign" to give it a more upmarket feel. At the same time, Nissan has also managed to reduce the weight of the interior fittings. Drivers will also notice that the gearshift paddles now turn with the steering wheel.
Exterior – On the outside, the GT-R's subtle but effective upgrade includes a new bonnet, bumpers, grille and side sills. The changes are not merely cosmetic, however, as they are also claimed to improve the aero efficiency of the vehicle.
Engine – For most enthusiasts the most important changes can be found underneath the bonnet. The iconic engine of the GT-R has received greater boost from its turbochargers as well as individual timing control for the cylinders. This is claimed to significantly improve engine performance in the mid to high engine speed ranges. Power is up by 11 kW and torque by 4 Nm. The blisteringly fast acceleration time (less than 3 seconds for the benchmark 0-100 kph sprint) is aided by its launch control system and upgraded transmission.
Suspension – And in terms of dynamism the GT-R benefits from a more rigid structure and shell, as well as new 20-inch forged alloy wheels. Nissan claims a smoother ride quality.
Want to buy a new/used Nissan GT-R?
Find one on Cars.co.za by clicking here
Related Content
Festival of Motoring: A Quick Guide