There's an all-new Hyundai Tucson in the works and recent renders suggest the Korean brand has no intention of watering down its new-found Sensuous Sportiness design language for the upcoming family car. What's more, a new report suggests the range's line-up will be headed by a 2.5-litre turbopetrol N model, which will reportedly produce a VW Tiguan R-trouncing peak power output "of at least 254 kW".
Hyundai's has rolled out a slew of new products in 2020 so far… Apart from the new Sonata business class sedan and Elantra compact sedan, both of which aren't destined for South Africa, the Korean firm has most recently shown its new Santa Fe executive SUV and the i20 compact hatchback, which could arrive in South Africa before the end of 2020, as well as the all-new Creta, which has already made its debut in its home market (India) and should arrive in Mzansi by the end of the 3rd quarter, which is soon!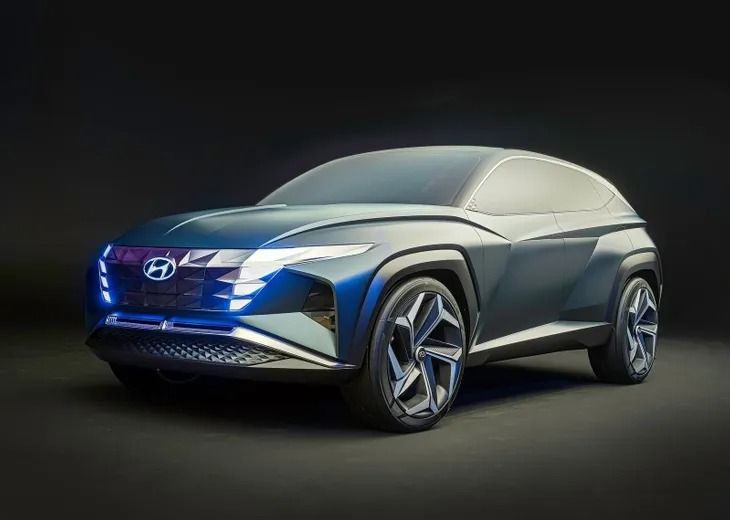 The Vision T Concept featured a sculpted grille, arching bonnet line and bold swage lines, but it's more than just a fanciful design study.
And what do those new models (even the humble Creta) have in common? They all incorporate the company's new Sensuous Sportiness design language, which is characterised by "parametric dynamics", such as swage lines that run at different angles but "meet at one point". The models also sport expansive, cascading grilles with a distinctive pattern, with narrow headlamp clusters/indicator elements that merge into a single design element (especially apparent in the new Elantra).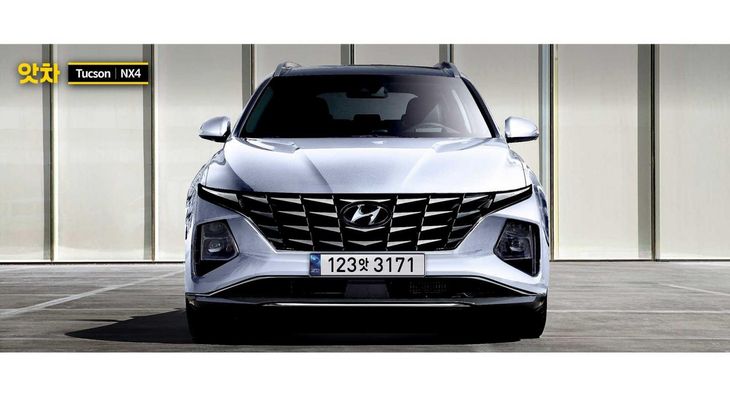 Atchacars anticipates that, like the new Elantra, the upcoming Tucson will sport a supersized-grille-and-slim-headlights combo.
A couple of months ago, Korean Car Blog published a production timetable for Hyundai's Ulsan factory, which indicates that the next-generation Tucson will enter production at some point in the 3rd quarter (although it's not destined for the South African market in 2020, perhaps only early in the following year), so we should see the final version soon.
What will it look like, though? Although the first generation Tucson marked the arrival of the Korean brand's family car range in South Africa, its 2nd-generation model (dubbed the ix35 in our market) was quite revolutionary because it showcased the "Fluidic Sculpture" design language, which dominated the exterior designs of Hyundai models at the time. When the ix35's successor arrived locally in 2016 – the current Tucson – it was a handsome design, but comparatively safe and inoffensive by comparison...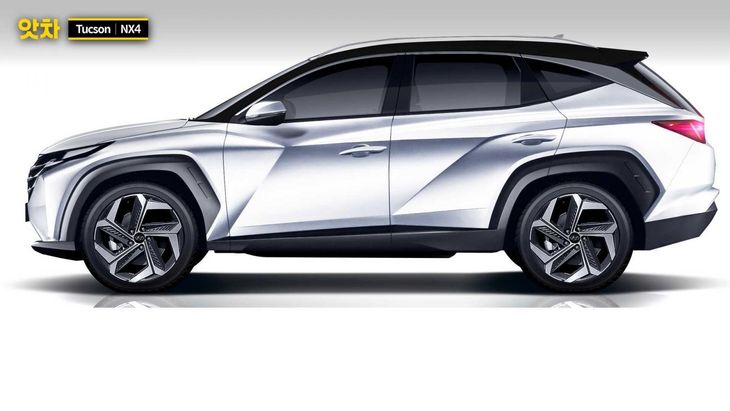 The next Tucson is likely to have stylised wheel-arch trims and dramatic side sheet metal detailing. Picture credit: Atchacars
If the pattern of safe- followed by daring designs is set to continue with each passing iteration of the Tucson, it certainly bodes well for a bold upcoming family car from the Seoul-based firm. But just how... challenging will its styling be? Well, the Vision T concept that was shown at the Los Angeles Show late last year seemed a very "out there" or "pie-in-the-sky" design at the time. However, now that we've seen the new Elantra, we know the expansive cascading grille and those "parametric dynamics" in the side sheet metal aren't just for show.
About a year ago, Sangyup Lee, the vice president of styling at the Hyundai Design Centre, was quoted as saying the appearance of the (production-ready) 4th-gen Tucson would make people "freak out." And then, late last year, Andrew Tuatahi, Hyundai's product planning manager, referred to the 2021 Tucson as being "very interesting visually."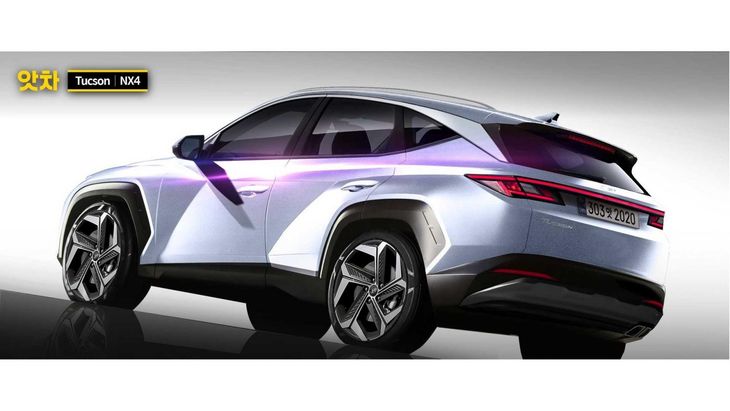 Note the pinched rear-end design, replete with a tail-lamp-bridging LED emergency stop lamp. Picture credit: Atchacars
Just how "interesting" (to quote Tuatahi) will the next Tucson look, then? Well, if the family car goes into production as planned, we should know in a handful of months' time. To whet our appetites, YouTube channel AtchaCars has uploaded a new video with its take on the styling direction of the upcoming model. The renders are based not only on previously published spy shots of camouflaged prototypes, but also effectively "standardise" the stylised contours and design elements of the aforementioned Vision T concept.
We know that the next generation range is likely to be more of a crossover than a compact SUV (it will favour front-wheel-drive configuration, especially in our market). It will feature 4-cylinder turbopetrol engines (perhaps the 2.0-litre non-turbo engine and its torque converter auto box might be retained) and the line-up will feature hybrid and plug-in hybrid (PHEV) variants too. What's most intriguing is that Hyundai is likely to push out the performance envelope further than the current N-Line versions overseas (and the locally-developed Tucson Elite Sport in South Africa)...

Now that we've seen the Vision T concept and the latest renderings, this spy shot does show elements of Sensuous Sportiness...
'250 kW-plus' Tucson N
According to a new Korean Car Blog report, Hyundai's N Division hopes to introduce an N model based on the next generation Tucson in about 2 years' time. Last year, Albert Biermann – Hyundai's head of Research and Development said: "The substance of (the Tucson) is so strong technically speaking, to make a Tucson N… I would love to do it."
We've already seen spy shots of beefed-up next-gen Tucson "Sports" undergoing testing and few would be surprised if Hyundai decided to transplant the i30 N's 202 kW/353 Nm 2.0-litre turbopetrol (mated with an 8-speed dual-clutch transmission, as in the facelifted version of the hot hatch) in the next generation Tucson. But, no, not necessarily...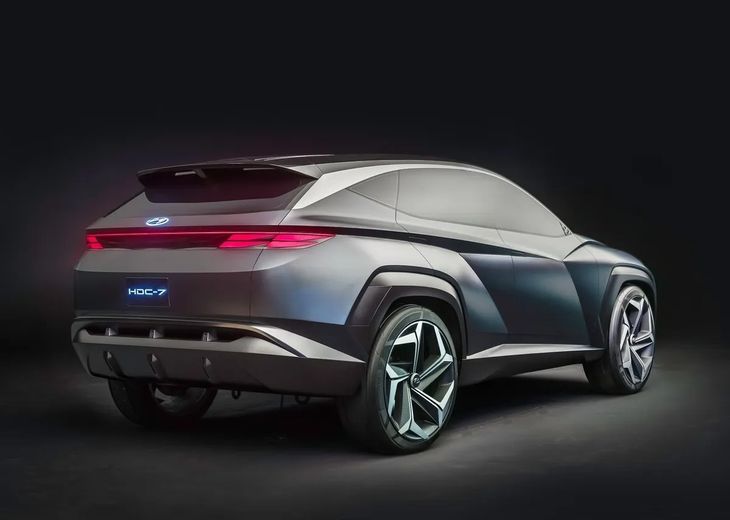 It stands to reason that "Sensuous Sportiness" would be best embodied by an upcoming Tucson N derivative...
The new report suggests the Tucson N will be powered by a 2.5-litre turbopetrol unit that produces "at least 340 bhp (254 kW)", in combination with an 8-speed dual-clutch automatic 'box and an all-wheel-drive setup. The powerplant will ostensibly be a beefed-up version of the 213 kW/422 Nm motor that debuted in the recent Kia Optima GT.
Korean Car Blog anticipates the upcoming Tucson N will have a 0-100 kph time of "under 6 seconds". Its expected peak power output compares favourably with that of the recently-unveiled, Mzansi-bound 235 kW Volkswagen Tiguan R, although the Wolfsburg-based brand has not released claimed performance figures for its newcomer.
Hyundai is reportedly keen to bring such a halo derivative to fruition to change the market's perception of the (until now) safe and predictable Tucson nameplate. Unnamed "Hyundai insiders" told the Korean site the firm was "not interested in making also-ran cars with N badges on them in whatever class they compete". Let the battle begin!
Related content:
Potent new Volkswagen Tiguan R Revealed
Facelifted Volkswagen Tiguan Revealed
Spy Shots: 2021 Hyundai Tucson
Hyundai Tucson 1.6T Elite Sport (2019) Review