With a bold, look-at-me styling kit and beefed-up performance, Hyundai's latest iteration of the Tucson Sport (now available in both turbopetrol and -diesel flavours) is generating significant interest after the success of the first (pre-facelift) Tucson Sport back in 2017. How good is the latest Tucson Sport? Let's take it for a spin...
We Like: Bold and sporty styling, standard features, practical interior
We Don't Like: Overly-sensitive throttle, the interior lacks special character, thirsty, pricey
Fast facts
Price: R654 900 (August 2019)
Engine: 1.6-litre turbopetrol
Power/Torque: 150 kW / 300 Nm
Transmission: 7 speed dual-clutch automatic
Fuel economy: 8.5 L/100km (claimed)
Load capacity: 488 to 1 478 litres
What is it?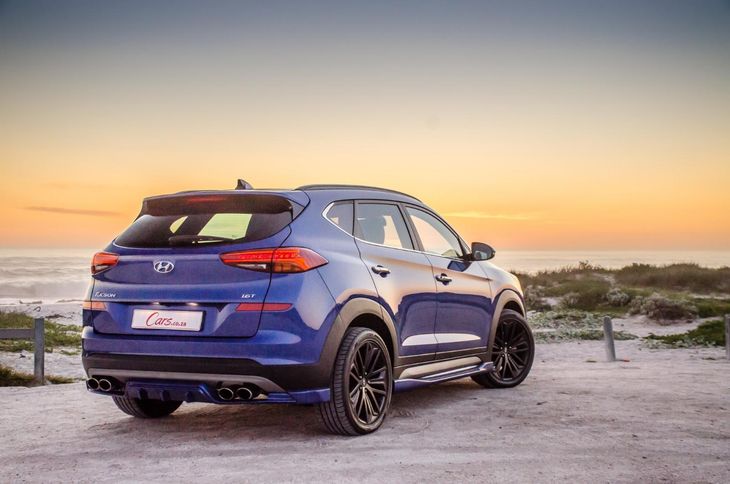 The Tucson Sport's body kit endows it some added kerb appeal and those quad tailpipes hint at its intentions.
The Tucson Sport is the hottest version of the Korean firm's popular family car and the fact that Hyundai South Africa chose to launch the Tucson Sport at a race track sent a clear message that this purposefully styled Hyundai intends it to be more than just a generously equipped family-mover.
The newcomer's eye-catching body kit comprises a front splitter, flared side skirts and a rear diffuser, the latter of which houses sporty-looking quad exhaust tips. The attention-grabbing exterior execution is polished off (literally and figuratively) by snazzy black 19-inch alloy wheels.
Hyundai previously offered the Tucson Sport in turbopetrol guise only, but buyers can now also opt for a 2.0-litre turbodiesel version. This review focuses on the turbopetrol version; while we appreciate its bold styling, we were keen to find out what the Sport was like to live with every day.
How it performs in terms of…
Performance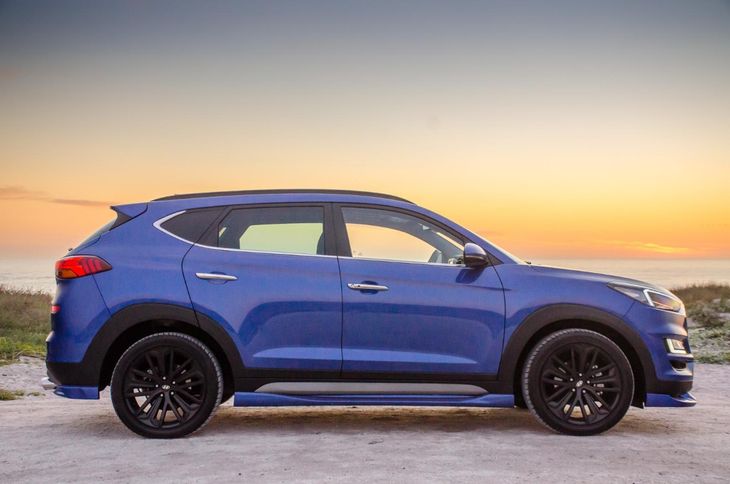 For an SUV with a performance bent, Hyundai could have done better with the throttle mapping. It's just too sensitive...

In an effort to provide more "go to match the show", Hyundai has increased outputs of the Tucson Sport's 1.6-litre turbopetrol engine to 150 kW and 300 Nm of torque. It's worth noting that the previous Tucson Sport produced 150 kW and 295 Nm... That version was mated with either a 6-speed manual transmission or 7-speed dual-clutch transmission, the latter in conjunction with all-wheel drive (AWD). The new Tucson Sport is no longer offered in manual (or AWD) and features a pedal booster, which has significantly sharpened the throttle response, but sadly to the car's detriment.
While many might appreciate the increase in outputs, the front-wheel-drive Tucson Sport is frustrating to drive as its accelerator pedal is just too sensitive. As a result, the front wheels are prone to spinning briefly nearly every time you pull away from a standstill or accelerate hard from crawling speeds. Great care needs to be taken to avoid this annoying trait and it happens in both Normal and Sport modes. The novelty wears off quickly...
Meanwhile, the Tucson Sport accelerates eagerly – arguably excessively so, because torque steer makes its presence felt if you apply your right foot too liberally. It feels relatively quick off-the-line, reaches the national speed limit with little effort and has more than enough grunt to execute overtaking manoeuvres quickly and effectively. We preferred driving the Hyundai on the highway because it felt more settled than at lower speeds.
Under hard acceleration, the 'box shifts somewhat jerkily and while manually-actuated gear changes can be actuated by tipping the transmission lever fore and aft (when in manual mode), steering-mounted shift paddles would have added a lot in the way of driver engagement.
Meanwhile, whereas the previous Tucson Sport's exhaust ends emitted a mildly annoying drone at cruising speeds, which could become tiresome on longer (supposedly relaxed) journeys, the quad-tipped system now emits a low and hearty thrum, which is far more pleasing... and less intrusive.
The performance-bent of the Tucson Sport doesn't bode well for fuel consumption either – while Hyundai claims 8.5 L/100 km, we never saw the indicated consumption drop below 11 L/100 km, which is, yes, a factor of the road-test regimen, but still on the high side.
Outright grunt and responsiveness are important, but we feel Hyundai could have paid more attention to refining the Tucson Sport's performance.
Ride and Handling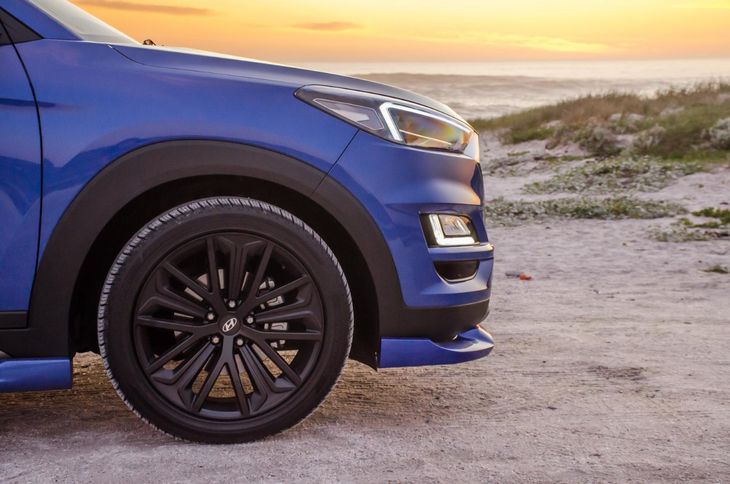 The Tucson Sport's ride is firm yet comfortable enough to live with every day.
Apart from the occasional wrestling match with the steering wheel to temper torque steer, the Tucson Sport's steering response is average, if a trifle vague in feel, but, as before, the Korean family car feels planted when cornering briskly. Considering that there are no upgrades to the suspension and brakes in conjunction with the performance boost, the Tucson Sport actually handles quite well when you drive it enthusiastically.
What's more, the Tucson Sport's ride quality is one of its best qualities. Despite riding on large (19-inch) alloy rims shod with low profile tyres, the test unit did a good job of ironing out road imperfections, while offering just enough firmness to complement its sporty pretensions.
Interior execution and features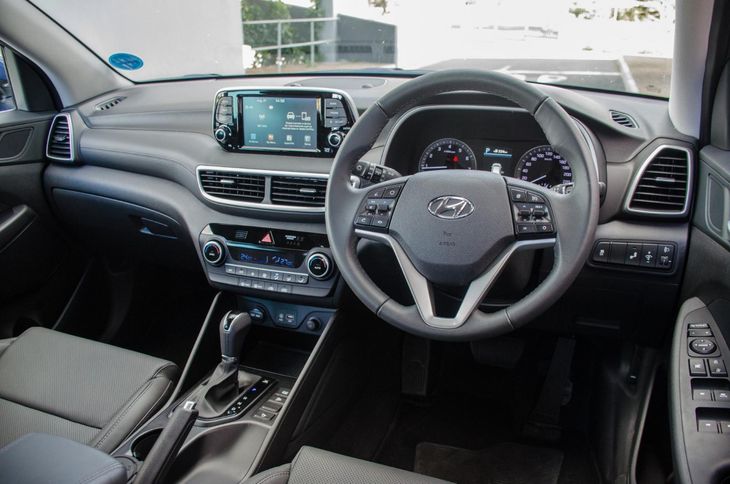 The interior is familiar and perceived build quality is good. However, there's no real sense of occasion when you step inside.

The Tucson Sport's kerb appeal is undeniable: it looks the business. Unfortunately, its interior execution does not match its racy exterior at all. There is simply nothing particularly special about the inside: no contrast stitching, no special badging, it's just a standard high-spec Tucson. But for its lack of bespoke accoutrements, the Korean car's cabin is very well-equipped. The specification is drawn from the range-topping Tucson Elite, which offers nice-to-haves such as a panoramic sunroof, electric seat adjustments for the driver and passenger, push-button-start and keyless entry.
A 7-inch infotainment system is fitted and we found it to be easy-to-use with a menu layout that's easy to read and navigate. The system is equipped with Bluetooth, built-in navigation, as well as Apple CarPlay and Android Auto compatibility. A single USB slot and auxiliary port are also standard.
Other notable standard features include climate control, electric windows and side mirrors, cruise control, rear PDC and a reverse-view camera. Lastly, it must be said that the Hyundai's cabin does have a solid feel to it and general perceived build quality is good.
Practicality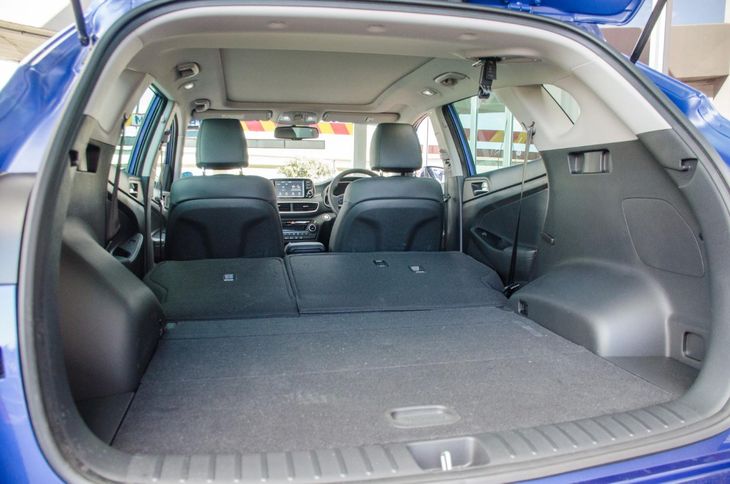 The cabin is spacious and practical. The rear seats recline too which is a bonus on longer trips.
As a practical family car, Tucson makes a lot of sense. The seats are quite comfortable and sufficiently supportive, plus there's enough leg-, head- and shoulder room in the back for a pair of average-sized adults. What's more, the cabin offers sufficient storage spaces for bottles, cups and odds and ends, while the rear seats can recline, which is great for when your passengers (especially the little ones) need to snooze on longer journeys.
The load bay is sizable at 488 litres, which can expand to a capacious 1 478 litres when you fold the aft seatback forward in a 60:40 configuration.
Pricing and warranty
The Tucson 1.6T Elite Sport retails for R654 900 and comes with a 5-year/150 000 vehicle warranty, 7-year/200 000 km drivetrain warranty and a 5-year/90 000 km service plan. If you would prefer the turbodiesel-powered Tucson Sport, then you can expect to pay R664 900 (August 2019).
Get a quote / Request a test drive
Verdict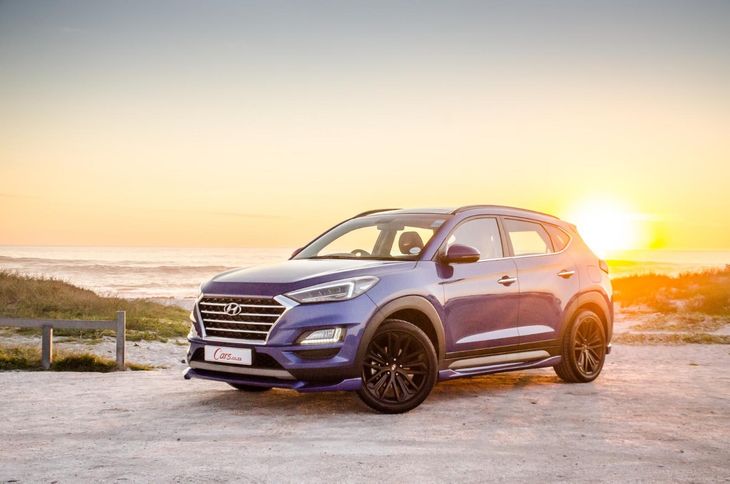 As far as sporty family SUVs go, the Tucson Sport falls short in the performance stakes. It has lots of grunt, but too little refinement.
We didn't enjoy driving the Tucson Sport as much as we hoped we would. Its hypersensitive throttle mapping and resultant tyre-spinning antics were an indulgence and entertaining to begin with, but ultimately reduced the pleasure of the driving experience. The Hyundai's no slouch, that's for certain (even though no claimed performance figures are available), but the car's performance feels forced and unfortunately, not very refined.
Having said that, the Tucson Sport has a lot going for it in the looks department... If you want your family car to turn a few heads, it will do just that! The Tucson remains a practical choice in this segment – its spacious and flexible cabin should suit most "familial transportation needs" to a tee. Standard spec is good too. With that said, if you care less about outright performance, perhaps the standard Tucson 1.6T Elite is a better bet.
If you are not convinced by the Tucson Sport then you may want to consider the Volkswagen Tiguan 2.0 TSI 4Motion Highline R-Line. It too boasts attractive styling (although it doesn't quite look as lean and mean as the Hyundai) and its 2.0-litre turbopetrol engine (162 kW and 350 Nm of torque) is also mated with a 7-speed dual-clutch transmission. Not only is it cheaper than the Tucson Sport (at R612 750), but its performance is much more refined. The Ford Kuga 2.0T AWD ST Line, with 177 kW and 340 Nm of torque, is also worth a look and it's nicely priced at R552 400.